An honest and thoughtful review of the Ergobaby Evolve 3-in-1 Highchair from a mom of three.
Are you wondering if the Ergobaby Evolve 3-in-1 Highchair is worth the cost and lives up to the hype? Looking for the perfect modern highchair that can grow with your child? This post can help!
I'm a mom of three sharing my experience and review of the Ergobaby Evolve 3-in-1 Highchair. Some of my favorite features are the sleek and modern design, that its easy to transform quickly and without any tools, and that it folds up for storage (HUGE benefit for me), but we will get into all of this more later on.
This post is sponsored, but as always, all thoughts and opinions are my own.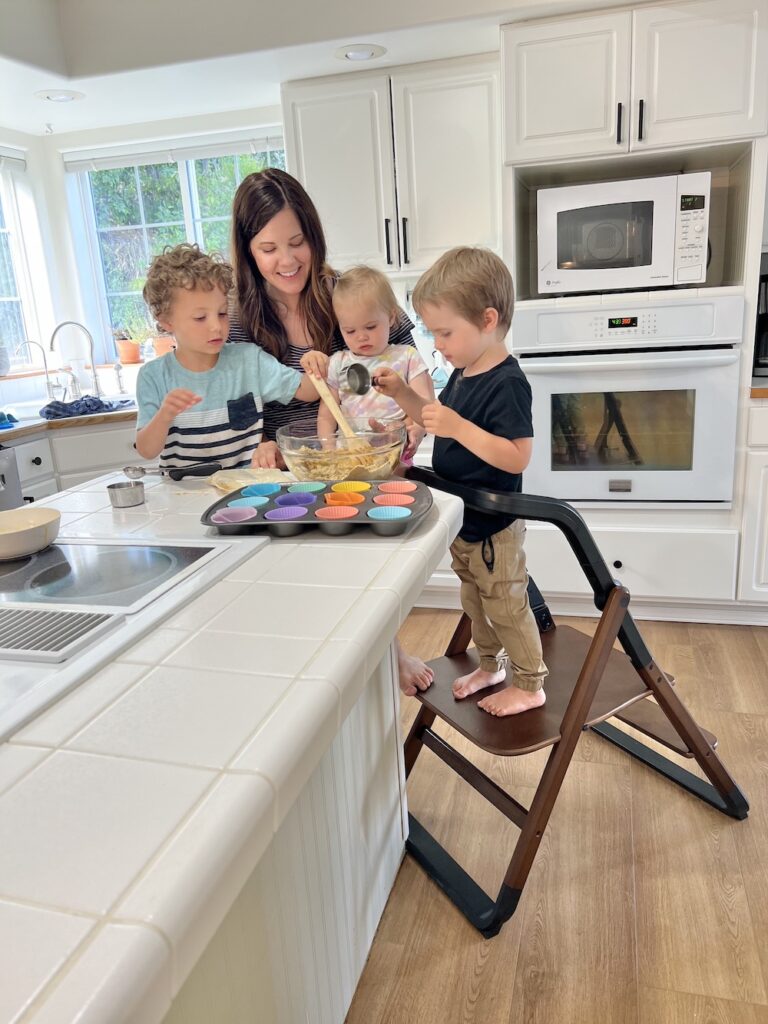 What are the 3 modes of the Ergobaby Evolve?
The Ergobaby Evolve is a 3-in-1 highchair that is made to grow with your child. The three modes of the Ergo Evolve are:
Highchair: first, the Ergobaby Evolve is a sleek and modern high chair. The highchair is designed for babies that can sit up unassisted (starting at about 6 months old) and up to 33 lbs. The high chair features an ergonomic bucket seat, removable tray that is dishwasher safe, and a 5-point harness to keep your little one safe and secure. We love to pair ours with the Ergobaby Feeding Set.
Chair: next, with just a few quick steps (no tools required), the Ergobaby Evolve converts to a toddler chair which is designed for toddlers approximately 3+ years old and can support up to 220 lbs. The seat height is adjustable to grow with your child!
Kitchen Helper: finally, with the kitchen helper set you can convert your high chair or toddler chair to a toddler stool or kitchen helper! The kitchen helper is recommended for 2+ years old and up to 100 lbs. This is our favorite way to get your toddlers involved in the kitchen or keep them happy and occupied while you cook or clean.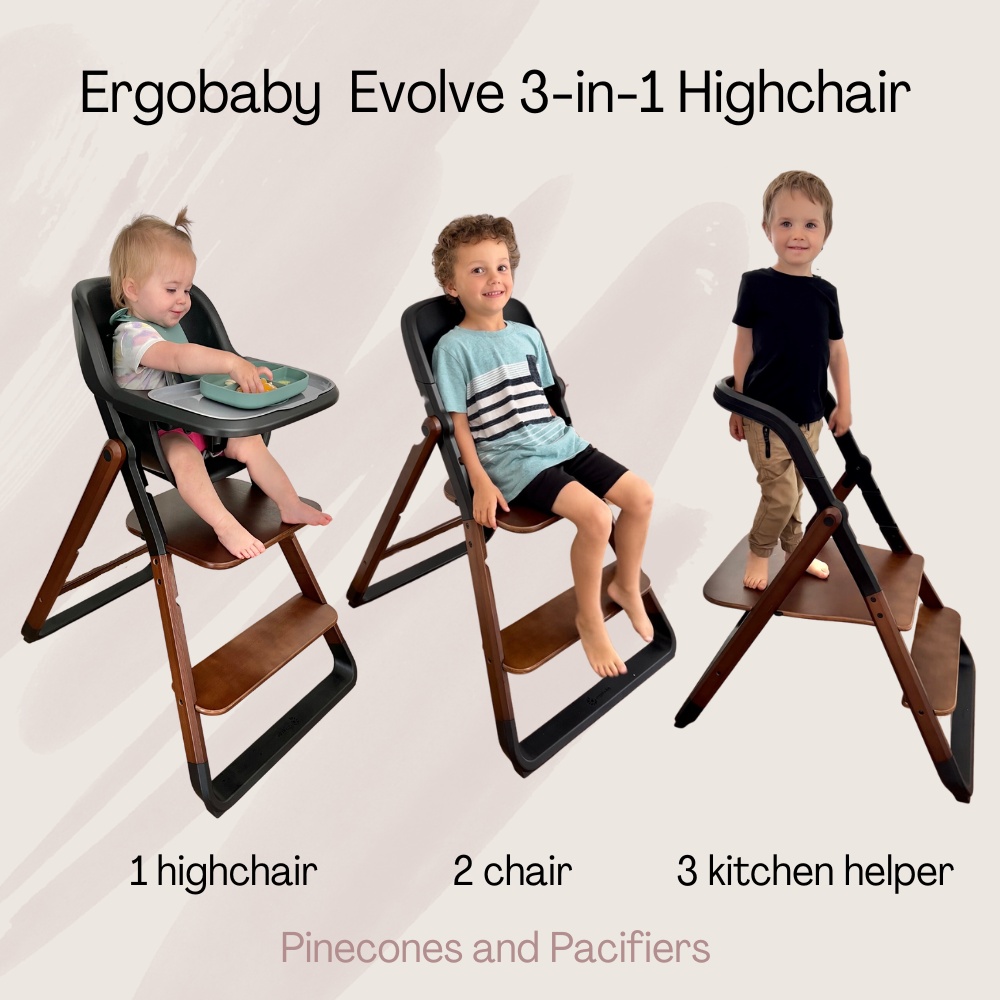 Benefits of the Ergobaby Evolve Highchair
The Ergobaby Evolve 3-in-1 highchair is versatile and innovative! This piece of baby gear really adapts to your child's growth and changing needs. Here are the benefits we see with the Ergobaby Evolve Highchair:
Versatility: With its 3-in-1 functionality, the Ergobaby Evolve adapts to your child's needs as they grow. It starts as a highchair for infants, transforms into a chair for toddlers and older children, and additionally becomes a kitchen helper (our favorite mode!). This versatility ensures that you can use the Ergobaby Evolve for an extended period, maximizing its value and longevity!
Easy to Transform: besides being versatile in that it transforms into three different pieces of baby gear, it's also extremely easy to do so! No tools are required and I am able to trade out the pieces in about 30 seconds or less.
Space-saving Design: The Ergobaby Evolve is designed to fit seamlessly into your home. Its compact size and sleek design make it a great choice for families with limited space. When not in use, it can be folded up with the push of a button and conveniently stored away!
Easy to Clean: Mealtime with a baby or toddler can be messy, but the Ergobaby Evolve simplifies the cleaning process. The removable tray is dishwasher-safe, allowing for effortless cleanup. Additionally, the chair's seat and frame are extremely easy to wipe clean!
Stylish Aesthetics: The Ergobaby Evolve highchair combines functionality with a modern and stylish design. Its sleek appearance adds a touch of elegance to your home decor, making it an attractive addition to your dining area. I love the look and feel like it elevates my home!
Ergonomic & Safe Design: the highchair seat has an ergonomic design and a footrest for optimal comfort! The high chair features a 5 point harness and overall all three modes (high chair, chair, and kitchen helper) seem extremely sturdy and durable!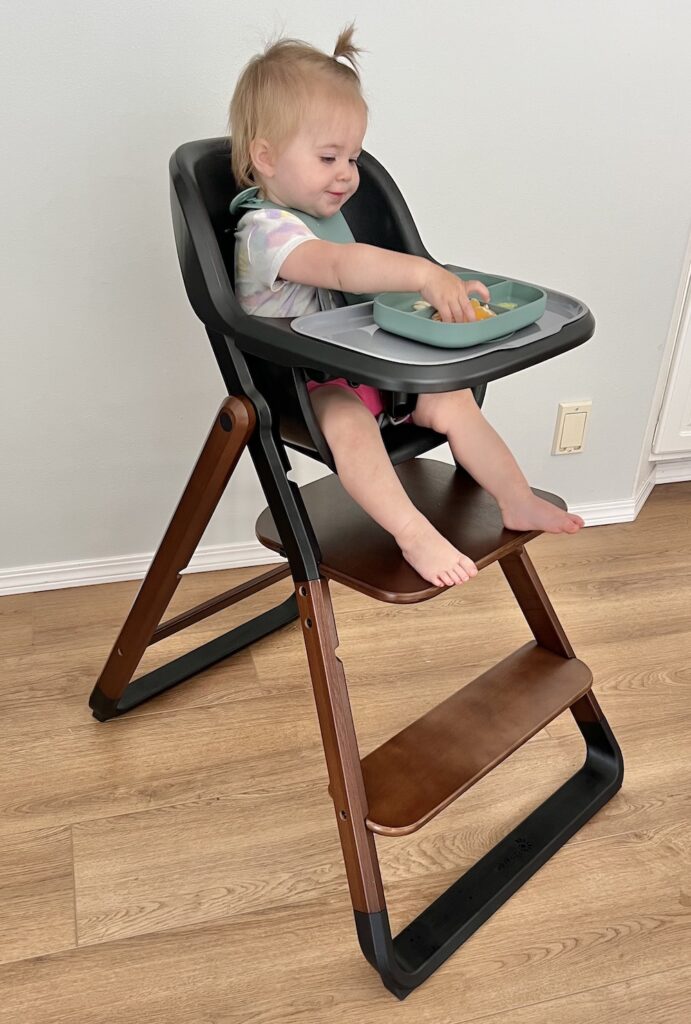 Is the Ergobaby Evolve 3-in-1 Highchair worth the cost?
As a mom of three who has used this high chair, I would say definitely yes! Because of the 3-in-1 functionality, the Ergobaby Evolve Highchair will grow with your child and can be used for many years down the road. It is made of high quality materials and is very durable, plus it folds up so you can store it away during special occasions or when not in use. The Ergobaby Evolve Highchair is extremely sleek and will elevate your space!
Is it Easy to Convert the Ergobaby Evolve 3-in-1?
Yes! There are no tools required to convert from high chair, to toddler chair, to kitchen helper (note that the kitchen helper kit is sold separately).
The Ergobaby Evolve 3-in-1 transforms in seconds with just a few change of parts! I was able to transform the Ergobaby Evolve through each mode within 30 seconds or less with just a few pieces and clicks of a button.
What Color Does the Ergobaby Evolve Highchair come in?
The Ergobaby Evolve 3-in-1 Highchair currently comes in two colors: dark wood and natural (light) wood. Both are sleek and stylish and will add a touch of elegance to your space!
Is the Kitchen Helper kit included?
The Kitchen Helper kit is sold separately as an add on to your Ergobaby Evolve Highchair. The Ergobaby Evolve comes with the high chair and toddler seat setup so you will need to purchase the kitchen helper kit if you want the true 3-in-1 functionality. To do this select the add-on before you add to cart.
Alternatively, you can buy the kitchen helper kit separately, but it's more expensive this way.
Is the Ergobaby Evolve Highchair Counter-Height?
No, the highchair and chair are standard table height. The top of the highchair is 89.9 cm and the top of the chair back is 86.9 cm. They will fit perfectly at your standard-height table, but will be a tad too short if your table is counter-height.
You might also like these related post: