A list of mom-approved baby registry must haves and essentials based on what a mom of three actually registered for and uses for her three babies!
I'm a mom of three sharing all of my tried-and-true baby registry must haves and baby and toddler essentials. Be sure to add these 60+ items to your baby registry so you will be well-prepared and have everything you need when it's time to welcome your baby.
For your first baby, you will likely need some baby gear! Babies don't require a ton of stuff, but in my opinion, having the right gear can make having your first baby just a tad bit easier and more comfortable.
Even if it's not your first baby, you may want to update some things, or get a second of certain items (think another crib, high chair, double stroller upgrade, ect) especially if your kids are close in age!
Follow along with us on Instagram to see what we've been up to and see some of our baby registry favorites in use!
Mom tip: it's a great idea to set up an Amazon Baby Registry to keep track of everything you will need (or want to buy). You can share your wish list with friends and family, and also get a discount on registry items that are left over.
Below i'm sharing my baby registry must-haves and baby essentials that are tried-and-true favorites from this mom of three 🙂
You might also like these related posts: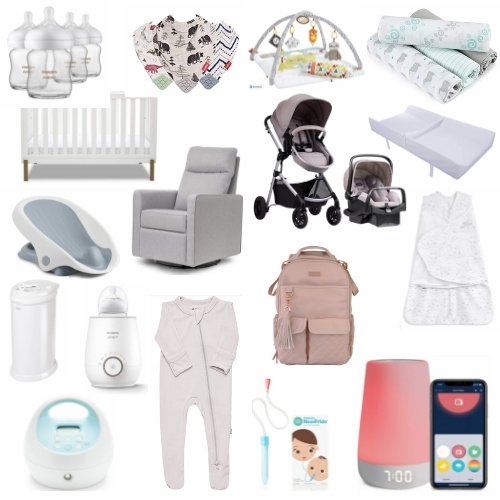 When to set up your Amazon Baby Registry?
You can really set up your baby registry at any time! My first pregnancy I started pretty much right after I found out I was pregnant.
It takes a long time to research the best baby products and decide what will work best for you and your family. This can depend on a lot of factors, such as:
Are you a first time mom or starting from scratch?
Will you be getting a lot of hand-me-downs?
Will you need extra items for the nanny, daycare, or family member's house?
Do you have a large house and you need baby stations in each room?
The list can go on and on. Take some time to think about these things as you are crafting your baby registry. Also, another thing to consider is if you will be having a baby shower. When will your baby shower be?
Most baby showers are thrown in the third trimester, however I chose to have mine around 26 weeks. I knew I needed to have my baby registry nailed down a few weeks before to allow time for guests to order gifts.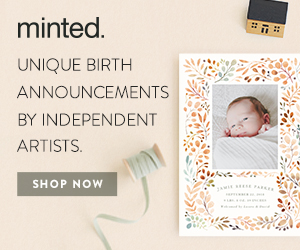 **Shop our favorite Baby Shower Invites and gorgeous Birth Announcements (almost always on Sale!)
Must Have Baby Items for your Baby Registry
Please note that this post is updated regularly based on what I've found to be the very BEST!
Below is a full checklist to help you with your baby registry! This is everything that I registered for an actually used the first year with both of my sons. I have provided links to my favorite Amazon products so you can add them right to your Amazon baby registry.
Sign up for Amazon Baby Registry to save 15% with Registry Coupon!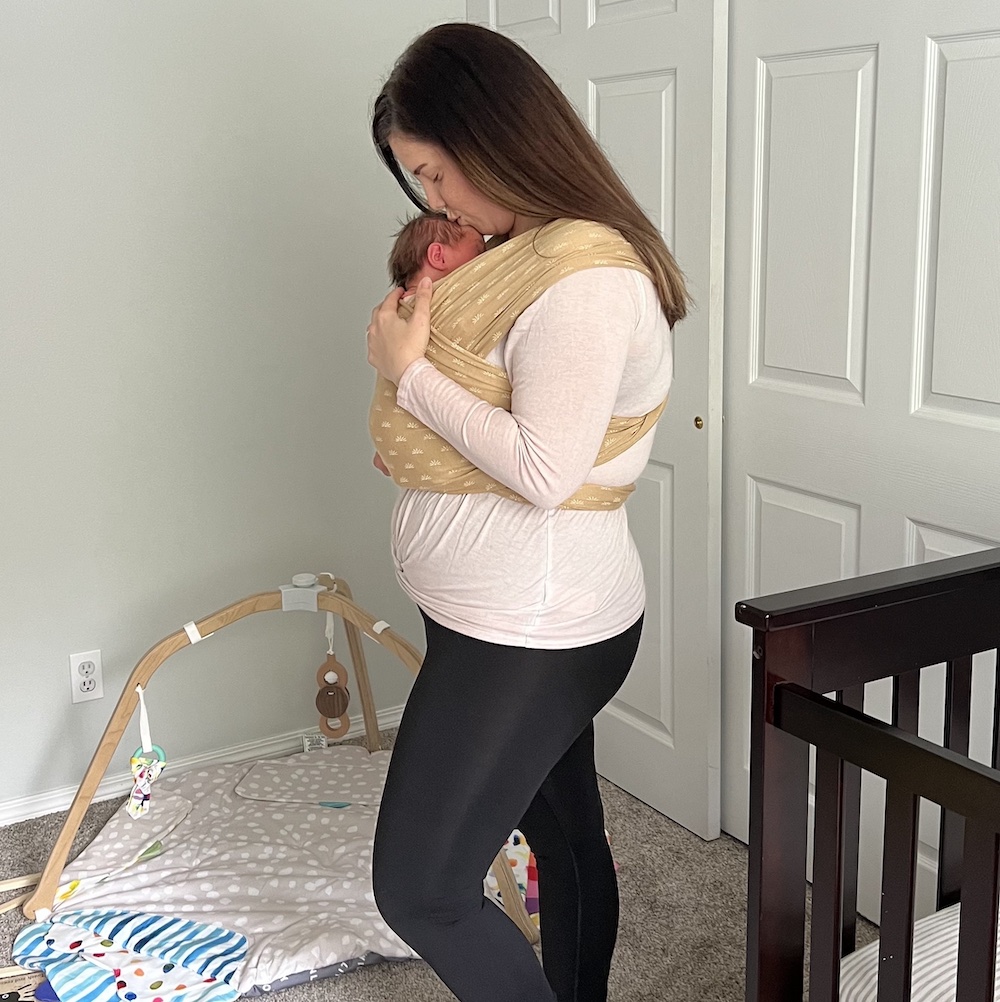 Top 5 Baby Registry Must Haves
Before we get started with the all inclusive list of baby registry must haves, I wanted to share my top 5 must-haves! You can read more about them below:
Nursery Checklist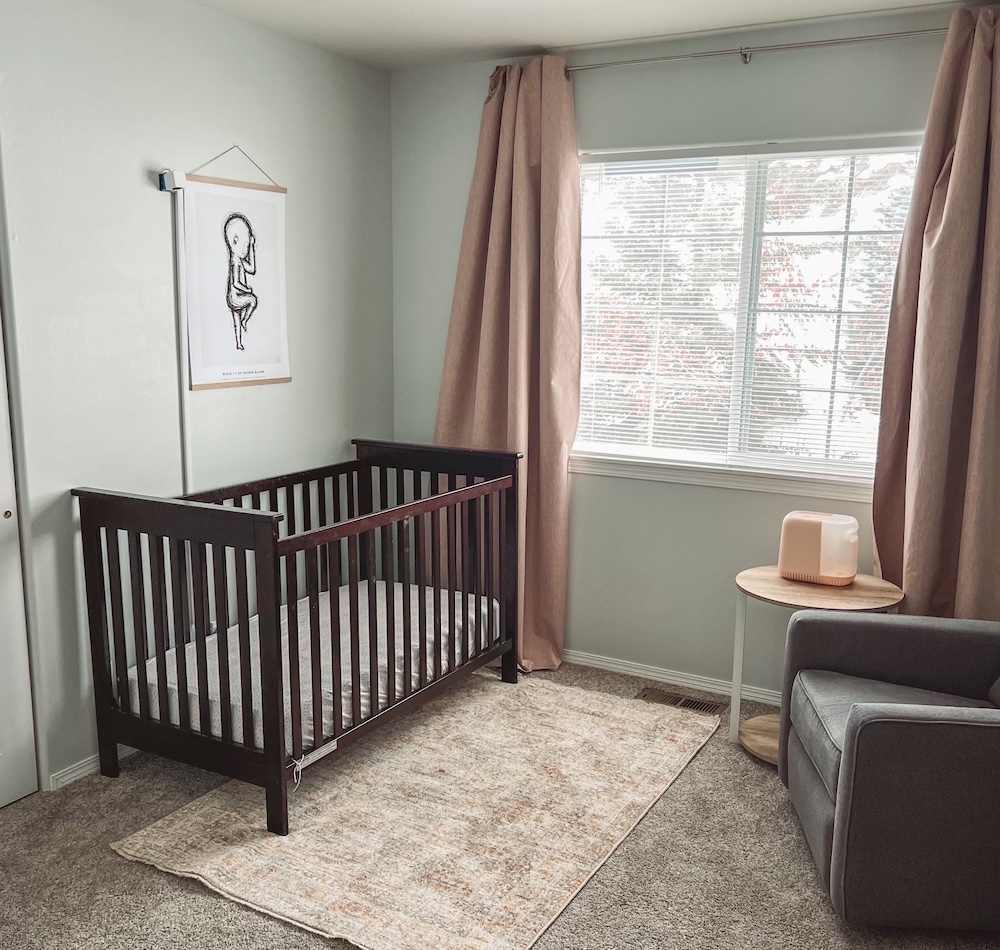 Delta Children Heartland 4-in-1 Convertible Crib – as my number one baby registry must have: make sure your baby has a safe place to sleep, whether it be a crib or bassinet. We used a crib from day one with both of our babies so its a must-have for us!
Newton Baby Crib Mattress – always choose a firm mattress for safe sleep. The Newton mattress is super breathable for parent's peace of mind.
Newton Baby Mattress Protectors – if you get the Newton Baby crib mattress you will want the coordinated mattress protector that also allows your baby to breathe through it. We always keep 2 mattress protectors on hand in case of an overnight blowout.
Burt's Bees Baby Fitted Crib Sheets – I also recommend 2 or 3 sets of sheets. That way you have an extra when one is in the wash and also have backup in case of middle-of-the-night accidents.
Delta Children Changing table/dresser – we use a dresser as a changing table and put a changing pad on top for more comfort. No need to buy an extra piece of furniture.
DaVinci Gabby Pillowback Swivel Glider – whether you are breastfeeding or bottle feeding you will want a comfy place for all of those feedings! Newborns eat 8-12 times per day on average. A nursing chair will be especially helpful for middle of the night feedings.
Related Post: How to Set Up Your Nursery
Visit our Amazon Shop to see all of our Baby Registry Must-haves and easily add them to your registry!
Baby Gear to Register For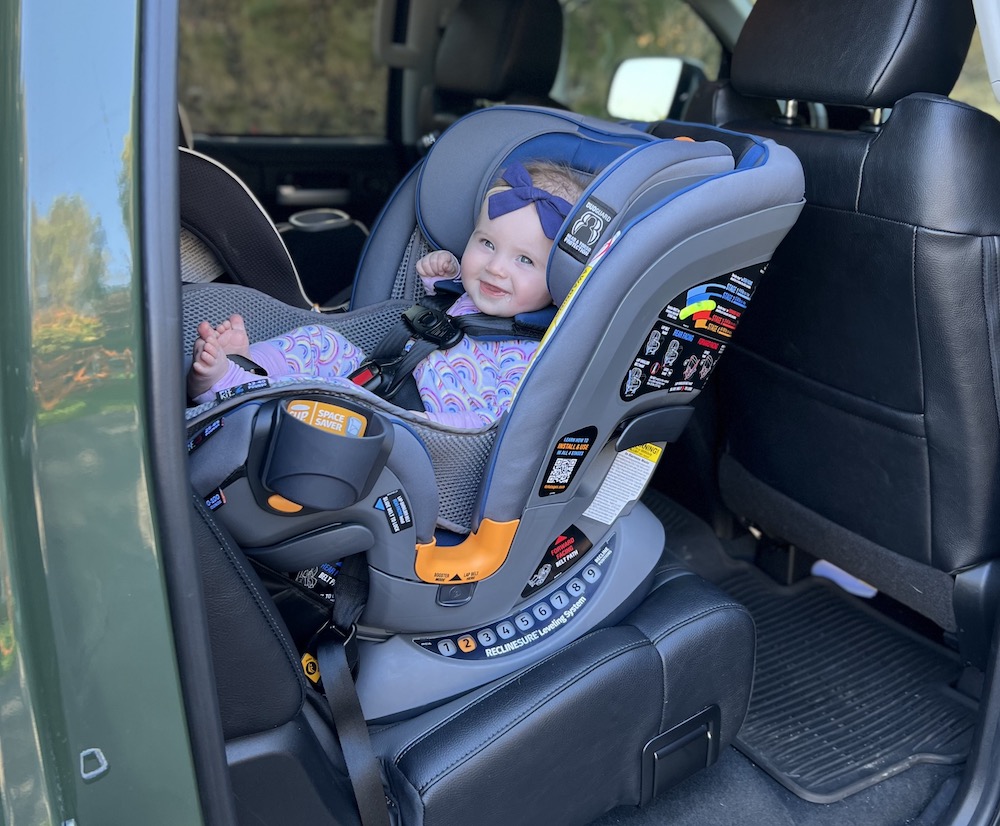 Chicco Fit4 Adapt 4-in-1 Convertible Car Seat – A safe car seat is a must on your baby registry! We love the Chicco Fit4 Adapt with the 4-Stage FitKit™ System so that your baby can safely and comfortably use it from 4-100 lbs. The adaptable, breathable mesh fabric keeps your baby cool, while also safe and secure.
Itzy Ritzy Diaper Bag Backpack – you will definitely want a bag to bring along all your baby supplies! We really like this one because it can be a bag or a backpack. Its also big enough for two kids (baby & toddler) and is so cute.
Evenflo LiteMax DLX Infant Car Seat – you will definitely want to start out with an infant carseat, specifically one that can click into a base (like the Evenflo) and that works with a stroller system (see #19). We used the Evenflo LiteMax and loved how easy it was to transfer to the stroller. You can use from 4-35 pounds. Don't forget to register for an extra car seat base if you have two cars!
Travel Bug Back Seat Mirror– a mirror that straps onto the headrest makes it so much easier to keep an eye on your baby in the car and for peace of mind. We like these mirrors that easily attach to the headrest of the back seat.
Tiny Traveler Car Monitor – here is one awesome baby product that I didn't get until my third baby that I totally wish I had with my first! Put your mind at ease when you are in the car with your baby and grab this car monitoring system (it's also great to use as a crib, playroom, or travel camera!).
Parker Baby 4 in 1 Car Seat Cover – we use this during cold or windy days or when baby falls asleep on the go. Its also helpful if you want to keep hands out of your baby's carseat during flu or cold season.
Solly Baby Wrap – a baby wrap can be extremely helpful for getting things done around the house when your baby just wants to be held or for gatherings, events, or travel. We used our Solly Wrap just about every day, especially with my second son since our days were extremely busy chasing after a toddler. (Check Solly Baby Site for Deals)
Lillebaby Baby Carrier – a wrap is great for tiny babies or around the house, but once your baby is a little bigger or you want something more comfortable for them the Lillebaby Carrier is a must-have! We loved this for walks, hikes, and outdoor events. It offers more support than a wrap and is great for more physical activities.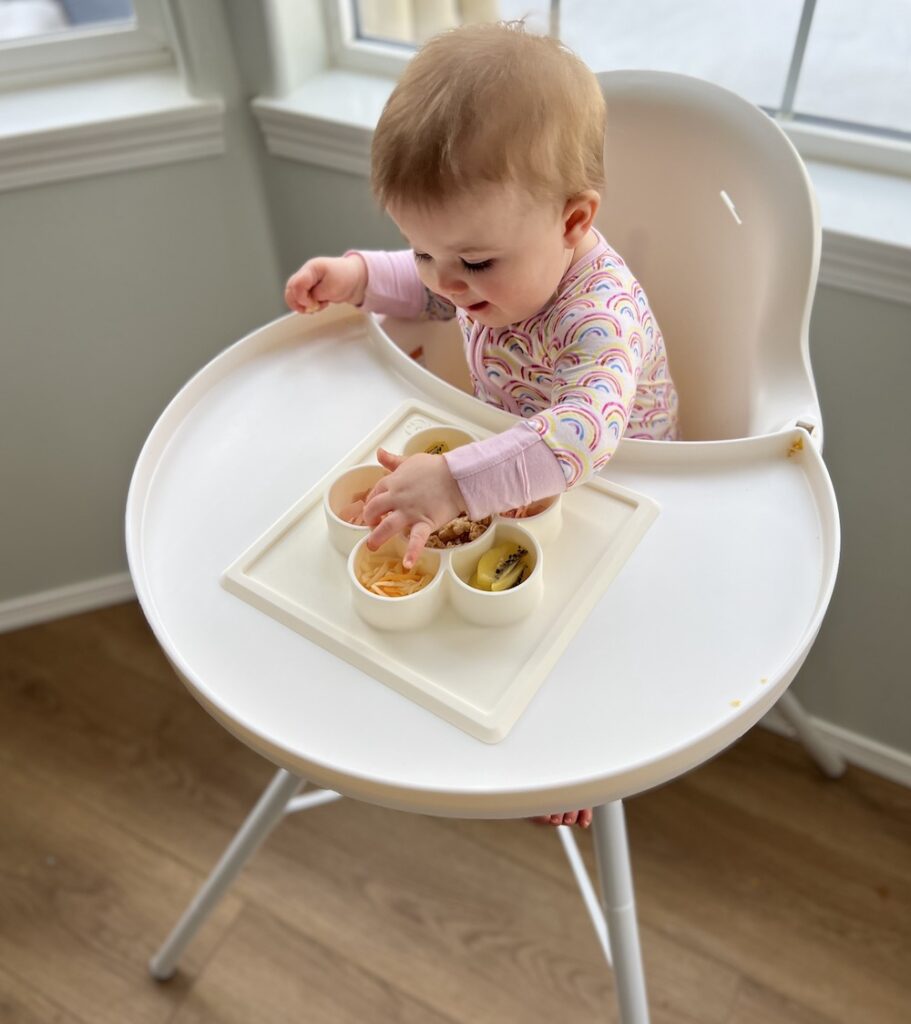 Boon High Chair – this is our current favorite high chair! I love how it's super easy to clean and can go up to counter height (we have a counter-height table). Favorite space saver: Ingenuity Floor Seat & Favorite 3-in-1 high chair: Ergo Evolve 3-in-1
Fisher Price Baby Bouncer – a bouncer is a great, safe place to set baby down when you are working around the house. With my second baby especially, this was a must have to get things done. It also has a toy bar so its fun for your baby.
Lovevery Playgym– my kids have Loved this play gym for many many months. It can be great for hand-eye coordination as your baby practices reaching for all the toys.
Fisher-Price Sit-Me-Up Floor Seat – once your baby can sit-up this is a great place for them while you get stuff done around the house. We also like to use ours to keep baby contained when outside.
Evenflo Pivot Modular Travel System – if you are getting an infant seat for your baby (highly recommended) you will also want a travel system with a compatible stroller. The Evenflo Pivot is our favorite because it's affordable, safe, and looks great too! If you are thinking of having multiple kids I HIGHLY recommend getting this because it can be used as a single or double stroller: Evenflo Pivot Xpand Modular Travel System
Related post: Best Toys for your Baby Registry
Bath/Hygiene Checklist
Summer Clean Rinse Baby Bather – this is our favorite baby bath seat because you can incline it as your baby grows and wants to be more active in the bath. It's also great for placing your baby in the bath if you need to bathe other siblings at the same time.
Summer My Bath Seat – a great bath seat for babies who are older and can sit independently (6+ months) but you're also not ready for them to sit in the bath without support. This is also great for bathing multiple siblings at once as it keeps your baby more steady and supported.
Hooded Baby Bath Towel – hooded towels are great for getting your baby out of the bath and keeping them wrapped up cozy and warm! These are extra soft and come in cute prints!
Earth Mama Calming Lavender Baby Lotion – Earth Mama is one of our favorite brands for organic, clean ingredients.
Earth Mama Baby Lotion with Organic Calendula – organic non-scented baby lotion perfect for newborns or babies with sensitive skin.
Braun Digital Ear Thermometer – we have loved our ear thermometer and would highly recommend this one.
FridaBaby Grooming Kit – this is great to have on-hand; it includes baby nail clippers, a baby nail file, brush, comb, finger tooth brush, and many other useful items.
Fridababy NoseFrida Nasal Aspirator – another great item for baby's first cold. This is so much more effective than the bulb type aspirators, uses filters to make it more hygienic, and is easy to clean.
Fridababy 3-in-1 Humidifier – a must-have for the winter season and for when your baby get their first cold. Babies have such sensitive skin that it can easily become dried out.
Fridababy MediFrida Baby Medicine Dispenser – this is a game changer for dispensing medicine! When your baby is sick the last thing you want to do is fight them when giving medicine. The medifrida is a must have to get before your baby is born.
Itzy Ritzy Sweetie Soother Pacifier – pacifiers are so cute these days! Stock up before your baby is born.
Related post: How to Treat Colds in Babies and Newborns
Diapering Checklist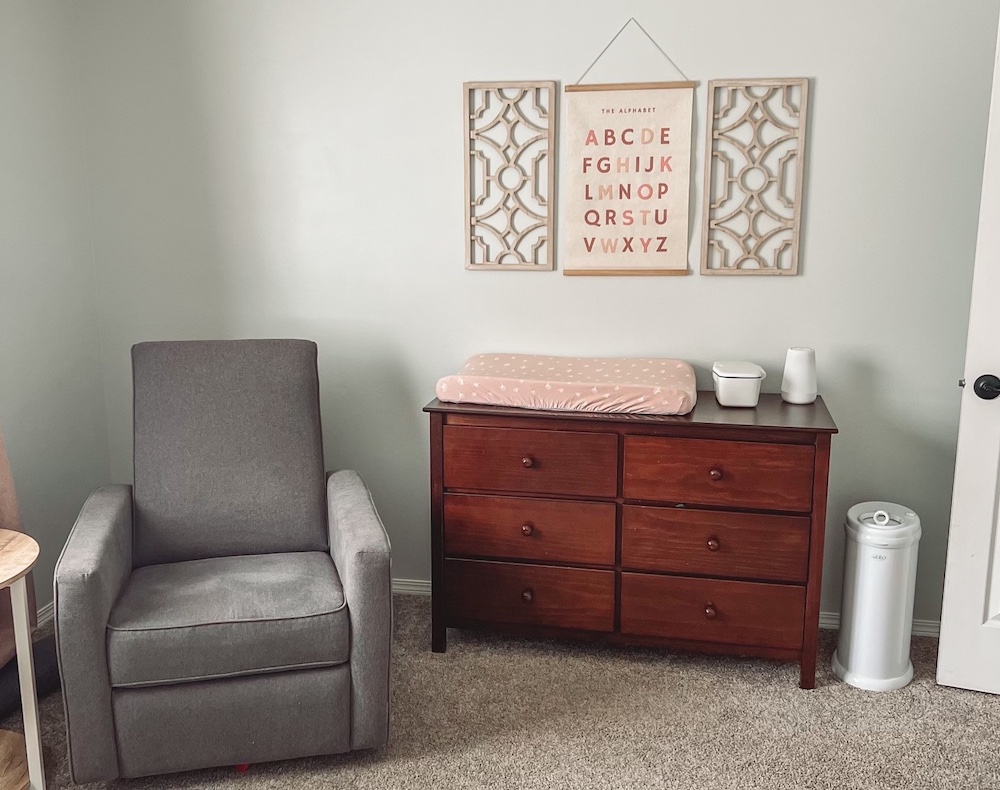 Ubbi Steel Diaper Pail – this is a MUST have when setting up your baby's nursery. A diaper pail can keep all the stink inside so it doesn't smell up your nursery. I've tested another brand, but Ubbi is THE BEST because its made of steel instead or plastic.
Huggies Special Delivery Hypoallergenic Baby Diapers – Huggies are one of my favorite diapers! We have tested them on two babies now and they always hold up well. If you are looking for a great option for organic diapers (& EWG verified), I also highly recommend Healthy Baby Diapers.
Huggies Natural Sensitive Care Unscented Baby Wipes – Huggies is also my favorite brand of wipes. They have a woven texture and I think they work the best for messy diapers! We always buy unscented.
Munchkin Secure Grip Waterproof Diaper Changing Pad – a comfy place to change your baby's diaper and its also easy to wipe clean. We used this on a dresser instead of a changing table and it worked out great.
Burt's Bees Baby 100% Cotton Changing Pad Cover – changing pad covers can add even more comfort to your diaper changing routine. You will want a few of these so you can throw them in the wash regularly.
The Honest Company, Diaper Rash Cream – you WILL need this eventually and will want to have some on-hand for when you do. Honest Company is a great clean brand, or for really difficult diaper rash we love Triple Paste Diaper Medicated Ointment.
BabyBum Brush – this is a game changer for diaper changes! No more messy fingers, this keeps it so much more sanitary. This is my favorite go-to baby shower gift.
Sign up for Amazon Baby Registry to save 15% with Registry Coupon!
Nursing/Feeding Items to Add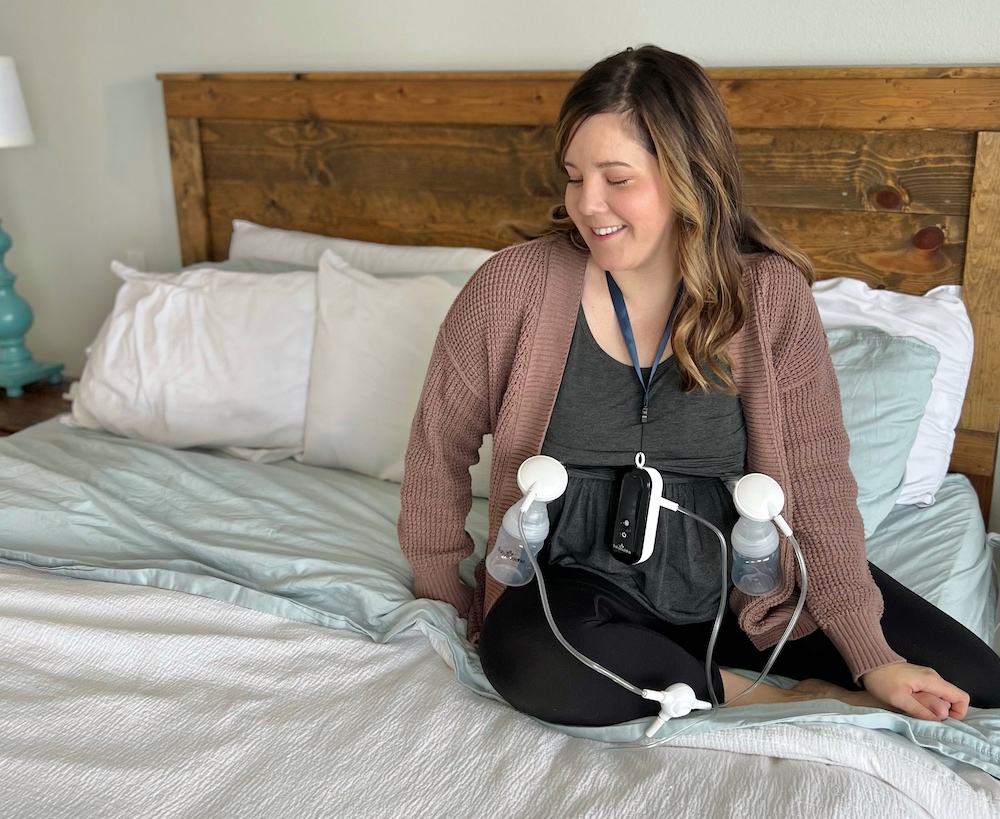 Lansinoh Bottles – this time around we are loving Lansinoh bottles, they are especially great for babies who go between breastfeeding & bottle feeding and they have minimal parts to clean.
Phillips AVENT Bottle Warmer – this is one of my favorite underrated baby products. We love our bottle warmer and have used it for both of our boys. It can have a bottle warm in just minutes and is less work than heating up water in the microwave or stove top.
Muslin Burp Cloths – you can never have enough burp clothes! I prefer simple and affordable ones so that you can stock up.
Nuby 3-Piece Muslin Bandana Bibs – we love bandana bibs for drool and milk spillage for younger babies. We love the Nuby brand bandana bibs because they have a teether attached and come in such cute prints!
Boon Bottle Drying Rack – great for organizing all of your bottle parts (and pump parts) and getting them dry. This Boon Drying rack looks so cute on your counter!
ezpz Tiny Spoon – EZPZ is one of our favorite brands! Their products are made of non-toxic silicone are extremely durable and dishwasher safe! These spoons are perfect for feeding your baby or practicing self-feeding when the time comes. (check EZPZ site for deals and use EZPZ25LOVE for 25% off $75+)
Bibado Coverall Bib – this is a great bib for young babies who are extremely messy when they eat or for when your baby starts self-feeding! These fit 6+ months and can be used into toddlerhood. (check Bibado site for deals and use PINECONES20 for 20% off)
ezpz Tiny Bowl – the perfect first bowl for your baby! This is a silicone bowl that sticks to the high chair or table. It pairs so well with the ezpz Tiny Spoon mentioned above. (check EZPZ site for deals and use EZPZ25LOVE for 25% off $75+)
Baby Buddha Breast Pump – if you plan on nursing or pumping you will want a breast pump. With many insurance plans you can get a breast pump for free, but if you don't have insurance or want an extra I highly recommend the Baby Buddha Breast Pump (check for sales on their website too!). This pump is strong and if you prefer a lighter pull I also love the Pumpables Genie Advanced.
Related post: Baby Buddha Breast Pump Review
Sleeping Gear Baby Registry Must Haves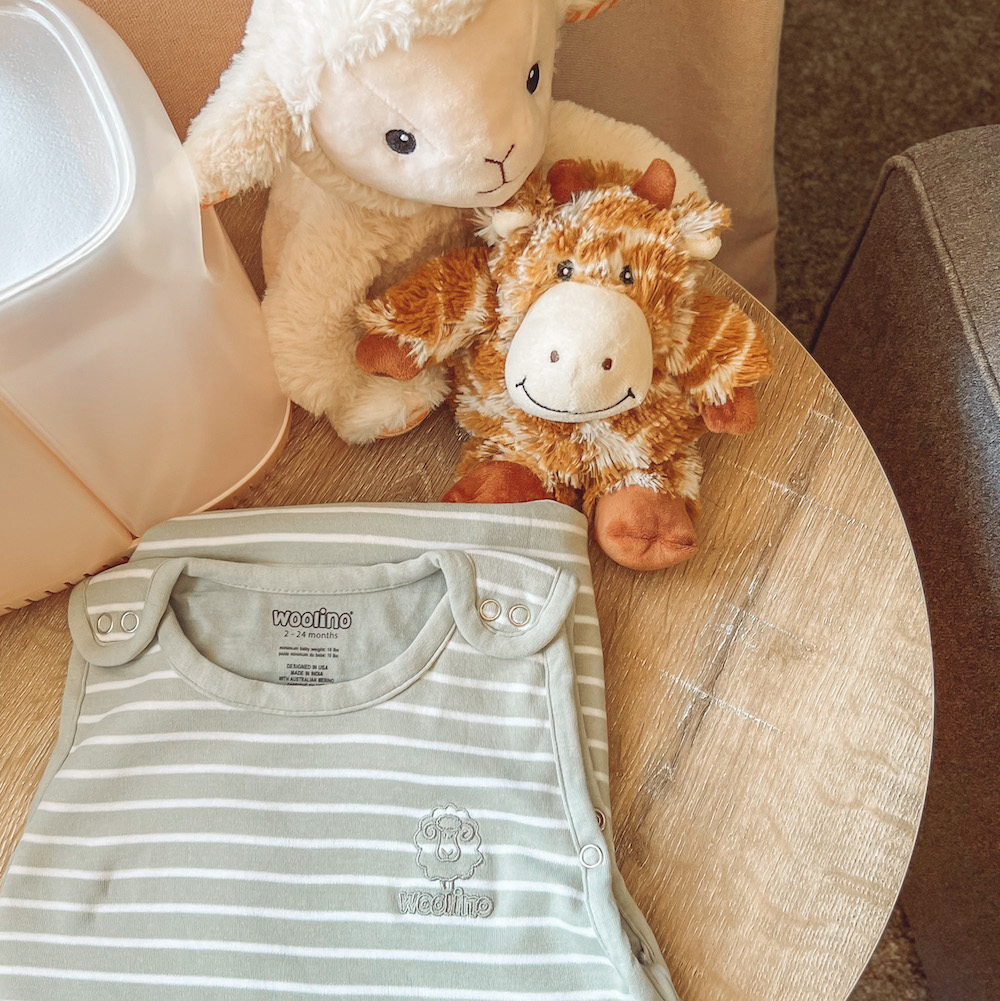 Woolino Merino Wool Sleep Sack – we use this after transitioning out of the swaddle and Love to Dream Swaddle Up. This sleep sack is THE BEST because merino wool regulates your baby's temperature best and can be used in all seasons and from 2-24 months. A sleep sack is much safer than loose blankets in the crib. It can keep your baby warm and also provide comfort. We use sleep sacks until moving to a bed around 3 years old. You can size up to fit older babies and toddlers as well!
Hatch Rest+ Baby Sound Machine – a sound machine is one of our top must-have baby items! Babies are used to all the sounds they hear in the womb like your blood circulating, digestion, heart beat, ect. A sound machine that plays white noise can help your baby calm down and fall asleep (and stay asleep). We love and recommend the Hatch Rest+!
WYZE Cam v3 Baby Monitor – a video monitor will offer you peace of mind and will be especially helpful if you house is large. We have these monitors over all of the kids' cribs/beds and also other places in the house. I love that you can have multiple cameras and see them in one place on your phone. Also love that they are so affordable!!
aden + anais Muslin Swaddle Blanket – newborns love to be swaddled since they are used to the confined space in the womb. We love these by Aden + Anais! Most babies will learn to break out of these in a few weeks, but they can also be used as a blanket to set baby down on or cuddle with (keep blankets out of the crib until at least 1 year).
Halo Velcro Swaddle – another one of my favorite baby sleep tips – use a velcro swaddle! They are a must for us, all of my babies have slept much better swaddled until 8-12 weeks (after this its not considered safe because they could roll at any time).
Love To Dream Swaddle UP – once your baby is ready to transition out of the swaddle this is a great swaddle transition! My second son also just loved to sleep with his hands up by his face so he moved to this after just a few weeks in the swaddle. Another one of our favorites for sleep!
On Becoming Babywise: Giving Your Infant the Gift of Nighttime Sleep – this book has saved my sanity as a first-time mom and then mom of two under two! I cannot recommend it enough for tips on getting your baby to sleep independently and sleep well. A happy well-rested mama makes for a very happy baby and family!
Related post: Baby Bedtime Routine for Better Sleep
Favorite Baby Clothing
You will likely receive a lot of baby clothes or will want to shop for your own, so I will keep this brief. Here are some basics:
KYTE BABY Soft Bamboo Rayon Footies – these pajamas feel like butter! In general I look for pajamas that have fold over mitts (this works much better than baby mittens) and have zippers instead of snaps.
Carter's Neutral Long-Sleeve Bodysuit – stock up on body suits! I love long-sleeved ones for most months of the year and love the neutral colors.
Carter's Neutral Snap-up Rompers – rompers are another thing that's good to stock up on! Your baby may have some cute outfits, but rompers are great for those days your baby is on their third outfit of the day before noon.
Burt's Bees Baby Unisex Baby Booties – not completely necessary, but these stay on so much better than baby socks!
Sign up for Amazon Baby Registry to save 15% with Registry Coupon!
Travel Gear for your Baby Registry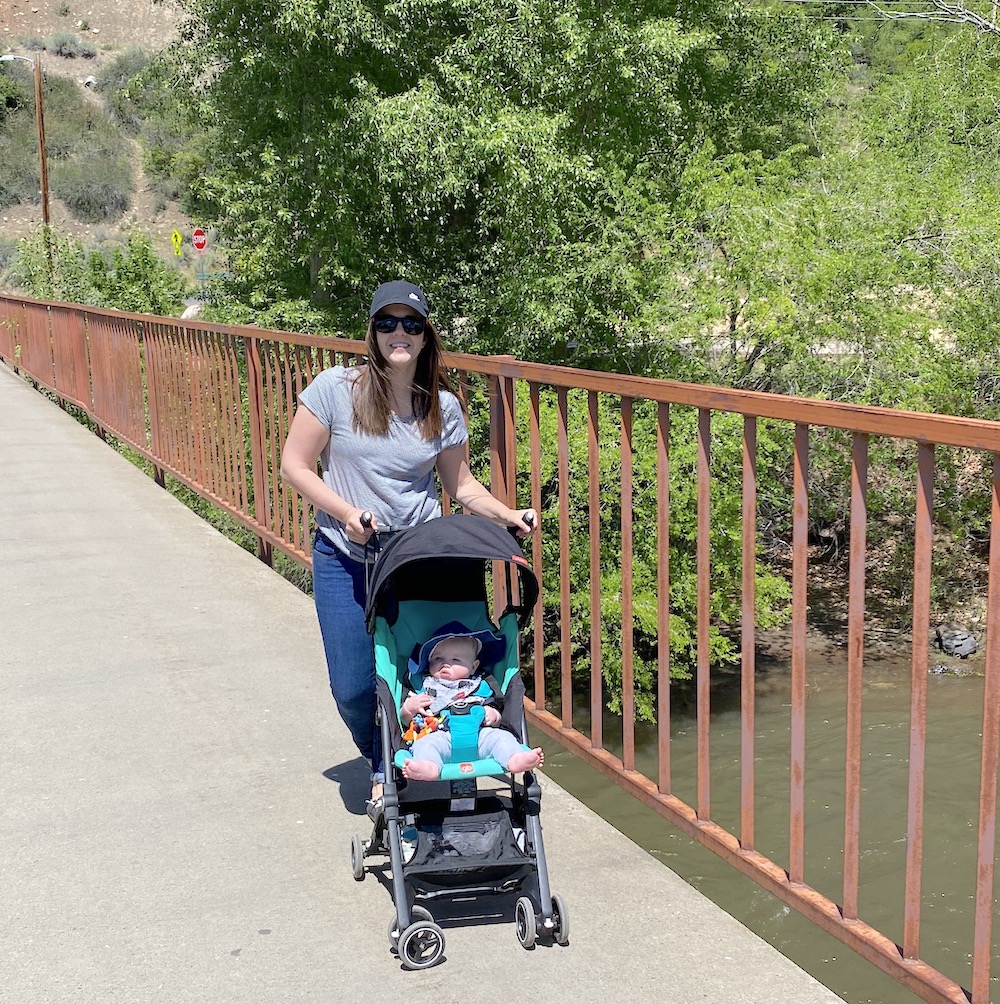 gb Pockit+ Lightweight Travel Stroller – we have loved this for plane travel! It's so small it can be carried on and stored under the seat in front of you. We also now use this exclusively at home because it takes us less space in the car.
Mommy's Helper Inflatable Bath Tub– a must-have for traveling, especially when there isn't a tub! Both of my boys have used this when traveling from about 4–10 months.
Graco Pack 'n-Play Dome LX-Playard – a portable crib is a must-have for traveling! We have multiple pack 'n plays and use them around the house and when traveling. I love all the add-on features with the LX version, but if you are looking for a simple version we also have this one as well: Dream On Me Nest Portable Play Yard
SlumberPod Portable Blackout Canopy – if your baby is used to sleeping in a blacked out room at home this is a life-saver for traveling! It has ventilation and fits over almost and portable crib or mini crib (like you might find in a hotel).
Hatch Rest Mini – you will want to create your baby's at-home sleep environment when you travel, including bringing white noise. We love this one because like the Hatch Rest+ you can also control the sound settings from your phone! For a more portable option we also love the Rohm White Noise Machine
Boon Travel Drying Rack – we love this for traveling, especially in a hotel or somewhere without a lot of space to do dishes. It's a smaller portable version of our favorite Boon Drying Rack.
Summer Pop 'N Sit Portable Booster Chair – this has been so useful for places that don't have high chairs or when they look particularly dirty. We always bring it along when we travel and stay overnight places.
Visit our Amazon Shop to see all of our Baby Registry Must-haves and easily add them to your registry!
What I Don't Recommend for your Baby Registry
Above are my baby registry must haves; everything i've registered for before and what I have used the first year with both of my sons. It's a tried and true list by a mom of two (almost three)! Everyone is different and some parents might not use everything on my list, just like there are some baby items missing from mine.
Below are some items that some people recommend, but I personally didn't use. I just want to mention them in case you want to do your own research and see if they would be a good fit for you!
Baby Swing – this can be convenient, but is not a safe place for your baby to sleep and can become a sleep prop (meaning it will be hard for your baby to sleep in a normal bassinet or crib).
Baby Lounger (like Dock-a-tot) – this is not a safe place for your baby to sleep and is really not necessary.
Bassinet – we used our pack n play as a bassinet the first week or so and then moved to the crib, this is my personal preference but I also don't have any experience with bassinets to recommend one.
Changing Table – I personally like a changing pad on a dresser, or many parents just use the floor.
Nursing Pillow – I never found one I loved and just use a normal pillow.
Baby Detergent – most organic or free-and-clear detergents are better than baby detergents anyways! (Puracy is our favorite)
Wipes Warmer – it happens so fast your baby won't even notice.
Baby Toys – you don't need a ton and could totally save them for the next major holiday, check out my full list of favorite baby toys for your registry!
Postpartum Supplies – check out my related post for that list (20 Postpartum Supplies for Mom)
Sign up for Amazon Baby Registry to save 15% with Registry Coupon!
Thanks for stopping by!
You might also like these related posts: