A list of 20+ must-have postpartum supplies and postpartum essentials for new moms. Everything you will need to help your body heal after labor and delivery.
Are you wondering: What do I actually need for postpartum care? What do you put in a postpartum basket? As a mom of three, I have been down this road three times now and want to share with you everything that i've learne
Before your baby is born most of your time and energy is spent registering for, buying, and organizing baby items (check out my ultimate baby registry list). But, what no one tells first-time moms is that they should also be gathering postpartum supplies that will make THEIR lives easier and more comfortable post-delivery.
As a first-time mom there were so many postpartum supplies that I didn't even know I needed. Really, if you haven't been there or have someone extremely close to you to share these secrets you might be ill-prepared.
Even second-time mamas or seasoned mamas might forget what it was like postpartum and might need a refresher on what to expect and what items to stock up on. From one mom to another, I'm sharing my favorite postpartum supplies to help make you more comfortable after delivery.
Looking for more postpartum tips? Check out these related posts:
Should You Add Postpartum Supplies to Your Baby Registry?
Definitely add postpartum supplies to your baby registry! Most moms would love to buy you postpartum products because they have been through it and know you will definitely need some essentials for your recovery.
I highly recommend adding postpartum supplies to your baby registry! If you are expecting and don't have an Amazon Baby Registry yet, be sure to sign up. Even if you aren't a new mama, there are so many benefits of making a baby registry (like getting a discount on things you want and need for your new baby).
Sign-up for Amazon Baby Registry
What to Expect Postpartum
Postpartum life can be very different than anything else you've ever experienced or even imagined!
Note: I had two vaginal deliveries, so I am writing from that perspective, but many of the experiences are also shared with woman who have c-sections.
Your body grew and delivered a tiny human who then crawled right up to your breast and began forcefully sucking and will continue to do so for hours upon hours a day! Your body has never been through this before (or maybe it has, but it was a while ago) so it's going to need some help to cope and heal.
Postpartum life is generally characterized by a few different things:
Soreness and swelling downstairs
Bleeding (like a heavy period)
Sore nipples
Extreme tiredness
Hair loss (after a few weeks)
In order to help your postpartum body deal and recover, there are a few things you want to have stocked up before delivery! Or at the very least send your partner out to get once you realize you need them.
What Products Do I Need Postpartum?
Postpartum Essentials for 'Down There'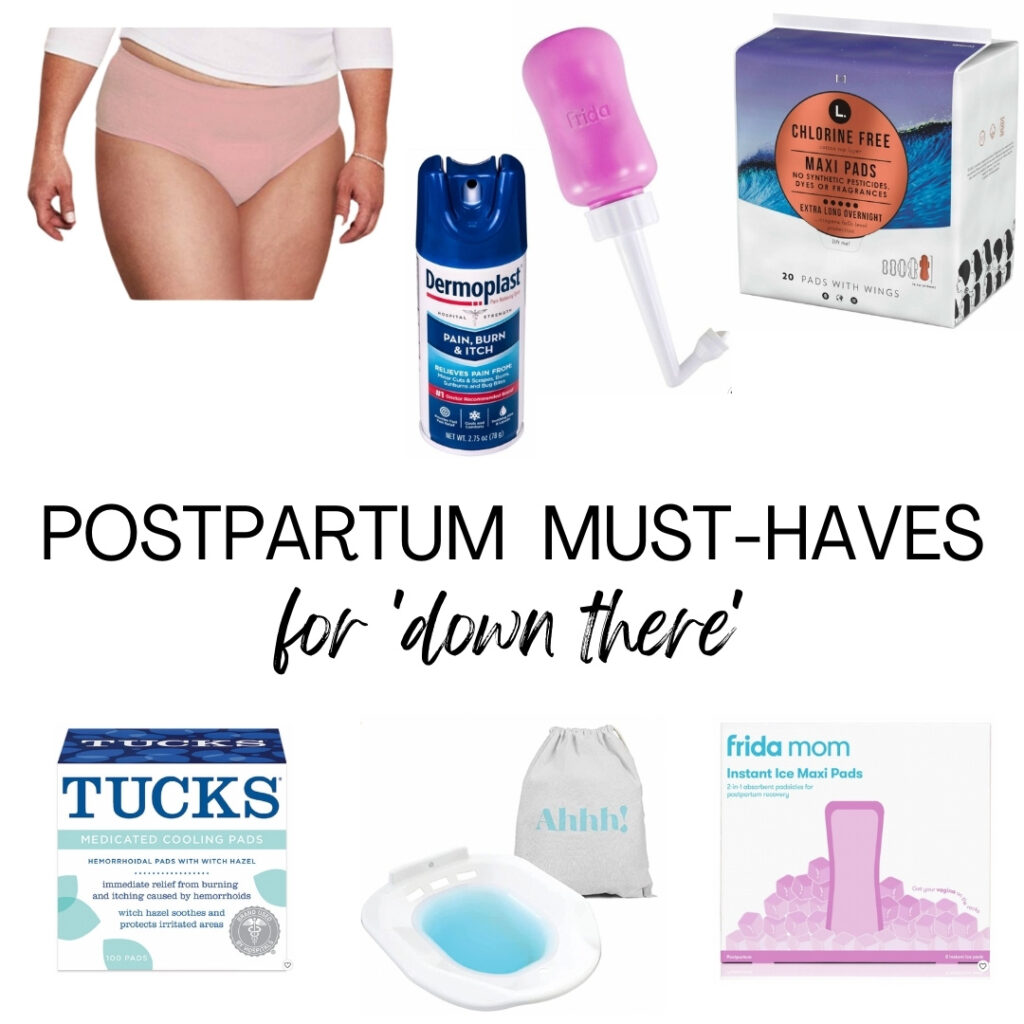 Disposable Underwear – you will likely get some at the hospital, but be sure to continue wearing them once you are home. You should only need these for a few days and then you can wear pads until bleeding subsides.
Tucks Medicated cooling pads – Another not-so-glamorous item you will want postpartum are medicated cooling pads. These will help you heal down there, relieve pain, and reduce swelling.
Frida Mom Upside Down Peri Bottle – Especially if you have a vaginal delivery, tears and swelling can make feeling clean postpartum a challenge. This peri bottle was a life-safer the first few days after delivery.
Dermoplast Cooling Spray – this was recommended to me by another mom and i'm so glad I had this on-hand. This will definitely help with discomfort postpartum, especially if you have a vaginal delivery.
Postpartum Undies – These don't need to be anything special, but you will likely want to buy some larger full-coverage undies to use with your postpartum pads. After you are finished with your postpartum bleeding treat yourself to some cute new pairs!
Overnight Pads – I recommend disposable underwear for the first few days after delivery, but after a while its more comfortable to switch to regular overnight pads. Be sure to stock up!
Frida Mom Postpartum Perineal Ice Maxi Pads – these ice pads can also help to relieve some pain and swelling after delivery (and are also an absorbent pad in one).
Sitz Bath – A sitz bath can be great for postpartum swelling and healing and can make you much more comfortable!
Postpartum Nutrition & Health Supplies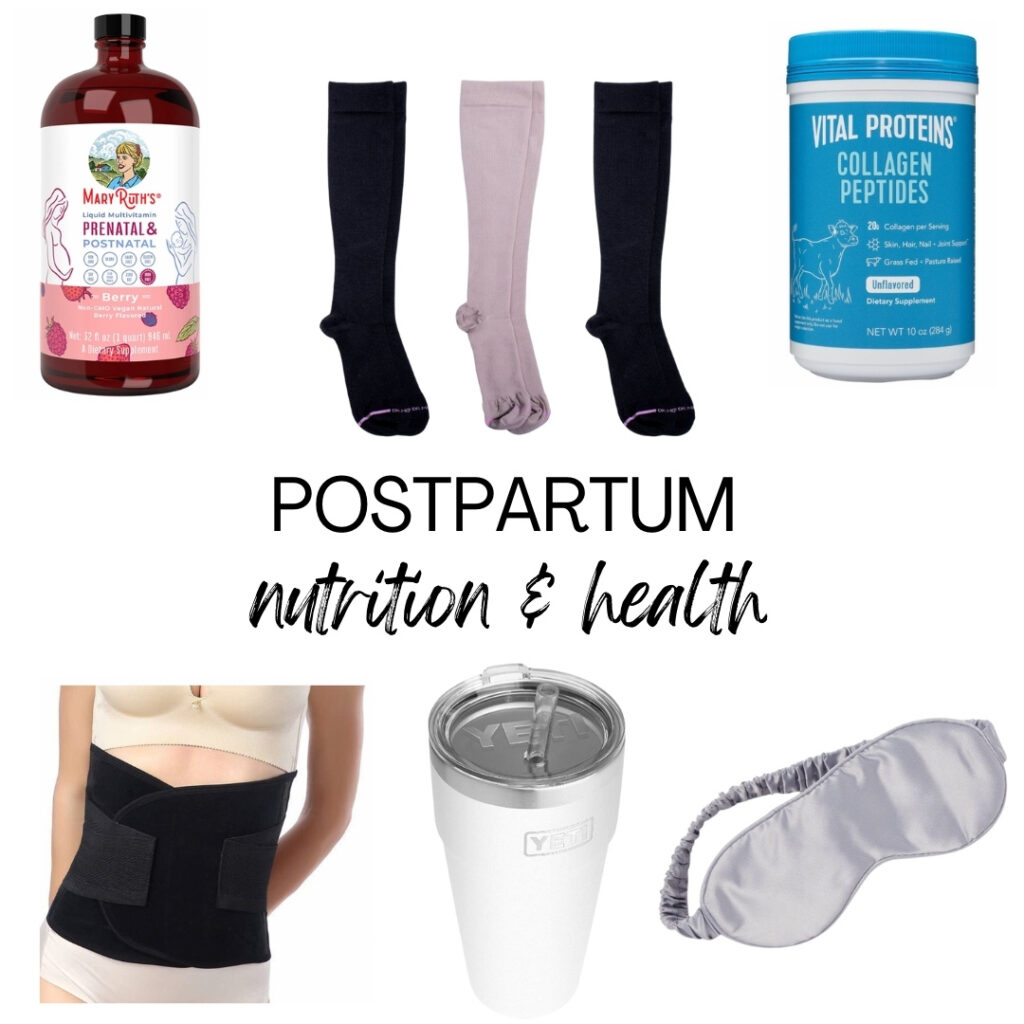 Postnatal Vitamins – Mary Ruth's Organics Postnatal Liquid Multivitamin is my go-to to help my body heal after delivery! They are a quality, organic brand that I trust and use so many of their products (kids vitamins, elderberry, probiotic drops, and D3+K2 spray just to name a few). Use code PINECONESANDPACIFIERS10 for 10% off sitewide.
Collagen Peptides – Always consult your doctor before trying a new supplement.One thing I was not expecting postpartum was postpartum hair loss. Due to hormonal changes many women see quite a bit of hair loss postpartum; taking collagen helped me a ton in reducing hair loss! I add this to my coffee every morning.
Postpartum Belly Wrap – It's very normal to still look 4-5 months pregnant after delivery. Your uterus grew a lot during pregnancy and needs some time to shrink back down to its pre-pregnancy size. I found that a postpartum belly wrap helped a ton and also helped with my self-confidence!
Compression Socks – After delivery you may experience swelling in your feet and ankles. Compression socks can help with circulation and getting that swelling down.
Yeti Tumbler/Water Bottle– Drinking a lot of water is crucial to help your body heal after delivery, and can be especially helpful if you are breastfeeding. Consider buying a new tumbler or water bottle before baby arrives to stay extra motivated to drink water after delivery.
Silk Sleep Mask – Sleep when the baby sleeps! With a newborn you will need to catch some sleep any time you can. I found that a sleep mask helps tremendously if you need to nap during the day.
Postpartum Supplies for Nursing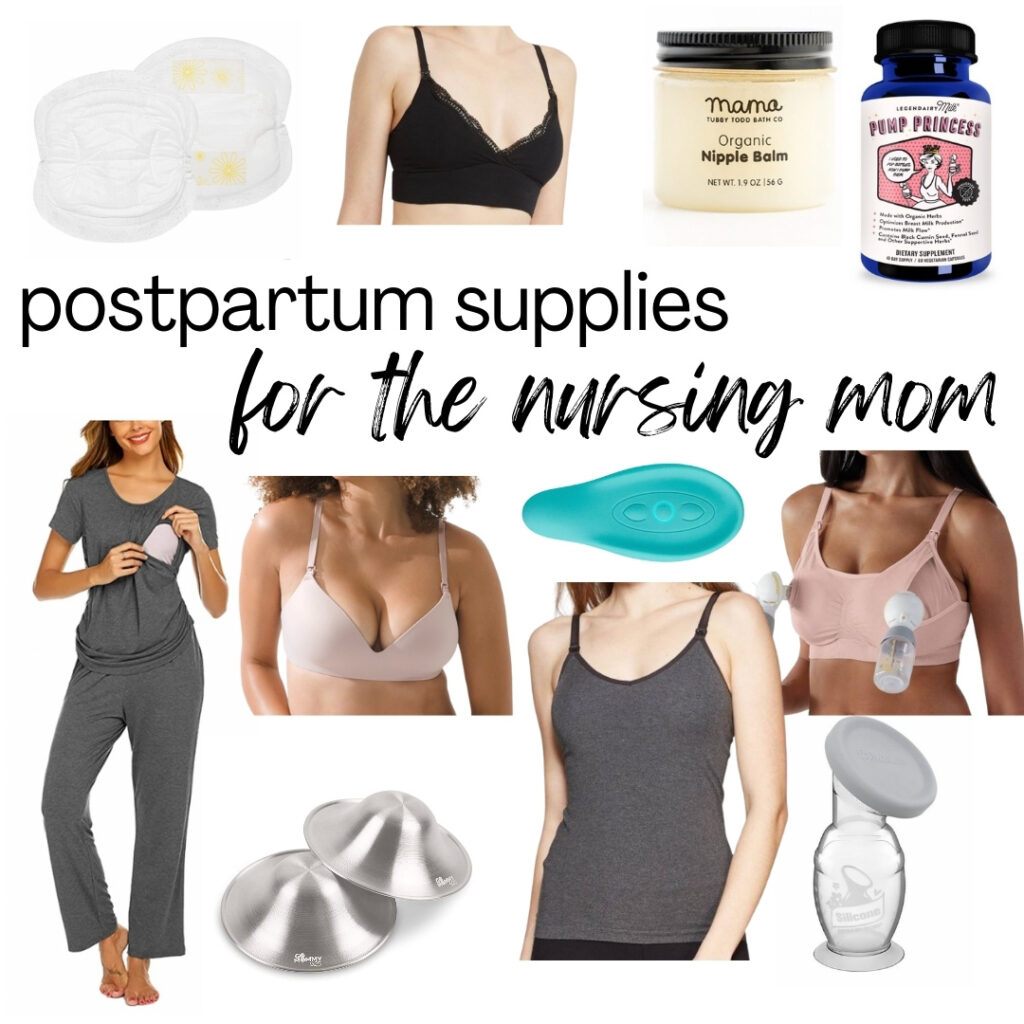 Nursing Bras – If you don't buy any other nursing clothing, make sure to at least invest in a nursing bra. Nursing bras have little clasps that make it much easier to access your breast for nursing without ruining or stretching out your normal bras. The Soma Nursing bra is my absolute favorite. Some other good ones are this nursing/pumping bra from Target, and this nursing bralette.
Nursing Tanks – If you plan to breastfeed, invest in some clothes designed especially for nursing. This will make nursing so much more enjoyable and easier in public. These tanks from Target are my favorite!
Nursing Pads – Once your milk comes in, nursing pads are so helpful to catch leaking that happens when you breastfeed or in between breastfeeding sessions. I tried a few different brands and these were my favorite!
Nipple Cream – I wasn't even aware of nipple cream until my lactation consultant gave me a small sample in the hospital. Nursing can get ugly the first couple days and weeks and this will help you tremendously! Tubby Todd is one of our favorite brands that we love and trust for our family (save 10% with this link)
Silver Nursing Cups – these will also help save your nipples during the first few weeks of nursing when it can be extremely painful! Silver can help heal and prevent cuts, cracks, and soreness.
Herbal Nursing Supplements – always consult your doctor before starting a new supplement. I love Legendairy Milk breastfeeding supplements to help me produce more milk when breastfeeding and pumping (something i've always struggled with)! I've found that the best way to use these is to buy the bundle and see which herb blend works best for you Save 10% with this link
Haakaa Manual Pump – the Haakaa is one of my most favorite postpartum/nursing supplies that helps you increase your milk supply and make a breast milk stash with almost zero effort! Read my full review here: Haakaa Breast Pump Review
LaVie Lactation Massager – a lactation massager can be a great tool to help you stimulate a let down quickly and can be used during breastfeeding or pumping!
Ekouaer Women's Nursing Pajama Set – these are my favorite pajamas for maternity and nursing! I own two pairs and they are extremely comfortable, soft, and great for nursing during the night. They also come in so many colors!
Postpartum Meal Prep & Delivery
We are also about easy, healthy food over here! We use meal delivery throughout the year, but it can also be extremely helpful for the postpartum period. Here are some of our favorites:
Eat To Evolve: healthy pre-made meals that are stored in the refrigerator. Grab & go meals are our favorites and their microwave options are great too! Use code PINECONE for 20% off
Daily Harvest: the best ready-to-blend smoothies, oatmeal (which is great for building milk supply), and pre-made meals! Use code PINECONES to save up to $40 off
Thanks for stopping by! You might also like these recent posts: