Here is everything you wanted to know about the best toys for your baby registry including why you should add toys to your baby registry and our top picks of baby registry toys!
I'm a mom of three and have been though the baby stage 3 times now (some days I still can't believe it!). I love sharing my passion for motherhood here on my blog and Instagram and want to share everything i've learned to make YOUR life a little bit easier!
It may seem a little silly to add toys to your baby registry, but you might be surprised how useful they actually are in the baby stage… hint, hint, when you buy the right ones!
You might also like these related posts:
Should you put toys on your baby registry?
Yes! They are easy to overlook, but toys are a must-have on your baby registry! Toys provide so many benefits that can help your baby with their growth and development. Some benefits of baby toys include:
Helps your baby meet developmental milestones
Promotes bonding with your baby
Self-awareness
Sensory exploration
Motor skills practice
Promotes body awareness
Teaches about cause and effect
Speech and oral development
Keeps your baby engaged during wake time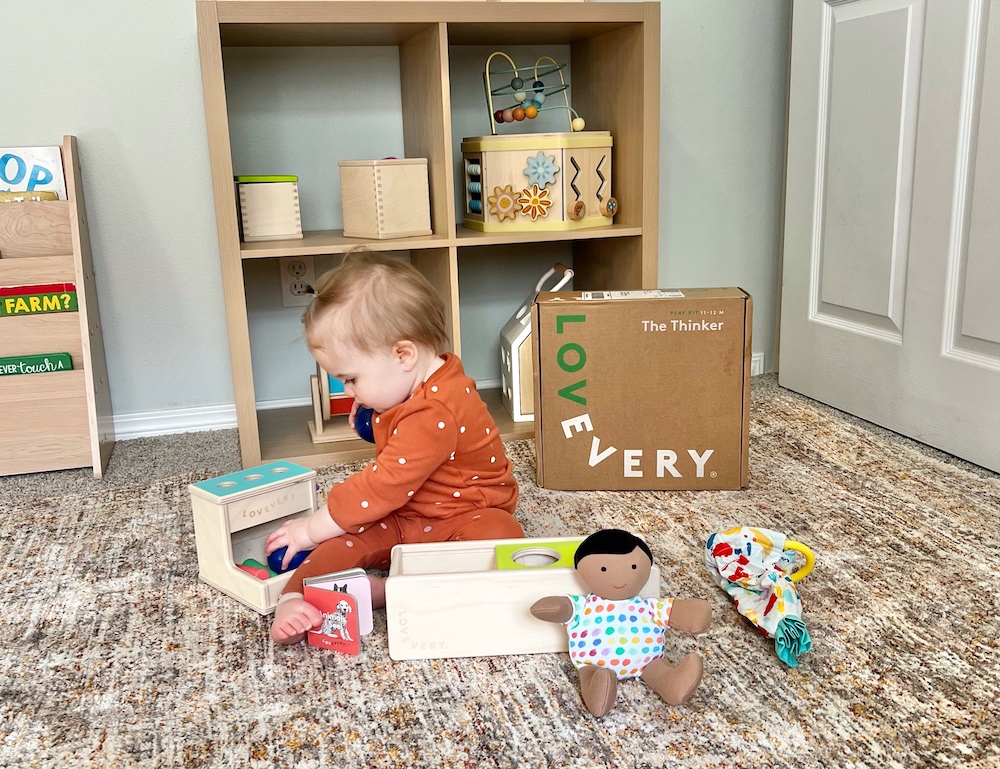 How many toys should you put on your baby registry?
I recommend putting at least a few good quality educational toys on your baby registry. There are so many toys out there that are geared towards babies and young toddlers, but it's hard to know which toys are best for your baby's development and what age is appropriate for them to play with these toys.
I recommend signing up for a toy subscription so that you can have developmental appropriate toys for your baby at every age and stage! This way you won't have to buy and store all of these toys at once and you can rotate toys out as your baby becomes older and interested in different types of toys and activities.
Lovevery is one of our favorite toy kit subscriptions because the toys are designed by experts and made to meet your baby where they are at in terms of learning and development. Their stage based learning toys are made of durable wood and sustainable materials. They hold up so well and are made to be passed down to siblings, relatives, or family friends!
Read more: 8 Benefits of Wooden Toys for Babies
What are the best toys for your baby registry?
As a mom of three, here are some of my favorite toys to add to my baby registry:
Lovevery Play Kit Subscription (save 10% when you pre-order kits) – this is my top baby registry recommendation for new moms! Friends and family loving buying baby toys, so why not make them excellent quality toys designed for learning and development. Lovevery toys are staged based, so they are designed for your baby's age and abilities and will be delivered every few months so you can keep toys fresh and exciting.
Sophie La Giraffe – Everyone needs Sophie! I had seen this toy recommended by other moms, but didn't actually get one until my third baby and I am so sad I had missed out! This was one of my baby's favorite toys. It's the perfect size for little hands, and your baby can chew on multiple different parts of the toy for a different sensory experience.
Lovevery Play Gym – the play gym is one toy that you can use from your baby's first weeks of life! The Lovevery play gym is our favorite because it grows with your baby from birth through toddlerhood. It includes 5 developmental zones that offer different sensory experiences for your baby as well as other activities that foster growth and development. Plus it's a gorgeous addition to your nursery, family room, or play room!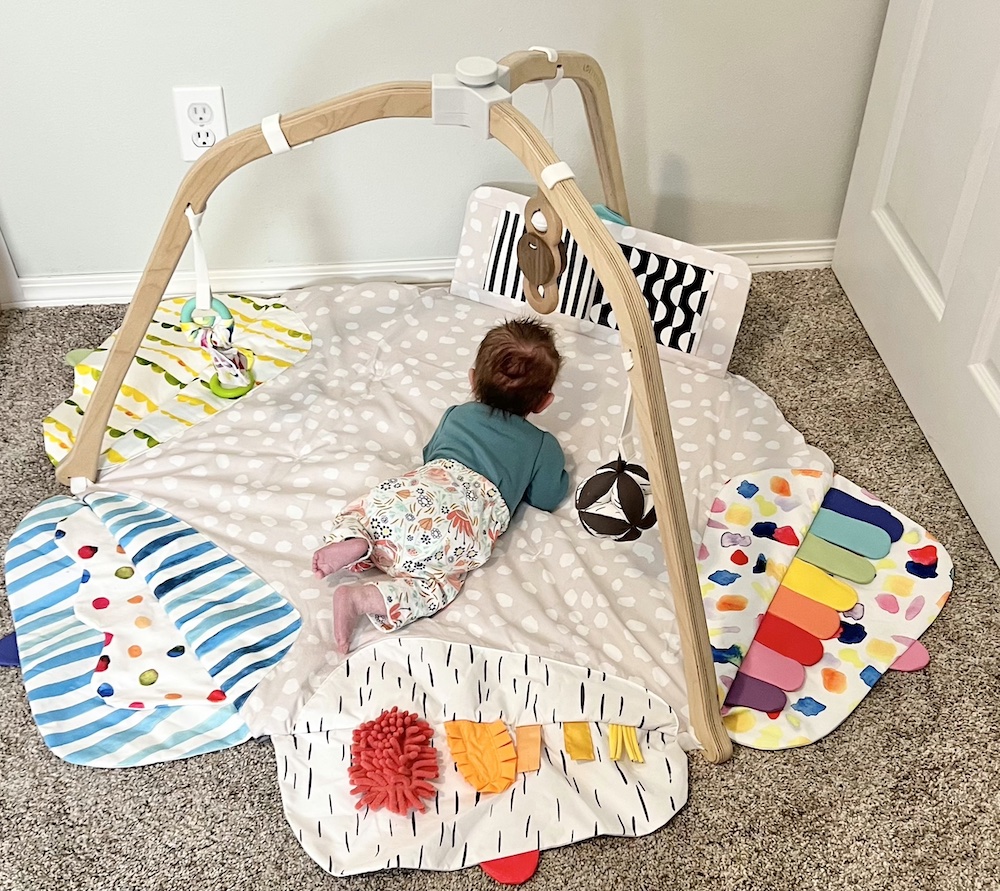 Teething Tubes – another favorite for the baby stage. Your baby learns so much through oral exploration! Teething tubes have been a favorite type of teether for my kids and also help with pain from teething.
Wooden Rattle – your baby will love toys that make sound, but it doesn't have to overwhelming or obnoxious! All of my kids have loved a classic rattle, especially ones that are knit or made with various textures.
Melissa & Doug Taco Sensory Toy – a fun and engaging sensory toy that features different textures and sounds. This is a fun toy for your baby to dump out and fill back and up and plus it totally adorable!
Read more: Best Gifts for Babies 6-12 Months
Lovevery Wobble Stacker – a fun and more sustainable twist on the classic stacker toy. We love that this toy also wobbles so it's especially engaging and it's also made of wood instead of the standard plastic toys.
Stacking Cups – these cups are one of the most versatile and long-lasting toys we have had! They are great for traveling since they can be easily stored away. They are also a lot of fun to use in the bath once your baby can sit in the bathtub unsupported.
Jelly Dog Teether – this was a favorite for my kids when they were teething or to entertain them at restaurants or traveling! It's easy for them to hold and has multiple parts to chew and for oral exploration.
Shape Sorting House – a perfect neutral shape sorter made of sustainable wood. My kids have loved this from baby through toddlerhood and I love that it's aesthetically pleasing and durable!
Wooden Activity Cube – a fun and engaging toy once your baby can sit. We love the neutral colors and that the top come off for more toy storage!
Lovevery Block Set – the perfect block set that includes over 20 different activities! This set will grow with your baby into toddlerhood and beyond. My three and four year old still love to play with this set.
O-ball Toy – perfect for the littlest hands to grasp. This toy is soft and fairly light weight and great for tummy time or for your baby to grasp and chew on while your baby is in a bouncer or on their back.
Lamaze Firefly Sensory Toy – This toy is great in a baby gym or attached to a carseat; the ring clip makes it very versatile! The wings make a fun crinkle sound and they are bright colors that babies love to look at. This specific toy has been a favorite for all of my kids!
Check out all of my Baby Registry Must Haves!
Recent related posts: