A tried and true list of the best gifts for babies 6-12 month old; the best baby gift guide from a mom of three!
Looking for a 6-12 month old baby gift guide? Or wondering What kind of toys should a 6-month-old play with? Which toys are best for a 6 month old? This post can help!
I'm sharing our favorite toys, feeding supplies, and gear for babies 6-12 months old. These are all things we actually have and use every day!
You might also like these related posts:
Lovevery Play Kits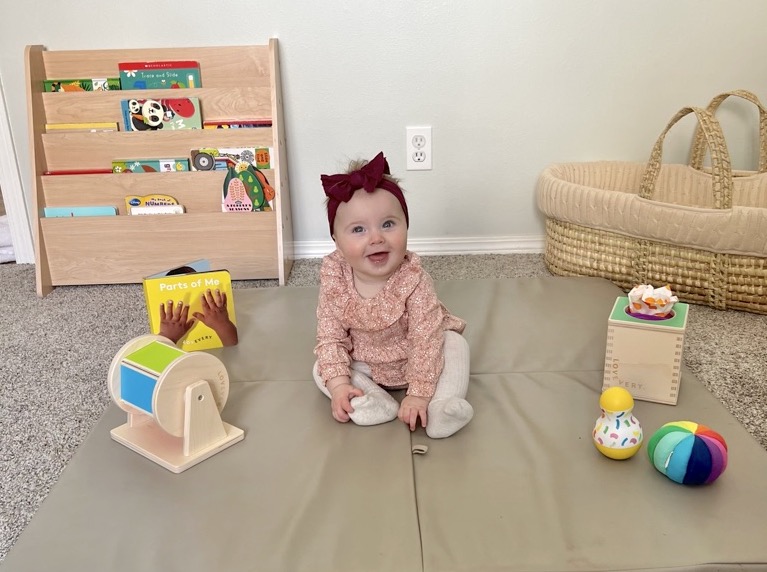 Our #1 gift idea for babies 6-12 months is a Lovevery Play Kit (save 10% when you pre-order kits)! Lovevery makes stage-based play kits that are based on your baby's age and development.
They are backed by research and take the guess work out of finding toys that are developmentally appropriate for your baby's age and abilities. We love that they are great quality, made with wood and sustainable products so that they are safe and built to last!
Kits come every few months in age ranges from newborn to 4 years old.
Gift Guide for Babies 6-12 Months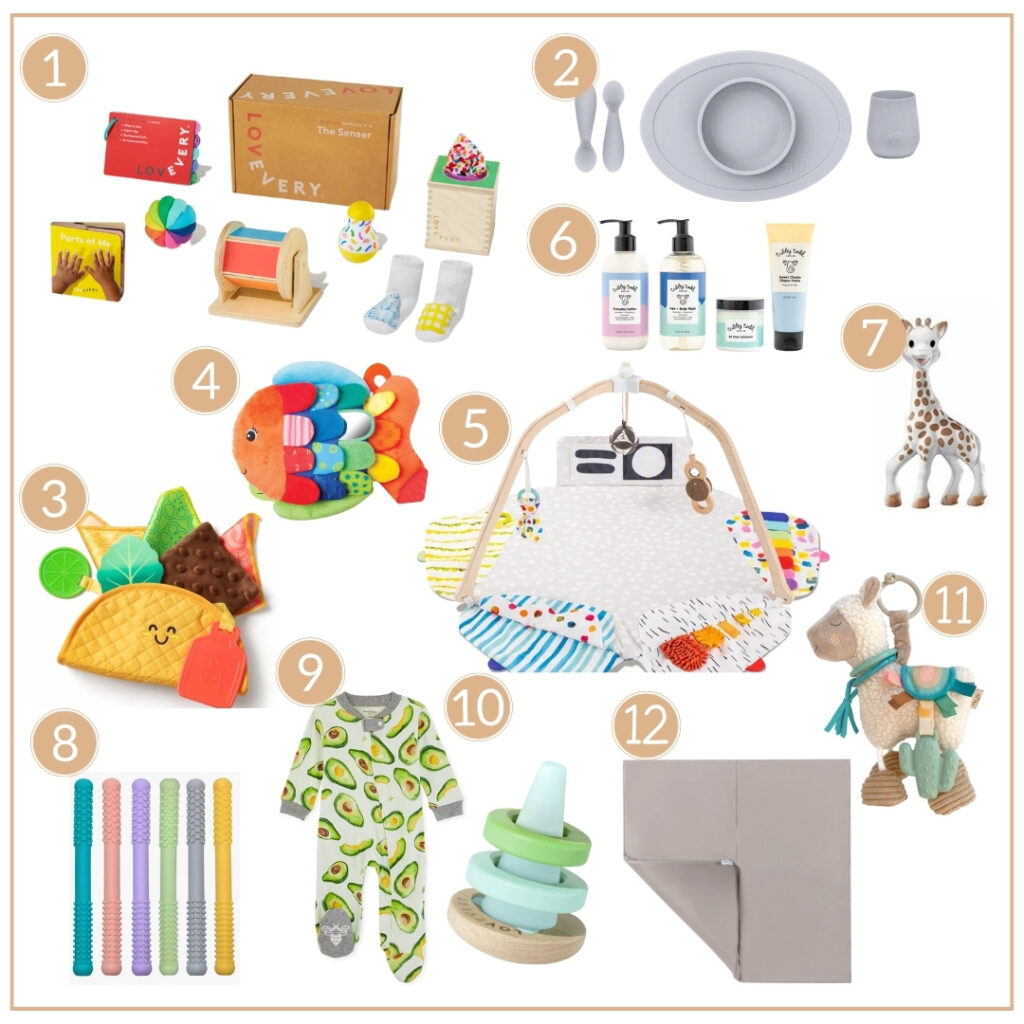 Lovevery Play Kit – (save 10% when you pre-order kits) we highly recommend the Senser Play Kit for babies in the 6 month range. This kit comes with our personal favorite magic tissue box, rainbow spinner, rainbow ball, parts of me book, play socks, and tummy time rumbler. You can subscribe to get a new box of toys every few months so your baby will always have new developmental toys!
EZPZ First Food Set – (25% off $75+ with EZPZ25LOVE) your baby is probably ready to start food (if they haven't already!). The EZPZ first food set is made for babies 4+ months and is the perfect size for starting purees or solids with baby led weaning. We love that they are made with non-toxic silicone and suction to the table!
Sensory Taco Spill & Fill Toy – an adorable sensory toy that allows babies to pour out and fill back up, while exploring different textures and senses.
Flip Fish Baby Toy – a cute and interactive toy that encourages tactile exploration and finger strength. We love everything Melissa & Doug makes and this one is also a winner!
Lovevery Play Gym – the very best play gym! We love that it is made of wood and the toy attachments are all very entertaining and engaging (our personal favorite is the batting ring!). It comes with 5 developmental zones that can be folded up for storage or down to engage your baby. It grows with your baby and comes with a cover to turn into a play fort for toddlers.
Sofia Le Giraffe – the cutest teether that babies actually love! My kids have loved this one and it's perfect for soothing gums for 6-12 month olds.
Tubby Todd Baby Set – we love Tubby Todd products and use them on all of my kids (even the baby!) They are made with clean ingredients and truly work to clean and soothe dry skin. Our ultimate favorite is the all over ointment and it's included in the baby bundle.
Teething Tubes – another favorite at our house! These are the perfect size and shape for your little one to gnaw one. These get used a lot for my 6 month old and my toddlers as well! This set comes in perfect muted colors.
Burt's Bees Pajamas – made with super soft organic cotton and they come in the cutest prints (plus they are affordable!)
Lovevery Montessori Wobble Stacker – a great toy to practice sitting! We love it because it wobbles unlike other ring stacks and is made of wood and sustainable materials.
Link & Love Llama Teething Activity Toy – teething activity toys are perfect for this age range! This one is one of our favorites. It's adorable and has multiple things for your baby to do and chew on.
Toki Padded Mat – we have this mat (pictured above in this post) and love laying baby down to play on their back, tummy, or sitting; its a great crash pad for babies who tip over while learning how to sit 🙂 We have the leather everywhere mat but it also comes in beautiful fabric prints as well!
Thanks for stopping by! You might also like these related posts: