A list of 18 super helpful toddler travel essentials from a mom of three!
Are you wondering: What do you need to travel with a 2 year old? And how can you make toddler travel easier? This post can help!
Hi there, i'm Jessica! A mom of three and frequent traveler. We have traveled quite a bit with my kids as babies and toddlers and love sharing all of our favorite toddler travel essentials we've picked up along the way.
Remember to follow along with us on Instagram for more baby & toddler product finds!
If you are planning to traveling with your baby or toddler you might also like these related posts:
Toddler Travel Must-Have #1: Slumberpod
If you are planning on traveling with your toddler, this Slumberpod (save 5% with this link) blackout tent is a MUST! It's my top travel must-have for a reason.
We love using this to help mimic our sleep conditions at home because it keeps it dark and give my toddler his own space (and us our own space to move around with some lights on).
Read more: Slumberpod Review: Must-have for Traveling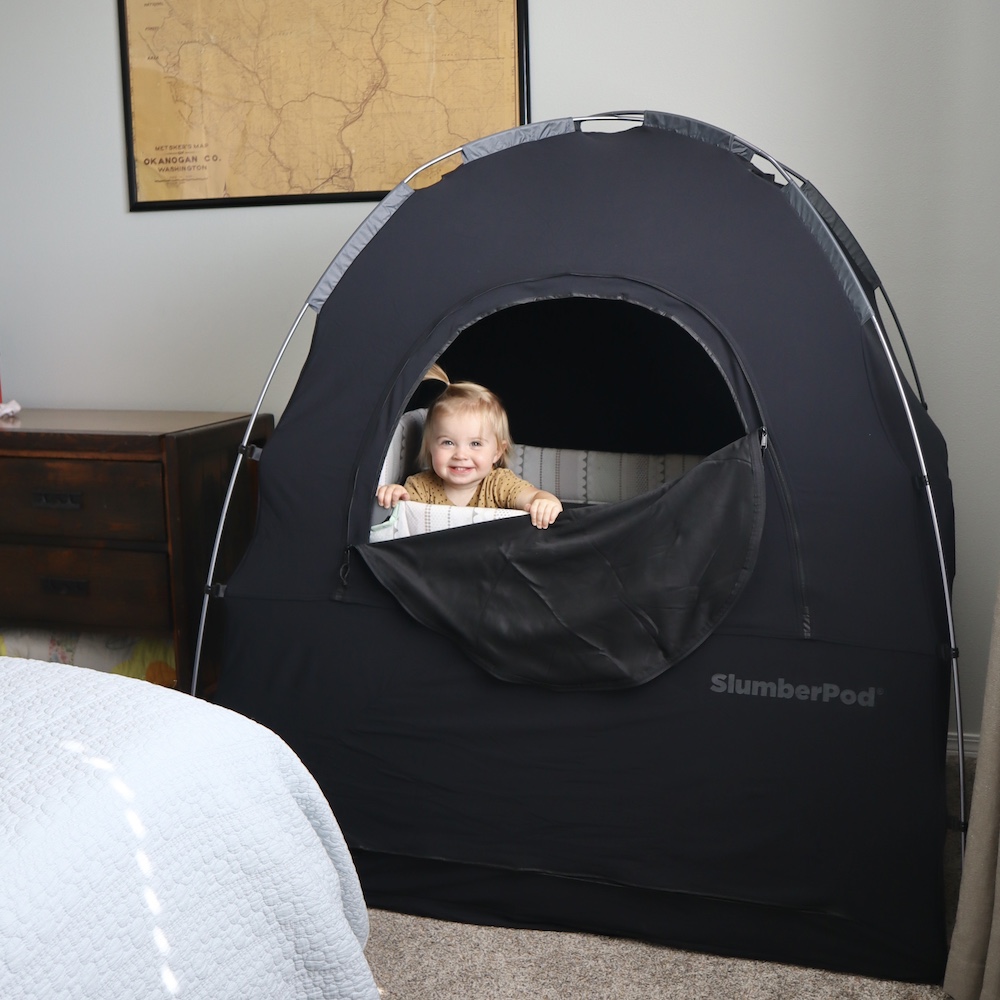 Toddler Travel Must-Have #2: Travel Stroller
For a single travel stroller we love the GB Pockit Plus. A must-have for plane travel!
Its a little pricey, but it's our favorite for travel because it can fold up into something that you can store under your seat or in the overhead bin on a flight.
We have a larger stroller that we keep in the garage and bring for long walks or outings, but its so difficult to lug it along through the airport or fit into the trunk with all our other luggage so we opt for this when traveling!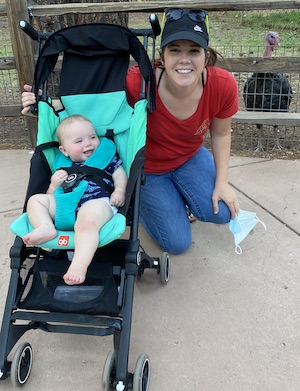 Shop our baby and toddler travel favorites on our Amazon Shop!
Toddler Travel Essential #3: Double Travel Stroller
If you happen to have two toddlers (or a toddler and older baby or a toddler and small child) a double stroller is a must! For a double travel stroller we love the Delta Jeep Scout Double Stroller.
We have a larger double stroller that we use when we're at home, but its super bulky for travel so instead we use the Scout Double Stroller when going on longer trips and have more luggage in the trunk. It's also perfect to push through an airport and check at the gate.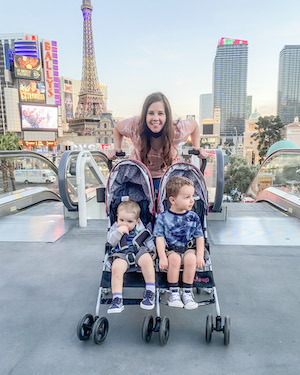 Toddler Travel Item #4: Travel Crib or Toddler Bed
My two toddlers are both still in cribs at home so we always bring travel cribs when we travel. We have since they were babies and they have lasted us 2.5 years so far. Our favorite is the Graco Pack N Play.
If you are staying at a hotel you can often request a mini crib or play yard, but they are not guaranteed to have them so I almost always bring our own.
I've also had them shipped (from Amazon) to rental houses or relative's houses when we didn't have room in the car or want to bring them on the plane.
Toddler Travel Must-Have #5: Travel Toddler Potty Seat
This is the perfect solution if you toddler is potty trained, but not yet used to sitting on the normal-sized toilet or toilet seat.
We store this Folding Travel Potty Seat in our diaper bag for outings and bring it along for every trip and vacation. It folds up very compact and stores in a carrying case.
Toddler Travel Item #6: Portable Sound Machine
At home we love the Hatch Rest Sound Machine, but its a little big to bring for travel. For traveling we love the Hatch Mini Sound Machine. I love that you can still control the volume and sound from your phone and find these a great size for tarvel.
For a cheaper option, we also love the Marpac Rohm portable sound machine. We even brought these to the hospital for our newborns.
Shop our baby and toddler travel favorites on our Amazon Shop!
Toddler Travel Item #7: Travel Boon Drying Rack
The Boon Travel Drying Rack is a must for washing and drying your toddler's cups and water bottles on vacation. If your toddler uses a bottle or if you have a smaller child its also perfect for drying bottles and parts. We also have a full-size boon drying rack at home that we love and use every single day!
Toddler Travel Item #8: Travel Car Seat (Great for Airplanes!)
We fly with our toddlers we always bring our Cosco Scenera carseats! These are the perfect light-weight travel carseats and also fit well on the plane if you choose to do so.
We love to pear our Cosco Scenera seats with these travel bags to carry them through the airport.
Toddler Travel Item #9: Portable High Chair
Our favorite portable highchair is the Summer Pop 'n Sit Portable High Chair. This highchair folds up like a little camp chair and is prefect to store in a suitcase or behind the front seat in your car.
You can attach it to a chair in a restaurant or just sit it on the ground at the park or your hotel for a quick meal. It comes with a carrying case that holds the chair and tray for easy travel.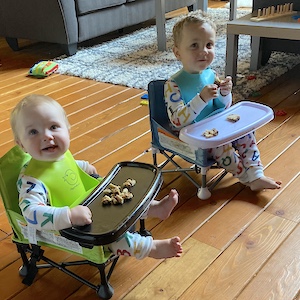 Toddler Travel Essential #10: Car Seat Snack Tray
A Car Seat Snack Tray is one of my favorite purchases for traveling with toddlers! It's affordable but makes long car rides so much easier.
The snack tray pops into the cup holder of your toddler's car seat and acts like an attachable plate where they can put snacks or toys. It's also awesome because it has a built-in cup holder so it doesn't take one away when you're using it.
Toddler Travel Must-Have #11: Spill Proof Toddler Cup
We have two of these Thermos Funtainer Straw Cups and use them for everything from smoothies, milk, water, and traveling! They are narrow enough to fit in their carseat cupholders (yes, even the snack holder mentioned below!).
These cups keep their drinks cold for up to 12 hours, and have a flip top lid to keep the straw clean and keep from spilling and leaking all over.
Toddler Travel Item #12: Suction Plate/Placemat
I love to throw one of our EZPZ Mini Mats in the diaper bag when we are going out to eat and definitely always bring it on vacation when we will be eating at the hotel or eating out. They are perfect for eating in hotels where you want to keep things as clean as possible and awesome for restaurants where you don't want your toddler to swipe their entire plate onto the floor.
Toddler Travel Item #13: Toddler Tablet
Whats the best tablet for a toddler? Our favorite is the Amazon Fire Kids Edition with Amazon Kids+. When you buy a Fire Kids Edition you will get Amazon Kids+ free for a year.
It takes your Amazon Fire table to a new level and lets your kids sign in to their own account and access over 20,000 kid-friendly games, videos, audiobooks, and more.
I've found that the apps in Amazon Kids+ are more educational than other free ones you can access through the app store and have been impressed how easily my toddler picked up the navigation and learning new games.
If you have Amazon Prime, you will also be able to download 20 movies or shows onto your toddler's tablet to take with you and when your tablet is offline (Try Amazon Prime 30-Day Free Trial)
Toddler Travel Item #14: Car Headrest Tablet Holder
Both of my toddlers are still rear-facing, so we use this Car Headrest Tablet Holder between the rear seats. It also works great if your toddlers are forward facing to mount on the front seat facing backwards.
This is also one of my favorite items in my related post on toddler road trips! If you are going on a long car ride check out my related post: Tips for Long Car Rides with Toddlers
Toddler Travel Item #15: Toddler Headphones
These Mpow Kid Headphones are made specifically for small children and toddlers and are mom-approved because they have a set volume limit.
We use these in the car and on airplanes so that the boys can hear their tablet better and the adults don't have to listen to Blippi for 8 hours straight 🙂
Toddler Travel Item #16: Toddler Travel Pillow
A toddler-sized pillow is the perfect size for traveling! My toddler actually uses this as his normal pillow at home and has since he was about 2 years old.
Its the perfect size and is a little flatter than a standard adult pillow and collapses or rolls up nicely to throw in your toddler's suitcase or bring on the plane for nap or bedtime. I also love this one because it comes with it's own fun case.
Toddler Travel Essential #17: Toddler Travel Toiletries
Both of my toddlers have eczema and very sensitive skin so we love Earth Mama Organics Products!
We especially love this little travel-sized toiletry set made specifically for babies and toddlers (this one contains their diaper cream and baby wash which are my two favorites, plus sweet orange baby lotion, calendula baby lotion, and soothing coconut balm).
Use PINECONES25 to save 25% off at Earth Mama Organics
Toddler Travel Item #18: Diaper Bag Backpack
A diaper bag isn't necessarily for a toddler but its the perfect mom item for traveling with a toddler!
I've found that a backpack style diaper bag is a must have at the airport when you need your hand's free and is also super helpful for car trips when you need to load and unload the car into your hotel or house where you are staying.
After having tried a backpack diaper bag I am never going back!
What are your favorite items when traveling with your toddler? Let me know in the comments below (i'm always looking for new items to make life easier!).
Thanks for stopping by! You might also like these related posts: