A Slumberpod review and why it's a must have for traveling with babies and toddlers!
Traveling with babies and toddlers can be a delightful adventure, but it can also be a bit overwhelming!
Ensuring your little one gets a good night's sleep while away from the comfort of their own crib can often feel like a daunting task. Enter the Slumberpod – a portable sleep solution that's been a huge game changer for our family!
Below we'll explore why the Slumberpod is a must-have for your next family adventure!
Remember to follow along with us on Instagram for more baby & toddler product finds!
You might also like these related posts:
The Slumberpod: A Sleep Revolution on the Go
Before we delve into why the Slumberpod is an absolute game-changer for families traveling with young children, let's take a closer look at what the Slumberpod is all about.
What is a Slumberpod?
Imagine a portable sleep sanctuary that instantly transforms any room into a cozy, dark, and private sleeping space for your little one. That's exactly what the Slumberpod does!
It's a sleek, compact, and easy-to-set-up pod that fits over a playpen, crib, or even a cot, creating a peaceful haven for your child's sleep.
>>> Shop Slumberpod (save 5% with this link!)
Now, let's explore why the Slumberpod is an essential addition to your travel gear.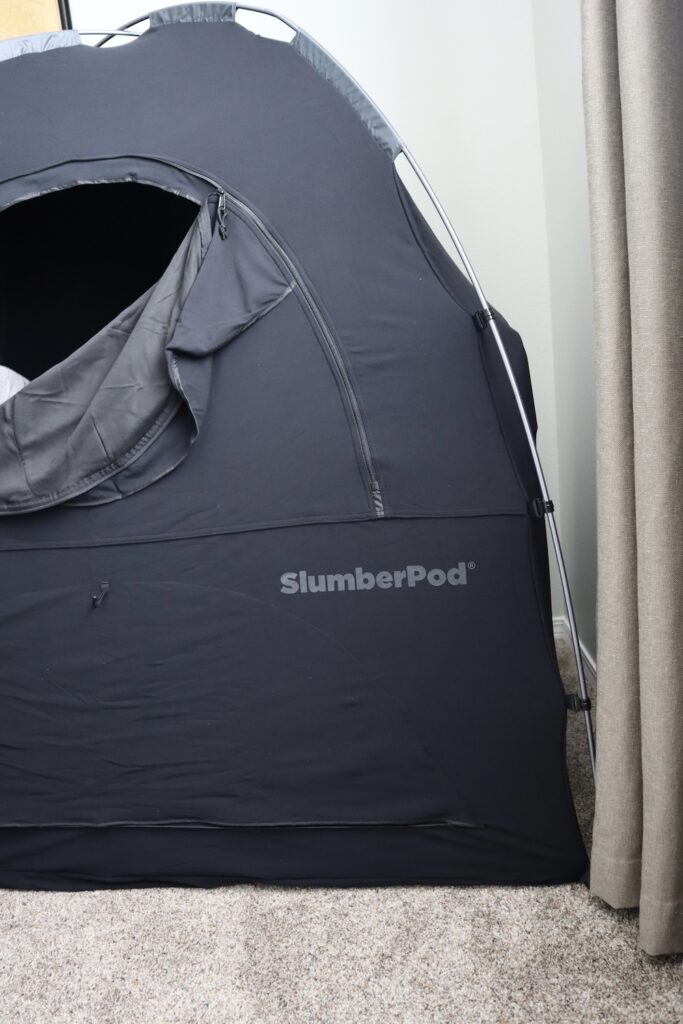 Why the Slumberpod Is a Must-Have for Traveling Families
1. Darkness Wherever You Go
One of the key factors that contribute to a baby's and toddler's ability to sleep well is the environment's darkness. At home we install blackout curtains to help with our babys' sleep and notice that it always helps a ton!
However, hotels, rental houses, relative's homes or unfamiliar accommodations might not always have the necessary blackout shades. The Slumberpod ensures that your child can sleep in complete darkness, no matter where you are.
2. Portability and Convenience
When you're traveling with little ones, the last thing you want is extra heavy or bulky equipment.
The Slumberpod was designed with travel in mind. It folds into a compact carrying bag that easily fits in your trunk, luggage, or checked carseat bag (mom hack!).
3. Better Sleep for Everyone
It's not just your little one who benefits from the Slumberpod. When your child sleeps well, the entire family benefits.
We love the Slumberpod for room sharing because you can enjoy your evenings without having to tiptoe around a dark room, afraid of waking the baby. It provides peace and privacy for everyone, making for a more relaxed and enjoyable trip. It's a win-win situation for the whole family.
4. Breathable Design for Safety
The Slumberpod was designed for safe sleep. It features a breathable mesh design, which ensures a continuous supply of fresh air for your child, even in a fully enclosed sleep environment.
There are multiple window openings and a space for a fan if you feel like your little one needs more air circulation.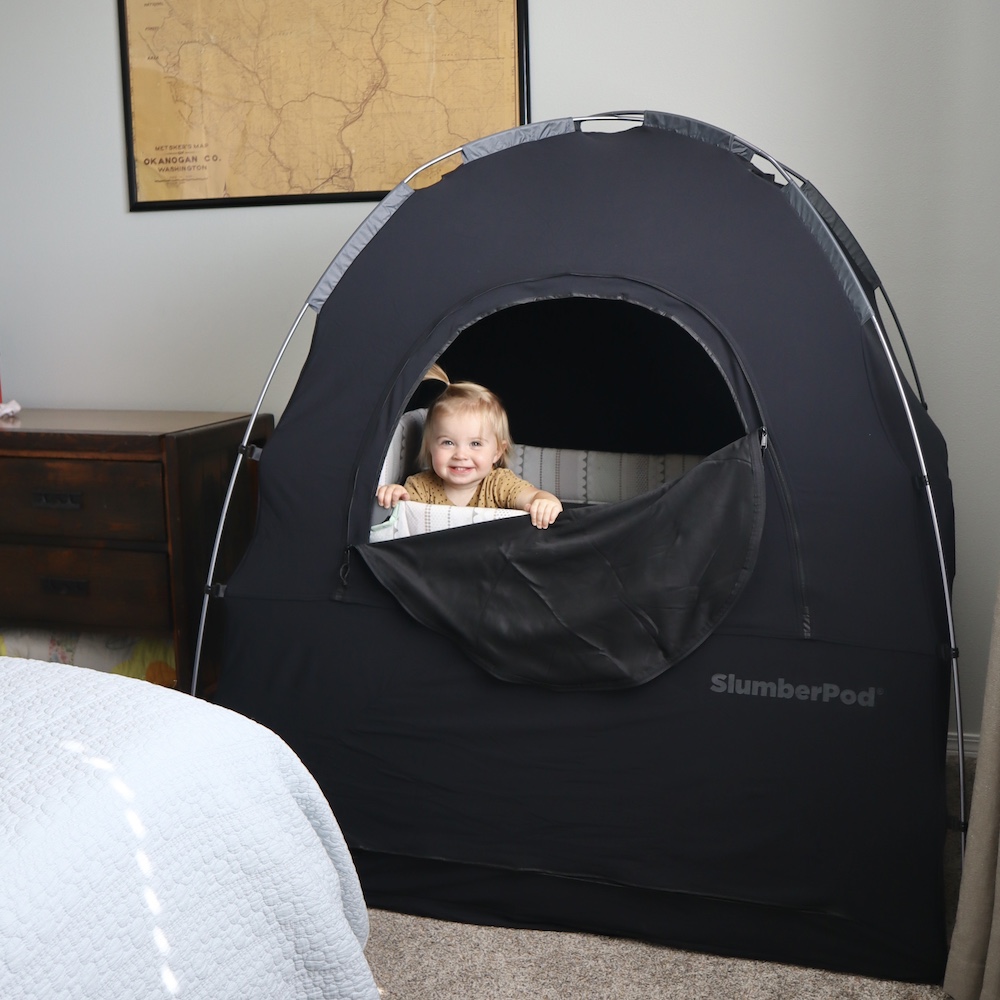 >>> Shop Slumberpod (save 5% with this link!)
5. Naptime Saver
The Slumberpod isn't just for nighttime sleep; it's perfect for creating a calm and dark naptime environment during the day.
No more worrying about finding a quiet and dark corner for your child to nap. Whether you're visiting friends and family, or spending a day at the lake or beach, your child can take their naps undisturbed.
6. Easy Setup and User-Friendly Design
The Slumberpod is designed to be intuitive and quick to set up. I grabbed it right out of the package and had it set up for the first time in just a few minutes!
It includes two poles that fit into the Slumberpod and pop it open just like a tent. I was pleasantly surprised at how easy it was to set up and take town. The poles are a tad bit long, but overall I think this can easily be built in a small space.
Visit our Amazon Shop to see all of our favorite baby & toddler travel products!
Is the Slumberpod Worth It?
I would say absolutely yes! The Slumberpod is a bit of an investment, but so is traveling. After one vacation with sleep gone wrong, you will be wishing you invested in the Slumberpod to begin with!
We have tried other travel crib covers, but none of them block the light as well as the Slumberpod. The Slumberpod is also the only black out cover we have tried that allows for your baby to stand up in their crib. This means less panic and happier babies and toddlers.
Remember to follow along with us on Instagram for more baby & toddler product finds!
Conclusion: Slumberpod – Your Ultimate Travel Buddy
Traveling with babies and toddlers can present its own set of challenges, but it doesn't have to be a sleep-deprived ordeal.
Make sure to prepare for traveling with your baby and toddler and bring a Slubmerpod to your destination!
>>> Shop Slumberpod (save 5% with this link!)
You might also like these recent related posts: