Looking for the best toddler learning toys for 2-year-olds? I'm sharing a list of my toddler's favorite learning toys that can be used as a gift guide or wish list.
Have you wondered what the best developmental toys for 2 year olds are? Are you wanting to get your toddler more learning toys? Wondering which learning toys are best for 2-year-olds? What are the best educational toys for 2 year olds? This post can help!
I'm a mom of three (including a toddler) and have been searching for the best learning toys, best educational toys, and developmental toys to help my toddler learn important skills like fine motor skills, imaginative play, spatial recognition, words, colors, and numbers.
I've put together a list of all of our tried and true favorites for best learning toys for 2-year-olds, plus some additional toys that come highly recommended and are on our wish list.
Follow along on Instagram to see a lot of these toys in action (plus more daily life and gift ideas!)
You might also like these related posts:
What are Learning Toys?
Learning toys can sometimes be called educational toys, instruction toys, or developmental toys. They are educational playthings that are designed to engage children and promote learning and development.
Learning toys can teach critical skills like hand-eye coordination, fine motor skills, critical thinking, cause and effect, matching. They can also teach your child about specific subjects like colors, letters, numbers, words, language, math or science.
These toys can encompass a wide range of options, including building blocks, puzzles, science kits, matching toys, sensory play, and more!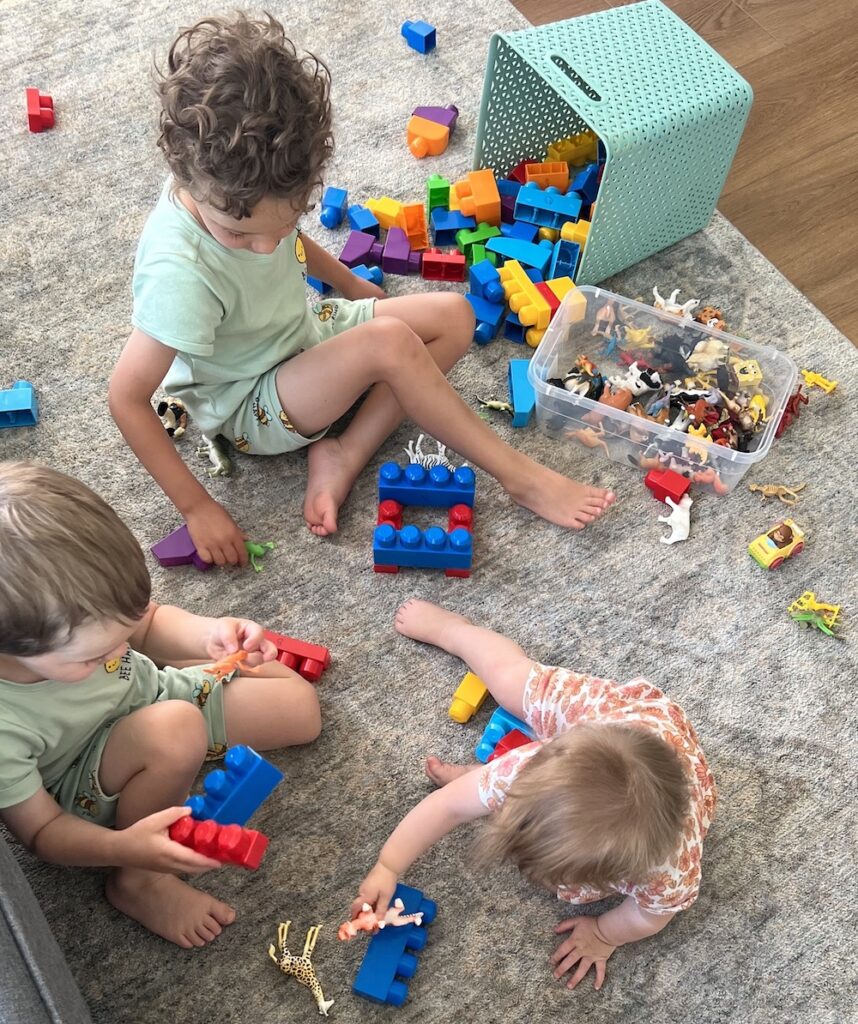 Why do Toddlers Need Learning Toys?
The first few years of your child's life involve a great deal of brain development. Learning through play is a great way to stimulate the brain and take advantage of this developmental burst.
Toddlers don't need learning toys to learn through play! Nearly any object they come into contact with, like a rock, stick, or your dining room chairs can spark their imagination and help teach them about the world around them.
Learning toys, however, can be a good addition to lots of real-world exploration and can be a great supplement to teach your child specific skills. Below i'm sharing my our tried and true toddler favorites!
Where Can You Buy Educational Toys for 2 Year Olds?
Most of our favorites can be purchased at common big box stores like Target, Walmart, and Amazon.
If you are looking for a unique toddler learning toys, here are some of our favorites:
Ten Little is a wonderful site for unique and curated toddler learning toys!
Ten Little allows you to create a profile for your toddler and gives you access to your own personalized storefront with appropriate learning toys based on your child's age and abilities. Our favorite toy from our personalized TenLittle shop is the 41 Piece Marble Run. This toy has provided hours of fun!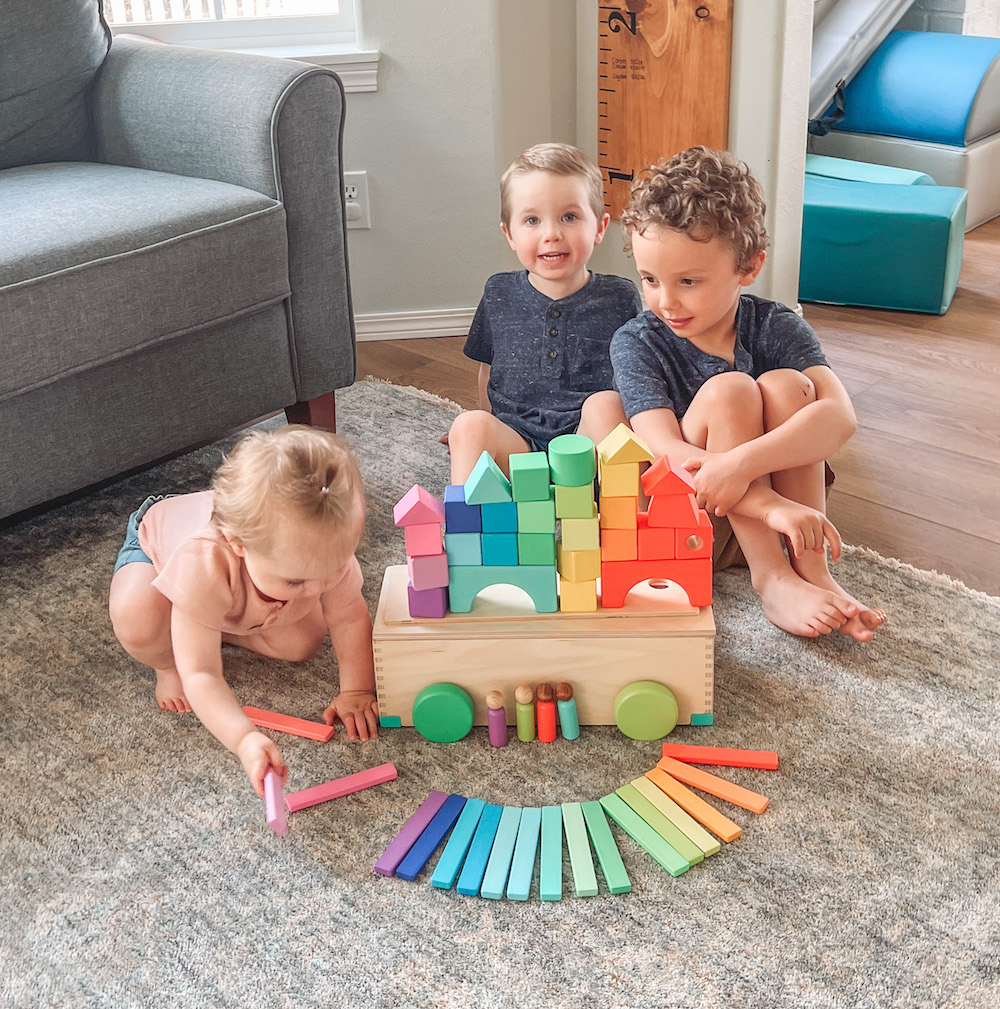 Lovevery is another favorite for educational toys that will last! They make play kits that help support your toddler's abilities and development. Lovevery toys are stage-based, designed by experts, and are made specifically for learning and development.
These are some of our most played with toys and are made of durable and sustainable materials. Some of our favorites are the Lovevery Block Set (pictured above) & The Helper Play Kit.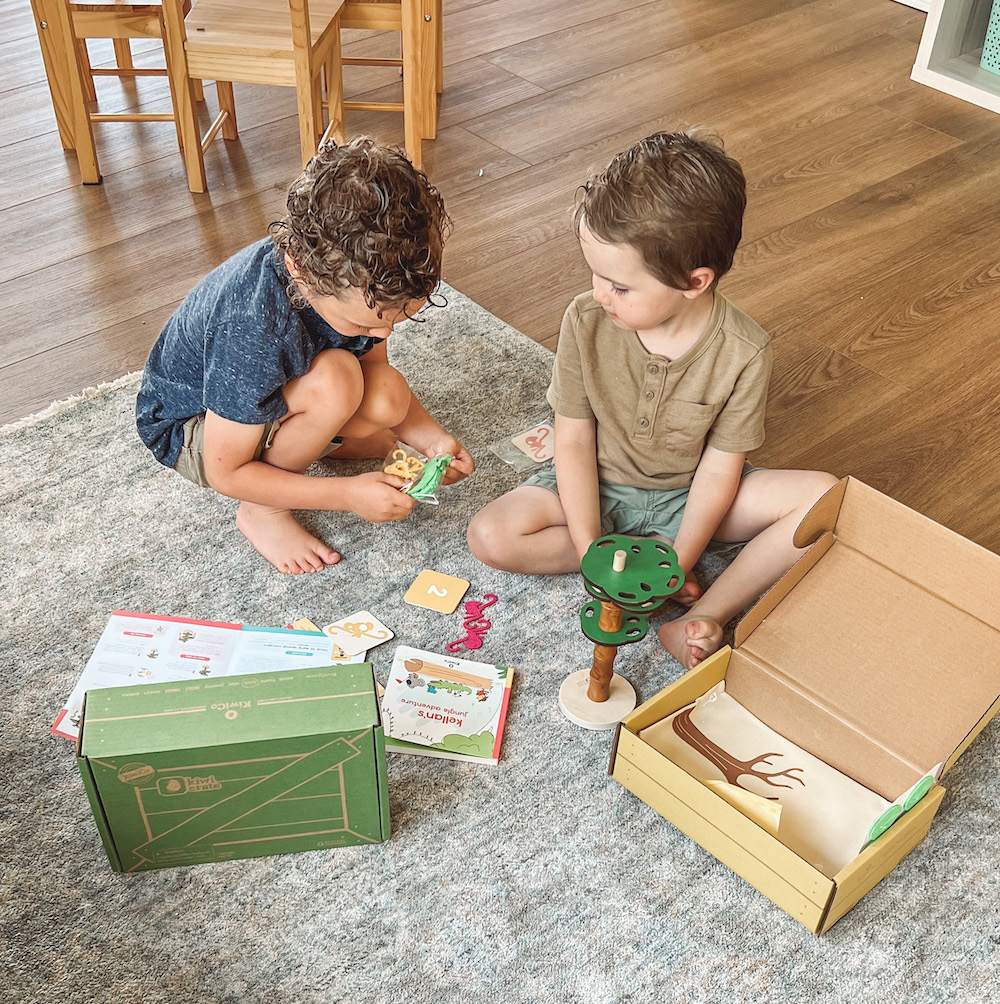 Another great site for educational toys is KiwiCo. They offer unique learning toys for specified ages as well as our favorite, the Koala Crate (pictured above) for 2-4 year olds.
We have been getting the Koala Crate for a few months now and my kids LOVE everything they have gotten so far. They toys are thoughtfully designed to keep kids engaged and they are both enriching and fun!
---
Best Educational Toys for 2 Year Olds
Educational Building Toys for Toddlers
Lovevery Block Set – with dozens of way to play, this block set is the real deal! It's great for the two year old age range (but really all of my kids love to play with this one). This block set is a great one to add to your toddler's wish list because it's made of durable, high quality materials, and is something that will grow with your toddler into the preschool years and beyond! (see on Amazon, see at Target)
Bristle Blocks – my toddler's favorite 3D building blocks. They fit together in multiple different configurations and angles so they are easy for young toddlers to build with. The bright colors can also be used to practice color recognition. I love that these blocks come with a carrying case!
Picasso Tiles – these are for a more advanced builders, but are a fun way for toddlers to build in 3D. Picasso tiles connect on the edges using magnets and are great for practicing architectural design. They can also teach creativity and sense of shape since they come in a variety of different shapes and sizes.
Mega Bloks – building toys like mega blocks can encourage imaginative play, spatial awareness, and fine motor skills. My toddler got these around 18 months and has really been enjoying them at two years old! They can also be used as a sensory toy if you cool them in jello or throw them in a bath tub full of water.
Read more > 8 Benefits of Open-Ended Play for Toddlers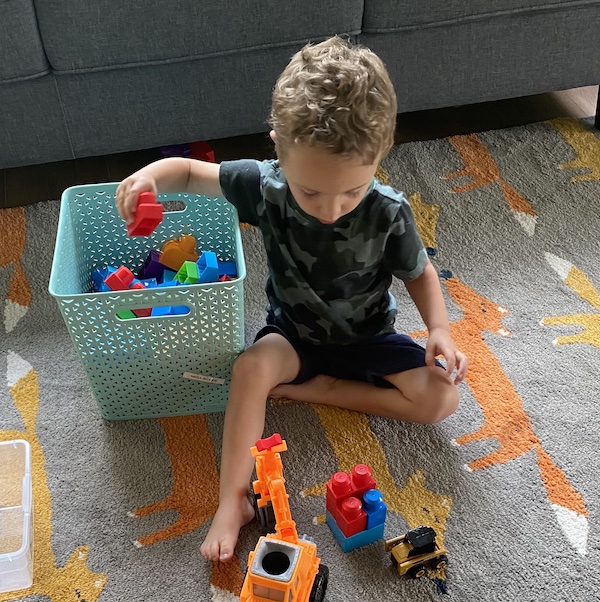 Learning Matching Toys for Toddlers
Matching Eggs Toy – my toddler got these for his second birthday and he asks for them all the time! These are great for color and shape recognition as well as hand-eye coordination and fine motor skills. My toddler loves to take them apart and put them back together and they are also fun because they are a common food they are used to seeing in the kitchen.
Matching Heads & Tails Flash Cards – my toddler is a big fan of flash cards! These are cute because they can learn to recognize the animals and match their head and tail.
Alphabet Matching Alpha Pops – a fun way to practice color recognition and matching as well as learning the alphabet. The two piece pops click together so this toy also helps with hand-eye coordination. These are on our wish list and come highly recommended!
Follow along on Instagram to see a lot of these toys in action (plus more daily life and gift ideas!)
The Best Puzzles for Toddlers
Melissa & Doug Alphabet Learning Puzzle – great as a puzzle to practice spatial awareness and matching, as well as for letter and number recognition. We love it also says the letter so your little one can play and learn independently!
Personalized Puzzle – a fun and unique gift that is also a great educational learning toy for your toddler! These are great gifts for toddlers who already seem to have everything or gift givers who just want to give a personalized gift.
Wooden Shape Color Stack Puzzle – a great wooden toys with four different shapes and colors. Its like an upgraded ring stack toy that will also teach your toddler shape and color recognition.
Wooden Apple Threading Toy – this is one of my toddler's favorites and is great for independent play and long car rides. This can teach them spatial recognition and fine motor skills. After your toddler threads the string completely it can be a good toy for problem solving as they learn to undo the threading.
Lovevery Play Kit – as a mom of three, I highly recommend the Lovevery play kits! If you haven't gotten one yet, two years old is the perfect age to start! Some of our favorite play kits are for the two year old age range (including The Helper Play Kit & The Free Spirit Play Kit). (Save 10% when you prepay for multiple play kits)
Ten Little Marble Run – this 41 piece marble run is great for developing hand-eye coordination and critical thinking skills! Your two year old will love dropping the marbles in and hearing the sound as they try to figure out the path to the bottom. They might need your help at first, but will likely catch on quickly!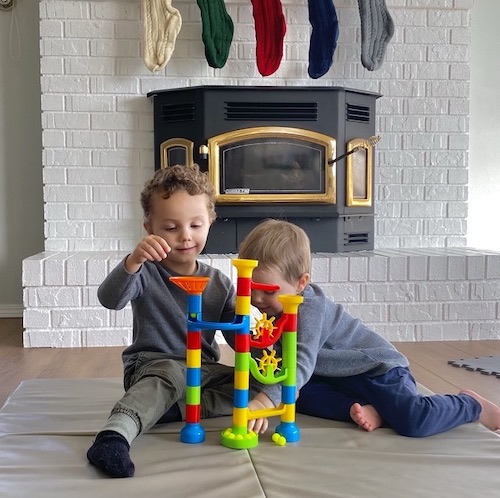 Words, Letters, Colors & Number Toys for Toddlers
Sprinkle In Learning ABS's & 123's – Sprinkle in learning is a great small business that creates PlayPods for toddlers! Their ABC's & 123's Bundle is great for two year olds who are just learning the alphebet and numbers, or want to practice. They also have tons of other PlayPods to choose from (they are great for travel!)
Melissa & Doug Primary Lacing Beads – great for color and pattern recognition, and fine motor skills. This toy also teaches early math skills like counting and sequencing! We love Melissa & Doug toys for their amazing quality!
Counting & Sorting Color Bears – this activity is one of my favorites for rainy days. There are 10 bears in each color so its great for practicing counting and for color sorting. The storage bag is also a bonus and the cups stack together for easy storage.
Farmer's Market Color Sorting – this is on the top of our wish list! Such a fun way to learn colors and practice sorting using common fruits and veggies your toddler might recognize from the kitchen.
LeapFrog Learning Friends 100 Words Book – this book is great for leaning, recognizing, and practicing to say a variety of words. When you touch the picture it says the work aloud so its great for independent play as well as structured learning with the help of an adult. This also has an option to learn in Spanish!
Summary of Best Educational Toys for 2 Year Olds
Here is a quick breakdown of the best learning toys for 2 year olds based on what my toddler has been loving:
Thanks for stopping by! You might also like these related posts: