Wondering what the best learning toys for 3 year olds are? Or what is a good educational toy for a three year old? Here is a list of best learning toys for 3 year olds based on what my kids actually use and love for at-home learning.
I'm a mom of three and have been doing homeschool preschool for 2 years now with my oldest two children. I have been searching for the best fun and engaging learning toys for the three year age range to help keep my kids interested and on track with their learning. Here are all the educational toys that we have been loving or ones that are on my kids' wish list!
You might also like these related posts: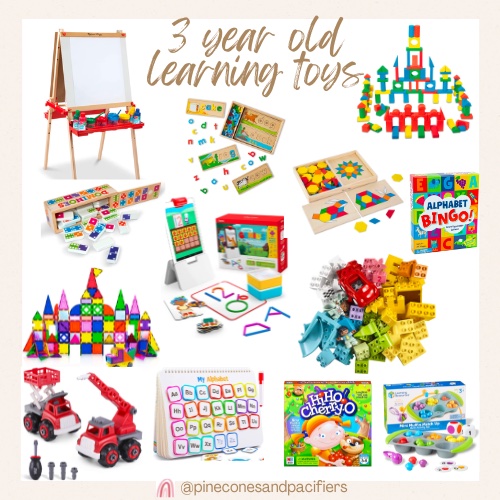 Do Kids Really Need Learning Toys?
Yes and no! If you are the parent of a baby or young kid, you likely already know that just about anything can be a 'toy' and sometimes your kids to prefer with non-toys over toys themselves. Kids don't really need toys, but certain toys are better than others and can be useful in teaching your child new skills.
Learning toys or "educational toys" are toys that are specifically designed to help teach your child about new subjects or help them acquire new skills. Learning toys can teach critical thinking, fine motor skills, or things likes cause and effect. They can also teach your child about specific subjects like colors, numbers, letters, language, history, or science and math.
For the purpose of this post, I break down learning toys into three categories:
Open Ended Toys: great for independent play, imaginative play, and sparking creativity.
Language/Math Skill Toys: these toys are specifically designed to help develop language and math skills while also having fun.
Learning Games: fun educational games perfect for the 3 year old age range.
Where Can you Buy Educational Toys?
Most educational or learning toys can be purchased at stores like amazon, walmart, or target. If you are looking for unique and excellent quality toddler learning toys, one of my favorite places to shop is through the Melissa and Doug website.
Melissa and Doug has a large selection of toys that are great for babies through elementary school kids! I love that they are geared towards imaginative play and are made sustainably; most of their toys are wood or other sustainable materials.
3 Year Old Learning Toys
Open Ended Toys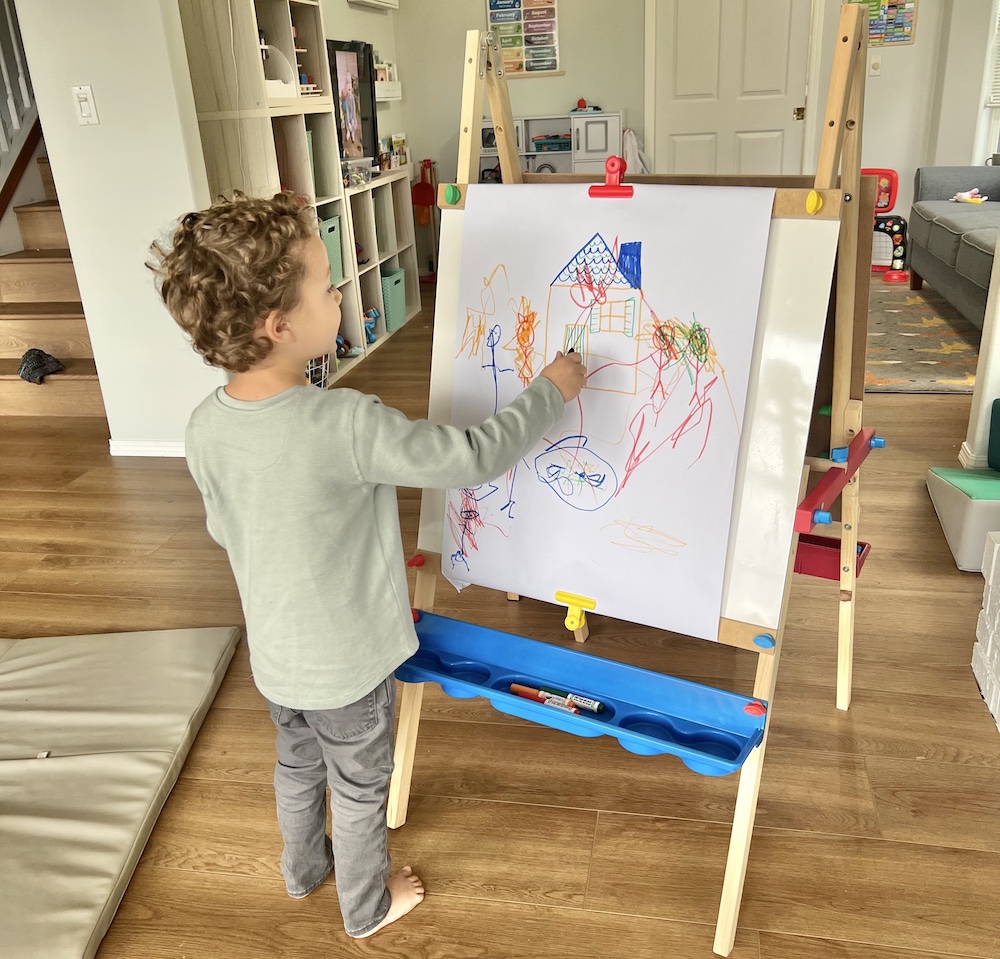 Melissa & Doug Easel – drawing is one of the best open-ended ways to play and learn! We love this Easel from Melissa and Doug because it has so many ways to play creatively; use it as a white board, chalk board, magnet board, or roll out the paper to paint, or color with crayons, markers, tempura paint sticks and more.
Having a surface right at your toddler's height will help encourage them to play and makes it extra fun and interactive. We also love the accessory tray so that all of the accessories are within your toddler's reach. You can also add on the Easel Companion Accessory Set to make creating super easy and fun!
Picasso Tiles – magnetic tiles allow for hours and hours of open ended play! My kids love to build garages for their cars and houses for their action figures. These are a must-have as they grow with your toddler and their creative play.
Melissa & Doug Wooden Blocks – another classic toy that encourages open-ended creative play and offers limitless ways to build and play. We love Melissa & Doug toys for their durability and know they will last many years (and through multiple kids!).
Duplo Blocks – I have fond memories of playing with Duplos as a child and am glad they are still around for my kids to play with as well! Duplos are fun for the 3-year-old age as they aren't quite ready for tiny legos but may have moved on from playing with larger blocks like our favorite MegaBloks.
iPlay Take Apart Toys – if your kids love playing with cars and trucks, these take apart cars are the perfect next-step. These cars are great for the engineering minded child since they can work through taking them apart and putting them back together in different ways. It also teaches fine motor skills and allows for open ended play once they are built.
Read More: Best Toddler Learning Toys for 2-Year-Olds
Language/Math Skills
Osmo-Little Genius Starter Kit – this is at the top of our wish-list this year and comes highly recommended by multiple friends! The Osmo little genuis line is made for ages 3-5 and introduces core subjects with fun and interactive games. You will need a tablet for this game to work (we have the Kindle Fire kids and recommend them!).
Melissa & Doug See and Spell Puzzle – a perfect learning toy for the puzzle-loving kid! This toy incorporates puzzles, letter recognition and matching, as well as an introduction to spelling and sight-words. My boys love this one and have fun working on their letters.
Montessori Preschool Busy Book – we love this busy book for traveling, restaurants, or just some screen-free down time. Each page offers a different activity and teaches a different skill like colors, matching, and letter and number recognition.
Melissa & Doug Pattern Blocks and Boards – a classic math toy that is great for teaching spatial awareness, shapes, and problem solving. We have this toy on our wish list for play and homeschool lessons.
Read More: 3 Year Old Gift Guide
Learning Games
Hi Ho! Cherry-O – a classic beginner board game and perfect for 3 year olds! My boys love this one and ask to play it all the time. They can practice taking turns, and basic math skills like counting, adding, and subtracting.
Dominos – a classic but fun way to practice color recognition, matching, counting, and number sense. Toddlers can play the traditional game or set up a fun domino run to knock over.
Alphabet Bingo – a great way to practice the alphabet and letter recognition while having fun. My kids love to take turns pulling the chip out of the bag and calling out the letters.
Learning Resources Mini Muffin Match – a fun way to practice fine motor skills and learn early math skills like matching, sorting, and counting. My kids love that you get to throw the dice; mixing it up keeps the learning fun!
Summary of Best Educational Toys for 3 Year Olds
Here is a quick break down of our favorite learning toys for 3 year olds (based on what my kids actually use and love).
Thanks for stopping by! You might also like these recent posts:
Pin now for later!