24 easy and toddler-approved 3 year old lunch ideas based on what my 3 year old has actually been eating!
Are you wondering what can I feed my 3 year old for lunch? What can I put in my toddler's lunch? These 24 easy lunch ideas can help!
Lunch time doesn't have to be stressful or boring. I try to fill my 3 year old's plate with fruits, veggies (try it with a dip, toddlers love dips!), and toddler favorites. I also find lunch time a good time to introduce new foods because it's my boys' best meal of the day.
If you are looking for more easy and simple toddler meal ideas, keep reading below!
You might also like these related posts:
3 Year Old Feeding Supplies
Here are some of our tried and true favorite feeding supplies! Having the right gear can make meal time more fun and making feeding your toddler just a little bit easier.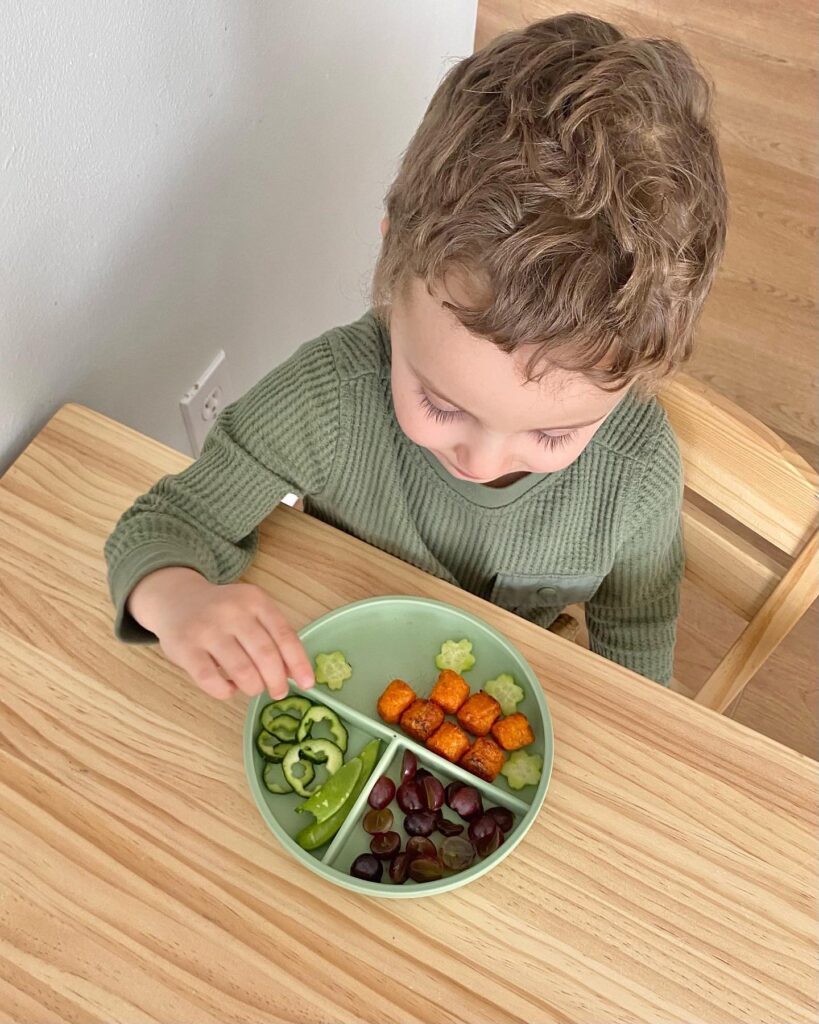 Easy Toddler Lunch Ideas
Below are meal ideas and inspiration based on what my 3 year old toddler has been eating for lunch.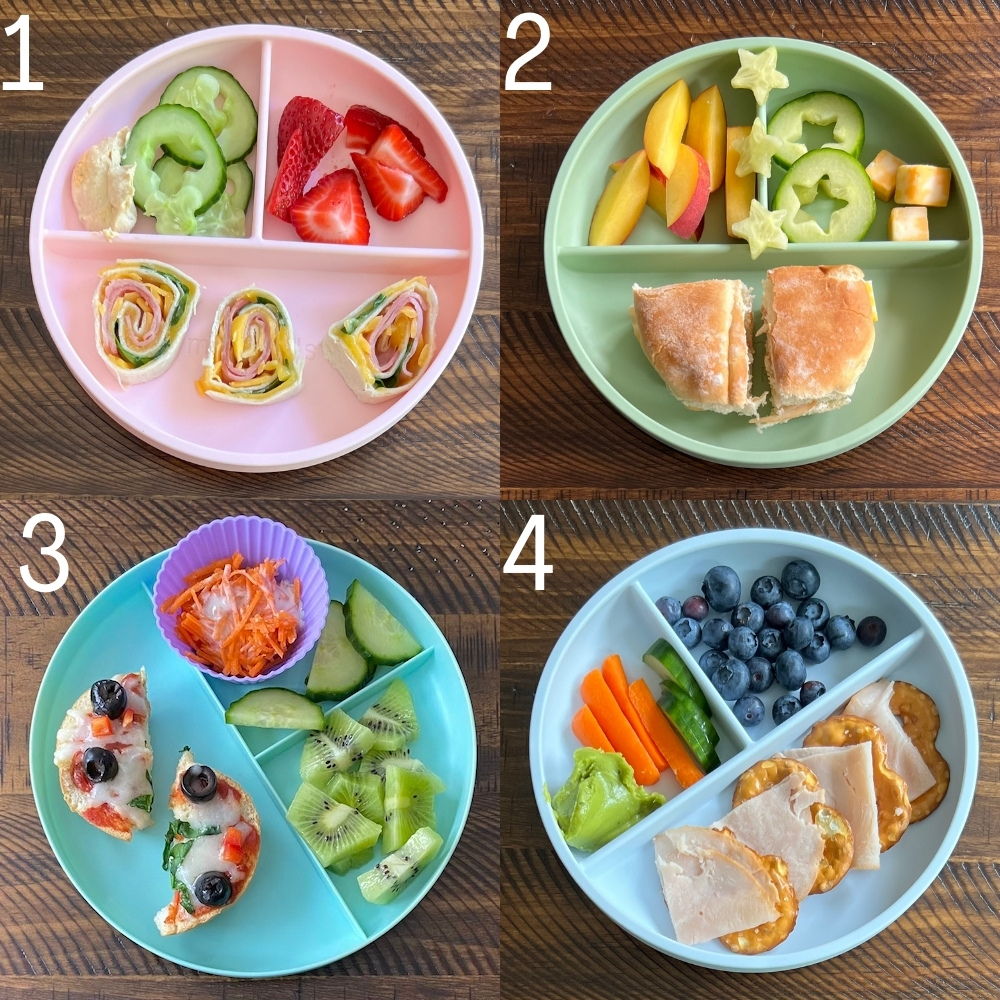 Ham & Cheese Pinwheels – a tortilla with ham, cheese, and spinach, rolled up and then cut into pinwheels. Side of strawberries and cucumbers with hummus.
Grilled Turkey & Cheese – try changing up grilled cheese by adding turkey or using a bun instead of sandwich bread. Side of cucumbers, cheese, and peaches.
Mini Pizza Bagels – make your own pizzas using mini bagels! My kids love olives, spinach and bell pepper. Side of kiwi, cucumbers, and shredded carrots with ranch.
Pretzel Crackers & Turkey – like a homemade lunchable but with pretzel crisps instead of crackers. Side of blueberries, cucumber, and carrots with guac.
Read More: 30 Toddler Snack Plate Lunch Ideas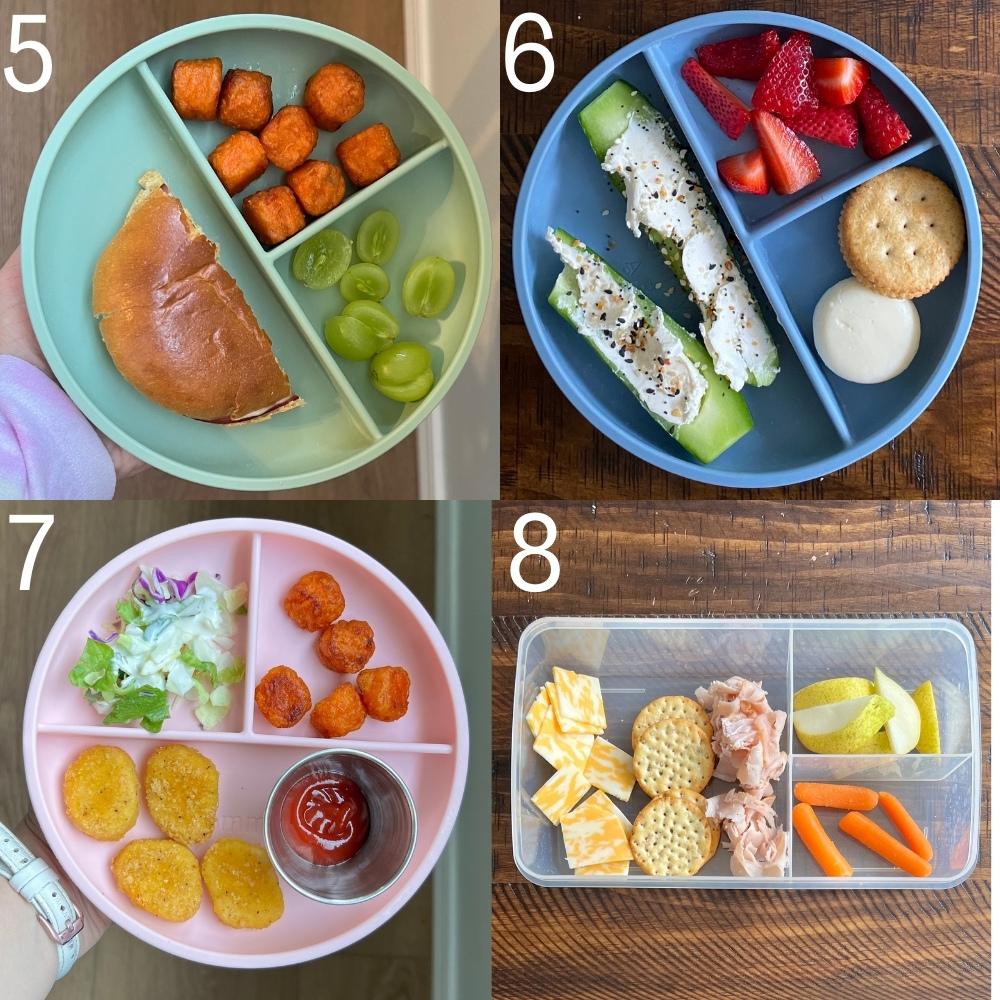 Roast Beef Sandwich – a warm roast beef sandwich with melted cheese, side of sweet potato tots and grapes.
Cucumber Cream Cheese Boats – mini cucumbers with the seeds scooped out and cream cheese spread inside. My kids love to top these with everything seasoning! Side of cheese, crackers, and strawberries.
Chicken Nuggets – a toddler favorite and a great part of the lunch rotation. Side of salad with ranch and sweet potato tots.
DIY Lunchable – don't forget the simple lunch of cheese, crackers, and lunch meat! Toddlers love this and it can be made at home for a DIY version. Side of baby carrots and pears. For this style we lunch we love this Toddler Bento Box.
Read More: Quick 5-Minute Toddler Meal Ideas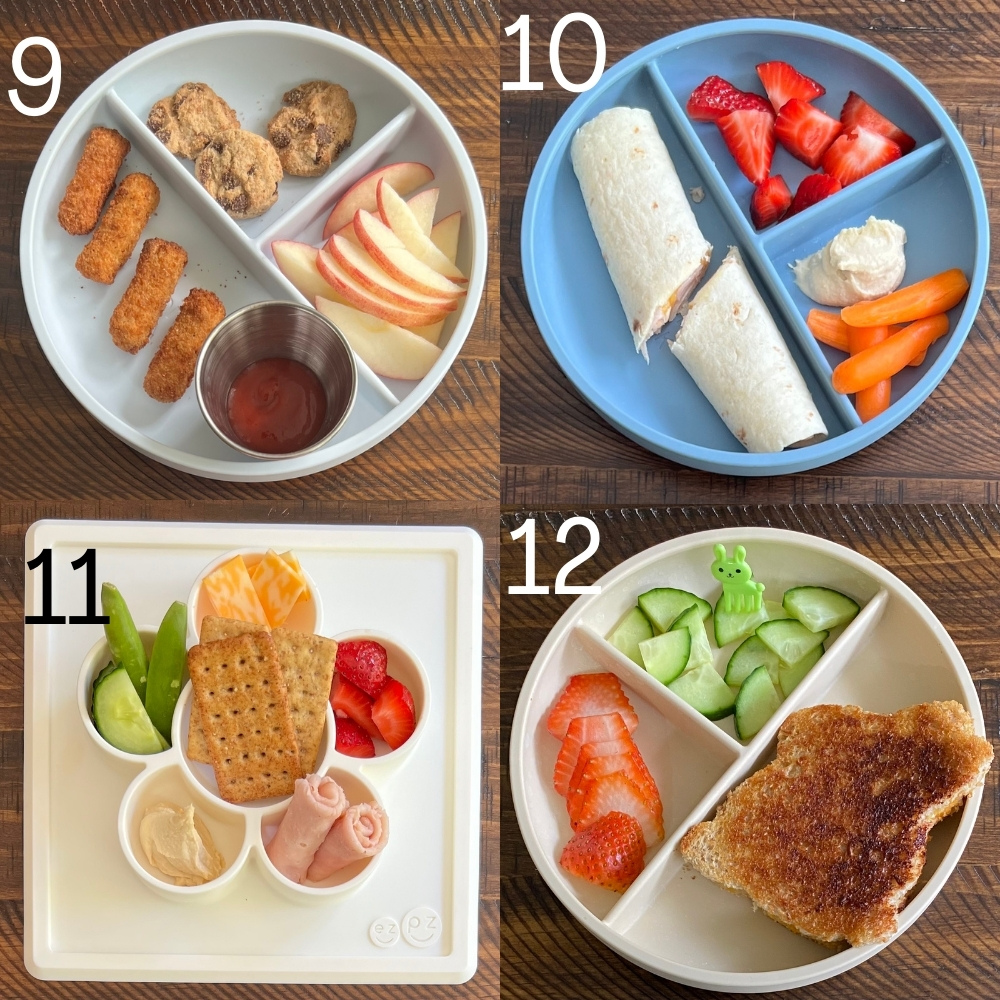 Chicken Fries – We recently tried these fun Earth's Best Chicken Fries and are big fans! Definitely adding them to the lunch time rotation. Side of thinly sliced apples and mini chocolate chip cookies.
Turkey Ranch Wrap – instead of a sandwich, try rolling up lunch meat, cheese, and ranch dressing in a tortilla. Side of strawberries, and baby carrots with hummus.
Snack Plate – crackers, cheese, turkey, strawberries, veggies and hummus in our favorite Flower Divided Plate. (Use code EZPZ25LOVE to get 25% off $75+)
Grilled Cheese – a toddler favorite, but make it fun using food cutters like this (our exact set isn't available anymore). Side of strawberries and cucumbers.
Our favorite silicone suction plate: WeeSprouts Suction Plate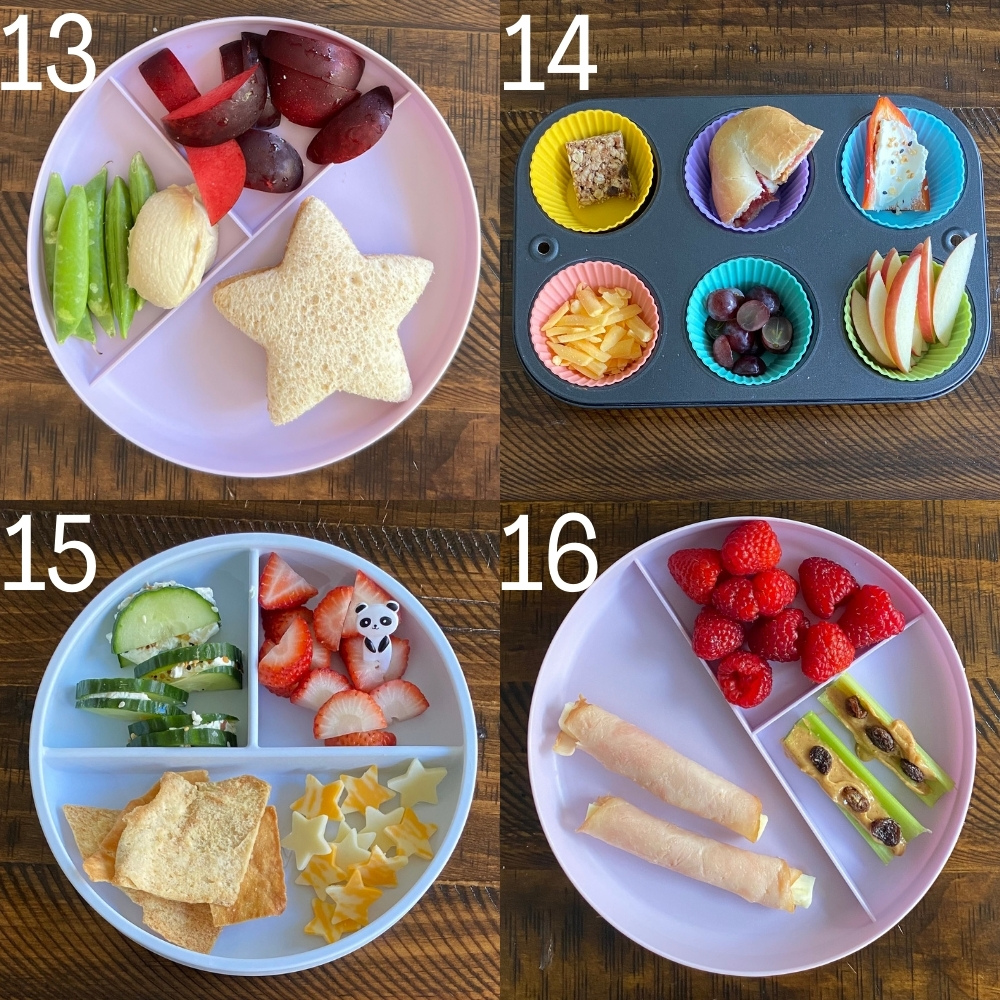 Peanut Butter & Jelly – another toddler favorite made fun with food cutters like this (our exact set isn't available anymore). Mix it up and try using different nut butters and different flavored jelly or even honey! Side of plums and pea snaps with hummus.
Muffin Tin Snack Plate – serve lunch in a muffin tin with silicone muffin liners and pick your toddler's favorite sides or snacks. We had a granola bar, pb&j mini bagel, mini pepper with cream cheese and everything seasoning, shredded cheese, grapes, and apples.
Pita Chips + Cheese – a deviation from the standard cheese and crackers, side of cucumbers with cream cheese, and strawberries.
Turkey & Cheese roll ups – peel string cheese and then roll up with sliced turkey. Side of 'ants on a log' and raspberries.
Read More: 4 Ways to Make Toddler Meals Fun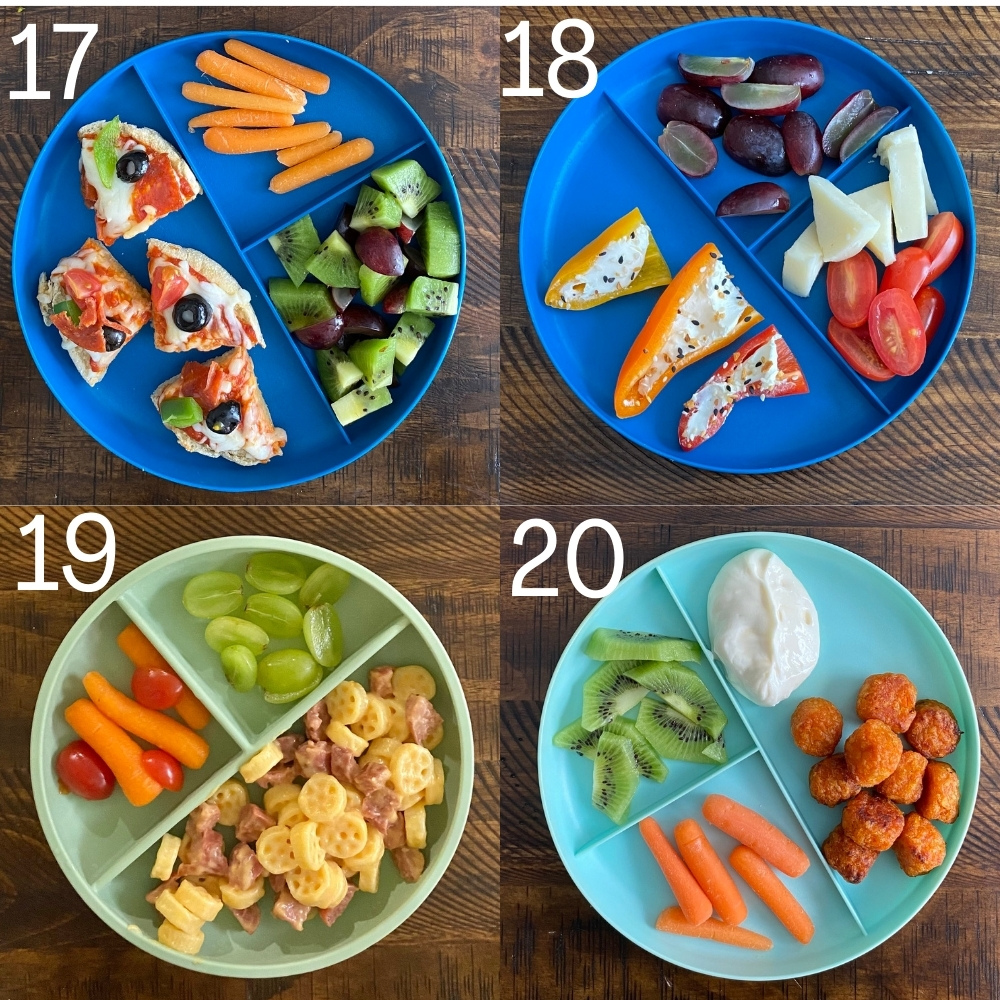 English Muffin Pizzas – make fun homemade mini pizzas using English muffins (or mini bagels). My toddlers love toppings like pepperoni, green pepper, and olives. This would also be a great way to introduce new foods on a familiar favorite like pizza. Side of kiwi, grapes, and baby carrots.
Mini Stuffed Sweet Peppers – mini sweet peppers stuffed with cream cheese and everything seasoning on top. Side of grapes, cheese, and cherry tomatoes.
Mac & Cheese – on of our favorite frozen meal is mac & cheese from KidFresh with hot dogs. Side of grapes, baby carrots, and cherry tomaotes.
Sweet Potato Puffs – Alexia Foods sweet potato puffs with yogurt for dipping. Side of baby carrots and kiwi.
Our Favorite Toddler Cups: Elk & Friends Glass Toddler Cups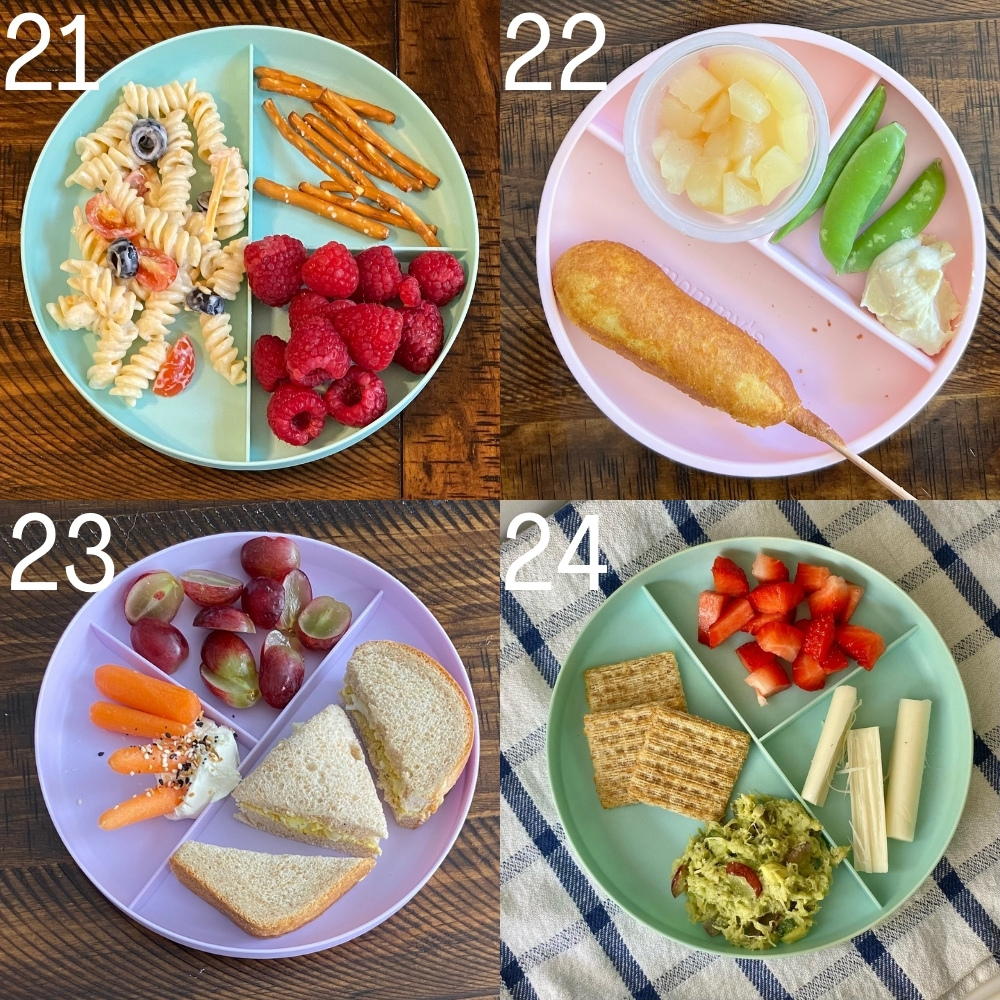 Pasta Salad – I love to whip up a quick and easy pasta salad with ranch, cheese, olives, and diced tomatoes. Perfect to make ahead and serve cold! Side of raspberries and pretzel sticks.
Corn Dog – our favorites are Applegate corndogs! Served with side of snap peas and hummus and diced pears in 100% juice.
Egg Salad Sandwich – our favorite egg salad recipe that is toddler friendly with greek yogurt for added protein! Side of carrots with cream cheese and everything seasoning for dipping and grapes.
Avocado Chicken Salad – another family favorite recipe served with a side of crackers for dipping, string cheese, and strawberries.
Toddler Lunch Ideas for 3 Year Olds
Here is a quick breakdown of 24 easy toddler lunch ideas perfect for 2-4 year olds (based on what my toddlers actually eat for lunch).
Ham & Cheese Pinwheels
Grilled Turkey & Cheese
Mini Pizza Bagels
Turkey & Crackers
Roast Beef Sandwich
Cucumber Cream Cheese Boats
Chicken Nuggets
DIY Lunchable
Chicken Fries
Turkey Ranch Wrap
Snack Plate
Grilled Cheese (w/ Carrots)
PB&J
Muffin Tin Snack Plate
Pita Chips & Cheese
Turkey & Cheese Roll Up
English Muffin Pizza
Mini Stuffed Sweet Peppers
Mac & Cheese
Sweet Potato Puffs (w/ yogurt dip)
Pasta Salad
Corn Dog
Egg Salad Sandwich
Avocado Chicken Salad
Thanks for stopping by! You might also like these related posts: