Toddler playroom inspiration plus a list of 18 toddler playroom must-haves including play toys, activities, playroom storage, and playroom furniture.
Before I had kids I always said that I would never have a playroom; the kids would just live in our space and i'd find a place for their toys. But after having two kids in two years I was dreaming of a bigger space and a playroom to store all of their toys. We finally moved and I carved out a giant space for the boys' playroom!
I'm sharing all of our favorites for a toddler playroom and playroom essentials. All of these playroom must-haves are things that we actually have and love and use every day in our playroom. Add these toddler playroom must-haves to your wishlist or playroom design boards!
You might also like these related posts: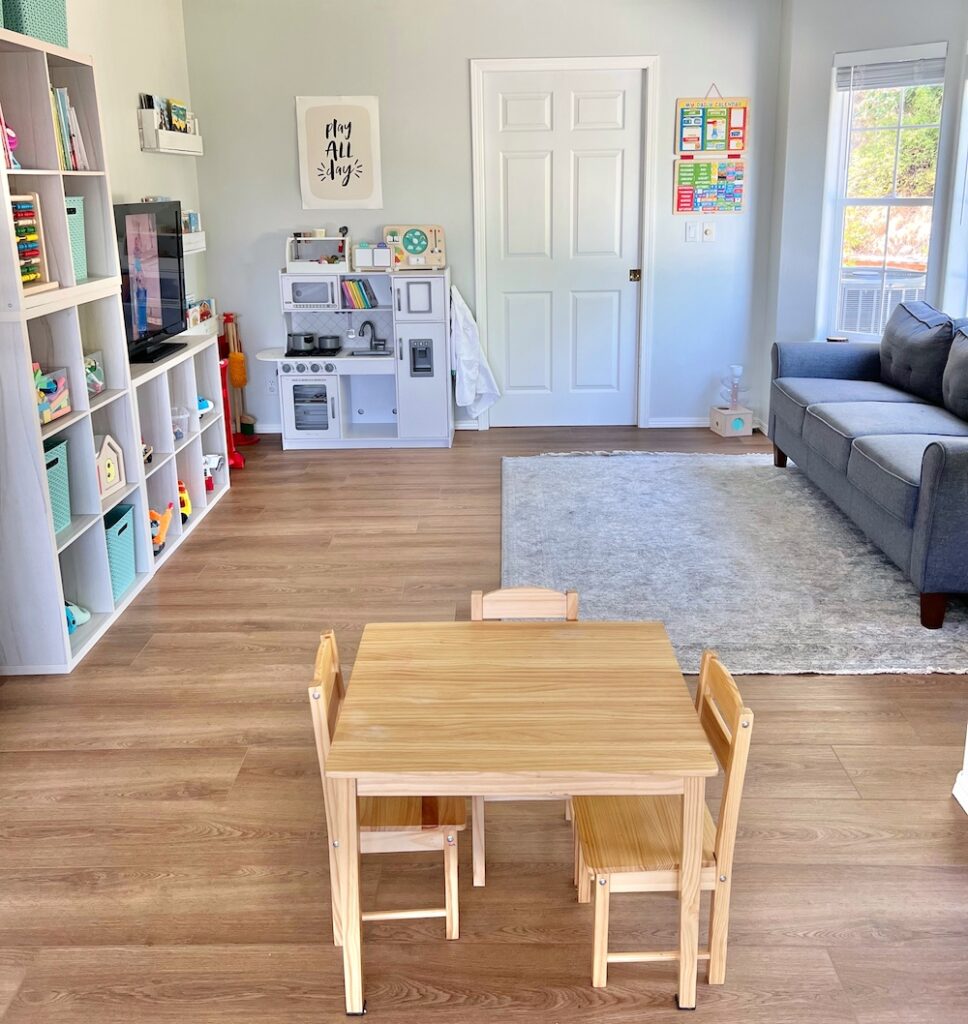 We love a comfy cozy playroom and that all starts with our gorgeous area rug! It sets the mood for the room and is a great space for encouraging open-ended play for babies and toddlers.
Must-Have Playroom Gear
EZPlay Toys Jungle Gym – the top of the list for playroom essentials you didn't know you needed! My boys play on the EZPlay Toys Panda Playground every single day and it has provided hours and hours of entertainment. We love our panda playground because its 100% plastic free and made with non-toxic ash wood. Its extremely durable and sturdy but also stores away flat for easy storage.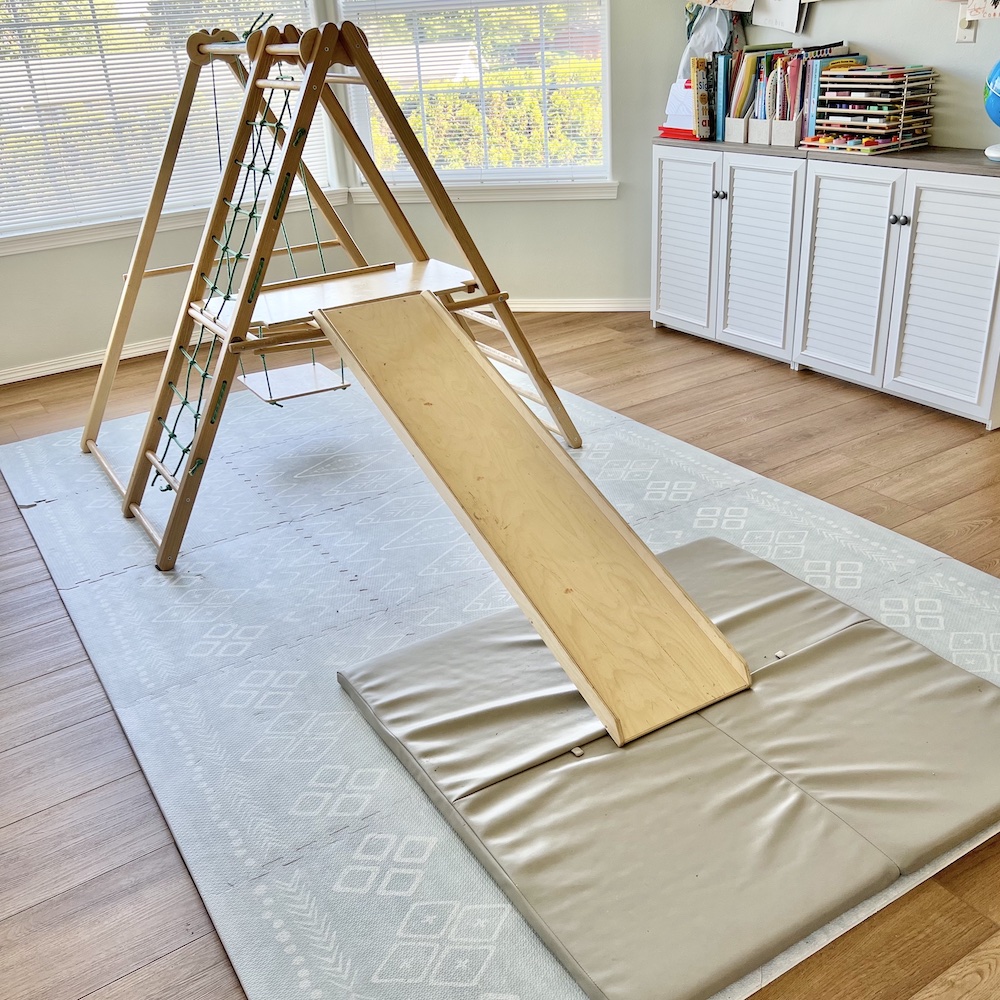 Read my full review here: Best Indoor Jungle Gym – EZPlay Toys Panda Playground Review
Padded Play Mat – under our playground we have these aesthetic foam playmats (because of the size we also added two booster mat kits to make the size shown). We also have the TokiMat Padded Everywhere Mat and normally keep it at the bottom of the slide so that the boys have an easy landing. It's also perfect for tummy time, outdoor play, playroom picnics, or just a soft place to sit down and play.
Toddler Table – every playroom needs a toddler-sized table! We are loving this Neutral 4-piece Toddler Table & Chair set. Its on our wish list and comes highly recommended.
Climbing Mats – we got this Climbing Mat Set for my son's first birthday and they are perfect for younger babies who like to crawl and climb and older toddlers who like to build forts and obstacle courses. I love the contemporary color scheme (it also comes in earth tones as well)!
Play Kitchen – another one from our wishlist, the Melissa & Doug Play Kitchen is perfect for imaginative play for girls and boys alike. It comes in white, charcoal, and pink and is made of wood so its sturdy and durable.
Art Easel – a fun staple to use for all sorts of crafts and activities! We love this one because it's a white board, chalk board, and has a spot to attach a roll of paper. Don't forget to grab the matching easel accessory set!
Mini Bounce House – this isn't quite an essential, but its so much fun in the winter or summer if your kids aren't able to go outside as much. We have this and bring it out when my kids are getting a little cabin fever and it keeps them entertained for hours.
Playroom Storage/Furniture Essentials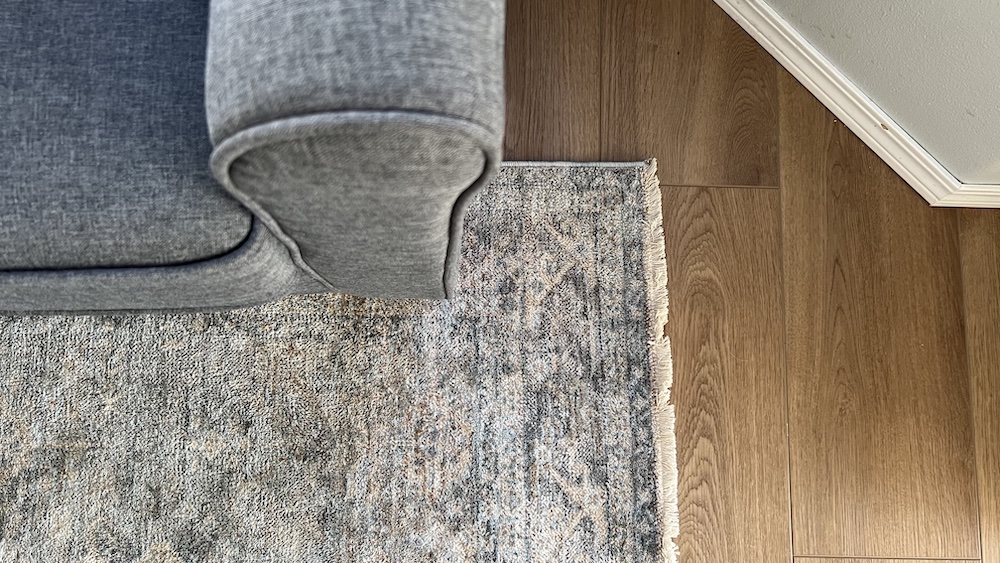 Playroom Rug – a playroom rug can really set the tone from a design standpoint and is also a comfy cozy place to set your baby or toddler to encourage independent or open-ended play! We love our rug from Rugs Direct (they have such a huge selection and fast shipping!).
Cube Storage – we have the ClosetMaid 6-Cube Organizer in bleached walnut. We love this one in particular because its a little thicker and sturdier material with a gorgeous finish! It has a more farmhouse look than the plain white finish and doesn't look cheap. Its the perfect upgrade to your playroom even if you already have a cube organizer. We use it with these 11-inch cube baskets for smaller toy storage.
Storage Cabinets – if you have anything you want to keep out of reach, we recommend these storage cabinets! We use them to store toys with small pieces that can only come out when baby is napping and all of our arts and crafts supplies! (pictured below along with our cable poster hangers, educational posters, wire puzzle rack, and linen file holders)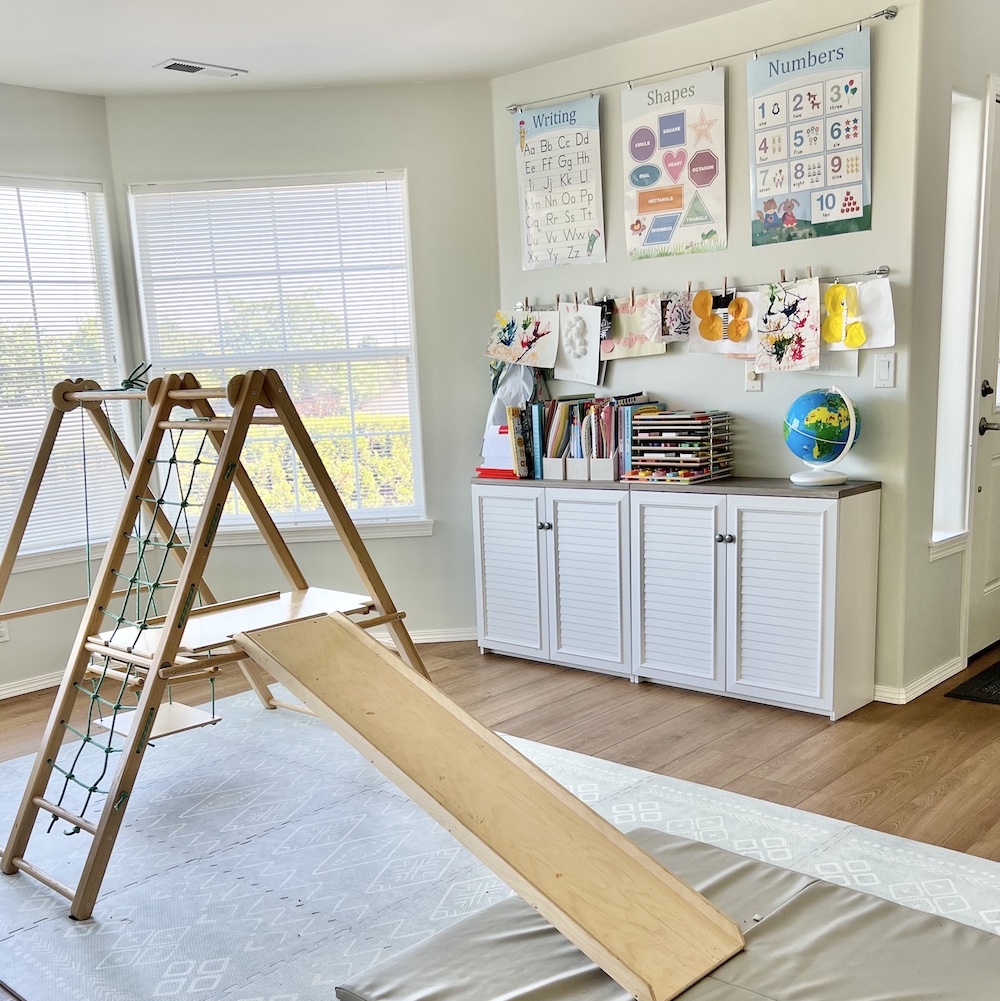 Couch – to be honest, I don't love our couch, but it looks pretty and we got it from Wayfair! Another great idea is a Toddler Play Couch; the perfect solution for small play spaces or is great for toddlers who like to build and make forts! We normally keep ours upstairs because of dog hair, but it's the perfect addition to your playroom, too!
Bookshelves – wall-mounted bookshelves like these Rustic Floating Bookshelves are a great option if your kids like to destroy books (like mine) or a cute Neutral Bookcase Display Stand is a great option if you do want your kid to have easy access to books.
Playroom Art – to add an extra touch of cuteness add some playroom wall art to make the space more fun and inviting. We loving using Minted for artwork because they offer unique, one-of-a-kind designs sourced from independent artists! The quality of all of their designs and prints are truly amazing!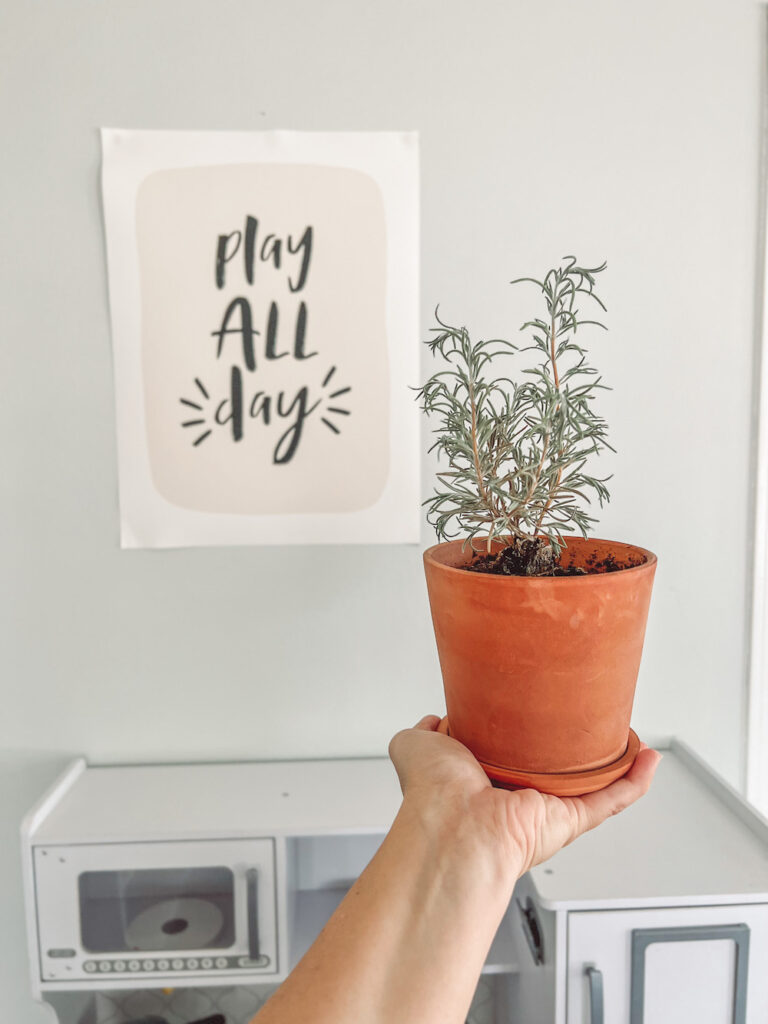 Play All Day Poster from Minted
Best Toddler Playroom Toys
Here are some of our most played with toys in our playroom! Great for all ages 1-5+.
Play Tunnel – we love our 6ft Play Tunnel and move it around the room to different locations to keep things interesting. It' also the perfect material to take outside and great for babies through preschoolers. I love that its collapsable and folds up to easily store away in the closet or under a bed.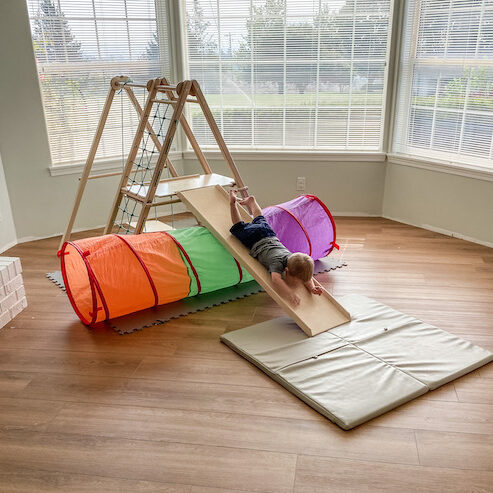 Lovevery Block Set – a gorgeous and durable block set with so many uses! Ours gets played with on the daily but all of our kids. We also love all of our playkits from Lovevery (save 10% when you prepay for multiple kits).
Picasso Tiles – Picasso tiles are great for older toddlers, especially ones who like puzzles and building! We have Picasso tiles and from my experience they work just as well as more expensive brands.
Bristle Blocks – Bristle blocks are a fun alternative to blocks or duplos and are great for hand-eye coordination and imaginative play.
Play Food – the perfect addition to your toddler play kitchen! We love the Melissa & Doug food sets and have and love this durable wood food set, the Melissa & Doug Pizza set and the Melissa & Doug Taco set. They are great quality and are made of wood instead of plastic.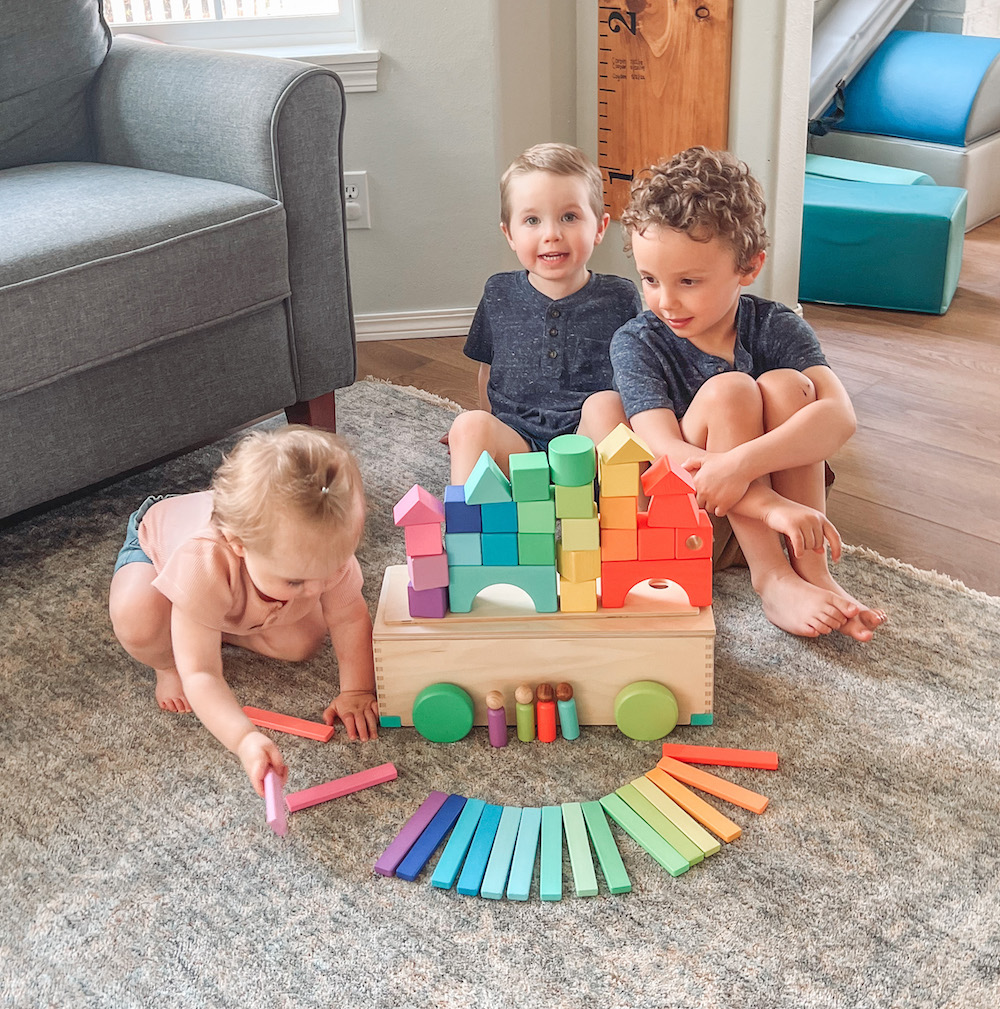 >>>> Shop Lovevery Block Set
See more of our favorite and recommended toys by age:
Summary Toddler Playroom Must-Haves
Here is a summary of our toddler playroom essentials, favorite play room furniture, toddler playroom toys, and activities to keep my toddlers entertained. All of these playroom must-haves are things that we actually have and love and use every day in our playroom. Add these playroom essentials to your wishlist or playroom design boards!
Thanks for stopping by! You might also like these related posts: