The best kids picnic table (+ sensory table) that is perfect for summer time in your backyard, patio, porch, or anywhere in between!
If you're looking for an adorable, functional, and aesthetic kids picnic table, i've found the perfect one for you. This picnic table is awesome because not only is it a fun kid-sized picnic table, but it also includes an umbrella and sensory bins. We got this kids picnic table a few months ago and it has been a huge hit with my three kids!
I'm Jessica, a mom of three, and lover of all things babies and toddlers, easy family meal ideas, and sharing what i've learned in motherhood as a mom of three wild ones. Follow along on Instagram for all things babies, toddlers, and little kids!
You might also like these related posts: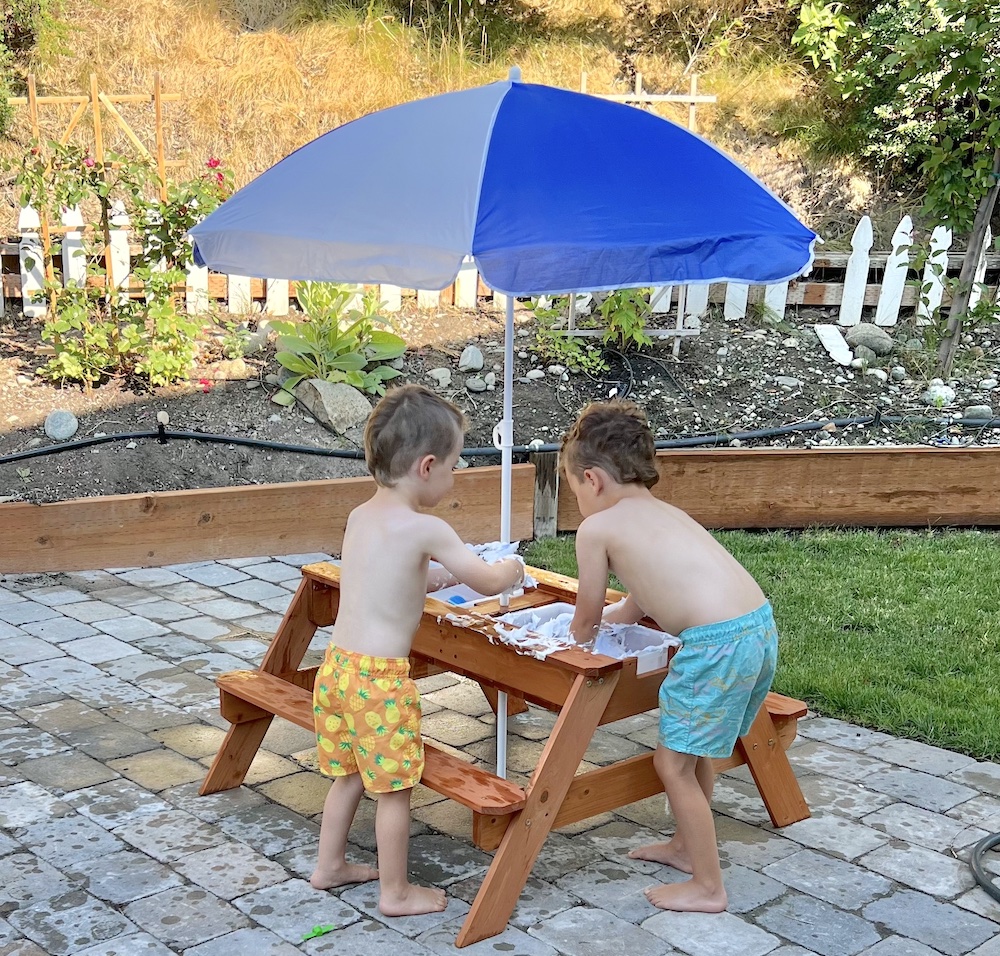 3-in-1 Kids Picnic Table Features
We absolutely adore this kids picnic table, because not only is it a table, but it's also a 3-in-1 sensory activity center! The three features are:
Picnic table (with umbrella included)
Water table (plastic bins included)
Sand or sensory table
>>>> See this table in action on Instagram!
Because the plastic bins are included, the opportunities are really endless. You can fill the bins with water, sand, gravel, or sensory play like rice, beans, shaving cream, jello, and so much more (more sensory idea here: Toddler Sensory Activities My Kids are Loving)
Benefits of a Kids-Sized Picnic Table
Buying a kids-sized picnic table can be a great investment for several reasons:
Perfect size: Kids-sized picnic tables are designed to accommodate children comfortably. In my experience your kids will be so excited about having their own table they will be more likely to sit through meals and do activities at the table. Kids can enjoy meals, play games, do crafts, or engage in other activities without feeling overwhelmed by adult-sized furniture.
Versatility: This 3-in-1 picnic table is extremely versatile and can be used for various activities! Apart from dining, this table can serve as a designated area for sensory play, water play, arts and crafts, reading, playing board games, or even as a mini work station for homework or projects.
Outdoor enjoyment: A kids-sized picnic table provides an excellent outdoor space for children to enjoy meals, snacks, or playtime. It encourages them to spend more time outdoors, which has numerous benefits, including physical activity, fresh air, and exposure to nature.
Social interaction: Having a dedicated space for children encourages social interaction and group activities. Kids can gather around the table with their friends or siblings, fostering communication, cooperation, and social skills development. It's a great way to encourage them to engage with others and build friendships.
Safety: This kids picnic table is designed with child safety in mind. It's lower to the ground, making it easier for kids to get on and off without the risk of falling or getting injured.
Overall, investing in a kids-sized picnic table offers a dedicated and safe space for children to enjoy outdoor activities, promotes social interaction, and provides a practical and versatile addition to your outdoor space. Highly recommended by this mom of three!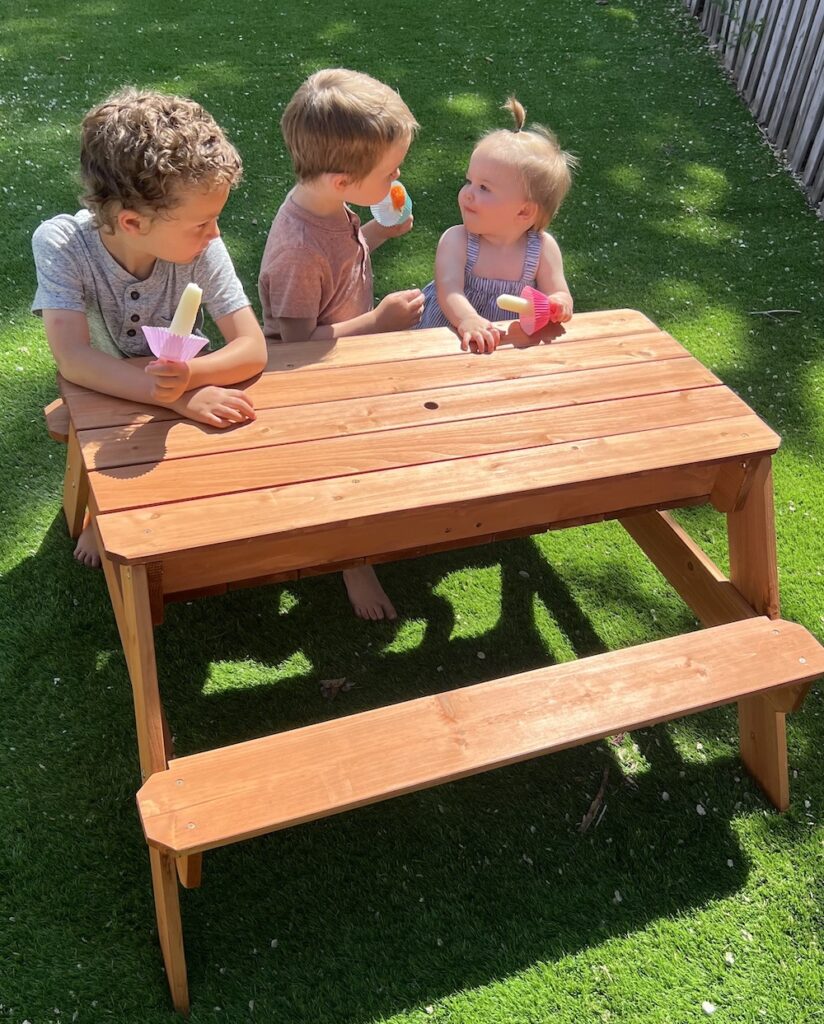 Outdoor Sensory Activity Ideas for your Picnic Table
The possibilities are almost endless for outdoor sensory play! Sine you are outside your kids can be free to get messy and explore (you can just hose them and all of the gear off afterwards!). Here are some of our favorites for outdoor sensory play perfect for our 3-in-1 picnic table: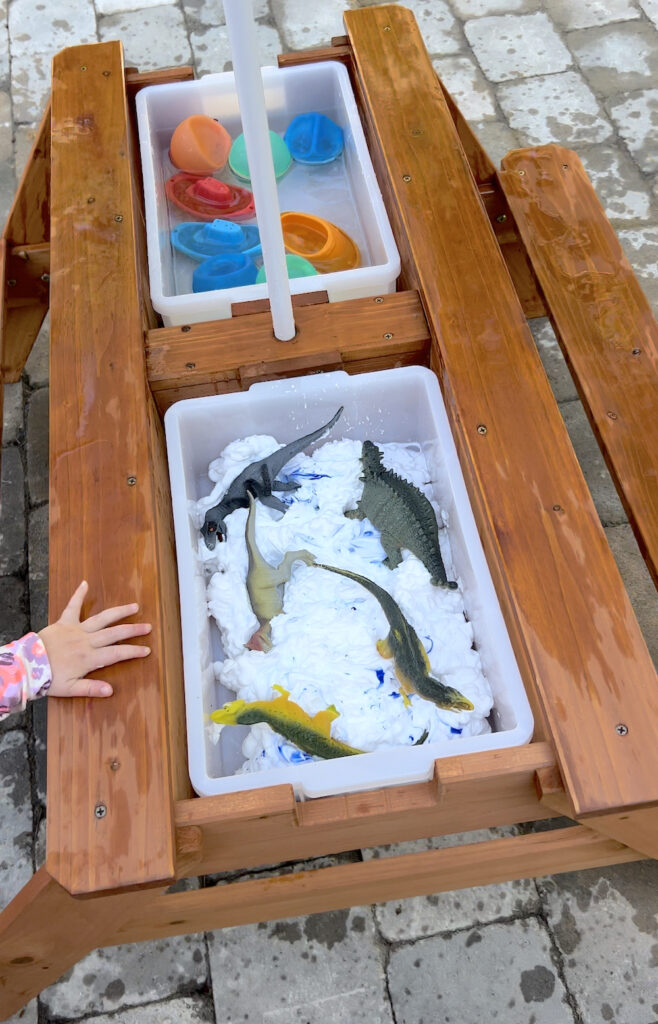 Is the Umbrella Included in the 3-in-1 Picnic Table?
Yes! The umbrella is included. Currently there are options to buy a blue and white, or green and white patterned umbrella.
The umbrella fits into a hole that is pre-drilled into the picnic table. The umbrella can be used when the table top is on or when it is removed for sensory play. The umbrella also opens and closes for storage and is adjustable height.
Is the Picnic Table Made of Wood?
Yes! The picnic table is made of wood ,so it's durable and sustainable. We haven't had any trouble with splinters or deterioration. I have also heard from others who have bought this picnic table and they agree that it has held up very well!
You might also like these recent related posts: