A list of 20+ lunchbox ideas for kindergarten and elementary based on what my kids are actually eating and loving!
If you're wondering: What should I pack for school lunch for kindergarten? How do you pack a lunch bag for kindergarten? What lunchboxes are best for kindergartners? This post can help!
I'm sharing some of our absolute favorite lunches (and bento-box-style lunchboxes) that are perfect for back-to-school or all throughout the school year (and summer and summer camp too!).
Follow along on Instagram for daily updates and more meal and lunchbox ideas!
Best Bento Box Lunchbox for Kindergarteners
Here are some of our favorite bento-box-style lunchboxes that are great for older preschoolers, kindergarten, and elementary kids.
Be sure to check out the measurements and make sure that these bento boxes will fit in your kids' lunchbox if needed!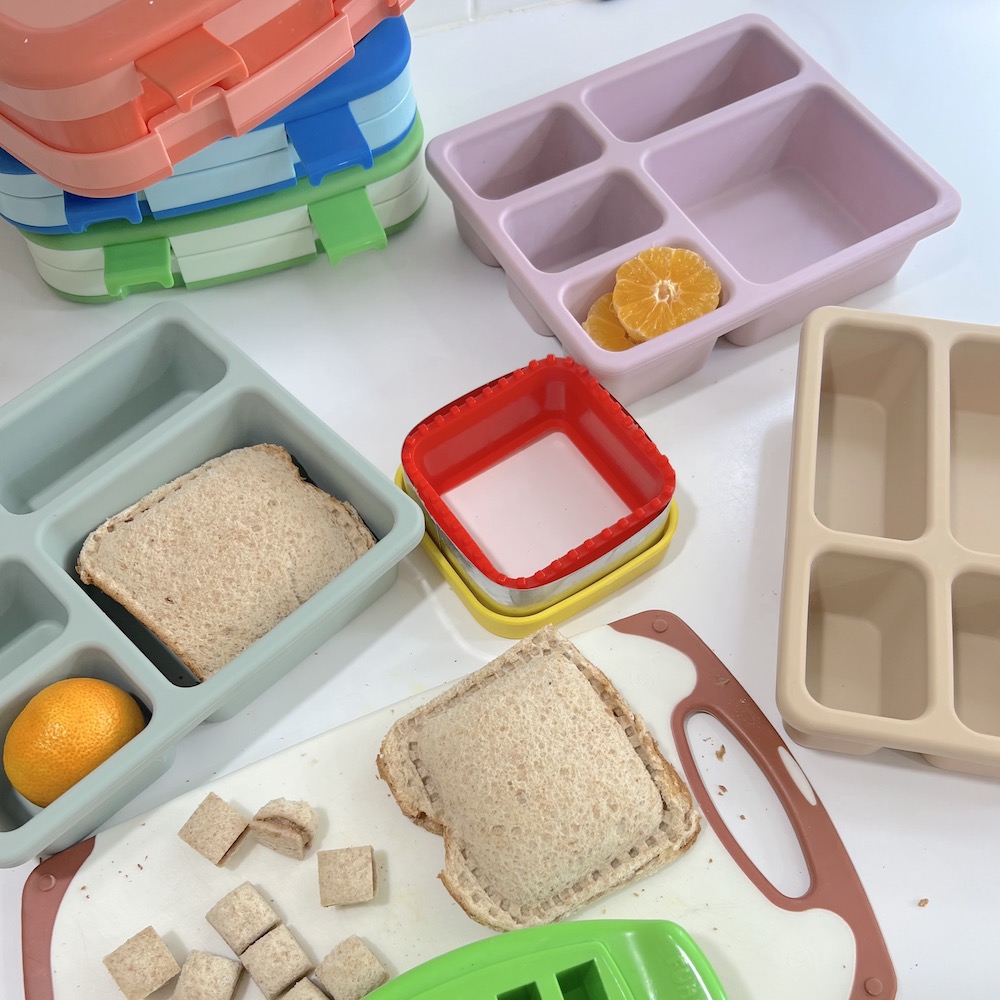 Austin Baby Co Silicone Bento Box – our go-to lunchbox these days! I love the size (it's on the larger size) and the adorable designs on the lid. I recently tested this full of water and it didn't leak at all!
Bentgo Kids – a favorite 5-compartment bento box that is more compact, leak-proof, drop-proof, and dishwasher safe. On the smaller side if your kindergartener likes smaller portions.
Metal Bento Box – another fun option with large compartments! We have this one from Pottery Barn Kids, but also love this similar one on Amazon!
>>> Shop all of our favorite lunchbox items on Amazon
Lunchbox Side Ideas for Kindergarten
Before we get too far into what to pack your kindergartener for lunch (with pictures of full lunchboxes for ideas), I wanted to share some side ideas with you!
We try to pack lots of fruit, veggies, and wholesome dairy and healthy fats. Most of the time we try for one main course, one veggies, 1-2 fruits, and one snack food.
Here are some of our favorite sides:
Veggies: cucumber, carrots, mini sweet peppers, cherry tomatoes
Fruit: berries, grapes, mandarin orange, kiwi, pineapple, apricot, peach, cherries, apples
Dairy/protein: hard boiled eggs, yogurt, mozzarella pearls, string cheese, colby cheese stick, Perfect protein bar
Snacks: applesauce, Annie's bunnies, LesserEvil snacks, Kodiak bear grahams, crackers, pretzels, Harvest pea snaps, Amara smoothie melts, graham crackers, raisins, yogurt pretzels, homemade baked goods
>>> Shop Amara Smoothie Melts (use PANDP15 to save 15%)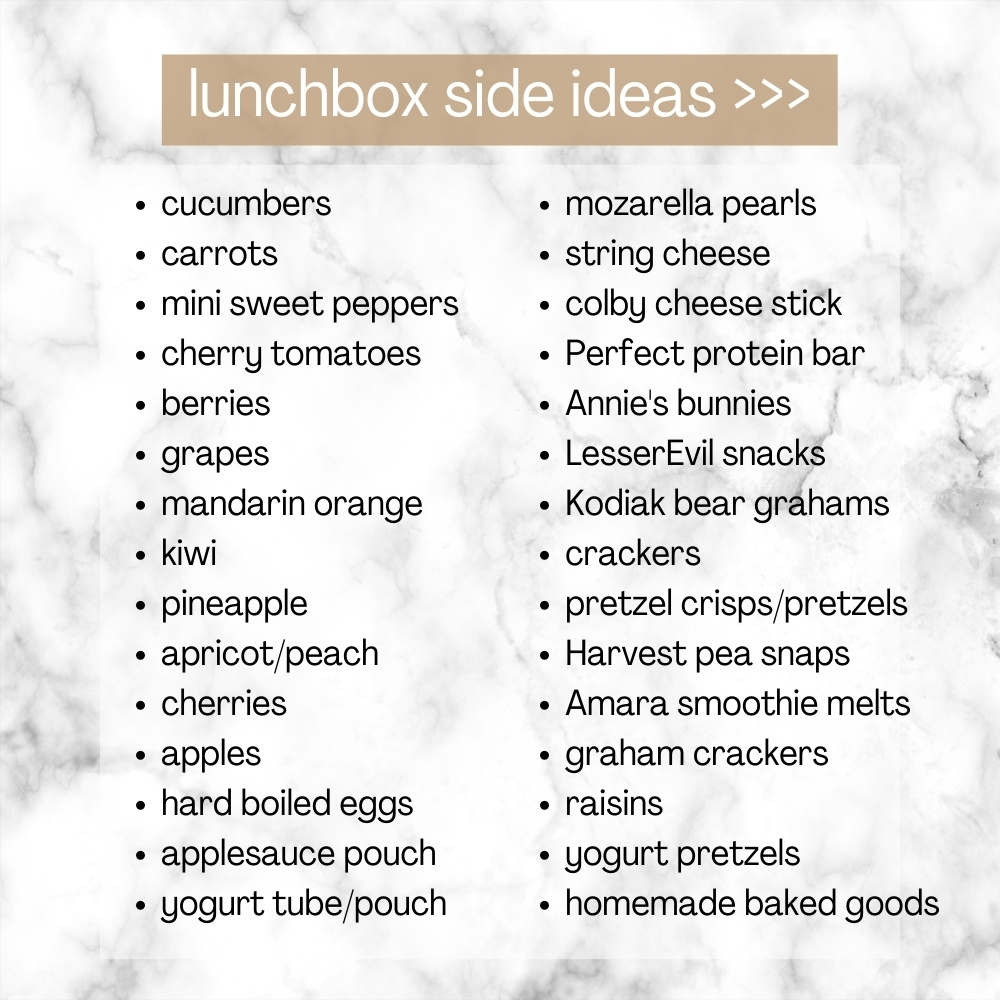 What To Pack Your Kindergartener for Lunch
If you are wondering what to pack your Kindergartener for lunch, look no further!
Here are 20 of our favorite easy, healthy, and little kid approved bento box lunch idea perfect for preschool, kindergarten, and elementary:
Shop our favorite lunchbox labels (use PINECONES10 for 10% off sitewide).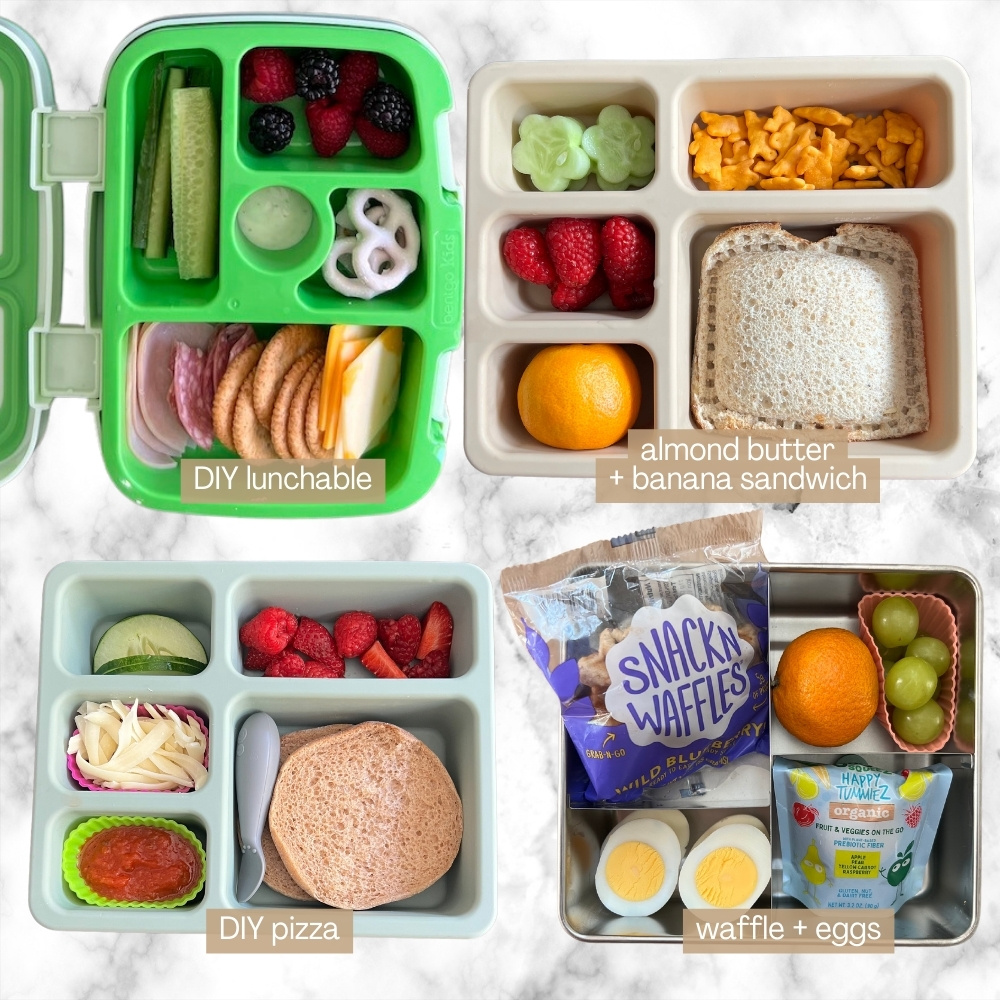 DIY Lunchable: if you remember these from your childhood, it's also fun to let your kids made their own for their lunch! Cheese, crackers, salami, and turkey with sides of cucumbers with ranch, berries, and yogurt pretzels
Almond Butter and Banana Sandwich: try something different than pb&j and use banana instead! I've also recently learned that my kids prefer almond butter to peanut butter. Side of Annie's bunnies, cucumbers, raspberries, and orange. Try our favorite sandwich sealer!
DIY Pizza: another fun idea is to let your kids make their own mini pizza with an English muffin, naan round, or mini bagel. Serve the sauce and cheese on the side with fruits and veggies.
Waffle & Eggs:   we recently found these fun new thawable waffles that are perfect for lunch boxes or on-the-go. Side of hard boiled eggs, applesauce pouch, orange, and grapes. (halve grapes for kids under 5 or so). 
Shop all of our favorite lunchbox items on Amazon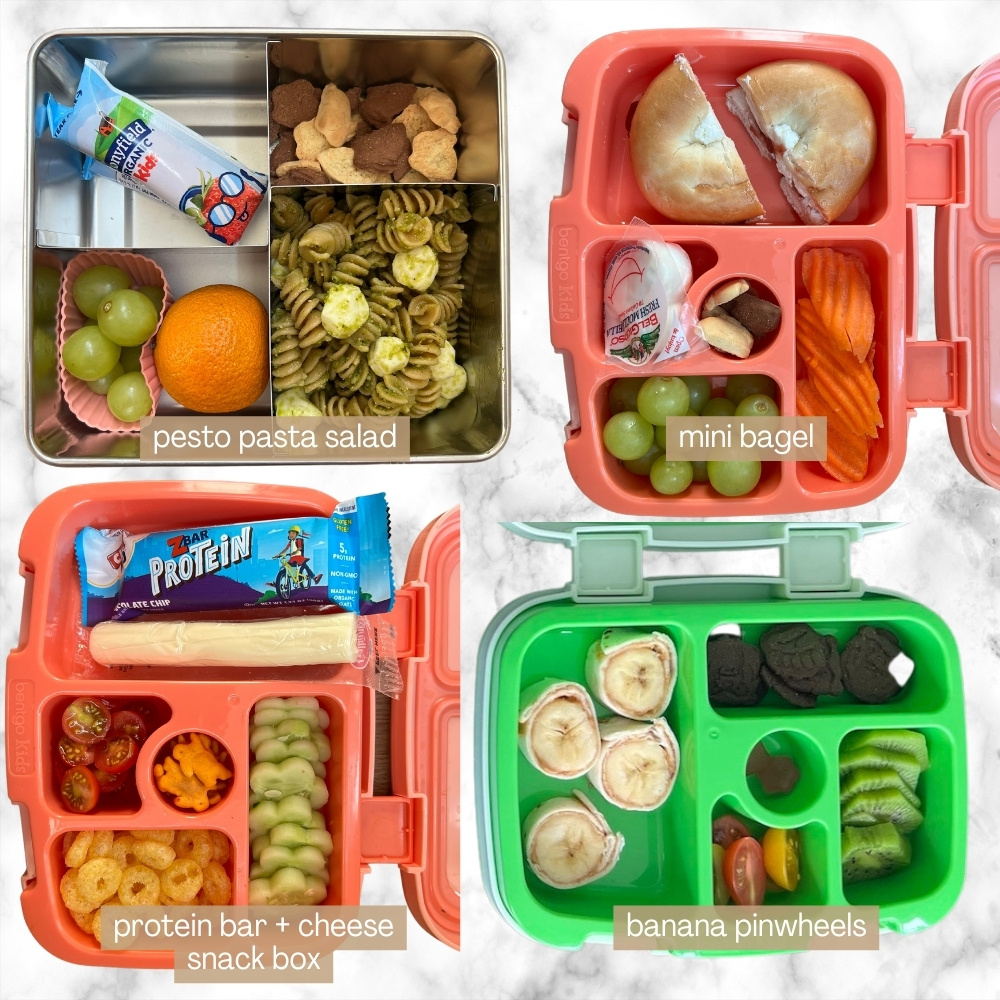 Pesto Pasta Salad: combine cooked pasta with pesto and mozzarella pearls for an easy lunch! Sides of Annie's bunny grahams, yogurt tube, mandarin orange, and grapes.
Mini Bagel: mini bagels are a great lunch because they are kid-sized! We like cream cheese and jelly or pb&j bagels to put in the lunchboxes. Side of mozzarella pearls, grapes, carrots, and Annie's bunny grahams.
Protein Bar Snack Box: if you are running out of main course ideas, try serving some wholesome snacks for your kindergartener's lunch. ZBar Protein bar, string cheese, cucumbers, cherry tomatoes, Annie's bunnies, and LesserEvil snacks.
Banana Pinwheels: also sometimes called "banana sushi", lay out a tortilla and spread with peanut butter, lay a banana inside, wrap up tightly, and cut into pinwheels. Side of Kodiak bear grahams, kiwi, cherry tomatoes, and gummies. 
Shop on Amazon: Austin Baby Co Silicone Bento Box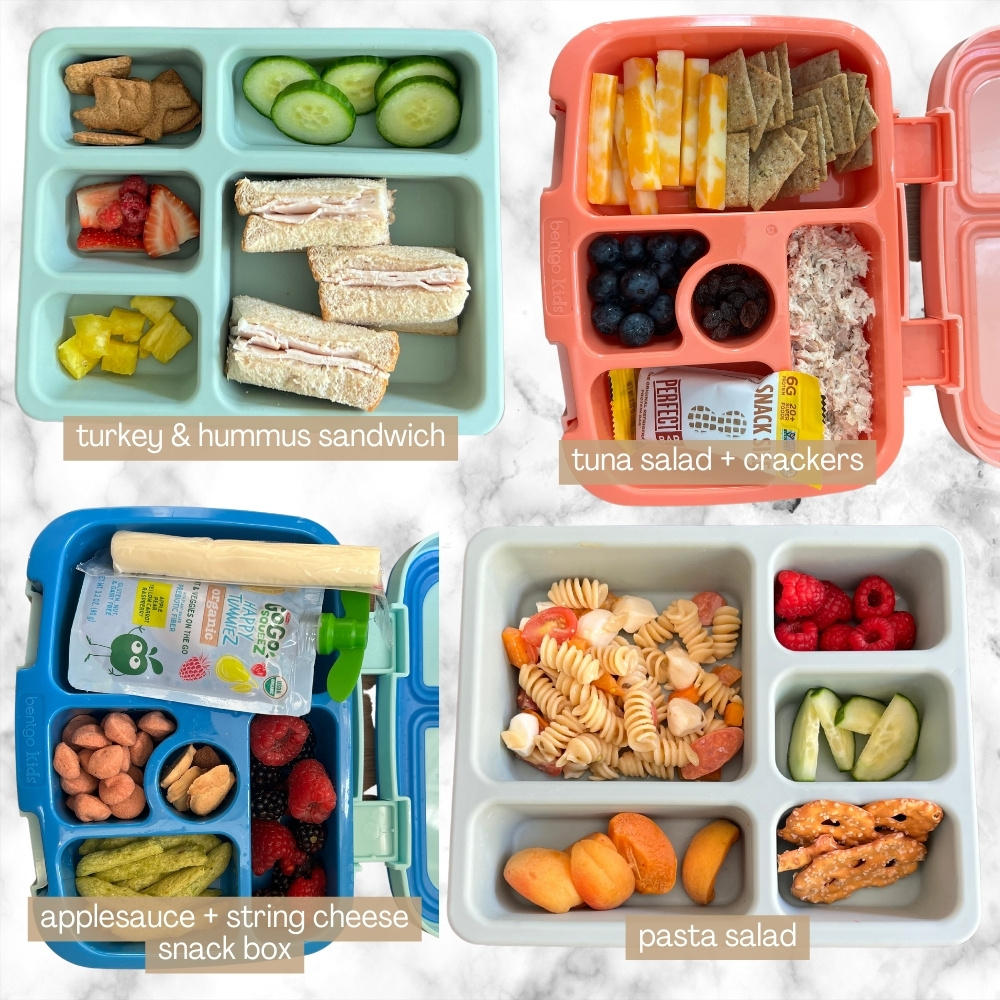 Turkey & Hummus Sandwich: turkey and hummus sandwich with sides of pineapple, strawberries, cucumbers, and Kodiak bear grahams.
Tuna Salad & Crackers: tuna salad made with tuna, greek yogurt, dill, and salt and pepper. Side of crackers, cheese, blueberries, raisins, and a Perfect protein bar.
Applesauce + String Cheese snack box: another snack box idea with an applesauce pouch, string cheese, berries, Harvest pea snaps, Kodiak bear grahams, and Amara smoothie melts (use PANDP15 to save 15%).
Pasta Salad: our go-to pasta salad recipe here with sides of raspberries, cucumber, pretzels and apricot.
Read More: The Best Labels for Back-to-School: Name Bubbles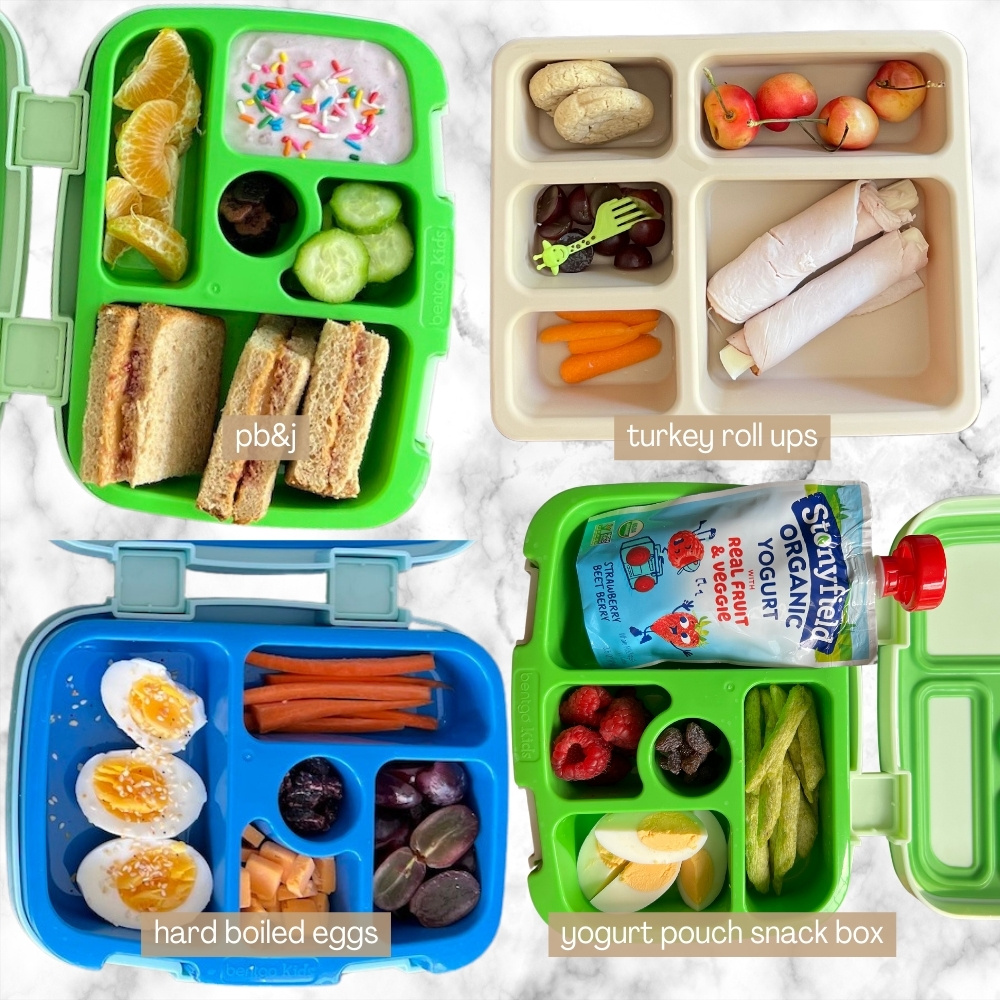 PB&J: a little kid favorite served with sides of mandarin orange, cucumber, yogurt, and gummies.
Turkey Roll Ups: break a string cheese in half length-wise, then wrap turkey around the pieces to make turkey roll ups! Side of carrots, grapes, cherries, and lemon cookies.
Hard Boiled Eggs: my kids love their hard boiled eggs topped with everything seasoning. Side of cheddar cheese, grapes, carrot sticks, and gummies.
Yogurt Pouch Snack Box: Yogurt pouch with Harvest pea snaps, hard boiled eggs, raspberries, and raisins. 
Follow along on Instagram for daily updates and more meal and lunchbox ideas!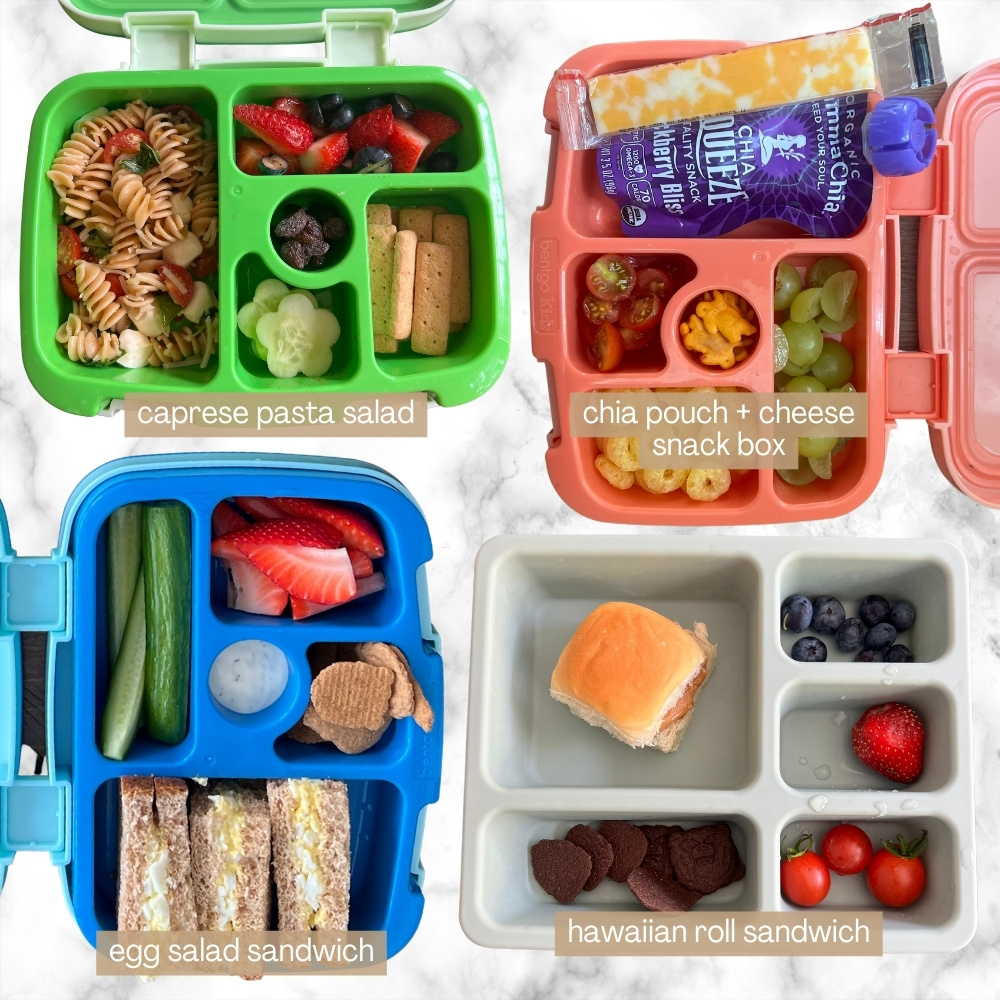 Caprese pasta salad: cooked pasta tossed with olive oil, tomato, basil, mozzarella, and parmesan cheese. Side of berries, cucumber, raisins, and honey graham sticks.
Chia Pouch snack box: chia pouch, cheese stick, grapes, cherry tomatoes, LesserEvil snacks, and Annie's bunnies.
Egg Salad sandwich: we love this easy egg salad recipe and use it to make sandwiches! Side of cucumber with ranch, strawberries, and Kodiak bear grahams.
Hawaiian roll sandwich: my kids love these little kid size sandwiches made with Hawaiian rolls (pb&j or turkey and cheese work well!), side of blueberries, strawberries, cherry tomatoes, and Kodiak bear grahams.
You may also like these recent related posts: