Whether you have kids entering school for the first time or are a seasoned school mom, you'll want to grab these favorite kids labels for back-to-school!
Are you looking for the best back-to-school labels for kids? Wondering why you should label your kids school gear? Or looking for ideas on what school gear you should label? This post can help!
I'm a mom of three sharing our favorite labels for back-to-school, after school activities, summer camp, and everything in between!
>>> Shop Name Bubbles School Labels (use PINECONES20 to save 20%)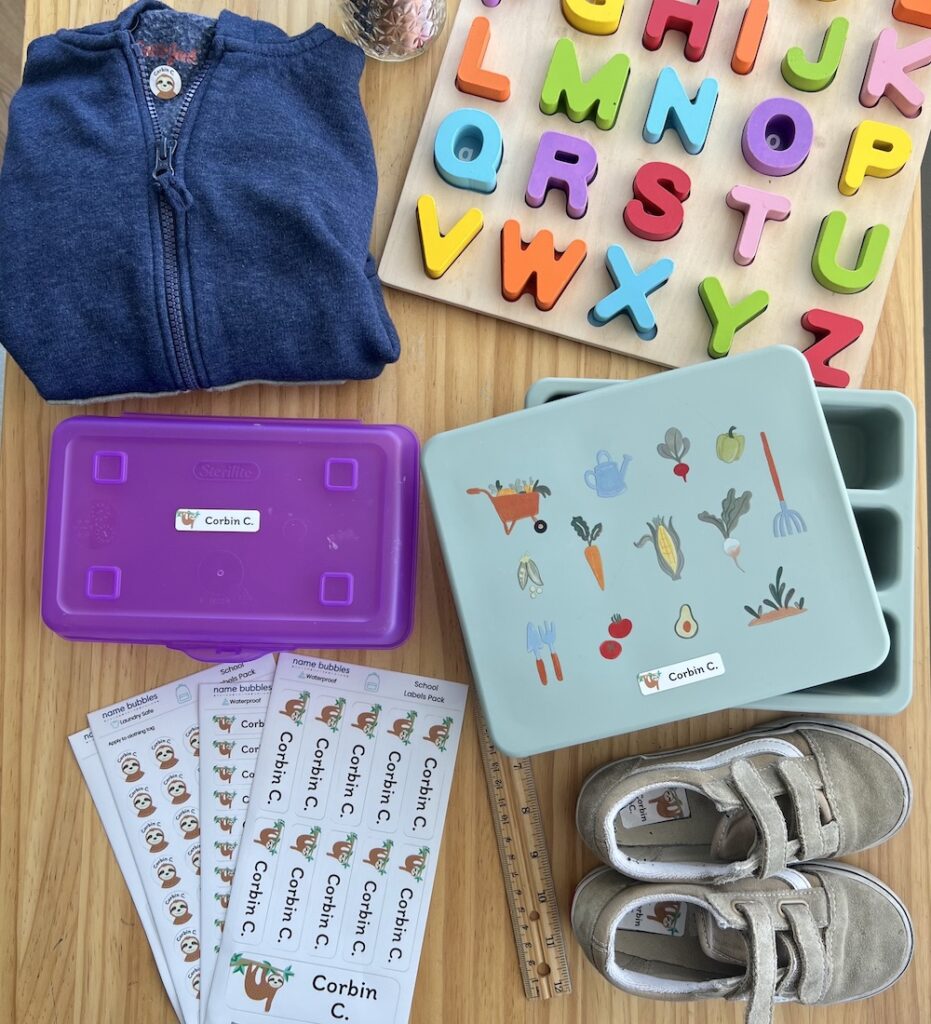 Benefits of using Name Bubbles School Labels
Name Bubbles are our favorite labels for kids' school gear, they even have special value label packs especially made for back-to-school gear! They come in such cute designs and their school label packs come with a variety of different labels that can help you easily and effectively label all of your kid's school gear!
Here are some of our favorite features of Name Bubbles school label packs:
personalized
waterproof, durable, and long lasting
non-toxic ink
dishwasher and microwave safe
durable, yet easy to remove
variety of different sizes to label literally everything you could think of!
Whether you need to label your child's backpack, lunchbox, water bottle, school supplies, sports gear, or all of the above, Name Bubbles will last the whole school year and beyond!
>>> Shop Name Bubbles School Labels (use PINECONES20 to save 20%)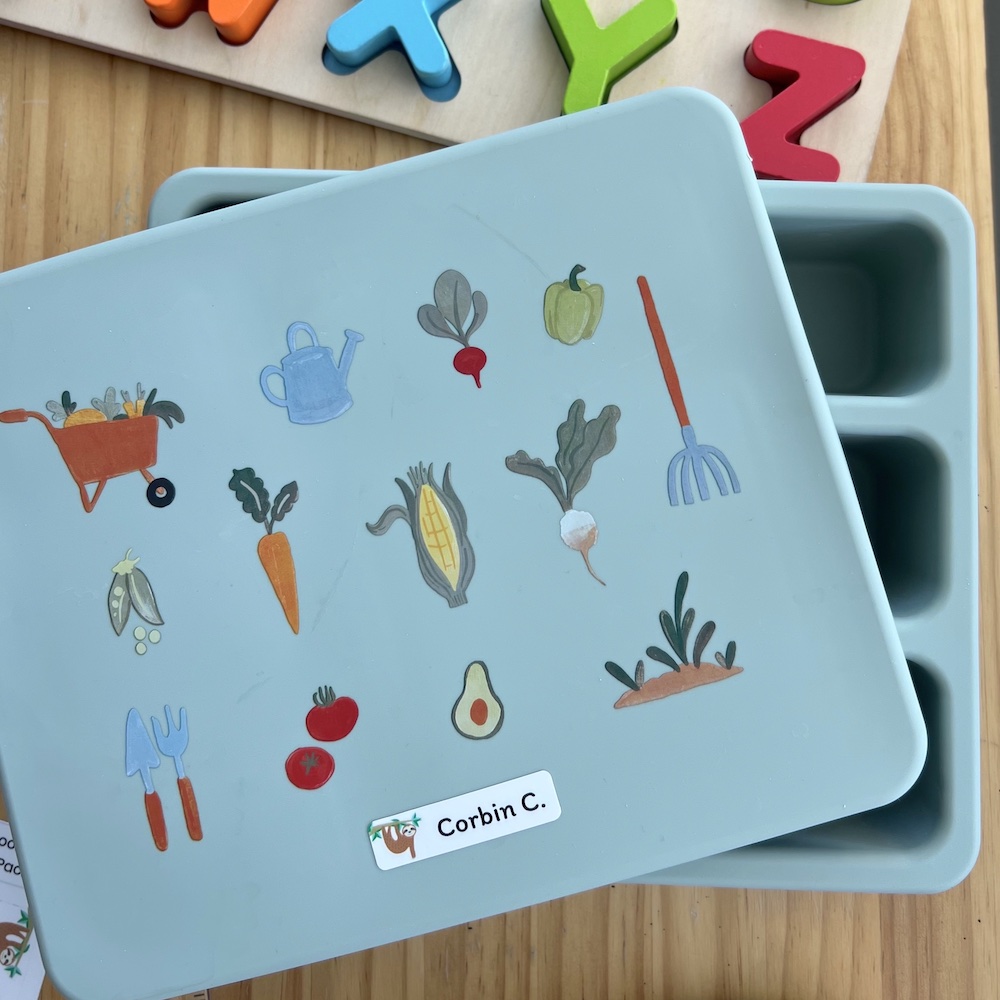 Why Label Kids School Gear?
Labeling my kids' school gear is one of my favorite things to do at the start of the school year, for a variety of reasons:
Easy identification: your child will easily be able to identify their belongings from other schoolmates, classmates, or even their siblings at home
Helps from getting lost: it can help teachers or other students realize who the gear belongs (bonus: Name Bubbles also offers labels with a spot for your phone number or address)
Saves time: less time for your student to grab their own gear when it's head to head out the door or head home from school since they will easily be able to identify their gear
Hygiene & Safety: keeps others from accidentally drinking out of your child's water bottle or lunch box
Personalization: finally, and maybe most importantly, it's fun! Name Bubbles has a ton of labels to choose from so your kids can have fun and love their name labels.
Overall, labeling your kid's school gear provides practical benefits such as easy identification, organization, time-saving, and personalization. It instills a sense of responsibility in children and contributes to a more efficient and enjoyable school experience for both students and parents alike!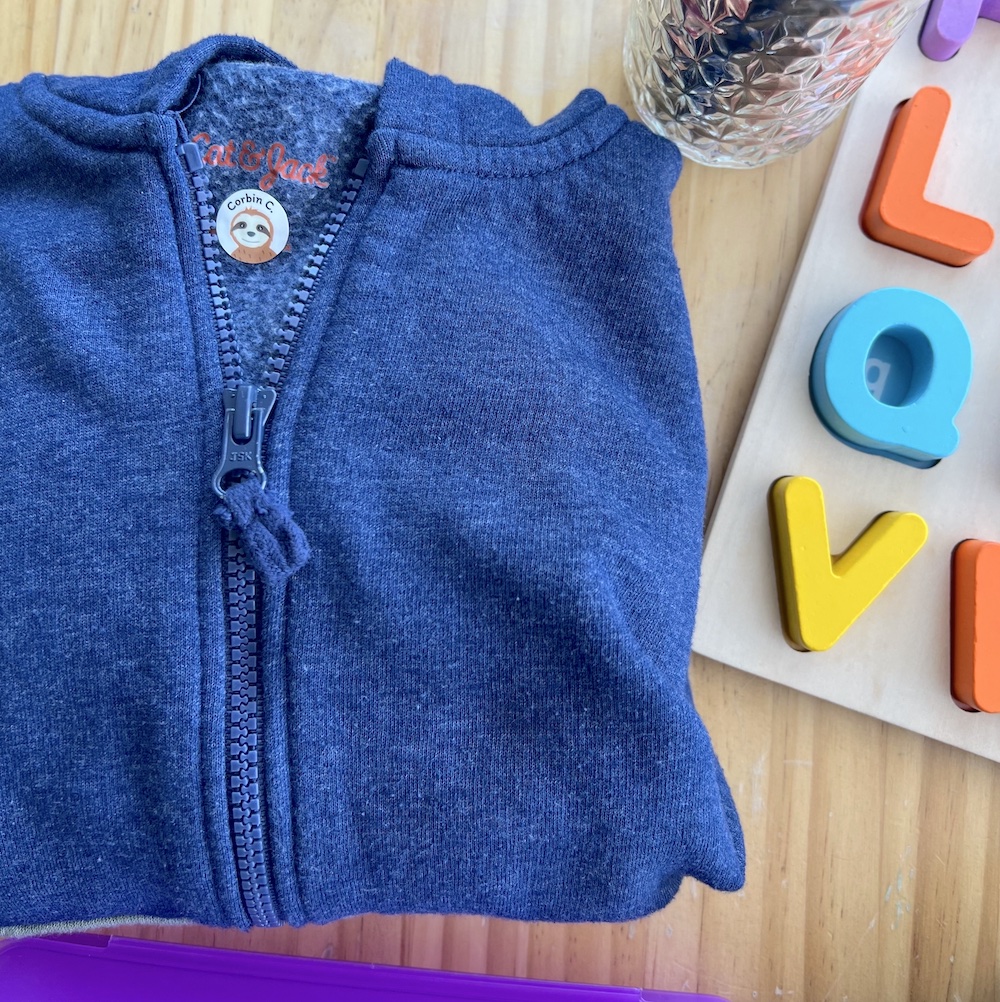 What School Gear Should You Label?
Now that you know why you should label your child's school gear, what school gear should you label? The opportunities are nearly endless when it comes to what gear to label, but here are some of our recommendations:
School supplies: label anything that you want your student to keep separated. It's a good idea to label things like pencil cases, notebooks, binders and bigger ticket items like calculators or textbooks.
Backpack: labeling your student's backpack is a great idea to help keep it from getting lost or allowing your child to easily identify it if it looks similar to other ones at school. Put the label on the inside of the backpack (this is for safety so strangers don't learn your child's name) and consider one with your phone number or address.
Lunchbox: label your child's lunchbox so it's easy for them to find in the lunchroom and especially if they have any allergies or special dietary restrictions. (Name Bubbles also has medical labels)
Water Bottle: your child's water bottle should be labeled for sanitary reasons, this will help others from drinking out of it inadvertently and will make sure your child doesn't lose it at recess or PE.
Clothing: it may be difficult to label all of your child's clothing, but consider labeling jackets, coats, hats, mittens, shoes, gym clothes or their backup pair of clothes for younger children.
Sports equipment: if your child participates in any after school sports or activities, be sure to label this gear as well!
>>> Shop Name Bubbles School Labels (use PINECONES20 to save 20%)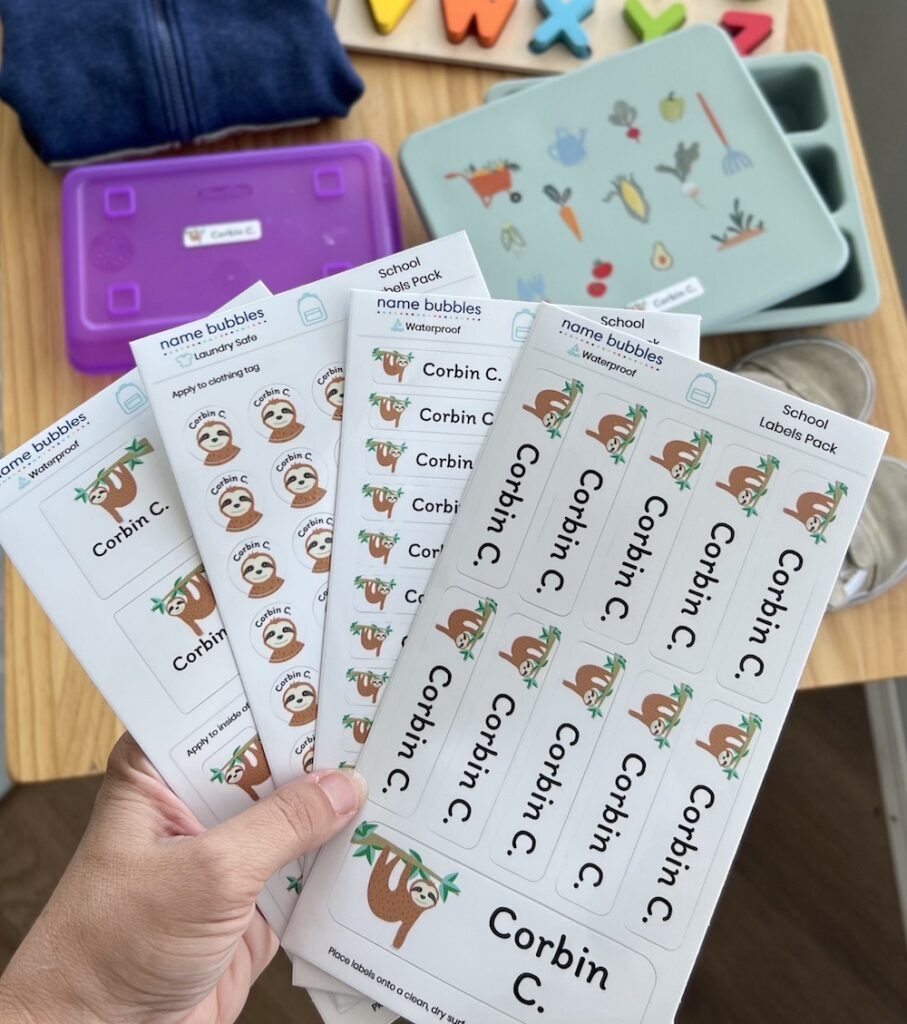 You might also like these recent related posts: