Nursing and pumping essentials for moms from a mom of three; a list of must-haves for breastfeeding including everything you will want and need to make breastfeeding as comfortable as possible!
If you are a breastfeeding mom (nursing or pumping are both considered "breastfeeding") this post is for you! Or you if you are preparing for your breastfeeding journey or doing some research for someone else, this post can definitely help you too! Read More: Baby Registry Must Haves
I'm a mom of three and have been on this nursing and pumping journey three times now so i've tried a lot of different products. I'm sharing what I love and what really works when it comes to breastfeeding your little one.
You might also like these related posts:
What they Don't Tell You About Breastfeeding
You may have this romantic idea about breastfeeding; that it's always easy and comes naturally for all new moms. Consequently, you may be feeling sad or discouraged if breastfeeding is difficult for you and it doesn't come as naturally as you expected.
Although breastfeeding can be easy for some, for most moms it's a long hard journey of blood, sweat, and tears with lots of bumps along the way. It's a learning journey for both you and your baby as your baby adjusts to life outside the womb and you adjust to the notion of your body making food.
One thing that can make the journey just a little bit easier is having the right breastfeeding and pumping gear to get started on the right foot and make the journey a little more comfortable and convenient.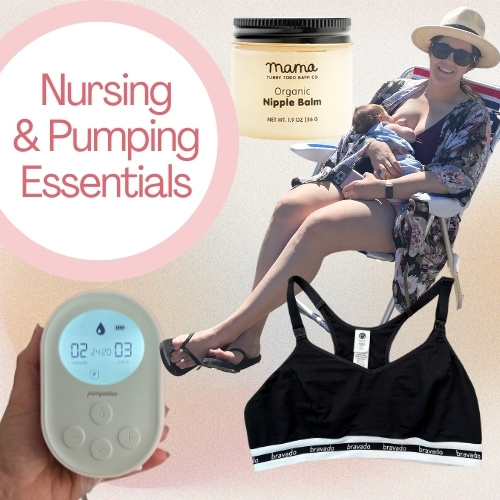 Can you Nurse and Pump at the Same Time?
Yes, you can definitely do a combination of nursing and pumping! Some moms choose to exclusively nurse, some exclusively pump, some formula feed only, and some a combination of any two or all three.
I personally have combo fed all three of my kids. My biggest piece of advice is to try not to stress how you feed your baby. You have probably heard it many times before, but honestly fed is best! If you are looking to do a combination of nursing and pumping, here are a few ways to accomplish that:
Pump immediately after feeding your baby. This is great if you are trying to increase your supply or for the first pump of the day when your breasts are extra full.
Pump 45-60 minutes after feeding your baby. Your breasts will have had some time to refill and you can pump a little to collect some extra milk to store or use while you're away (it's okay if you only get 0.5-2oz, this is normal for a nursing mom).
Alternate breastfeeding and pumping throughout the day. You can breastfeed when it's convenient and pump and bottle feed milk the rest of the day. This is a great way to let other family members feed and bond with your baby.
Breastfeed while you are with your baby and pump while you are away (great for working moms). This may look like breastfeeding in the morning, before bed, and overnight and pumping while you are away at work. Or pumping on the weekdays and breastfeeding on the weekends. Whatever works for you and your schedule!
This is just a few ideas, but there is almost no wrong way to combine nursing and pumping; do what works best for you and your baby.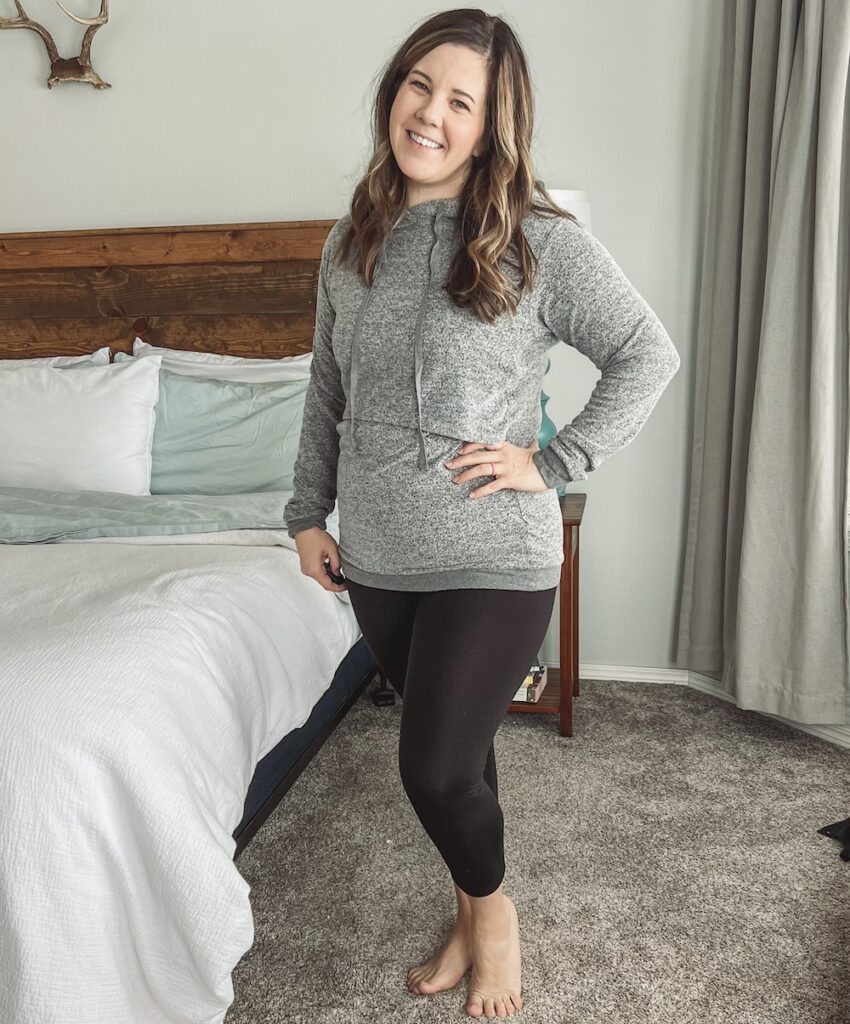 What about Nipple Confusion?
In my experience, nipple confusion is a myth. All three of my babies have gone back and forth between nursing and bottle feeding successfully without any "nipple confusion". The biggest issue that babies seem to have going between breast and bottle isn't necessarily confusion with the nipple, but bottle preference due to the easy flow of the bottle.
To help combat this, here are a few tips:
Practice pace feeding. For many moms the bottle offers a more constant and often faster flow of milk compared to the breast. Use a slow-flow bottle nipple, hold your baby upright when feeding, and offer breaks to mimic the changing flow they experience at the breast.
Choose the right bottle. Breasts and nipples come in all different shapes and sizes and so do bottle nipples! Personally my babies have done well with bottles like phillip avent natural (although I do not recommend the new ones, so I wont link them), comotomo wide neck bottles, and mam easy start bottles.
Choose the right nipple. Did you know that most bottles have nipples in varying flow rates? For most newborns you will want to choose the slowest flow rate possible. There could be an exception if mom has a fast let down and baby is used to handling that and prefers a faster flow.
Breastfeeding (Nursing & Pumping) Essentials
Below are some favorites for nursing and pumping from a mom of three.
Nursing/Pumping Bra
Bravado Original Pumping & Nursing Bra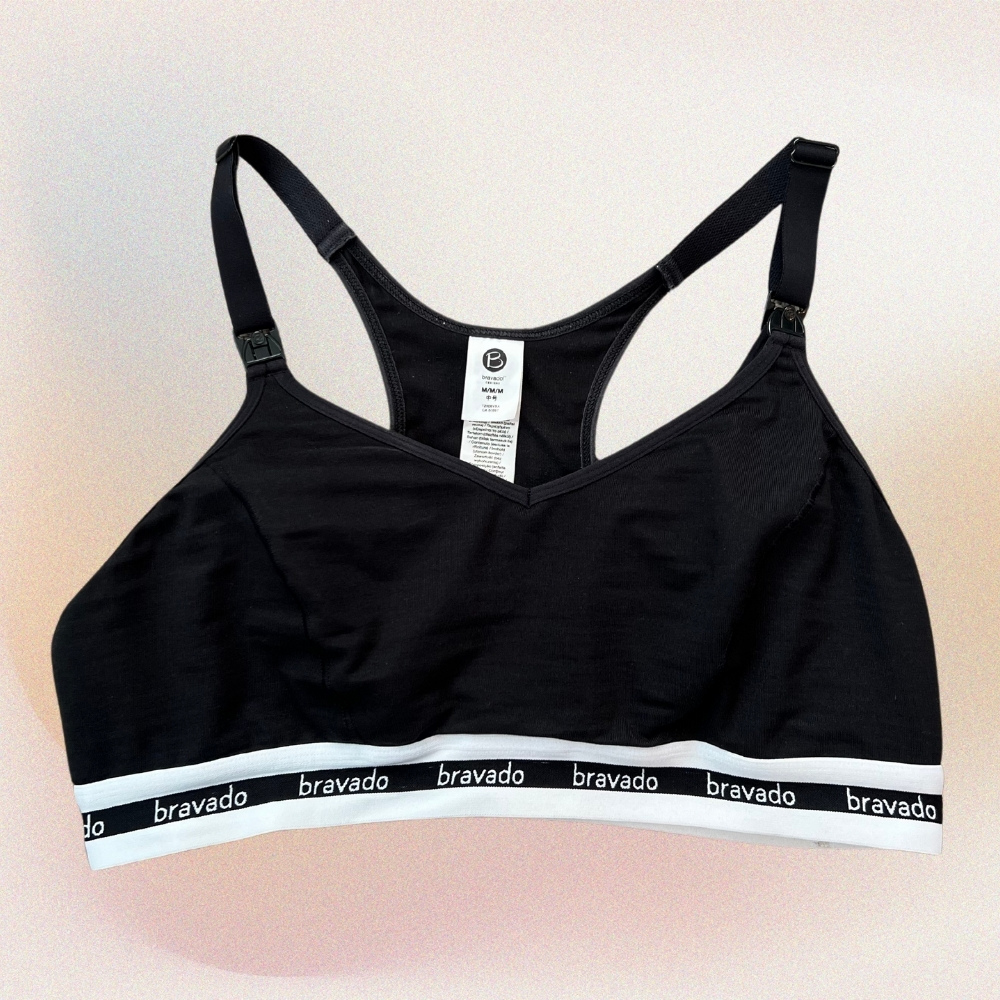 A good nursing and/or pumping bra is a must-have if you are breastfeeding. My personal favorite is the Bravado Original Pumping & Nursing Bra because it does both so you don't need to change bras if you nurse and pump in the same day or at the same time if you prefer to nurse on one side and pump on the other.
This bra is extremely comfortable and made with eco-friendly material, including organic cotton and TENCEL™ Modal, which makes it ultra soft and breathable. The dropdown outer layer is easy to unclip when you are ready to nurse or pump and it's also a fairly supportive with the 'razorback' design.
If you are looking for a nursing bra I also love the Bravado Plunge Nursing Bra . It has a deep plunging neckline so you can wear it with almost any shirt, but it's also soft, supportive, and easy to unhook and nurse in.
Comfortable Nursing/Feeding Chair
However you choose to feed, you will spend a LOT of time feeding your baby. A comfortable nursery chair is a must-have to help make this time as comfortable as possible; newborns eat about 8-12 times per day around the clock.
I prefer one like this that reclines, rocks, and swivels so that you rock your baby but also maneuver and relax as needed too! The fabric is very stylish but also durable and easy to clean.
Nursing Pads
Your breasts will very likely leak for the first few weeks postpartum (or longer for some). These are my favorite disposable nursing pads because they are affordable, soft, and stay in place. Stock up on these if you plan to breastfeed to help keep your bra, shirt, and other clothing dry.
Nipple Balm
Both nursing and pumping can cause damage to your nipples. I recommend slathering on some nipple cream to help heal sore or cracked nipples. My favorite is this one by Tubby Todd because its made with natural ingredients and works really well! (save 10% with this link)
Silver Nursing Cups
I didn't discover these until my third nursing experience and i'm so sad I missed out for so long! Silver has natural healing properties and using these cups after each nursing or pumping session helps heal cracked and sore nipples naturally.
These are a must-have, especially for the first few months postpartum while you and baby are still learning and adjusting.
Haakaa Silicone Breast Pump
The Haakaa silicone breast pump is one of my most favorite postpartum/nursing supplies that helps you increase your milk supply and make a breast milk stash with almost zero effort!
The haakaa can be especially useful if you only feed from one side. Even if you don't (like me), you can use the haakaa to catch an extra let down and get some extra milk to feed your baby.
Read my full review here: Haakaa Breast Pump Review
Breastfeeding Clothes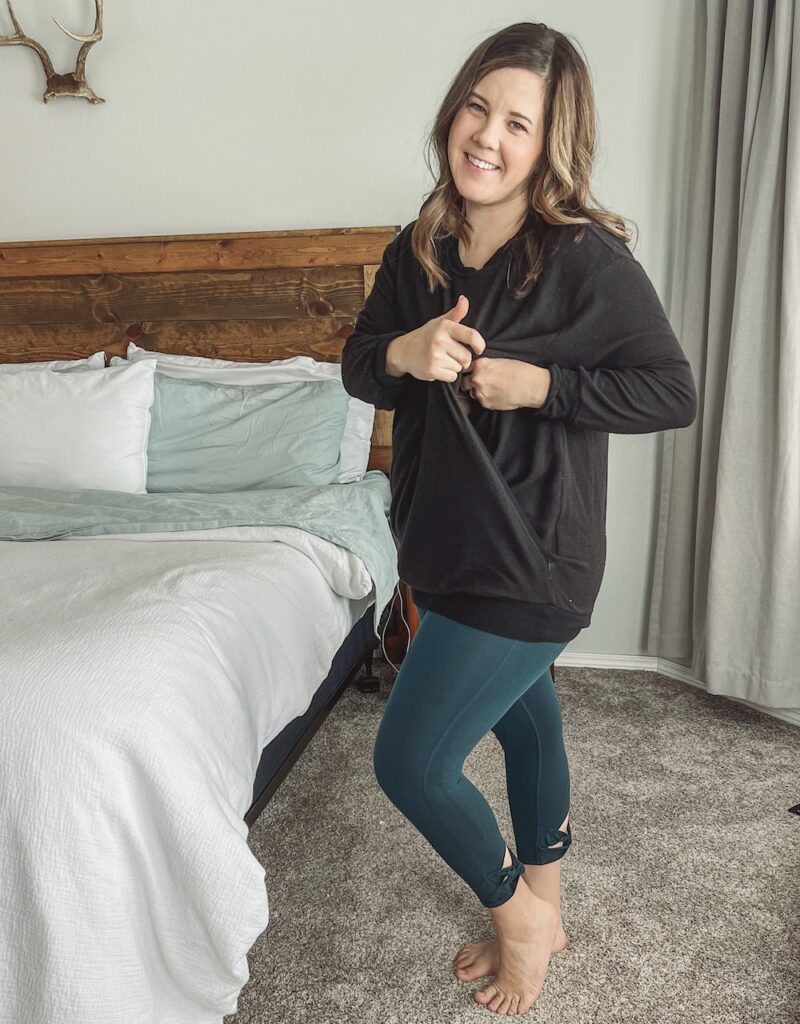 Having some tops or dresses made specifically for nursing and pumping can help make feeding and pumping easier and more comfortable. Here are some of my tried-and-true favorites that I personally use and love:
Double Electric Breast Pump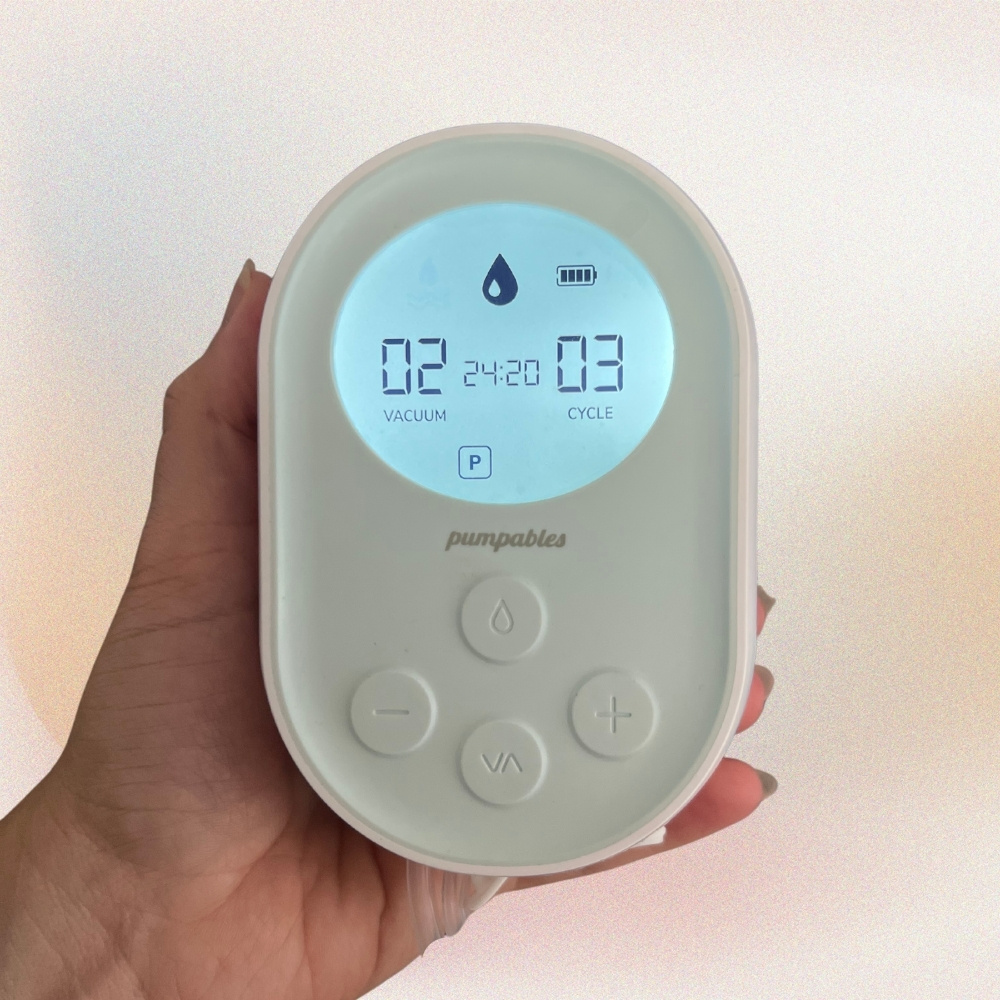 The Pumpables Genie Advanced double electric breast pump has been my primary pump for my third postpartum period. I love that it's portable, has excellent battery life, and still has strong suction.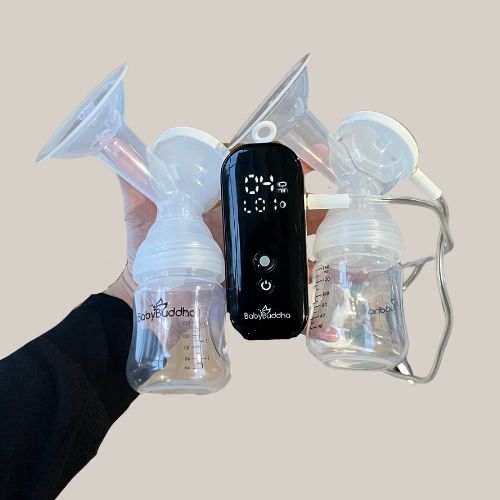 Manual Breast Pump
I highly recommend getting a manual pump for those 'just in case' moments. A manual pump is a very affordable investment that can help out if your power is out or you need a backup pump. It can also be useful to help release some pressure if you wake up engorged, but don't want to do a full pump or wake your baby to nurse.
Some people love manual pumps and get better output even compared to their double electric pump, but they are a little strenuous to use full-time.
Lactation Massager
A lactation massager can be a great tool to help get your milk flowing faster while you pump or nurse your baby. It can also come in handy if you get a clogged milk duct.
Boon Drying Rack
I prefer to hand wash my pump parts and bottles because I feel like they get cleaner this way. I love this drying rack to easily and hygienically dry everything. It also looks nice sitting out on my calendar and allows for airflow so everything dries rather quickly.
Postpartum Meal Prep & Delivery
Daily Harvest: the best ready-to-blend smoothies which is great for keeping you hydrated and protein, oatmeal (which is great for building milk supply), and pre-made meals for those busy postpartum days! Use code PINECONES to save up to $40 off
Thanks for stopping by! You might also like these recent related posts: