A list of 9 non-toxic baby product swaps you can make to help keep your baby safe and lessen their toxic load.
When I became pregnant, I knew that I wanted to make sure my baby was safe from toxins and chemicals so I started researching all the best non-toxic baby products on the market.
Doing all this research led me to choose safer options for not only my baby but myself and my family as well! I'm sharing all of my favorite non-toxic baby, toddler, and mom products to help make your own home less toxic.
You might also like these related posts:
The Importance of Non-Toxic Baby Products
In general, non-toxic means that the substance or product is:
safe to breathe
safe consume
and good for the environment
Non-toxic things aren't poisonous and the Consumer Product Safety Commission (CPSC) defines toxic products as those that can cause "personal injury or illness to humans when it is inhaled, swallowed, or absorbed through the skin."
Since babies tend to put everything in their mouth and have more porous skin, having non-toxic baby products is something that many parents are concerned about (if you're reading this post, I'm assuming you're concerned too!)
Living a non-toxic life isn't about eliminating 100% of toxins; at least not right away as that would be very overwhelming and nearly impossible. It's about lessening your toxic load and that of your baby.
Here are some things you should look out for and avoid in your baby products in order to lessen your baby's toxic load:
Phthalates
Artificial fragrance, dyes, and flavors
Parabens
Sulfates
Chlorine
BPA
Formaldehyde
Flame retardants
Use of Pesticides
Below is a list of some of my favorite non-toxic baby products for you to try!
1. Non-Toxic Diapers: HealthyBaby EWG Verified Diapers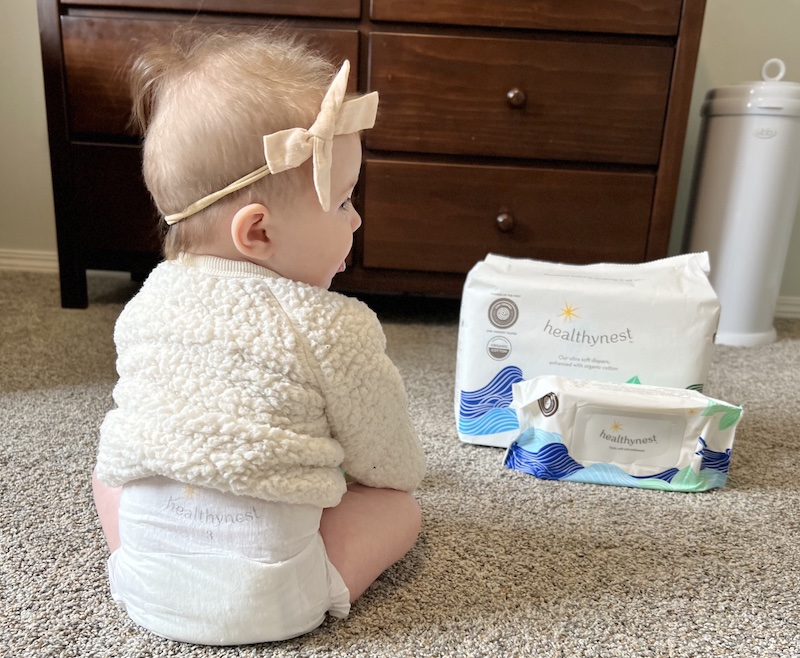 HealthyBaby diapers are the first EWG verified diapers; this means you can rest assured that they are made with clean, non-toxic ingredients. We love these diapers because they are extremely soft, breathable, and made with a plant-based inner layer and organic cotton outer layer. They have a simple, neutral design, and really work!
---
2. Non-Toxic Baby Lotion and Hygiene Products: Tubby Todd Everyday Lotion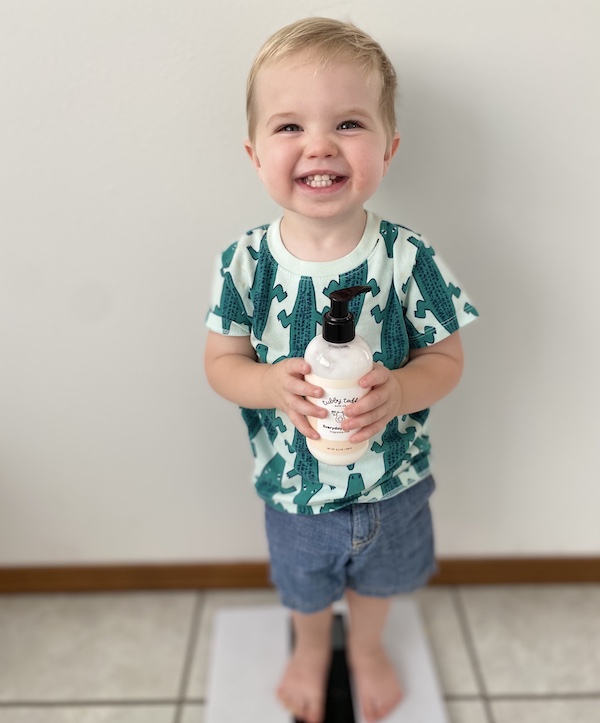 Tubby Todd Everyday Lotion (Use this link for 10% off!)
Your baby's skin is very sensitive and pourous. Swap out your old lotion for a cleaner and non-toxic option.
Tubby Todd is our go-to brand for lotion, soap, and toothpaste! They use natural plant-based ingredients and all natural fragrances; I personally love their fragrance-free options including their Everyday Lotion and All Over Ointment (also perfect for eczema!).
---
3. Non-Toxic Wipes: Water Wipes
Water wipes are hypoallergenic, gentle, and made with 99.9% water! These wipes give you peace of mind that they won't irritate your baby's bottom during diaper changes and are perfect for adding to your monthly subscription delivery!
---
4. Non-Toxic Baby Mattress: Newton Breathable Baby Mattress
Newton Breathable Baby Mattress
Your baby will spend 15-20 hours per day sleeping! If you are using a crib mattress, think about all that time your baby's nose and mouth are just inches away from the mattress.
Not only is the Newton Baby Mattress non-toxic and organic, it is also made of a special 100% breathable material that helps reduce suffocation risk and overheating. It's washable and hypoallergenic and comes in a 2-stage design so it can be used from infancy through toddlerhood. This is on the top of my most recent baby registry!
---
5. Non-Toxic Glass Bottles: Phillips Avent Natural Glass Bottles
Phillips Avent Natural Glass Bottles
Plastics can contain harmful chemicals like BPA and can also become stained, scratched, or foggy due to residue and buildup. Glass is a wonderful, natural, non-toxic option and they are also easier to clean than traditional plastic bottles.
Phillip Avent Natural are our tried and true favorite baby bottles and i'm so excited that they make a glass version as well.
---
6. Non-Toxic Baby Wrap: Solly Baby Wrap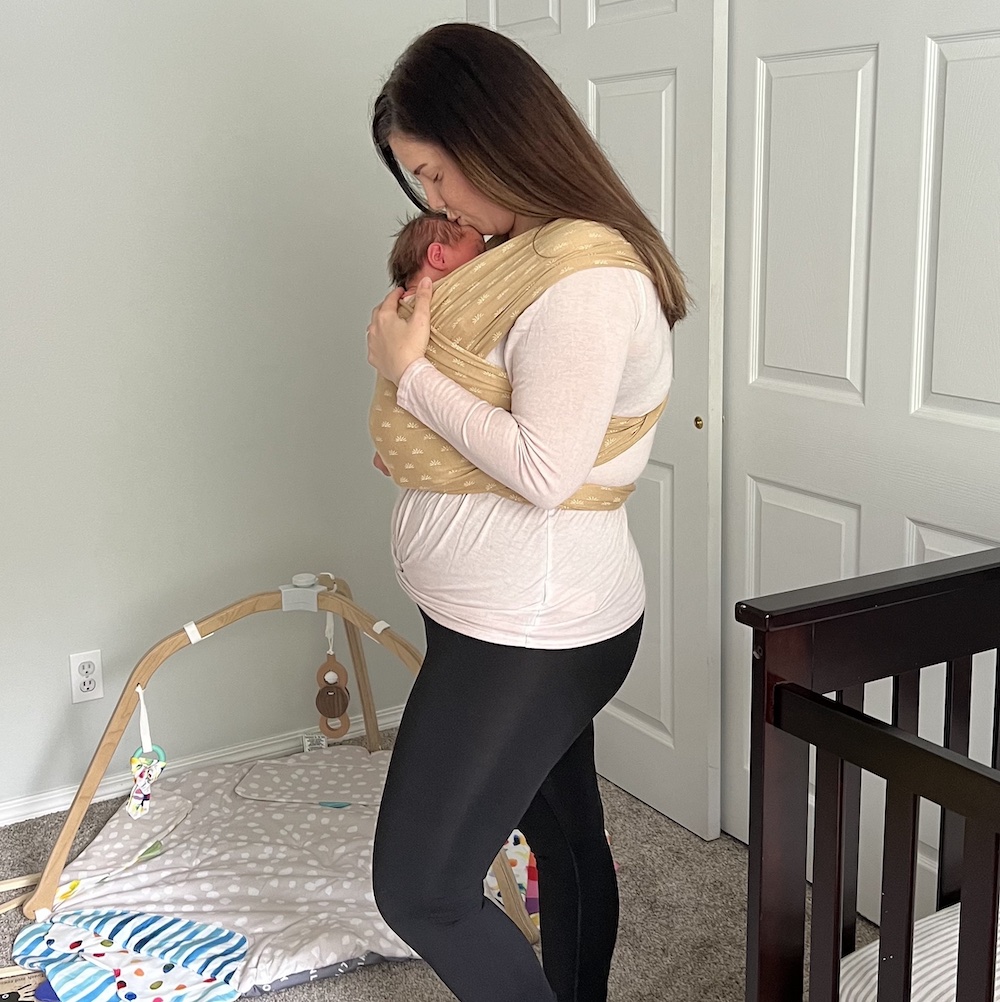 A baby wrap can be a life safer for newborns, especially if you have an older child (or two) running around. Choose a super soft wrap, like the Solly Baby Wrap that is made with 100% certified TENCEL™ Modal – a new natural, breathable fabric that is biodegradable and compostable.
---
7. Non-Toxic Air Purifier: EnviroKlenz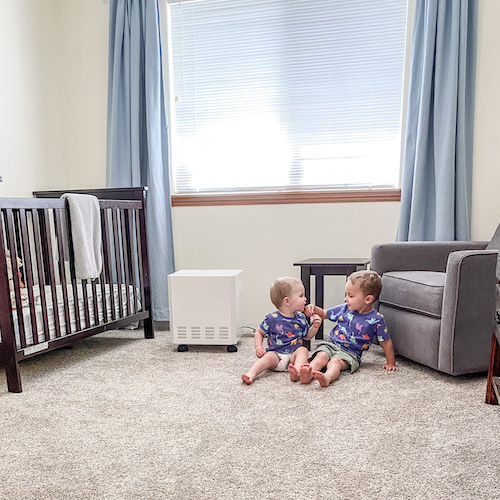 Did you know the air in your house can be more polluted than the air outside? That's why its important to have an air purifier in your home, and you might even consider getting a second one (or keeping your primary one in your baby's nursery).
Babies and toddlers have smaller lung capacities than adults and therefore take in more breathes and more air in their lungs each minute. Babies and toddlers are also more prone to eczema and other allergies and irritants because of their naive immune systems and sensitive skin. EnviroKlenz is our favorite because they use true HEPA air filters to help rid the air of pollen, dust, germs, and other allergens.
---
8. Organic Baby Clothes: Burt's Bees Baby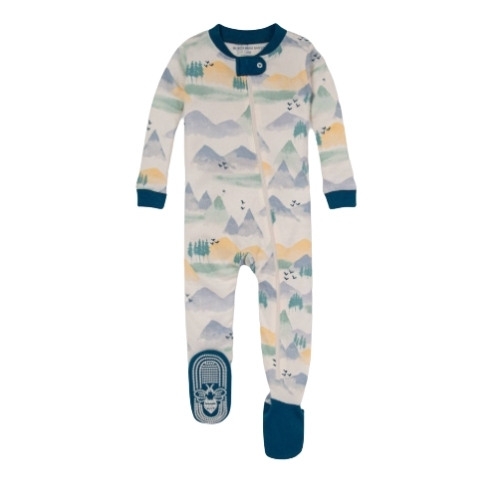 Your baby will spend almost their entire life with clothing touching their skin! (Some babies go naked more than others, especially in the summer, but they will still spend a lot of time touching fabrics). Choose organic cotton clothes whenever possible. Organic cotton is more sustainably farmer, is often softer, is extremely durable, and is farmed without the use of chemicals or pesticides.
---
9. Non-Toxic Nipple Cream: Earth Mama Organics Nipple Butter
Earth Mama Organics Nipple Butter
This isn't a baby product, for say, but new mamas will thank me for sharing this amazing organic, non-toxic soothing nipple cream! Nursing can be rough on your nipples and traditional nipple cream is made of petroleum (oil-based) or lanolin which is an animal product and can be irritating or cause allergic reaction. Earth Mama Nipple Butter is free of petroleum, parabens, and lanolin.
---
Non-Toxic Baby Product Summary
Here is a breakdown of my 9 favorite non-toxic baby products to try:
Thanks for stopping by! You might also like these related posts: