Are you wondering: What should I do in my third trimester? How do I prepare for a baby? I'm here to help!
Here is my third trimester checklist from a mom of three. Ten items to check off your list and how to prepare before your baby arrives.
When I was pregnant with number three, I wanted to be extra prepared once we brought our new baby home. With two toddler in the mix this time I knew I had to be prepared and get some things set up beforehand. This had me writing a third trimester checklist and looking back to everything I did after my first was born.
It can be hard to plan because you do not exactly know when your baby will make their arrival. But, its good to be prepared and cross a few important things off the list in your third trimester to make your time with your newborn just a little easier.
I'm sharing everything i'm doing to prepare for a new baby this time around.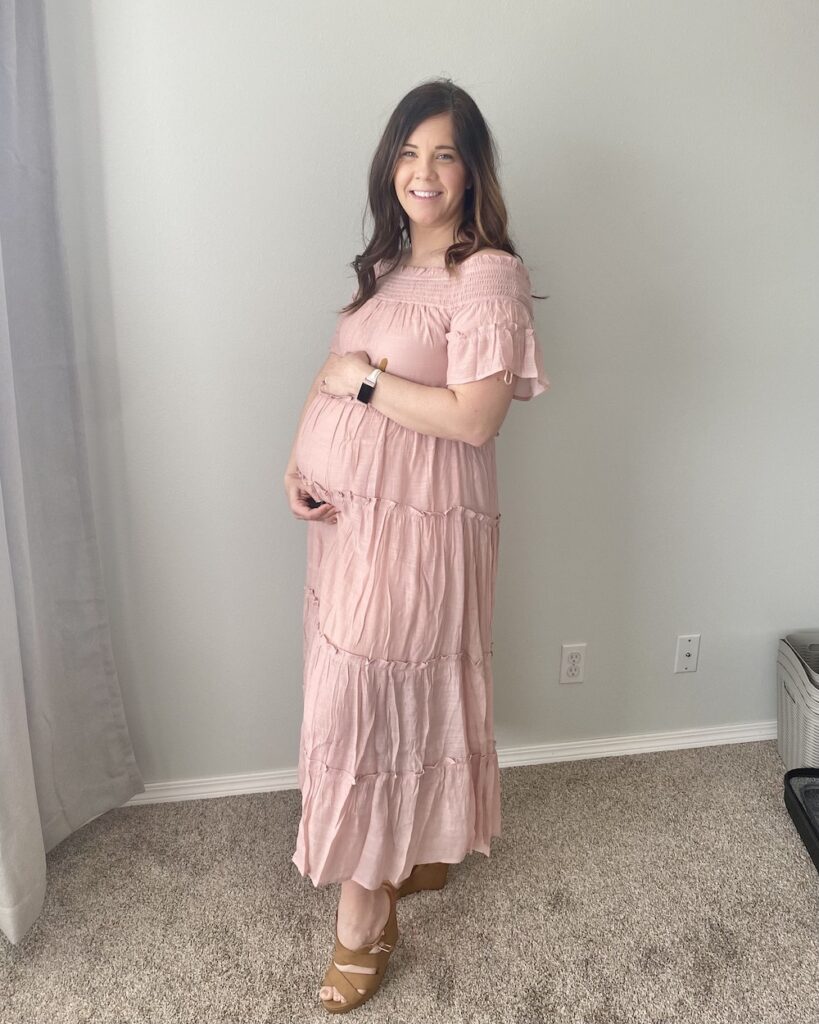 Shop my maternity dress: Mauve Off Shoulder Tiered Maternity Maxi Dress
1. Stock Up On Snacks
My favorite snacks for breastfeeding:
Your new baby will require A LOT of your time and attention during the first few weeks, especially during the middle of the night. Having lots of healthy snacks handy can help you to keep going even when you feel tired and exhausted.
If you plan on breastfeeding, snacks are a must. Keep a snack basket stocked and near your nursing chair. Breastfeeding can make you so hungry! You will need extra nutrients and calories when you are breastfeeding in order to produce milk.
It is also a good idea to snack on foods that may help your breast milk supply supply: oats, granola bars, trail mix, or lactation muffins/cookies are some of my favorites.
Even if you choose formula for your baby they will be up in the middle of the night to eat. The lack of sleep can be so daunting on your body and eating snacks can help you to keep going even when you feel tired and exhausted.
2. Meal Prep/Plan
My favorite frozen meal prep to eat after delivery:
When your new baby arrives you will barely have time to eat dinner, yet alone prepare it. Its a good idea to prepare meals ahead of time and freeze them, or at least plan what you will eat after your baby arrives. Especially if you have other kids at home.
Meal Prep. We made a triple back of the veggie pasta bake linked above and it was so magical to have dinner ready those first days after getting home. We also normally keep a few store-bought frozen meals in the freezer at all times and I plan on buying a few more in the weeks before delivery.
Meal Plan. Even if you don't like to meal prep, meal "plan". We have a favorite sandwich/salad shop down the street that I know we will be frequenting when our second is born. You can also order tons of pre-made meals from companies like Eat to Evolve and have them shipped directly to your door!
Ask for Help. Also, don't forget to ask for help! If your visitors ask what they can do, mention that help with a meal would be extremely generous of them. We had numerous friends bring meals without even asking the first time around.
3. Pack your Hospital Bag
For a full packing list, check out my post What to Pack in Your Hospital Bag.
PACK. YOUR. HOSPITAL. BAG. EARLY. This is one of my #1 tips for pregnant mamas.
With both of my babies my water broke overnight and contractions quickly escalated. I could not imagine trying to think straight on what I needed in my overnight bag at that point in time. I am so glad I packed my bag beforehand!
You should probably pack your bag by 37 weeks pregnant, but feel free to start packing before then if there are things you will not need in those last weeks (non-maternity clothes or travel toiletries).
4. Order Your Breast Pump
My favorite double electric breast pump: Spectra S1 Breast Pump
Some women exclusively pump breast milk for their baby, while others may use their breast pump to increase their milk supply or pump extra milk to supplement other feeding approaches or use for later.
Even if you have a plan for pumping, you might need to pump early on after your baby is born and will want your pump already at yours house and cleaned/sanitized.
Insurance. If you live in the U.S. and have health insurance, you most likely are able to get a double electric breast pump free of charge because of the Affordable Care Act (ACA). Check with your insurance company on how to order a breast pump through their vendor and which ones they cover.
If you are getting your breast pump through your insurance it will likely take a few weeks for everything to get approved, processed, and mailed to you. I recommend staring as early as possible! Many insurances will allow you to get your breast pump around 32-36 weeks into your pregnancy.
5. Install the Carseat
My favorites are the Chicco Keyfit and Evenflo LightMax.
If you are leaving the hospital in a car, you must have a carseat. The hospital won't let you leave without one!
Chicco Keyfit. We loved our Chicco Keyfit infant seat that we used with our first born. We had the click connect travel system and loved it so much!
Evenflo LightMax. When our second was born we upgraded to a double stroller and got the Evenflo Pivot Xpand. I love this stroller because it easily convernts from a single to a double stroller, depending on if I am out with just one or both boys, and additionally it has a carseat that can click in. It came with the Evenflo LightMax carseat and also loved this one as well.
Install Early. Its good to install your baby's carseat a few weeks before they are due. The last thing you want to be doing in early labor is reading a carseat instruction manual!
6. Stock Up On Postpartum Supplies
Check out my post for a full list: Postpartum Essentials
What a lot of first-time mom's might not know is that THEY will need some postpartum supplies to care for themselves after delivery.
Some supplies – like postpartum pads- are provided by most hospitals (if you deliver there) and you can take quite a bit home when you leave. However, you will likely want to stock up beforehand just in case!
Some of my top items to stock up on include: 1) Medicated cooling pads, 2) MomWasher Peri Bottle, and 3) Lansinoh Soothies Gel Pads.
7. Choose a Pediatrician
You will want to choose a pediatrician or at least the pediatric practice you will use before your baby arrives.
Your pediatrician will likely visit your new baby in the hospital after they are born. We also had a three day and one week follow up with our pediatrician after our first son was born.
Additionally, most hospitals will ask during your registration interview or hospital tour who you will be using for your baby's care. This way they can coordinate with the pediatrician on your behalf after your baby has arrived.
You may want to interview several different pedestrians or visit multiple practices before choosing your provider. At the least, ask your other mom friends, co-workers, or do an internet search and choose someone with great reviews and who feels right for your family!
8. Stockpile Household Goods
Call it the nesting phase, but before both of my sons were born I became obsessed with stocking up on toilet paper and other household goods.
In hindsight this was a great idea and something that helped substantially after both babies were here.
Its very difficult to take a newborn anywhere. Your pediatrician might also recommend waiting some time before taking them out in public to avoid germs, especially during flu season. Therefore it can be good to stock up on all the non-perishable goods you can while you are still pregnant.
Also buy in bulk! As long as you have the storage space there is really nothing to lose as you will use these products eventually.
Here are some things I always buy during the last month of pregnancy:
Toilet Paper
Paper Towel
Tissues
Ziplock Bags
Shampoo & Conditioner
Body Wash
Hand Soap
Toothpaste
9. Pre-Register at Your Hospital
Most hospitals will recommend that you go through a pre-registration process during your last trimester so that they have all of your pertinent information before delivery.
When you show up at the hospital with contractions 5 minutes apart or less, filling out paperwork and answering questions will be the last thing you want to do!
The pre-registration process is a time for you to give your hospital your personal and insurance information, information about your OB, your pregnancy history, and your birth plan.
This can be extremely helpful if you DON'T want to get an epidural. You can advise them not to have the nurse ask. Or on the contrary, you can advise them you want your epidural waiting before you walk in the door (not really possible, but it would be nice!).
10. Sterilize Bottles & Pump Parts
My favorite bottles are Phillip Avent Natural
All of your bottles and breast pump parts should be washed and sterilized before use. Your newborn baby has a very sensitive immune system and most manufacturers recommend these steps before using on your baby.
If you plan on bottle feeding or breast pumping you should definitely plan on sterilizing all the parts before your baby arrives. Even if you don't plan on feeding your baby this way, its a good idea to be prepared just in case things don't go as planned.
I always hand wash and then boil all of our bottles and bottle nipples, breast milk storage bottles, and pump pieces.
Some of these pieces can be placed in the dishwasher, but I recommend hand washing and sterilizing the first time to ensure they are thoroughly cleaned.
Third Trimester Checklist Summary
To summarize, below is the third trimester checklist I use and my top 10 ways to prepare before baby arrives:
Stock Up on Snacks
Meal Prep/Plan
Pack Your Hospital Bag
Order Your Breast Pump
Install The Carseat
Stock Up on Postpartum Supplies
Choose a Pediatrician
Stockpile Household Goods
Pre-Register At Your Hospital
Sterilize Bottles & Pump Parts
Being prepared and checking off your third trimester checklist early can make the time after you bring home your newborn just a little easier!
Thanks for stopping by!