The ultimate hospital bag checklist for mom and baby from a mom of three. What I bring in my hospital bag for mom and baby.
If you plan to give birth at a hospital or birthing center outside your home, you will want to pack an overnight bag for your stay. Its a good idea to have your hospital bag prepared beforehand!
If you have a non-complicated vaginal delivery you may be allowed to go home after just 24 hours. But, if you are planning for a C-section or have one unexpectedly, or have any complications you may have to be away from home for a few nights. Consider this when packing your hospital bag and make sure to pack enough for a few nights away from home, just in case.
As a first-time-mom I did not have any idea what I really needed to bring with me to the hospital! I definitely overpacked and brought way too much stuff. I also forgot some things that I only realized were important after arriving.
I'm sharing my list of what i'm packing in my hospital bag this time around (my third baby)! Save this hospital bag checklist so you know exactly what to bring for mom and baby during your hospital stay.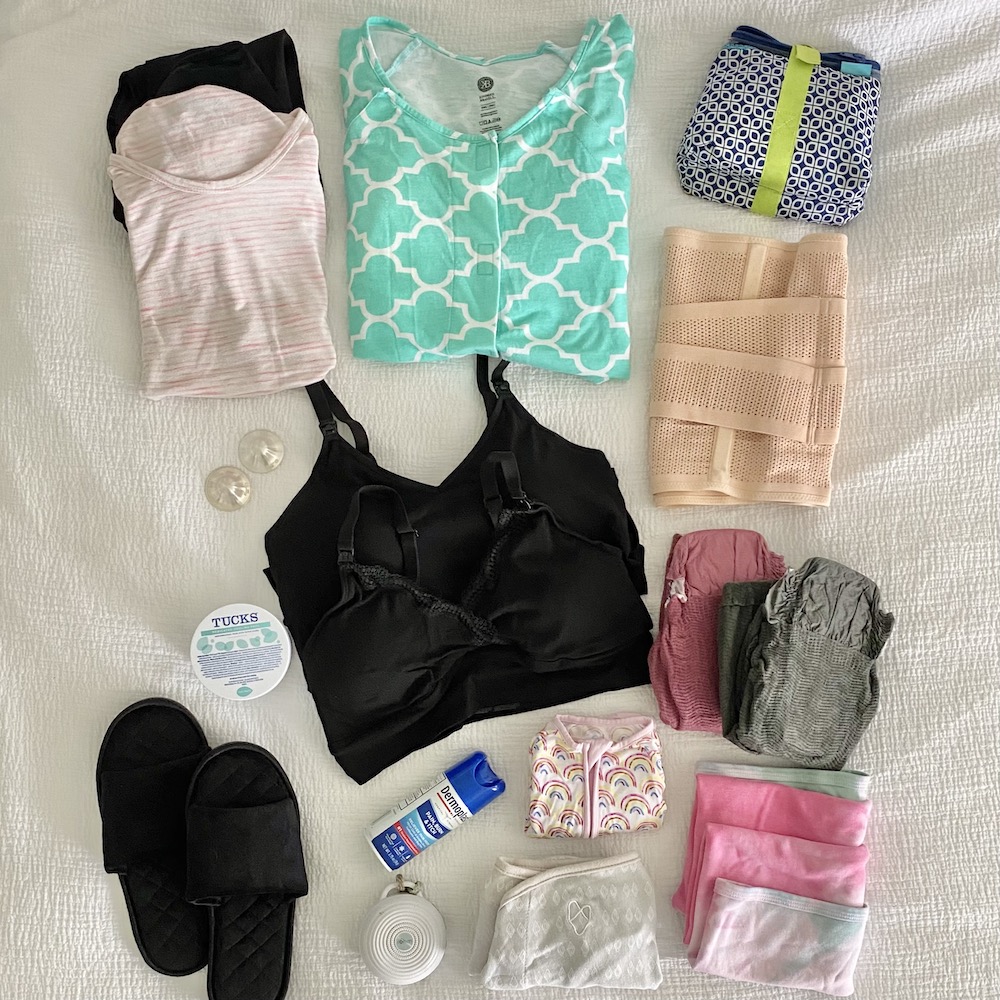 When to Pack Your Hospital Bag for Delivery?
There really isn't a right or wrong time to pack your hospital bag. But, most new mamas will want to have their bag packed before running out the door in labor.
It will likely be a very stressful time and you want to make sure you are prepared ahead of time. There also might not be much time to get out the door if your water has already broken and labor is progressing quickly.
For this reason its a good idea to have your bag packed by the time you are about 37 weeks. But, you can definitely start packing much sooner.
With my first pregnancy, I started packing my hospital bag at about 25 weeks. I was very excited and wanted to cross another item off the list. When my water broke overnight at 39 weeks we just had to grab the packed bag and a few extra items as we were heading out the door.
With my second pregnancy, I packed my bag at 35 weeks. Life is much more hectic with a toddler running around and I knew that I already had a pretty narrowed down list from my first delivery experience. I had my second son at 38 weeks so it was a good thing our bag was packed.
With my third pregnancy, I didn't start packing until 37 weeks, but was able to pack pretty quickly since I had a list to refer to from my other pregnancies and deliveries.
There are some items that you can pack right away – like nursing bras that you won't wear until your baby is born and non-maternity clothes that no longer fit. But, there are also some items that you will need to grab at the last minute – like some toiletries and your phone charger.
What Does the Hospital Provide for Labor and Delivery?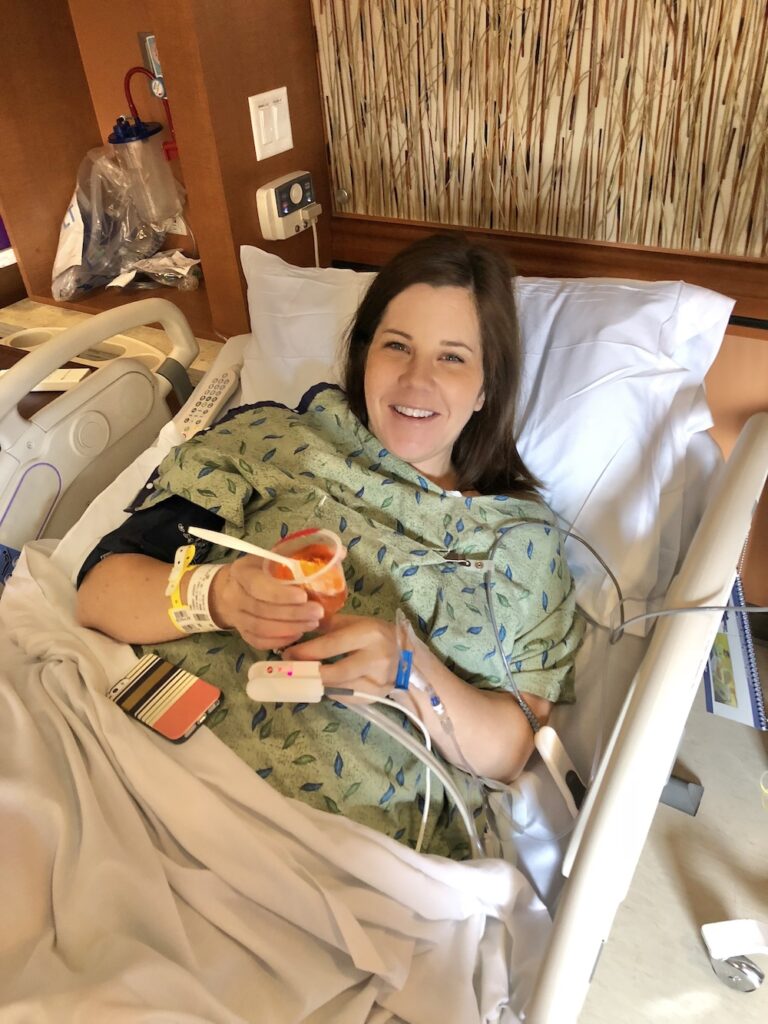 Let's start with what NOT to pack in your labor and delivery bag. If this is your first pregnancy, you might be surprised to know that some postpartum and baby supplies are normally provided by the hospital so you wont need to pack these.
This list is based on my own experience with the hospitals that I have delivered at. Your hospital may be different, so be sure to check with their labor and delivery team.
Linens
Postpartum hygiene supplies
Diapers and wipes
Baby swaddle blanket, hat, pacifiers, and formula
Meals for mom
Linens: the hospital will provide bed sheets for the hospital bed, pillows and pillow cases. My hospital also provided a towel for the shower and linens for the pull out guest bed. They were good enough for me. I didn't want to risk getting my own stuff dirty from delivery, but you can normally bring your own if you want.
Hygiene supplies: the hospital provides mesh underwear and/or large pads for mom after delivery. In my experience they have also provided a squirt bottle for cleaning down there after delivery and witch hazel pads to help soothe when wiping. Check out my full list of postpartum supplies here!
Diapers and wipes: the hospital also supplies diapers and wipes for your baby while they are there. If you prefer a particular brand, you may want to bring your own, but, there should be more than enough provided by the hospital. You can also take home any leftovers when you leave.
Baby Supplies: most of the other supplies you will need for your baby are also provided. This includes a bassinet and sheets, swaddle blankets, hats, pacifiers if requested, and bottles and formula if needed.
Meals (for mom): only meals for the new mom are provided during the duration of your hospital stay. This means meals for dad or other guests are not normally included. During labor I was able to order a meal, but couldn't eat it (most hospitals don't allow the laboring mom to eat for safety reasons). But, I was able to give the meal to my husband.
Ultimate Hospital Bag Checklist
Here is everything I recommend packing in your hospital bag for mom and baby.
Labor & Delivery Gown – I like to deliver in the hospital's gown, but then change into this amazingly soft gown afterwards for the duration of my stay. I recommend wearing a gown for at least the first 24 hours after delivery because they nurses and doctors will come and check that you are healing appropriately down there.
Nursing Bra – if you plan on nursing, I like to bring a nursing bra to wear after delivery. Your nipples will likely be very sensitive and it can help to have them held up instead of rubbing against your gown or shirt. A nursing bra can also be helpful if you want to wear nursing pads or other products.
Nursing Cups – these can be a lifesaver for healing sore nipples! I highly recommend bringing some or other breast care supplies like nipple balm (you wont want to use balm with the nursing cups, however) and nursing pads.
Toiletries – you will want to pack a small bag of toiletries like you do when you are going on vacation (although delivering a baby is far from a real vacation!). This includes face wash and wash cloth, shampoo, conditioner, deodorant, lotion, toothbrush, toothpaste, and cosmetics. Makeup is definitely optional, but it felt so good to get cleaned up and back to my old self after giving birth.
Contacts or Glasses – This is likely something you will need to pack last minute. Don't forget a contact case and solution if you wear contacts.
Hair Care – hair care items are also optional based on your own beauty routine, but don't forget your hair dryer, flat iron, or curling iron if desired. Hair ties are also a definite must during labor! I forgot mine last time and the hospital did have some.
Postpartum Wrap – if you are planning on wearing a belly wrap or band after delivery, don't forget to pack it! I used one like this in my prior pregnancies and it worked great and plan to use it again.
Postpartum Supplies – some supplies will likely be supplied by the hospital (check with your labor and delivery department if you have questions), but I also like to bring some of my own just in case and to fill any gaps. I normally bring dermoplast cooling spray and extra tucks medicated pads and postpartum underwear.
Read more: 20+ Postpartum Supplies for Mom
Slippers – you will want something to wear around your hospital room so grip socks or slippers are a good idea! I like to buy cheap ones and throw them away afterwards.
Going Home Outfit – If you are staying for just a day or two you likely won't need more clothes than a single going home outfit. If you are expecting guests I would recommend some cozy postpartum pajamas (these are my favorite) or just your cute labor & delivery gown. I normally bring yoga pants and a comfy shirt for the ride home.
Electronics – don't forget a phone charger and get a long one if you can! Also, consider any other electronics you might want to bring like your laptop & charger and your cell phone.
Portable Sound Machine – your baby is used to it being LOUD in your womb (your blood flow, heart beat, and the sounds from the outside world) so they will find the white noise very soothing. It can also help drown out the noise from the machines and nurses coming in and out all night. Bonus: you can also use this when traveling with your baby and toddler in the first couple years.
Velcro Swaddle – newborns love to be swaddled and a velcro swaddle can make it so much easier to get your little one wrapped up and feeling secure.
Baby going home outfit & blanket – you won't need many clothes for your baby while in the hospital; they will be checked out frequently and its best to do frequent skin-to-skin in just a diaper. Bring a few outfits for photos and an outfit and blanket for going home.
Infant Carseat – don't forget to bring your infant carseat (they won't let you leave the hospital without one). Have your carseat installed in your car by the middle of your third trimester so that you don't have to worry about getting it installed while you are in labor or dealing with a newborn.
Items for Dad – if you are having your significant other or support person there, don't forget to pack some items for them. They will want some toiletries, and change of clothes, phone charger, and anything else that might make them more comfortable for their overnight stay. My husband actually only stayed the night with our first son, and with our other children he went home to get a good night's sleep and a shower so that may be an option, too!
Read More: Newborn Essentials for the first Month
What to Pack Beforehand?
The good new is that most of your hospital delivery bag can be packed well in advance! Think of the things you wont necessarily need the weeks prior to delivery.
Hospital gown
Nursing clothes and supplies
Most toiletries: consider getting duplicates just to prepare
Non-maternity clothes

Don't forget large underwear that you don't mind throwing away. You won't want to wear your favorite underwear right after delivery!

Postpartum wrap (optional)
Postpartum supplies
Baby items
Carseat (have this installed in your car already)
Items for dad/support person
What to Pack Last Minute?
Although you may be doing your best to prepare, some items can't be packed beforehand unless you are luck enough to have extra. That's okay! Make a list of these items and hang it by the door so you know exactly what you need to grab
Cosmetics (optional)
Glasses, contacts, contact supplies (if needed)
Hair care
Clothing you might wear up until deliver
Electronics: phone, phone charger, computer & charger if needed
Thanks for stopping by! You might also like these latest related posts: