I'm sharing our favorite tips on how to label kids gear for summer camp! Including the best labels for camp, why you should label summer camp gear, and the best way to label clothes, water bottles, shoes and more.
If you have a child starting summer camp, keep reading! It's no secret that summer camp can be expensive. Between the camp fees and buying all the gear, the last thing you want is for your child's gear to get lost or misplaced and not make it home. Using camp labels can help!
This post contains sponsored content, however all thoughts and opinions are honest and my own.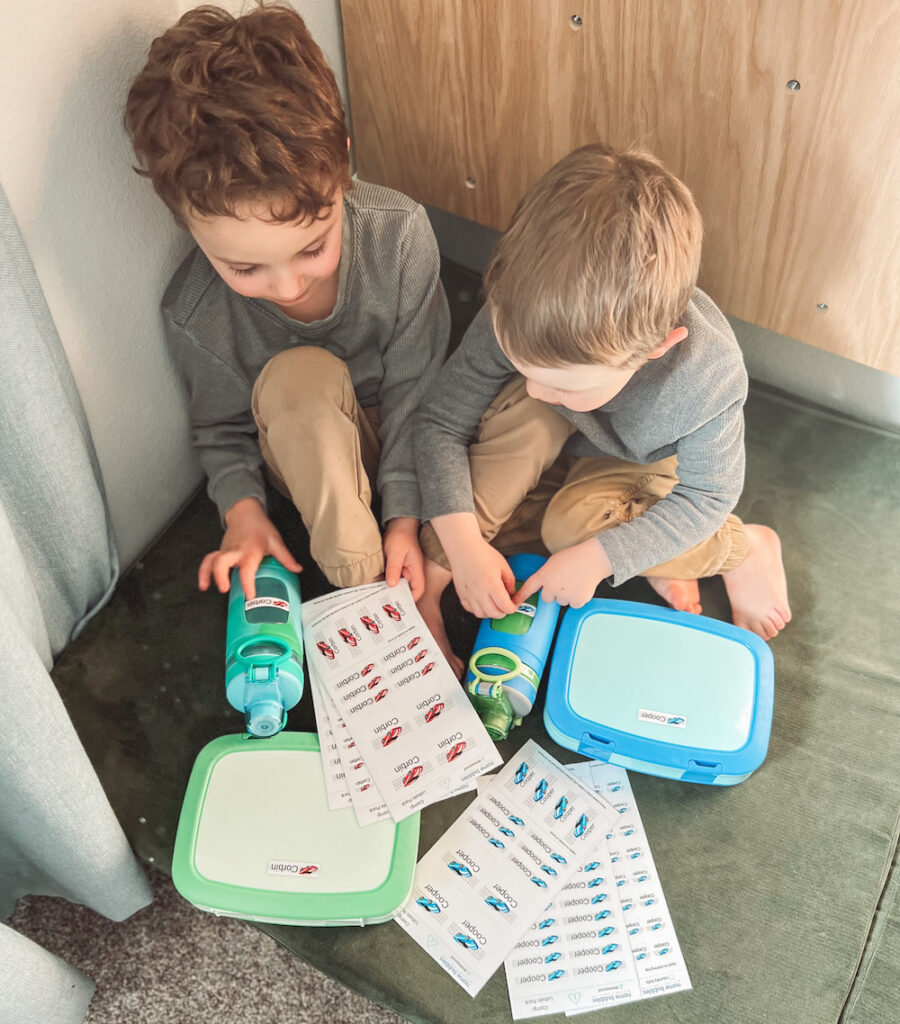 What are the best labels for kids summer camp gear?
The camp labels (Use PINECONES10 for 10% off) from Name Bubbles are our favorite labels for kids summer camp gear! We love the cute designs and that their camp label packs come with a variety of labels that can help you easily and effectively label all of your kid's camp gear.
Here are some of our favorite features of Name Bubbles camp label packs:
personalized
waterproof
non-toxic ink
dishwasher and microwave safe
durable yet easy to remove
variety of different sizes to label literally everything you could think of!
Whether your kids are going to day camp like sports camp, swim camp, or music camp or full blown sleep away camp, Name Bubbles are extremely durable and will withstand whatever summer throws at them!
Why should you label summer camp gear?
Labeling your child's camp gear is a must! Although it can seem dreadful, if you use premade labels it can actually be pretty quick and easy. Here are some reasons you should label your child's camp gear:
keeps gear from getting mixed up or lost
makes kids happy to see their personalized labels
more hygienic: keeps water bottles, lunch boxes, and toiletries from getting shared inadvertently
cost effective: keeps you from having to buy new gear every year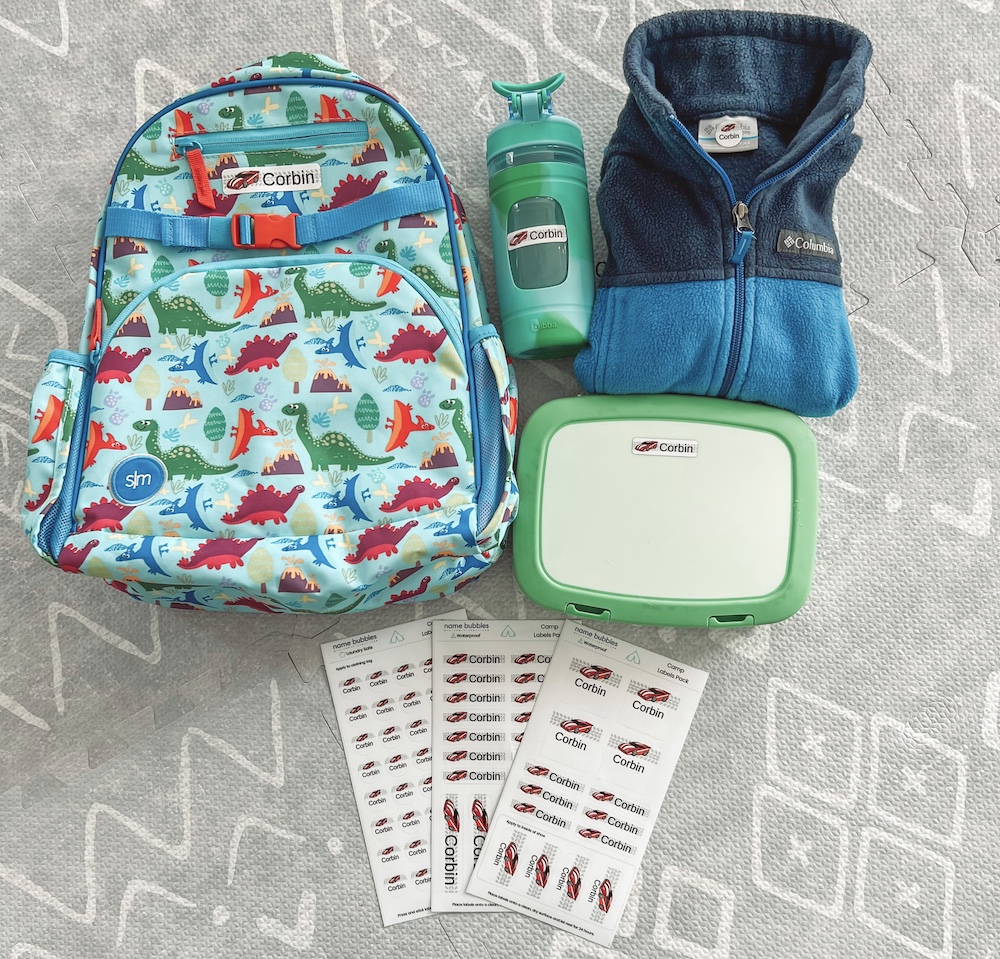 What is the best way to label clothes for camp?
Labeling your kids clothes for summer camp might seem a little tricky. The tag might not be big enough to write your child's name or some items don't have tags at all!
There are two options for labeling your kids clothes for summer camp: washable stick-on labels or iron-on labels and it's really up to personal preference to decide which one works best for your family (or you can always do a mix of both).
Stick-on labels are quick and easy, while iron-on labels are a bit more permanent. Both types of labels are waterproof, laundry safe, dryer safe, and long lasting.
What are the best labels for lunch boxes or water bottles?
Instead of writing directly on your kid's lunch box or water bottle (which can be messy and rub off), we suggest using a waterproof peel and stick name label. We love that multiple sizes are included in the camp label pack from Name Bubbles.
Get 10% off our favorite camp labels (from Name Bubbles) with code PINECONES10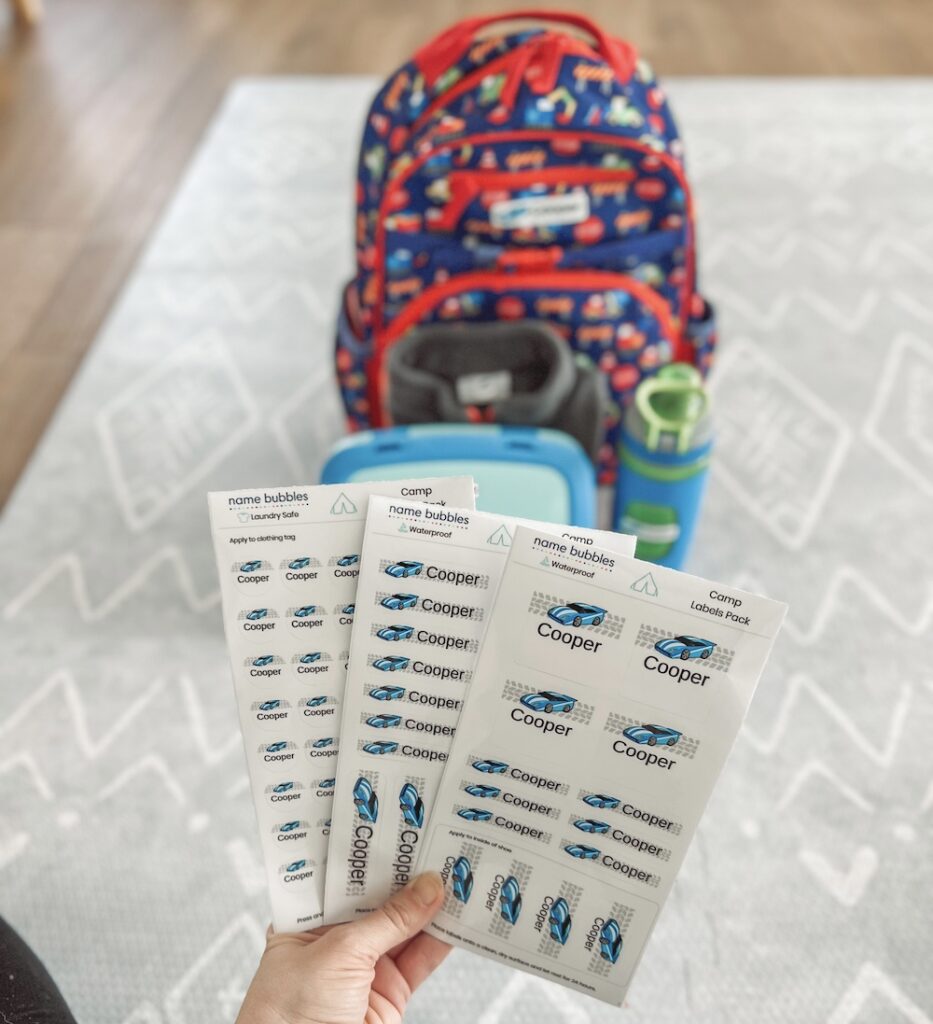 How to label kids shoes
For some reason my kids always seem to lose just one shoe at a time! Like socks that get lost in the washer, there must be a secret hiding place for all the single shoes that get lost and misplaced. Labeling shoes is also a bit tricky as there isn't a great place to use a marker and it can easily get rubbed off.
Waterproof shoe labels are the answer! We love that they are customizable and most styles can help your little one get their shoes on the right feet.
Pin now to save for later!