A list of easy self-feeding toddler daycare lunch ideas great for 1-2 year olds. Try packing these easy lunch ideas for your toddler (no heating required).
I'm a mom of two boys and my oldest has gone to daycare for most of his first two years of life. They do not provide lunch, so it's up to me to send something healthy that will fill him up and keep him satisfied throughout the day.
He hasn't quite mastered silverware yet and also only has 7 teeth so I have to be creative with what I send him for lunch. They also won't heat his lunch up, so all of these meal ideas can be eaten cold. I'm sharing all of our daycare lunch ideas for inspiration to other mamas who need ideas!
You might also like these related posts.
Check out my newest daycare or preschooler lunch ideas. Read more here >>>>> Toddler Preschool Lunch Ideas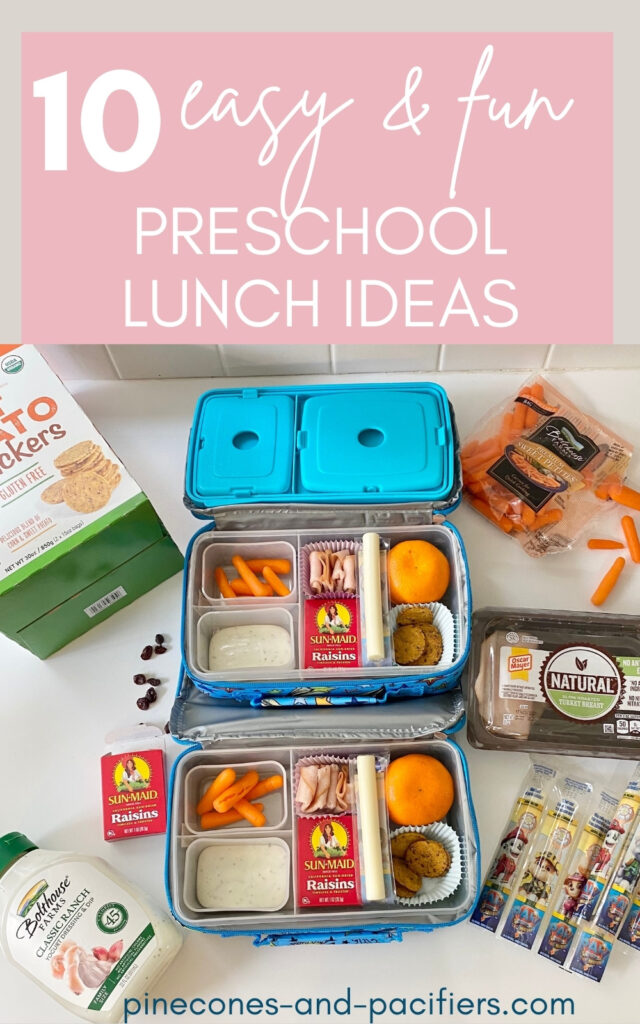 When is a good time to pack lunch for daycare?
It can be a good ideas to pack your toddler's daycare lunch the night before so you don't have to stress or rush in the mornings. If your toddler still needs their food cut up, it can take some time (10-15 minutes in my experience) to get their lunch packed.
There should be no problem with the freshness of their food if you pack their lunch the night before and stick it in the fridge. Some foods like apples or avocado might turn brown, so if your toddler is picky it's a good idea to save these until the morning.
If you or your spouse also need their lunch packed, save time by packing all of the lunches together. Your toddler can eat a lot of the same foods you do, like a chopped up sandwich, fruits and veggies.
What is the best toddler lunch box?
Our favorite toddler lunch box is the PackIt Freezable Lunchbox.
I love that its an all-in-one lunchbox and has freezer packs built in to the sides of the lunchbox. You don't have to worry about your toddler losing ice packs or leaving them at school. Its one of my favorite purchases for him so far and would be great for preschoolers or school-aged children too.
I normally get this out of the freezer around 7:30 am before we leave for school and when I pick him up at 4:30 pm its still cold. I highly recommend this lunch box!
A close runner up that we tried recently is the Nuby Insulated Bento Box Lunchbox. See how we used this lunchbox here: Toddler Preschool Lunch Ideas
Toddler Daycare Feeding Supplies
Here are some of our favorite feeding supplies for daycare:
Sistema Divided Tupperware – this tupperware fits perfectly into the PackIt Freezable lunchbox and is the perfect serving size for a toddler. The lid snaps on tight and we have never had any issues with them leaking inside the lunchbox.
Stainless Steel Kids Thermos Cup – perfect for sending milk to daycare so that it stays cold until lunch time. This cup has a lid and fits perfectly in the side compartment of the PackIt Freezable lunchbox and could also be used for water as well. At home we use this cup for smoothies too!
Get 10% off our favorite daycare labels (from Name Bubbles) with code PINECONES10
Toddler Daycare Lunch Food Ideas
Dont send your toddler something new for lunch at daycare; they might not eat it or they might have trouble eating it if its too hard or cut too large. I recommend sending your toddler foods that you know they enjoy and test our new foods at home.
Leftovers from the night before are a great option for daycare since you know your toddler already tried the food and liked it.
Below are some more ideas for foods to send in your toddler's daycare lunchbox:
Main/Protein
Sandwich (sandwich with avocado, hummus, peanut or nut butter, jelly, or pb&j)
Mac n' cheese
Rolled or cut up lunch meat
Crackers & cheese
Sides
String cheese
Sliced or shredded cheese
Veggie muffins
Snap pea snacks
Veggies
Butternut squash
Cooked carrots
Avocado
Peas
Tomatoes
Any other cooked veggies you have as leftovers.
Serenity Kids Pouches(Use JESSICA15 for 15% off)
Fruit
Watermelon
Grapes
Kiwi
Strawberries
Blueberries
Mandarin oranges
Pears
Self-Feeding Daycare Lunch Meal Ideas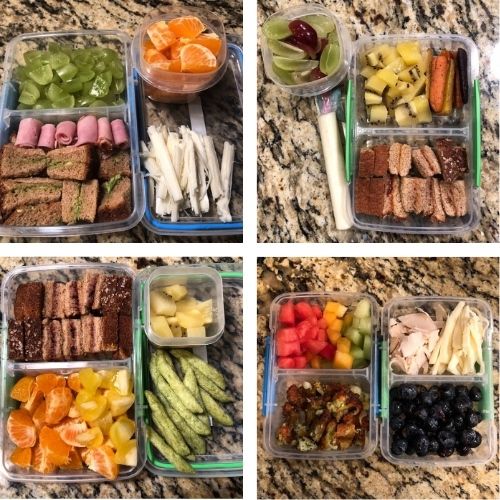 Avocado sandwich, lunch meat rolls, string cheese, grapes, mandarin orange
PB&J, string cheese, grapes, kiwi, roasted rainbow carrots
Almond butter & jelly sandwich, golden kiwi, yellow tomatoes, mandarin orange, snap pea snacks
Dr. Praeger's Broccoli Littles, blueberries, lunch meat, turkey, melon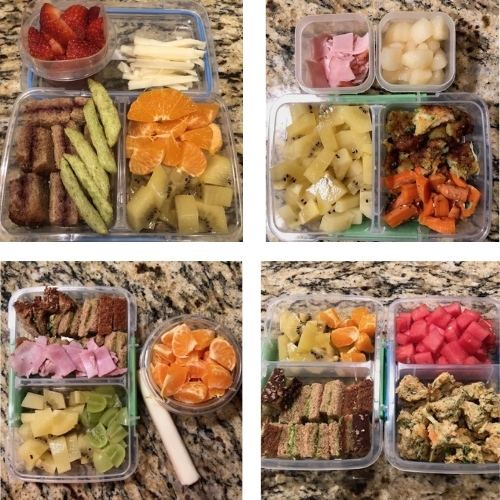 Jelly Sandwich, snap pea snacks, kiwi, mandarin orange, string cheese, strawberries
Dr. Praeger's Broccoli littles with roasted carrots, golden kiwi, lunch meat, and pears
Lunch meat, avocado sandwich, kiwi, grapes, string cheese, mandarin oranges
Zucchini Muffin, avocado sandwich, watermelon, kiwi, mandarin orange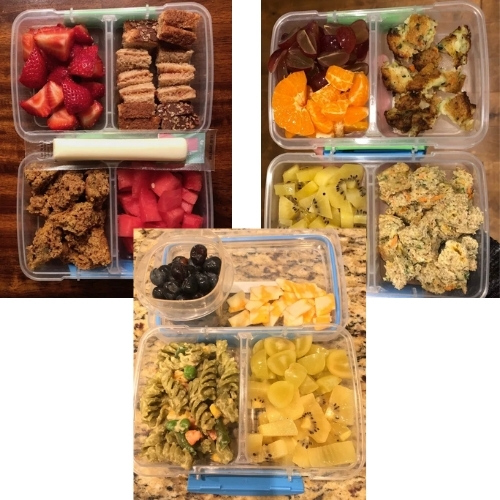 PB&J, pumpkin muffin, watermelon, strawberries, string cheese
Veggie muffin, kiwi, Dr. Praeger's Broccoli littles, mandarin oranges, grapes
Mac 'n cheese with mixed veggies, grapes, kiwi, cheese, blueberries
Check out my newest daycare or preschooler lunch ideas. Read more here >>>>> Toddler Preschool Lunch Ideas
Thanks for stopping by! You might also like these related posts.
Pin it for later!