A quick and easy breakfast idea with simple ingredients for babies and toddlers. Banana French toast is great for baby-led weaning and picky toddlers!
My kids love French toast and this banana French toast takes it to another level.
This French toast comes out so fluffy and moist, you will wonder if you are eating breakfast or dessert. However, is naturally sweetened with just bananas so no syrup, toppings, or sweetener are needed which makes it great for babies and toddlers.
Banana French toast is similar to my 3 Ingredient Banana Pancake recipe and the leftover batter can even be made into easy banana pancakes. Two breakfasts in one!
If you are looking for more information on how to get started with baby-led weaning check out this post: Baby-Led Weaning Guide & Food Ideas
Favorite Feeding Supplies
Nothing special is required for eating Banana French toast, but these are some of my favorite feeding supplies to make meals happy for everyone.
Ingenuity Baby Seat // we love this high chair and would highly recommend it! Its the perfect size for babies (even chunky ones) and takes up much less room than a traditional high chair. Everything is so easy to clean.
Ingenuity Toddler Seat // If your child is a little older and doesn't need the tray table on the Ingenuity baby seat, their booster seat is also awesome. Super easy to wipe down and clean!
Munchkin 360 Cup // these are our favorite cups at the moment for both babies and toddlers. They are better than sippy cups for oral development and don't spill at all.
Pillowfort Plates // these are the cute plates you see in all of our photos. They are very durable and hold up in the microwave and dishwasher. They come in cute colors as both divider plates and regular plates.
Ingredients
Directions
Mash banana in a medium sized bowl, add eggs and scramble together. Stir in cinnamon and mix until just combined.
Lightly grease a griddle or frying pan and heat up on the stovetop over medium heat.
Dunk bread slices into egg mixture. Make sure you don't hold the bread upright too long or the banana pieces might fall off. You want the bread slices generously coated with egg and banana on both sides. *If you have any leftover batter, you can pour it right on the frying pan to make simple eggy banana pancakes.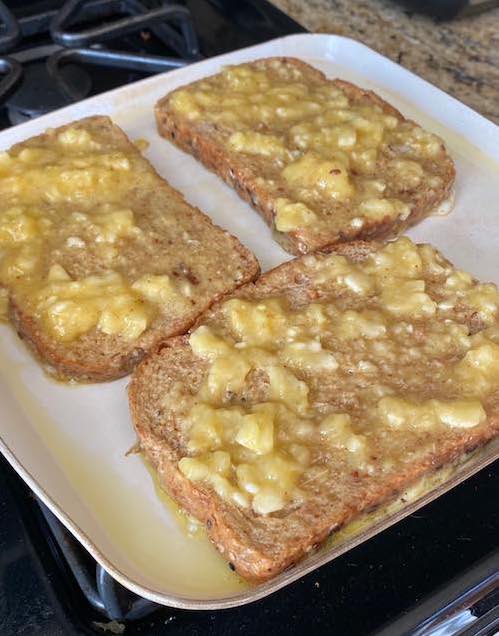 Fry on a greased griddle or pan until set on one side (2-3 minutes), then flip and wait another 2-3 minutes until cooked through.
Serve without extra sweeteners for baby or toddlers. If you want to add some maple syrup for yourself, I won't tell (although they are so sweet you really wont need any!).
Thanks for stopping by!
You might also like these related posts: