Baby banana pancakes for babies and toddlers. These three ingredient baby pancakes are perfect for beginner eaters (baby-led weaning and toddlers)!
Baby banana pancakes are a great first "solid" food for babies because they are easy to make, include a few simple ingredients, and are the perfect consistency for your baby to both hold and mash with their gums. They are essentially a baby version of other "few ingredient" healthy pancakes I have seen out there.
If you like this recipe, you may also like these related posts:
When Can a Baby Eat Banana Pancakes?
Most babies will be ready for solid foods, including baby banana pancakes around 6 months of age. At the end of the day, you know your baby and their abilities best! My babies were ready for these pancakes around 6-7 months old. My daughter in the pictures below is 7 months old.
Baby banana pancakes do include two common allergens; eggs & flour (wheat). Discuss with your provider if there are any questions or concerns in regards to introducing allergens to your baby.
Favorite Feeding Products
None of these products are required to feed your baby, but they can make things a lot lot easier and less messy! Check out some of our favorites below: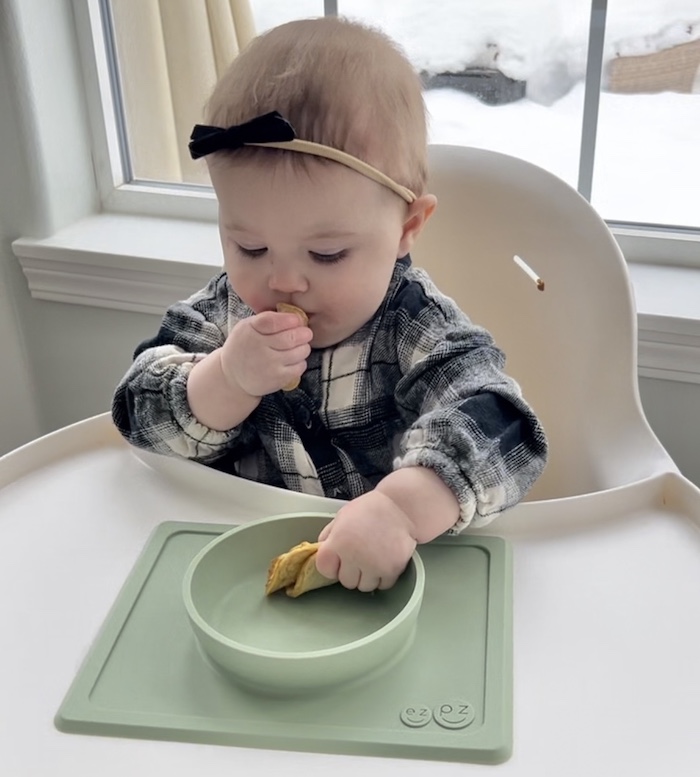 EZPZ Mini Bowl – (Use PINECONES10 for 10% off sitewide) This is a great first plate for baby-led weaning and for infants and young toddlers who are just starting solids. This plate sticks to the table and is a multi purpose plate and placemat in one.
Boon High Chair – we have been loving this high chair! It can be regular table height or counter-height (we have a counter-height table) and is super easy to clean – you can put it in the dishwasher!!
EZPZ Training Straw Cup – (Use PINECONES10 for 10% off sitewide) The cutest straw cup and silicone cup set. This is the perfect first cup or open and straw cup training set for your baby or toddler. Straw cups and open cups are best for oral development and this multi-step training system is made of all silicone and perfect for babies and toddlers.
How to Make Baby Banana Pancakes
First, Gather your ingredients including a small-medium mixing bowl, fork or potato masher to mash your banana, mixing spoon, and a hot griddle or frying pan to cook your pancakes (our favorite is the GreenPan Griddle).
Next, heat up your griddle (I like to set ours to 375 degrees F) or pan to medium heat.
While your griddle is heating, combine the ingredients in your small-medium mixing bowl. I like to mash the banana first and then add the other ingredients so it's a little bit easier to combine. Mix until combined.
Then, drop the batter by spoonful onto your griddle, flipping once bubbly. I like to make smaller, silver dollar size pancakes for babies and toddlers.
These simple and easy baby banana pancakes are perfect for babies just learning to eat solid food or for toddlers who already love to gobble up food. They are naturally sweetened with the banana so no syrup is needed!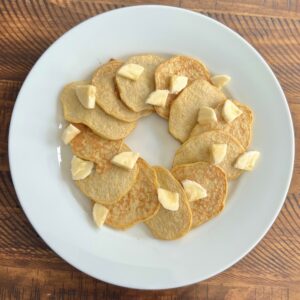 Easy Banana Pancakes for Baby
A 3-ingredient recipe great for baby led weaning, baby's first foods, or babies and toddlers 6+ months.
Ingredients
1

banana

2

egg

2

Tbsp

flour

1/4

tsp

cinnamon

(optional)
Instructions
Mix in egg, flour, and cinnamon if desired.

Drop a spoonful onto a hot griddle lightly greased with cooking spray or coconut oil. For babies I like to do small quarter-sized pancakes and I normally do bigger for toddlers, kids, or adults.

Flip after a minute or two or when bubbles start to form around the edges. For quarter-sized pancakes, I use two spoons to flip these as I find a spatula is too big. Cook an additional 1-2 minutes until set. 

Cool and then serve to your baby or toddler.
Notes
***Please note, the consistency of the batter will be highly dependent on the size and ripeness of the banana and the size of your eggs. A previous version of this recipe didn't include flour. You can make these without flour, but the consistency will softer and more egg-like. After many test batches I have determined that my kids like the consistency better when the recipe includes flour.
Thanks for stopping by! You might also like these related posts:
Pin now to save for later!