Have you started solids with your baby and are looking for 7 month old baby-led weaning meal ideas? I'm sharing what my 7 month old ate this month to help with meal time inspiration.
Meal time with a baby doesn't have to be difficult! For the most part your 7 month old can eat what you eat; either a variation of those foods or slightly modified versions.
I'm a mom of three and all of my kids have been eating some solid foods by 7 months old and have grown into what I would consider great eaters!
Remember to follow along with us on Instagram for more baby & toddler meal ideas!
If you are just starting solids and are looking for baby-led weaning basics or first food ideas, check out these posts first (and then come back here for more meal ideas!):
Favorite Gear for Baby Led Weaning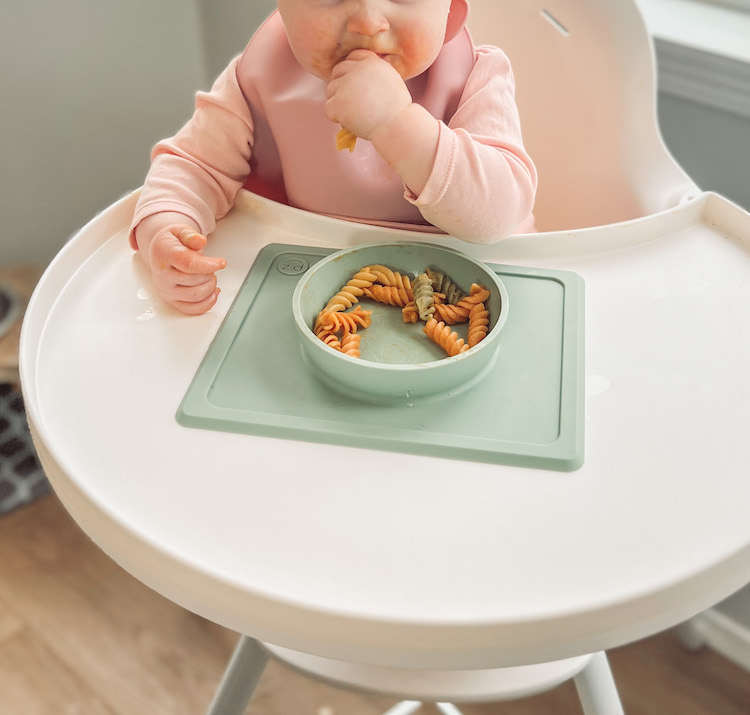 Bonus Meal Idea: noodles with butter or baby food puree stirred in (pictured above).
Here is my favorite gear for baby led weaning that can also be used into toddlerhood:
EZPZ Suction Bowls (Use EZPZ25LOVE for 25% off $75+)– we love EZPZ because they are made of non-toxic silicone and are so much more durable than plastic plates (also dishwasher safe!). My favorites for this age are the tiny bowl & mini bowl.
Boon High Chair – we have a counter height table and I was on the look out for a good counter height high chair and found it! We love the modern look and big tray.
Silicone Bibs – these are our favorites and a must-have for any baby starting solids!
Visit our Amazon Shop to see all of our favorite baby feeding products!
What Foods Should You Avoid with Baby-Led Weaning?
Although most foods can be modified, cooked, or cut to be safe for your baby, there are a few foods that your baby shouldn't eat until they are older.
Honey: even when cooked, honey can contain botulism spores and should be avoided until after 1
Chocking Hazards: please see Baby-Led Weaning Food Basics & Ideas for more information, but essentially foods should be cooked until tender and most food should be cut into the size/shape of your finger for baby-led weaning
Undercooked/raw food: babies have an underdeveloped immune system compared to adults and all of their meat, eggs, and other animal foods should be cooked thoroughly
Can you Serve Purees with Baby-Led Weaning?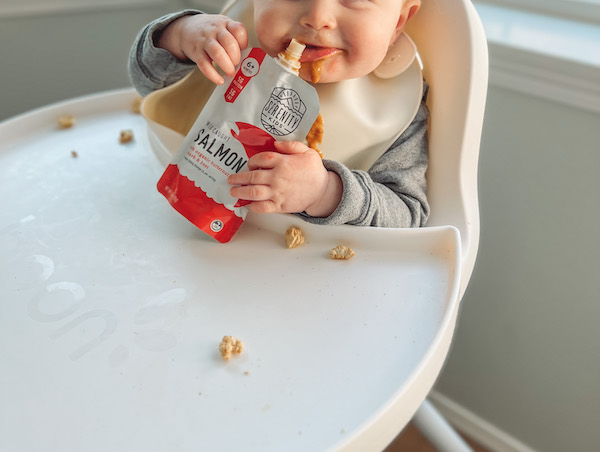 Yes! Purees can and should be served to your baby even if you are doing baby-led weaning. I like to combine baby food purees with baby-led weaning because sometimes it's just more convenient. If you don't want to puree actual foods, you can serve your baby things that are naturally eaten with a spoon like yogurt, soup, or applesauce.
If you do choose to serve purees it can be a good idea to let your baby self-feed with a spoon (at least on occasion so that they are still in control and learn spoon skills).
If you are looking for healthy baby food options here are some of our favorites:
Serenity Kids Pouches (Use JESSICA15 for 15% off)– veggie and meat pouches sourced from small family farms. We love that these pouches have healthy fats for brain development! They also sell puffs that we love. See my full review on Serenity Kids.
Amara Baby Food (Use PANDP15 for 15% off)– a great option for organic, no-sugar-added, baby food packets made with superfood ingredients! See my full review on Amara baby food.
7 Month Old Meal Ideas
For an idea of what individual foods to introduce as your baby is beginning baby-led weaning, check out this post: Baby-Led Weaning Food Basics & Ideas. Below are 7 month old baby-led weaning meal ideas for inpspiration: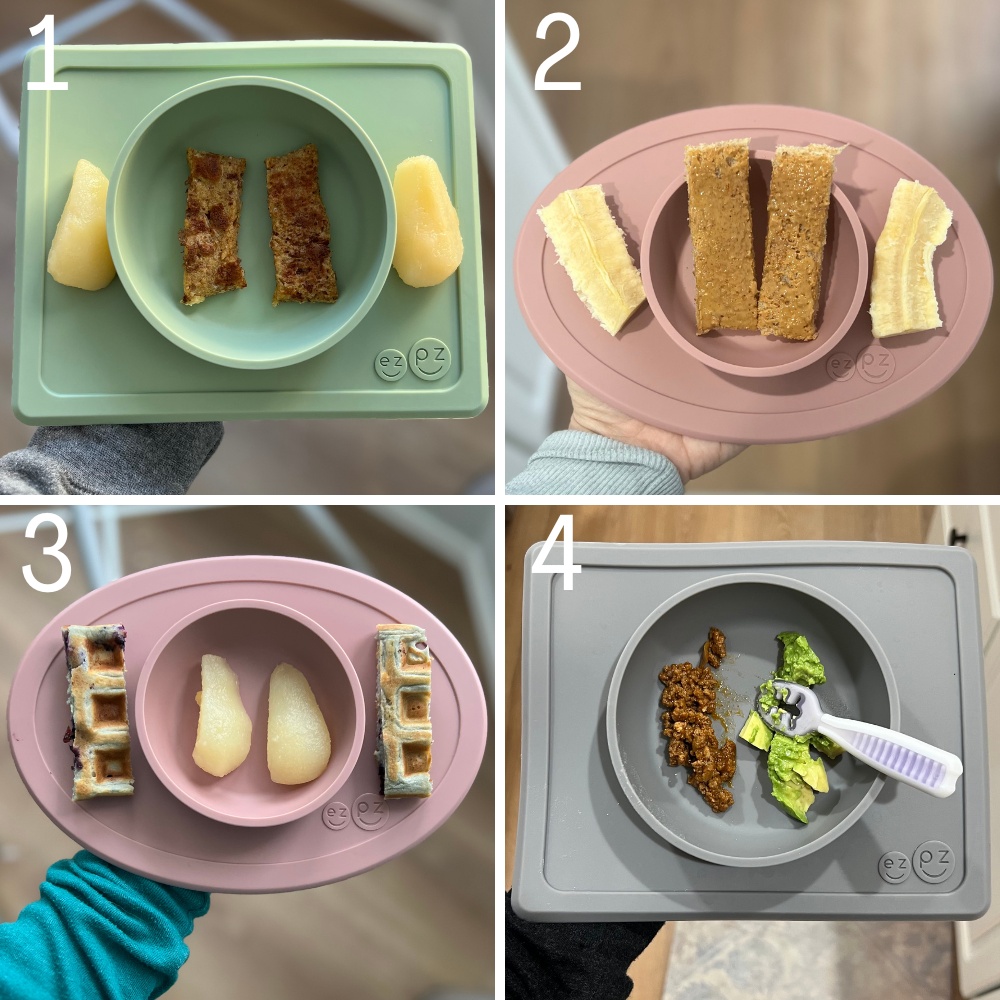 French Toast + Pears – French toast made with eggs, milk (can substitute breast milk, formula, alternative milk, or emit completely), and a dash of cinnamon. Served with a side of canned pear halves. Another great option is Easy Banana French Toast for Babies
Toast + Banana – your baby can eat toast! Lightly toast bread and cut into strips and top with a spread like peanut butter (pictured above), grass-fed butter, hummus, baby food puree, or hummus. Served with a side of bananas.
Waffles + Pears – blueberry waffles cut into strips and served with a side of canned pear halves. I used this recipe, but omitted the sugar to make it a little more baby-friendly.
Ground beef + avocado – ground meat can be a great source of iron for your baby. Serve plain or with seasoning that is low in sodium. Served with mashed avocado and a pre-spoon to help baby feed herself (sliced avocado is also a good option for this age).
Visit our Amazon Shop to see all of our favorite baby feeding products!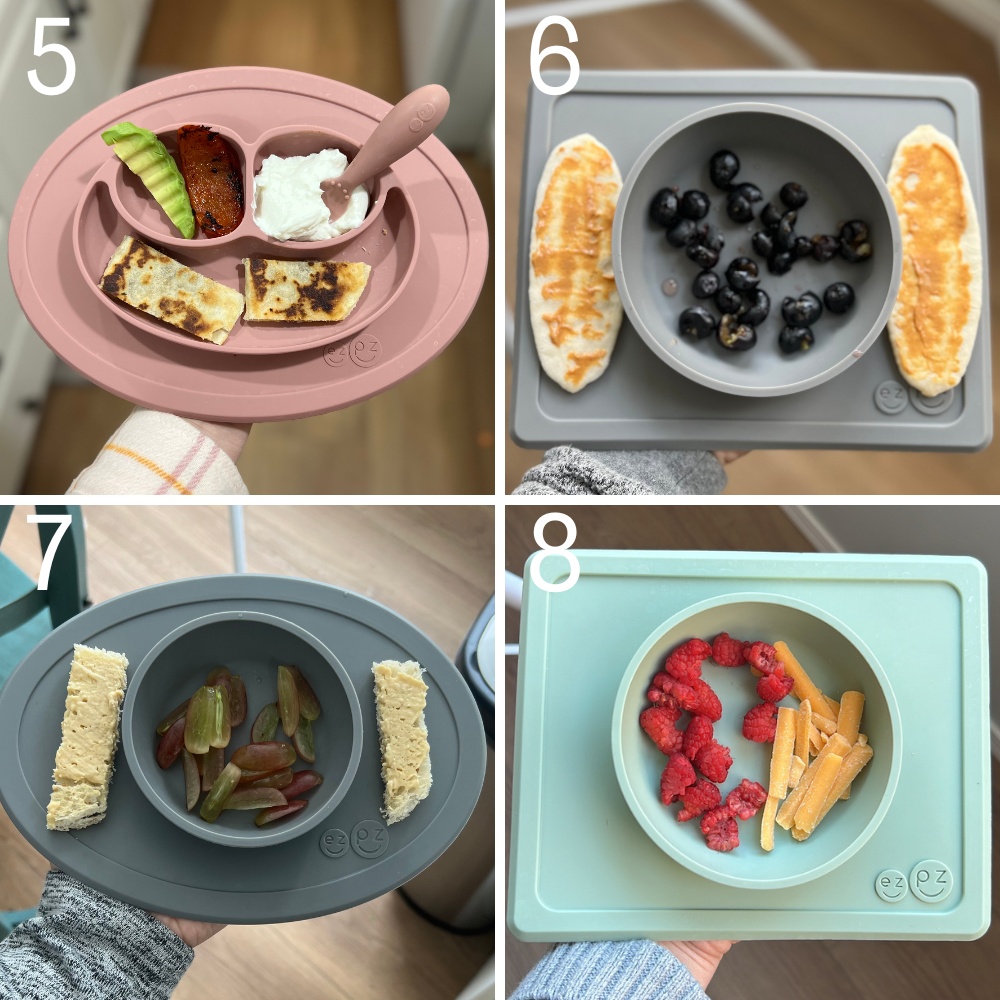 Quesadilla Strips – cheese quesadilla cut into strips for self-feeding. Sides of greek yogurt, cooked bell pepper, and avocado (cut using my favorite crinkle cutter).
Teething Biscuits w/ Peanut Butter – teething biscuits are great for entertaining your baby while you cook dinner or are at a restaurant and they can also be a vessel for spreads like peanut butter, hummus, or baby food puree. Served with a side of blueberries (squish or they can be a choking hazard).
Hummus Toast Strips + grapes – lightly toasted sourdough bread with hummus spread on top with a side of grapes (quarter lengthwise or they can be a choking hazard).
Raspberries + Cheddar Cheese – halved raspberries and rustic cut cheddar cheese can be a great quick and easy meal or snack idea.
Read more: My 3 Ingredient Baby Pancakes for Self Feeding are perfect for babies this age!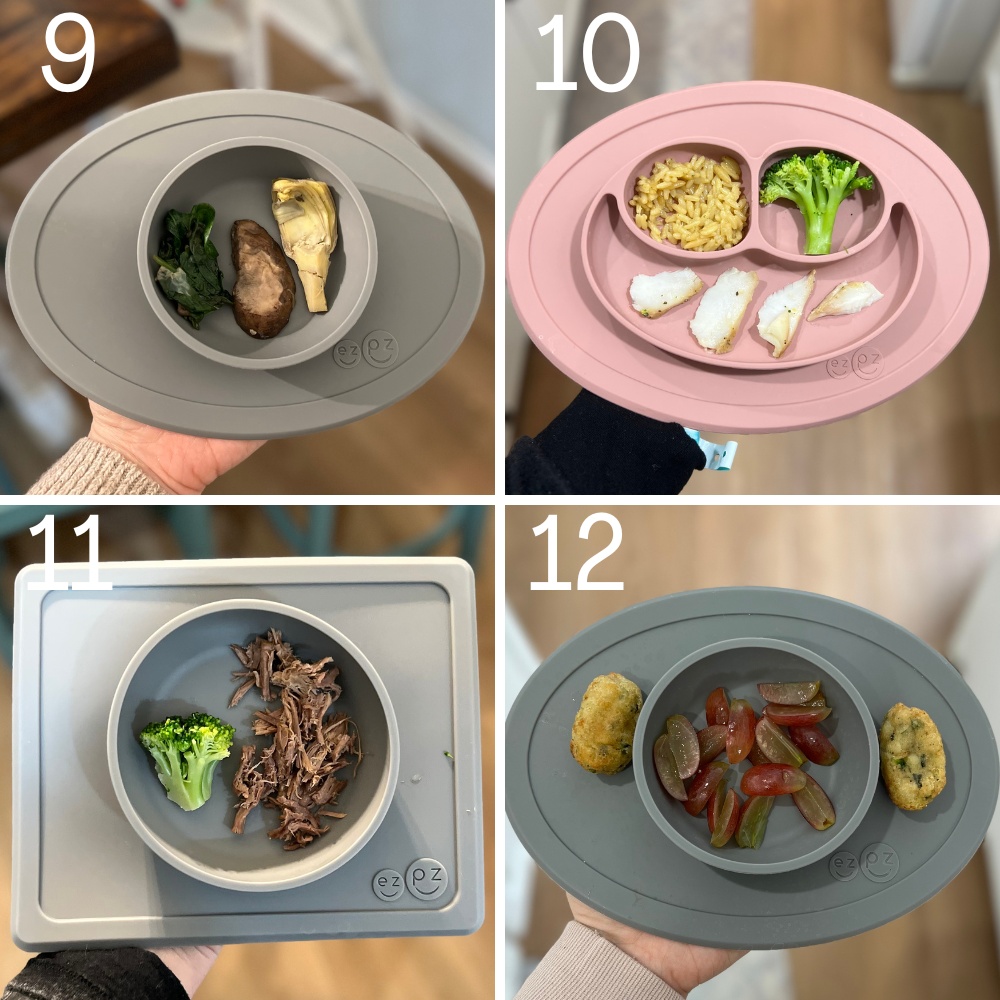 Mushroom + Artichoke Heart – one of the benefits of baby-led weaning is that your baby eats a modified version of what you do so no need to cook separate meals! We had a veggie pizza with spinach, mushrooms, and artichoke hearts so I gave baby some of each to try.
White Fish + Broccoli – fish is a great easy food for your baby to eat! Here we had cod cooked in lemon and herbs with a side of steamed broccoli and rice.
Shredded Beef + Broccoli – shredded meat is great for babies because it is tender and easy for them to mash with their gums. Served with a side of steamed broccoli.
Veggie Tots + Grapes – we love the Green Giant zucchini tots and served with quartered grapes.
>> Plates pictured are the EZPZ tiny bowl & mini bowl (Use PINECONES10 for 10% off sitewide).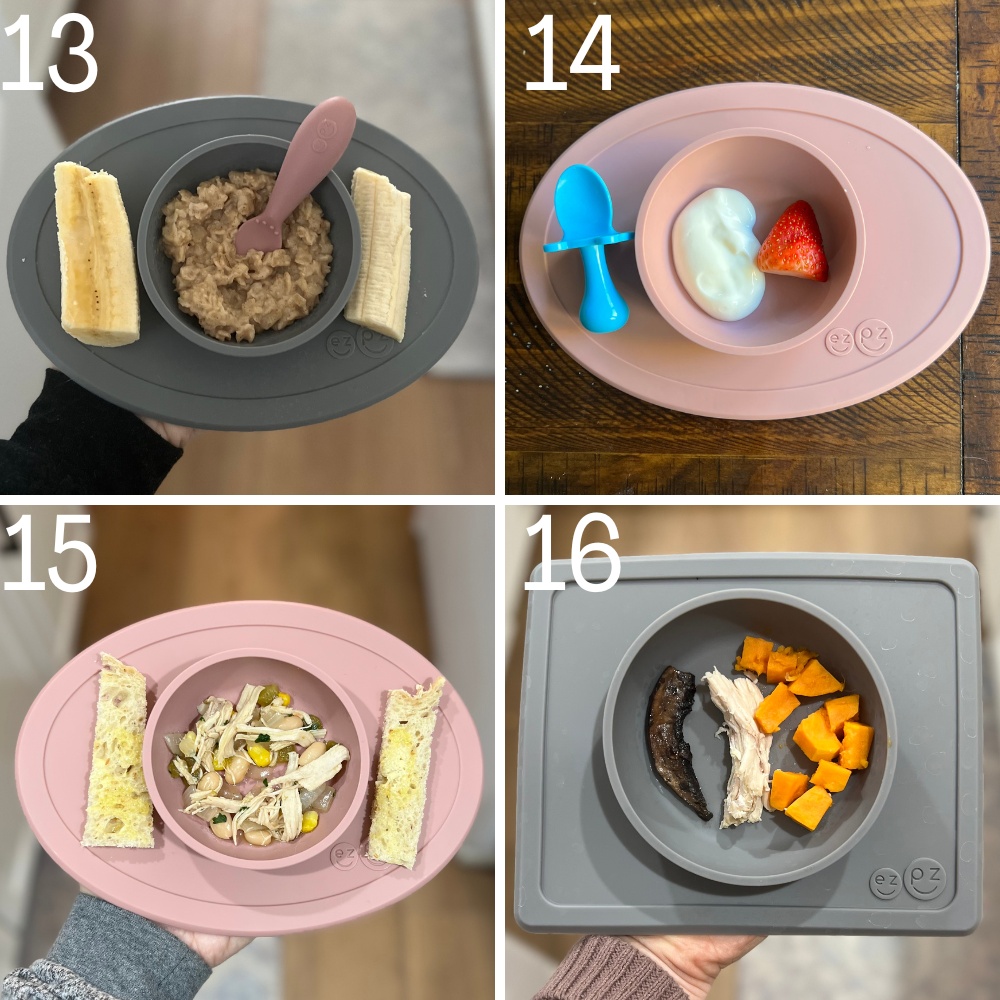 Oatmeal + Banana – did you know that your baby doesn't need special "baby" oatmeal? While you can serve baby oatmeal, regular oats are perfectly fine if cooked until tender. I like to mix in breast milk to my baby's oats for extra nutrition!
Strawberries + Greek Yogurt – serve large ripe strawberries that your baby can grasp and gnaw on. Served with a side of full-fat greek yogurt.
Sourdough Toast + "Soup" – sourdough toast strips topped with grass-fed butter and white chicken chili.
Chicken + Mushroom + Squash – sautéed portabella mushroom strips, chicken served in a strip, and sweet potato (would be best served in a strip, but bite size is fine too if very tender).
Thanks for stopping by! You might also like these recent related posts:
Pin now to save for later!