A Serenity Kids review: all about Serenity Kids from a real mom of three, including what products Serenity Kids sells, frequently asked questions, and is it worth the hype?
Are you wondering what products Serenity Kids sells? What are the nutritional benefits of different Serenity Kids products? Is Serenity Kids clean? This post can help with answering these questions, plus more!
I'm a mom of three and have been using Serenity Kids products for a few years now. I put this post together to explain all the benefits of Serenity Kids and why we choose it for our kids from babyhood through toddlerhood.
This post contains affiliate links (which simply means I earn a small commission when you buy through my link at no additional cost to you), however all thoughts and opinions are completely honest and my own.
You might also like these related posts:
Use JESSICA15 to save 15% on first time at Serenity Kids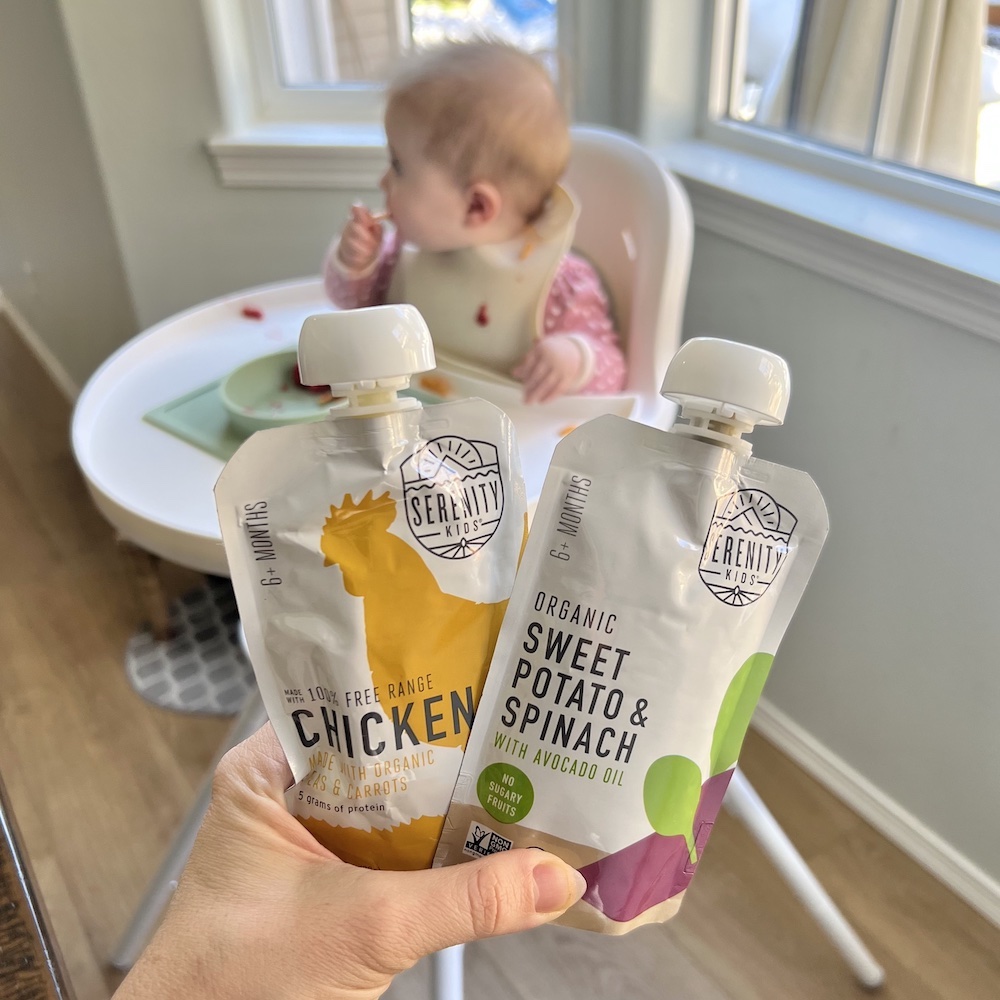 Is Serenity Kids Worth the Hype?
To cut to the chase, yes, Serenity Kids is worth the hype! Their baby food is like nothing else on the market and it was started by real parents who wanted the best for their child. It is a brand you can trust to do their research and use quality, whole food ingredients that are sustainably sourced from small American farms.
Keep reading below to find out exactly why they are they are worth the hype and more on my personal experience feeding my kids Serenity Kids baby food products.
What Products does Serenity Kids sell?
Serenity Kids sells a variety of nutrient dense, high-quality baby food and toddler food products including:
baby food meat pouches
veggie pouches
grain-free puffs
daily-free smoothie pouches
A2 whole milk formula
Serenity Kids Meat Pouches
Pureed meat pouches may sound a little funky, but I promise you that Serenity Kids' meat pouches are something special! Their meat pouches are packed with veggies and herbs, so they aren't your standard plain bland meat puree.
Here are some of our favorite benefits of Serenity Kids Meat Pouches:
ethically sourced meats from small American farms
protein & healthy fats for baby's brain development
savory herbs for added flavor
organic veggies
no sugar added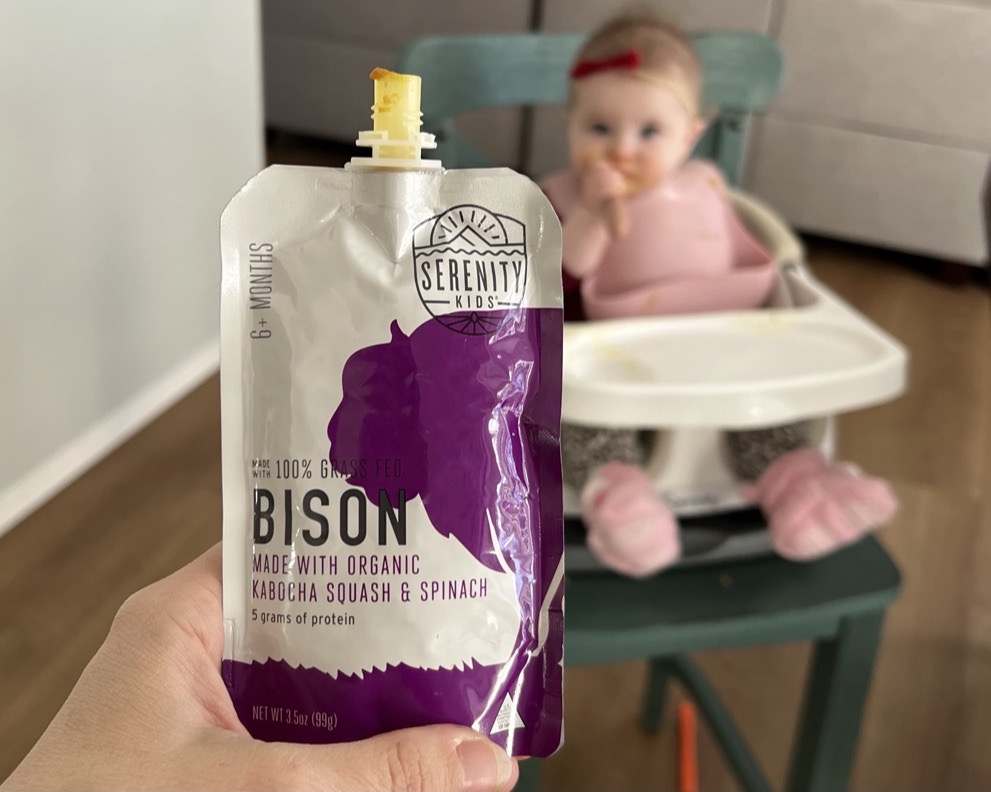 Serenity Kids Dairy-Free Smoothies
Serenity Kids smoothies are a favorite of ours from the baby through toddler stage and beyond (my 4 year old loves them!). We choose these over other brands of smoothie pouches because they are no sugar added and packed with veggies.
Some highlights of the Serenity Kids dairy-free smoothies are:
dairy-free ingredients made with organic coconut cream
veggies as the main ingredients (but taste like fruit!)
0g added sugar
healthy fats + collagen
Serenity Kids Veggie Pouches
Although Serenity Kids is well known for their meat pouches, they also sell nutrient-dense veggie pouches as well. We love that they contain no sugary fruits, unlike many other baby food pouches marketed as "veggie pouches" (most other brands veggie pouches actually contain mostly fruits).
Here are some of our favorite things about Serenity Kids veggie pouches:
made with organic savory veggies
no sugar added and no sugary fruits
organic olive oil for healthy fat
no gluten, grains, or fillers
Serenity Kids Grain-Free Puffs
Puffs can be loaded with sugar and difficult-to-digest grains, but Serenity Kids puffs are different! Serenity Kids Puffs are made with no grains or gluten and have so many added benefits that other puffs don't, including:
no added sugar
gluten-free, grain-free, rice-free
savory veggie flavors
made with olive oil for healthy fats
pea protein added for protein
Serenity Kids A2 Formula
Serenity Kids also sells A2 Whole Milk toddler formula. It is designed for toddlers 12-36 months. Some benefits include the clean ingredients (no soy, seed oil, corn syrup, rice syrup, gluten, or grains) and easy to digest A2 proteins.
Does Serenity Kids only sell Meat Pouches?
No! Although they may be well known for their ethically-sourced meat baby food pouches, Serenity Kids also sells non-meat baby food products like organic veggie pouches, dairy-free smoothie pouches, and grain-free puffs.
Is Serenity Kids Clean?
Yes, Serenity Kids is known as a clean baby food brand. They were one of the first baby food brands to receive the Clean Label Project Purity Award.
Serenity Kids takes great pride in making sure that all of their baby food products are made of high-quality ingredients. Below are some benefits of our favorite Serenity Kids products: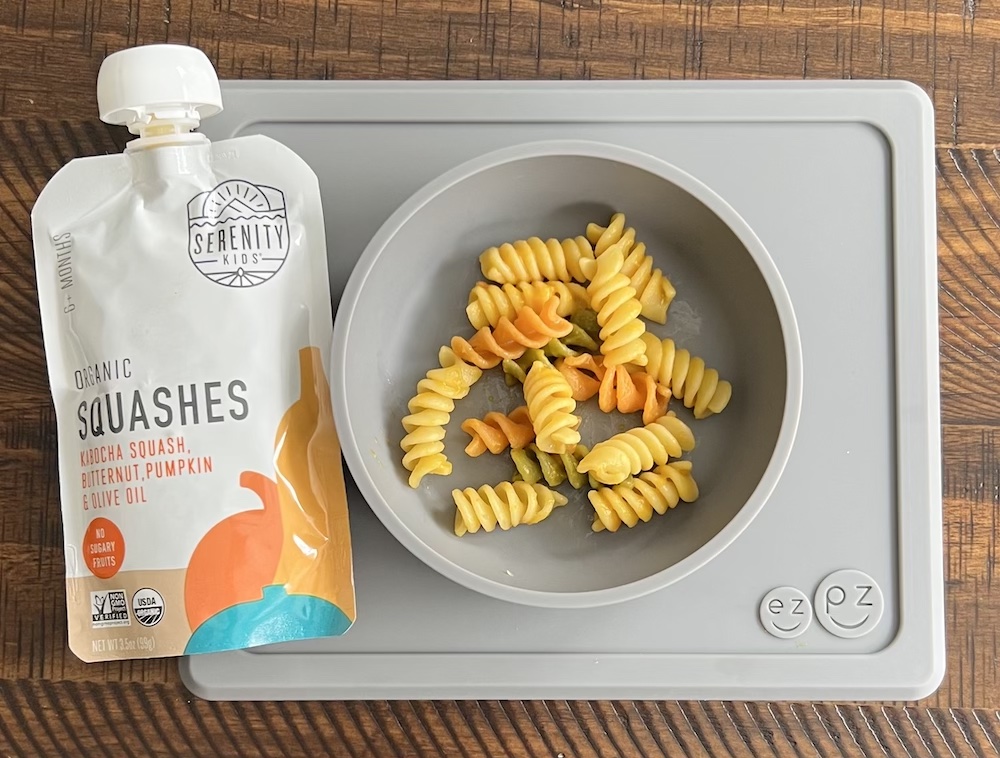 What Age is Serenity Kids Baby Food For?
Serenity Kids sells a variety of baby food products for ages 6+ months through 36 months and beyond. It is recommended to wait until approximately 6 months before starting any solid food with your baby, but once they have started eating food, Serenity Kids baby food is a great option!
When Can Babies Eat Serenity Kids Meat and Veggie Pouches?
Most Serenity Kids meat and veggie baby food pouches are recommended for babies 6 months and older, with the exception of their bone broth pouches, which are recommended starting at 7 months.
Babies tend to have a "flavor window" when their tastebuds are most malleable between the ages of 6-18 months. This is a critical time to introduce savory flavors to your baby to help them develop a preference for these foods and flavors later in life (aka it can help prevent picky eating!).
When Can Babies Eat Serenity Kids Dairy-Free Smoothies?
Serenity Kids Dairy-Free Smoothie pouches are designed for babies 6 months and older, but will definitely be enjoyed well into toddlerhood and beyond. My 4 year old loves these smoothie pouches and I think they are pretty great, myself!
Serenity Kids lists the age grouping for their smoothie pouches as "All Ages". Their smoothie pouches are dairy-free so they are perfect for the most sensitive tummies.
When Can Babies Eat Serenity Kids Puffs?
Serenity Kids recommends their grain-free puffs for babies ages 6 months and older. Their puffs are made with grain-free cassava flour, which is easier to digest than wheat, rice, or other grain fillers found in many other brands of puffs.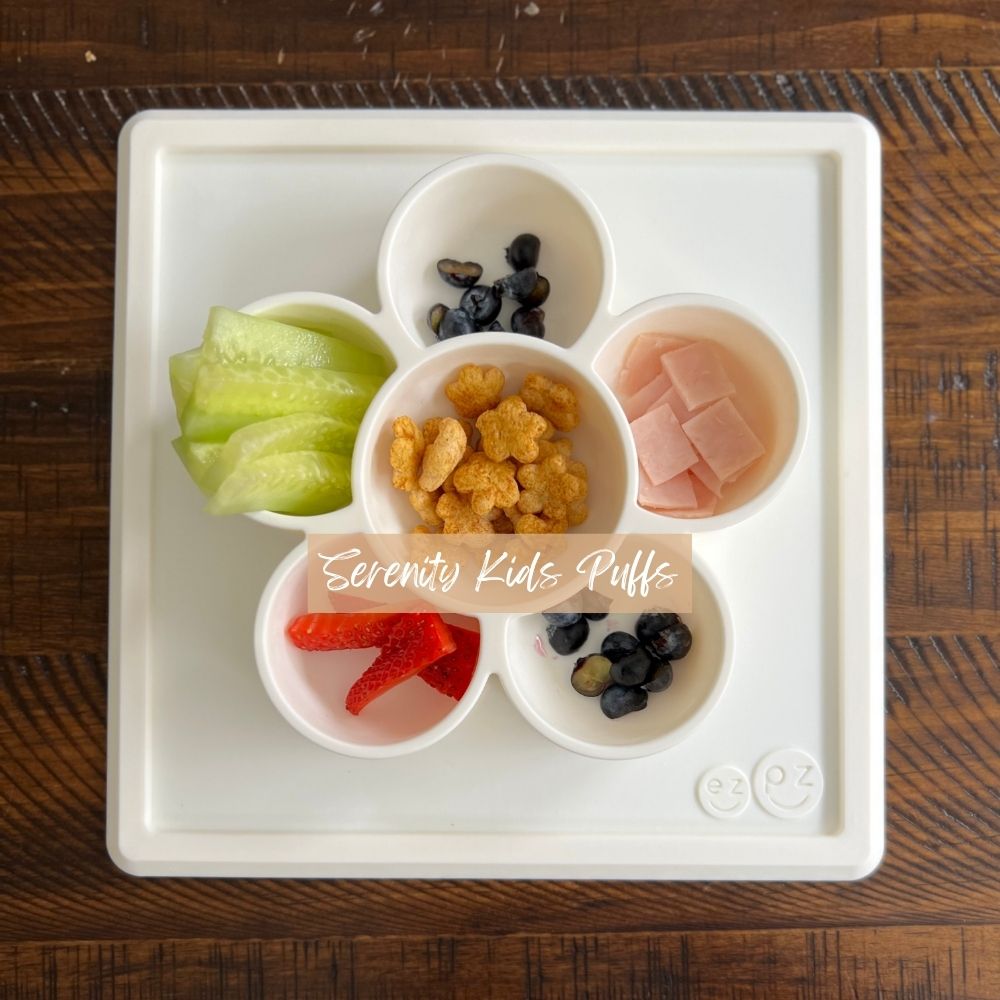 Where Can You Buy Serenity Kids?
My favorite place to buy is directly from the Serenity Kids website! You can get all of their products shipped to you without leaving the house. Plus, you can use JESSICA15 to save 15% off first time orders.
Serenity Kids baby food products are also available at most major retailers including Walmart, Target, Amazon, and Kroger stores. They are also available at Whole Foods, Thrive Market, and more smaller specialty stores.
Does Serenity Kids have Heavy Metals?
No, Serenity Kids tests all of their individual ingredients for heavy metals and report that all test fall well below the proposed limits set by the FDA. You can read more about Serenity Kids' statement on Heavy Metals here.
Our Favorite Serenity Kids Products
We have tried all of the products that Serenity Kids currently sells (we are obsessed and have literally tried everything!) for this Serenity Kids review and can report back that all of their products are great and worth the hype. However we do have a few favorites that we routinely stock our shelves with!
Use JESSICA15 to save 15% on first time orders at Serenity Kids
Here are some of our favorites from Serenity Kids:
Wild Caught Salmon Baby Food Pouch
Organic Roots Baby Food Pouch
Pumpkin & Cinnamon Grain Free Puffs
Free Range Chicken & Thyme Baby Food Pouch
Organic Squashes Baby Food Pouch
You might also like these recent related posts:
Pin now to save for later!