24 baby self feeding food ideas for your 8 month old. Great first food ideas for older babies or young toddlers who are starting to self feed.
My baby has been self-feeding since he was about 6 months old. We started with baby-led weaning (BLW) when he was 6 months and he hasn't looked back––he LOVES food! (You can read more about BLW here: Baby-Led Weaning Food Ideas)
Even if you followed traditional weaning, you don't know what type of weaning you are doing, or if you baby is older and doesn't really like food yet, these baby self-feeding food ideas could be great for you too. If your baby isn't into food yet, keep these ideas in your back pocket and just keep offering.
Follow along on Instagram @pineconesandpacifiers
You might also like these related posts:
Self Feeding Supplies
Having the right feeding supplies can make the world of difference in helping your baby feel comfortable to self-feed. Here are some of our favorites: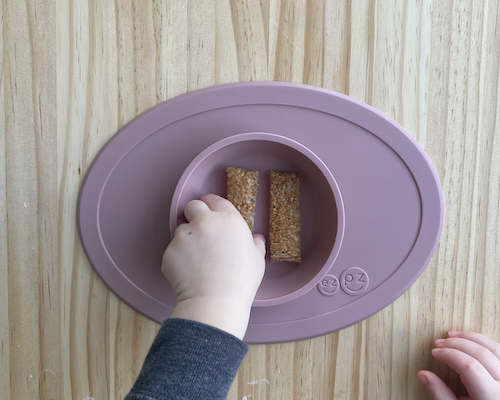 EZPZ Tiny Suction Bowl (Use EZPZ25LOVE for 25% off $75+) – a great first bowl that suctions to the high chair or table! The tiny bowl is great for 4+ months and is made of non-toxic silicone and are dishwasher safe.
Ingenuity Baby Seat: Favorite 2-in-1 highchair, great from babyhood to toddlerhood!
Bibado Long-Sleeve Coverall Bib: (Use code PINECONES20 for 20% off) Favorite full-coverage bib, great for messy eaters!
Visit our Amazon Shop to see all of our favorite baby feeding products!
Liquid vs Solid Nutrition
Have you ever heard the saying 'food before one is just for fun'?
This is partially true, but I do think it give some parents the wrong impression on starting solids.
Milk (breastmilk or formula) should be the main source of your baby's nutrition until about one year old. But, this isn't to say that solid food isn't important too.
After about one year old you child will be able to wean from breastmilk or formula. Some parents choose not to wean their babies until later and that's okay (its a personal decision that you should make with your pediatrician). However, food becomes much more important after one.
If you start offering solids between 4–8 months old and teach your baby how to eat food, they can have a much easier time when they do wean from liquid feedings! We've always started with purees around 4 months old and solid food around 6 months old for this reason and both of my kiddos are great eaters.
8 Month Old Feeding Schedule
We have been following a schedule since our kids were about 2 months old; keep in mind it was a very rough schedule at this age, but it has gotten more concrete over time.
At 8 months old, my kiddos have dropped to 3-4 bottles a day, 3 solid meals, and 1-2 snacks.
A schedule has been especially helpful after having two kids! It helps keep everyone on track and from getting hungry (really, 'hangry'), and makes it easier to schedule appointments or outings. Around 8-10 months most babies drop to 3-4 bottles so I will share both of those schedules:
3 Bottle Schedule
7:30 am Wake, Bottle #1
8:30 am Breakfast
10:15-11 am Nap #1
11:30 am Lunch
1:30 pm Bottle #2
2-4 pm Nap #2
4:00 pm Snack
5:30 pm Dinner
7:30 pm Bottle #3
8:00 pm Bed
4 Bottle Schedule
7:30 am Wake, Bottle #1
8:30 am Breakfast
10:15-11 am Nap #1
11:30 am Bottle #2
12:30 pm Lunch
2-4 pm Nap #2
4:00 pm Bottle #3
5:30 pm Dinner
7:30 pm Bottle #4
8:00 pm Bed
If you'd like to check out some of our other schedules, take a look a these posts:
How to Choose the Right Foods for Your Baby
Before we jump into food ideas, its important to note that for babies and young toddlers food should be cut appropriately to avoid choking.
Food Shape. For babies 6-10 months or so, or until you feel comfortable with your baby's ability to chew or gum their food, larger foods are actually safer.
Cut food into "fry" shape or the shape and size of your pinky finger. This allows your baby to hold onto the food and gnaw, which teaches them how to chew. It is also good for babies who don't yet have their pincer grasp.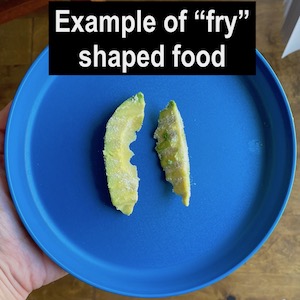 Once your baby is able to chew or gum their food, you can introduce smaller pieces.
Food Choice. Another consideration when choosing food for your baby is to choose foods that are soft enough for them to gum. Even if they have teeth, they likely don't have their molars needed to actually chew their food.
Choose foods that are soft enough to squish between your fingers. Choose ripe fruit, tender meat, and cook veggies until tender.
In general, it is okay for your baby to eat most of the food you do! We serve both of our kids what we eat for dinner, but sometimes have to modify it slightly so its safe for them to eat.
Foods to Avoid. There are also certain foods to avoid or in some cases definitely stay away from. Honey can cause botulism in babies under one year old so you will want to make sure not to serve any to your infant. Hard foods like raw veggies and apples are also a choking hazard.
Additionally, added sugar and salt can be harmful to your baby's kidneys and there really isn't any need to serve them to your baby, so its a good idea to stay away from too much processed food. But, of course, almost everything is okay in moderation!
Baby Self Feeding Food Ideas
Baby food/Pouches
Even if you start off with baby-led weaning, baby food pouches can be a great convenient way to feed your baby healthy foods on-the-go (or a great supplement to real food). Here are some of our favorite organic baby foods:
Serenity Kids (Use JESSICA15 for 15% off)- unique combinations of organic meat and veggie ingredients for a farm-to-table experience for your baby. See my full review on Serenity Kids.
Amara Organic Foods (Use PANDP15 for 15% off) – organic, clean, superfood ingredient baby food that comes dry (shelf-stable!). See my full review on Amara baby food!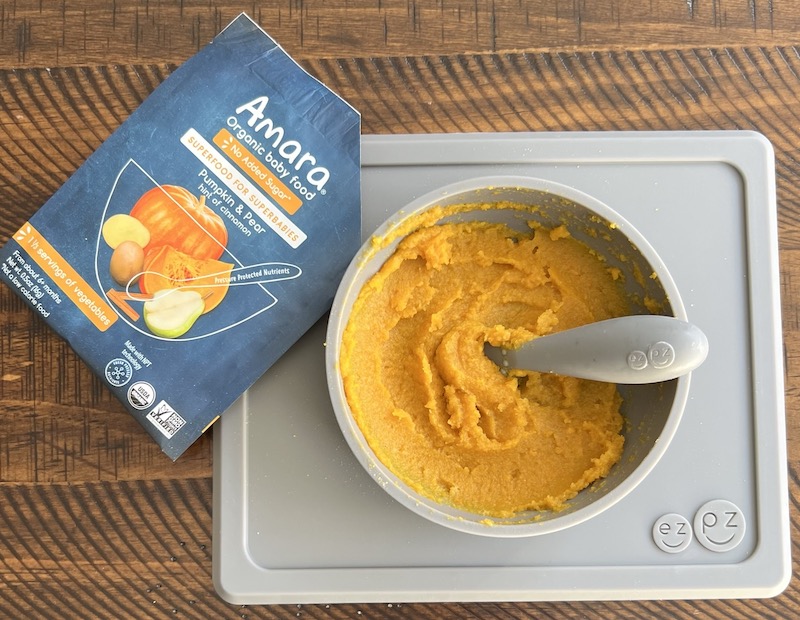 Breakfast Ideas
Breakfast at our house is normally quick, but it can still be healthy and nutritious. I often like to meal prep on the weekend and pre-make batches of food like homemade french toast or waffles. In a real pinch, our go-to's are Cheerios and fruit.
Here are some more ideas for your self-feeding 8 month old:
French toast: bread dipped in egg, or try my recipe for Banana French Toast
Toast: lightly toast bread and top with peanut butter, almond butter, baby food puree, avocado, or grass-fed butter and then cut into strips
Eggs: scrambled, hard boiled, or fried eggs cooked in grass-fed butter or coconut oil
Waffle: if you can't make your own choose a frozen waffle with whole grains and top with peanut butter, cream cheese, or smushed fruit
Hashbrowns: limit the salt and leave a little tender to make it easier for your baby to eat
Yogurt: we like to choose whole milk yogurt and try to find brands without a ton of sugar
Cheerios: dried cereal or cereal soaked in milk can be a great easy breakfast option
Sides: avocado, soft sliced or diced fruit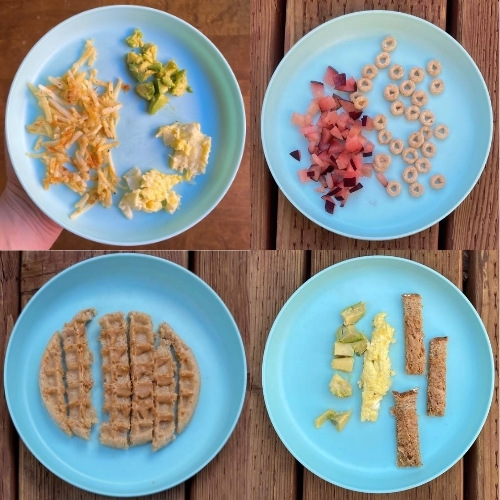 Eggs & Hashbrowns: scrambled eggs with a side of hashbrowns and avocado. I like to cook hashbrowns in avocado oil and don't add any extra salt when serving to babies or toddlers.
Cheerios: dried cereal with a side of diced ripe plum. We like to choose plain Cheerios or other cereal that doesn't have a ton of extra added sugar.
Whole Wheat Waffle: frozen waffle lightly toasted, topped with peanut butter, and then cut into strips. We really like the whole wheat Nutri Grain waffles or Vans brand waffles.
Scrambled Eggs & Toast: peanut butter toast cut into strips, scrambled eggs, and diced avocado. We really like Dave's Killer Bread.
Affordable toddler plates we use: Pillowfort Divided Plates
Related recipe: Easy Banana French Toast for Babies & Toddlers
Lunch Ideas
My 8 month old eats lunch at home, but my older son did go to daycare at this age (check out our Daycare Lunch Ideas if you need inspiration). Because I have two kiddos two and under, I normally don't have too much time to make lunch. Having healthy freezer food and a meal rotation has really helped make lunch a little easier.
Here are some of our lunch ideas for your self-feeding baby:
Freezer favorites: Dr. Praeger's spinach littles, Dr. Praeger's broccoli littles, Dr. Praeger's super greens veggie nuggets, MorningStar Farms veggie corn dogs, KidFresh chicken and veggie meatballs
Sandwich: grilled cheese, grilled avocado and cheese, pb&j, or avocado toast
Mac 'N Cheese: any kid's favorite! I always like to add veggies to make it a little more nutritious meal
Snack Tray: these have become favorites in our house. Fruits, veggies, cheeses, left overs, and whatever is left in the fridge
Left overs: a meal that doesn't involve cooking (at least at the time its served) is a meal for me!
Sides: string cheese, shredded cheese, grapes (quartered), blueberries (halved), cooked carrots, steamed pears or apples, watermelon, avocado, squash, peas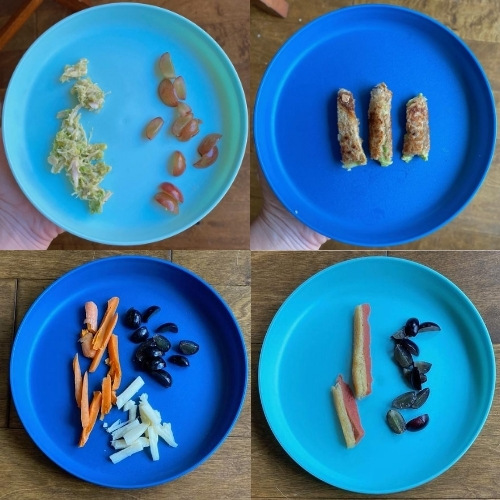 Avocado Chicken Salad: canned chicken breast mixed with avocado and peas. Side of quartered grapes. This is also a great as a sandwich for older toddlers or for yourself!
Avocado Grilled Cheese: a grilled cheese sandwich made with avocado inside. Cut into strips so its easy for your baby to hold and gnaw.
Carrots, cheese & fruit: cooked carrots (I normally like to steam or roast them) cut into strips, halved blueberries, and whole milk string cheese.
Veggie Corn Dog: frozen veggie corn dog from MorningStar Farms cut into strips, side of quartered grapes.
Related post: 9 Month Old Self Feeding Ideas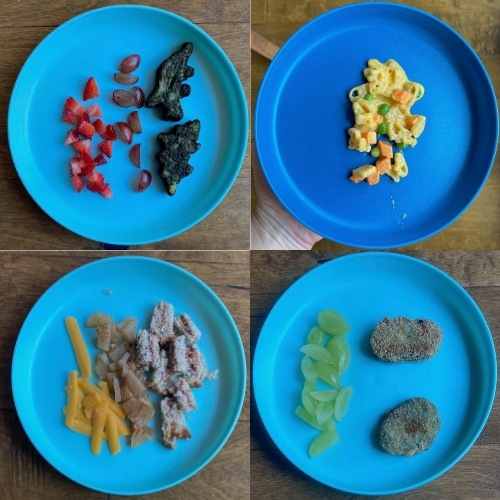 Spinach Littles: Dr. Praeger's spinach littles in the freezer section with sides of diced strawberries and quartered grapes. These are one of my baby's favorite foods these days!
Mac 'N Cheese: macaroni and cheese with peas and carrots stirred in. Sometimes I like to make our mac 'n cheese homemade, but if not our go-go is Annie's Homegrown brand of mac 'n cheese.
PB&J: peanut butter & jelly sandwich cut into bite-sized pieces. Side of steamed pears with cinnamon and shredded cheddar cheese.
Veggie Nuggets: Dr. Praeger's super greens veggie nuggets in the freezer section with quartered grapes.
Affordable toddler plates we use: Pillowfort Divided Plates
Mini Snack Tray: Cooked carrots, pineapple, whole milk string cheese, avocado
Spinach Little Snack Tray: Dr. Praeger's spinach little, grapes, gold fish crackers, steamed apples, butternut squash, whole milk string cheese
Chicken Sausage Snack Tray: left over chicken sausage, watermelon, whole milk string cheese, avocado, cheddar cheese, grapes quartered
Lunch Meat Snack Tray: turkey lunch meal, grapes quartered, avocado, cheddar cheese
Related post: 8-12 Month Old Self-Feeding Ideas
Dinner Ideas
For dinner my kids normally eat what we do, and that includes my 8 month old. We do often have to modify the meal for baby self-feeding, but we very rarely cook a separate meal. I normally try to prepare sides that I know my 8 month old can eat if he isn't able to eat the main course.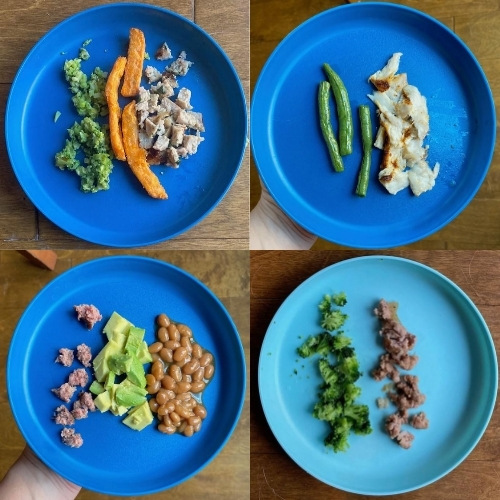 Chicken Sausage: grilled chicken sausage diced up small with sides of riced broccoli and sweet potato fries in the air fryer.
Fish: flaky white fish cooked on the stove with a side of green beans. Fish is so easy for your baby to eat and is a great idea for one of their first foods!
Hamburger: grilled hamburger diced up small with sides of avocado and baked beans (make sure no honey under 1 year old).
Korean Ground Pork: ground pork with sweet Korean bulgogi sauce with a side of diced broccoli.
Our favorite silicone toddler plates & bowls: EZPZ Fun (Use code EZPZ25LOVE for 25% off $75+)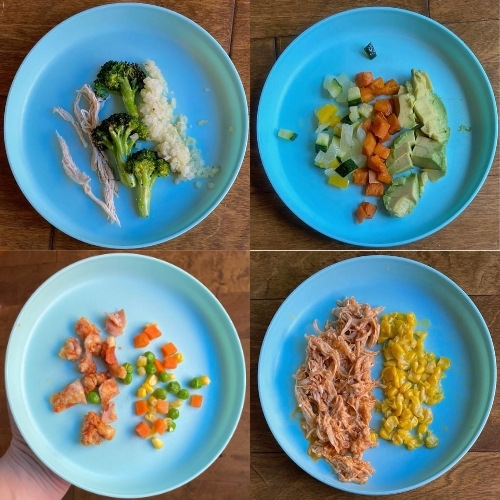 Pulled Chicken: pulled chicken made in the instant pot with sides of broccoli and riced cauliflower.
Sweet Potato & Veggies: diced sweet potato cooked in coconut oil with sides of zucchini, onion, pepper and diced avocado.
Pizza: life is all about balance! Pizza with a side of mixed veggies.
Pulled Salsa Chicken: pulled chicken made in the instant pot with salsa and cream cheese, side of diced up corn.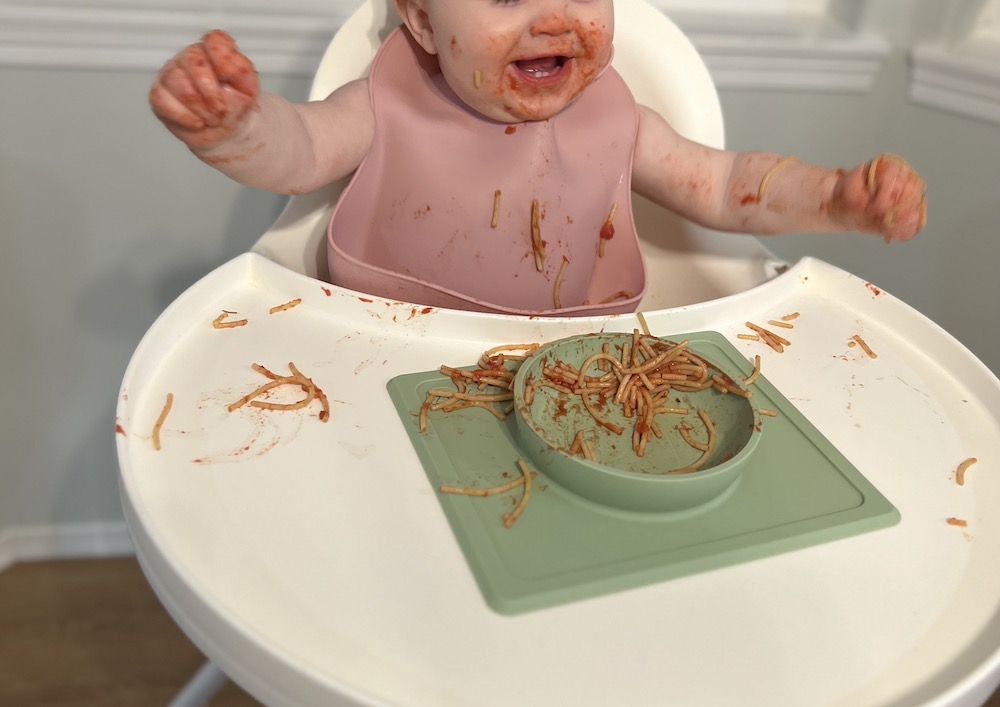 Spaghetti – this age is also a great time to introduce cut up spaghetti if you haven't already!
Read more of our toddler meal ideas >>> toddlermealideas.com
>> Shop EZPZ Feeding Supplies <<
Use code EZPZ25LOVE for 25% off $75+ at EZPZ
Thanks for stopping by! You might also like these related posts: