Creating memorable Christmas traditions with toddlers can be a magical and heartwarming experience!
The holiday season takes on a whole new enchantment when celebrated with toddlers in the family.
I'm a mom of three and we started some of our most favorite and memorable Christmas traditions with my kids when they were just toddlers.
Making Christmas memories with toddlers doesn't have to be hard, simplest of traditions into cherished memories that will last a lifetime.
Whether it's their first or fifth Christmas, these traditions are sure to bring warmth, laughter, and the spirit of togetherness into your home, creating memories that will be treasured for years to come.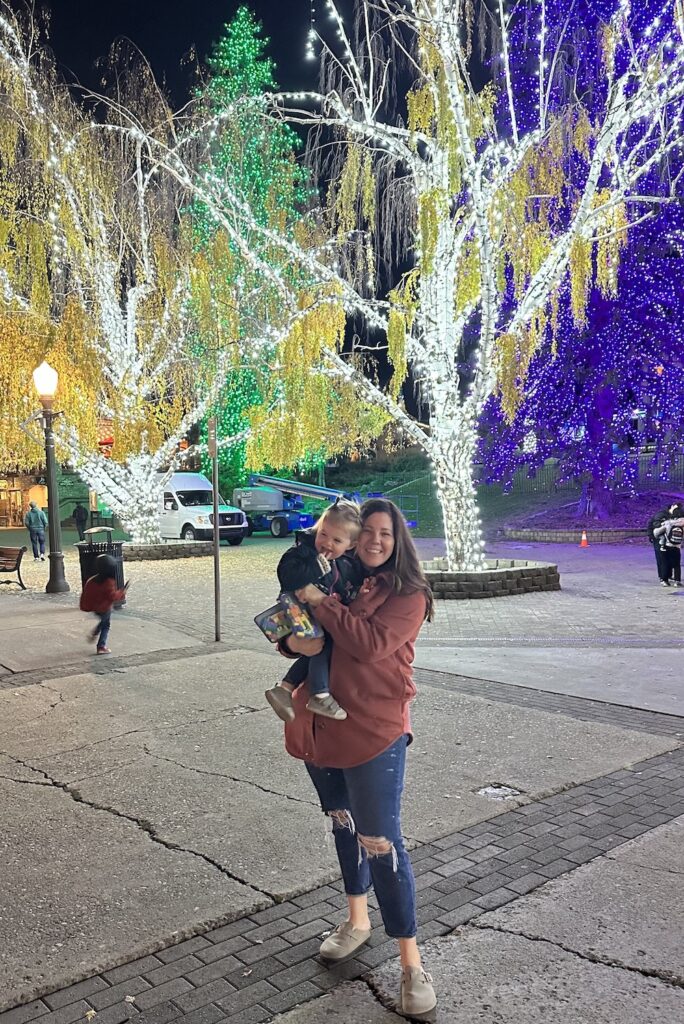 How to Celebrate Christmas with Toddlers
Here are some delightful (and easy) ideas to make the holiday season special for your little ones:
Decorate the Christmas Tree Together: Involve your toddlers in decorating the Christmas tree. Let them hang their own ornaments (with the help of ornament anchors), even if it means some creative placement. The joy on their faces as they participate is precious.
Holiday Baking: Bake Christmas cookies or a Christmas themed dessert with your little helpers. Allow them to use cookie cutters or decorate with icing and candies. The mess is part of the fun!
Advent Calendar: Create or purchase an advent calendar that offers daily surprises or activities leading up to Christmas. It can be as simple as opening a door to reveal a chocolate treat or a small gift, or you can incorporate fun activities like reading a Christmas story, crafting, or going on a holiday-themed scavenger hunt.
Visit Santa Claus: Take your toddlers to meet Santa Claus and have their pictures taken with him. Even if they're too young to fully understand, it's a tradition you can continue as they grow, and the photos will be treasured memories.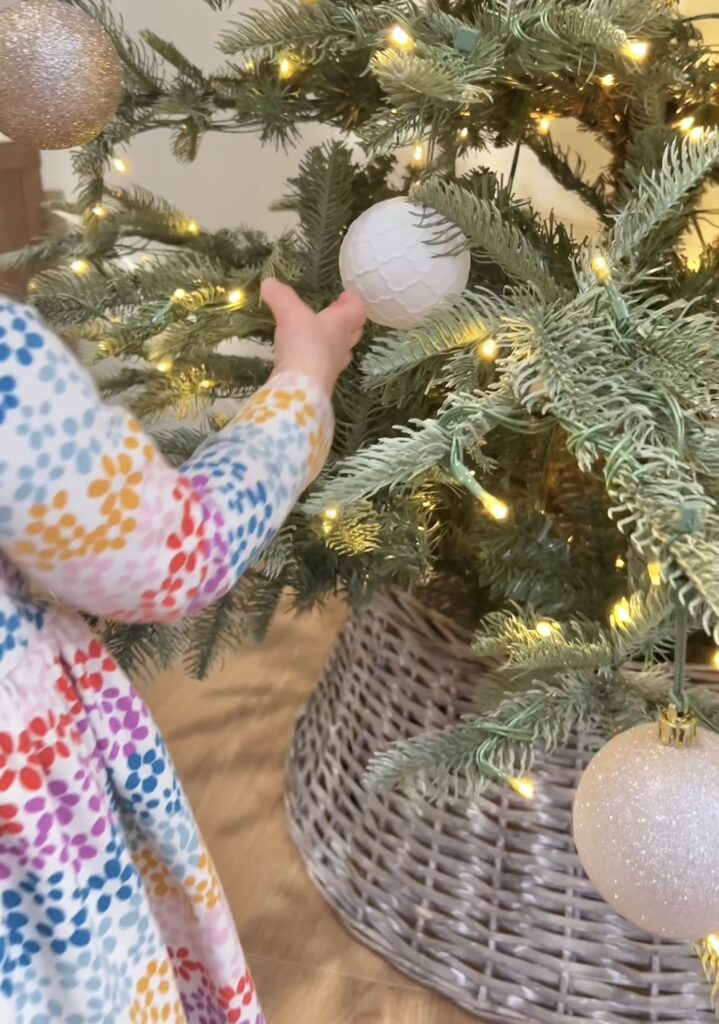 Christmas Lights Tour: Drive around your neighborhood or visit nearby areas with festive holiday light displays. Toddlers are often mesmerized by the colorful lights, and it's a fun, low-cost outing.
Go to Zoo Lights: Many zoos put up Christmas lights during the holiday months! Head there at night time to experience all of the magic of the zoo lit up for Christmas.
Letter to Santa: Help your little ones write letters to Santa Claus, and then "mail" them together. You can even receive a reply from Santa if you send the letters to a service that offers personalized responses.
Holiday Movie Night: Choose a family-friendly Christmas movie and make it a tradition to watch it together each year. Pop some popcorn, snuggle up, and enjoy a cozy movie night.
Make Gingerbread Houses: buy a kit or make your own with gingerbread or simple graham crackers. Let your toddler use icing or candies to decorate and have fun.
Outdoor Fun: If you have access to snow, embrace winter activities like building a snowman, going sledding, or having a snowball fight. Even if you don't have snow, a nature walk or a trip to a local park can be a wonderful way to enjoy the season.
Giving Back: Teach your toddlers the spirit of giving by involving them in a charitable activity, such as donating toys or clothes to those in need. You can also participate in local charity events together.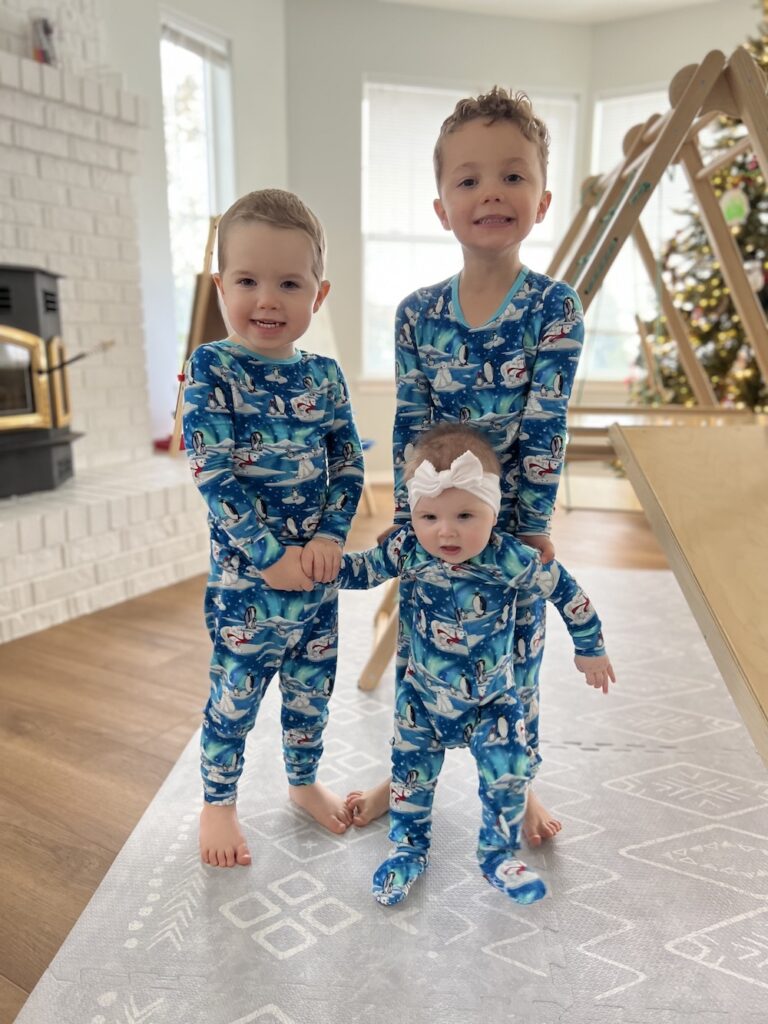 Special Christmas Pajamas: Invest in matching Christmas pajamas for the whole family. Wearing them on Christmas Eve or Christmas morning adds an extra touch of togetherness and excitement.
Christmas Eve Traditions: Establish special Christmas Eve rituals, such as reading "The Night Before Christmas" or allowing your little ones to open one small gift before bedtime.
Christmas Storytime: Read classic Christmas stories or books with holiday themes to your toddlers before bedtime.
Christmas Music and Dance: Have a dance party to your favorite Christmas songs. Let your little ones move and groove to the festive tunes.
Christmas Lights Scavenger Hunt: Create a list of items to find during your holiday lights tour, like a house with reindeer decorations or a giant inflatable snowman.
Create a Christmas Keepsake: Make handprint or footprint ornaments, or capture your toddler's growth with a special yearly ornament.
Attend a Local Christmas Parade: If available in your area, attending a local Christmas parade can be a thrilling tradition for toddlers.
Remember that the key to creating memorable traditions with toddlers is to keep things simple, flexible, and age-appropriate. The most important aspect is spending quality time together, making lasting memories, and fostering a sense of wonder and joy during the holiday season.