A curated list of the best Montessori toys for toddlers that inspire curiosity, promote independence, and encourage early learning.
Hi there, I'm Jessica, a homeschooling mom of three and sharer of all things motherhood, kids, family, and meal ideas! I'm a big fan of Montessori toys and the Montessori philosophy and wanted to share our favorite toys with you today!
Most of these toys are tried and true favorites tested by my kids or are highly recommended by other friends who practice Montessori.
In this comprehensive guide, we'll explore the world of Montessori toys for toddlers.
These thoughtfully designed toys are not only enjoyable but also play a crucial role in supporting a child's cognitive, emotional, and physical development. From practical life materials to sensory play, we'll delve into a wide range of toys that will inspire curiosity, promote independence, and encourage early learning.
You might also like these related posts:
Remember to follow along with us on Instagram for more baby & toddler product finds!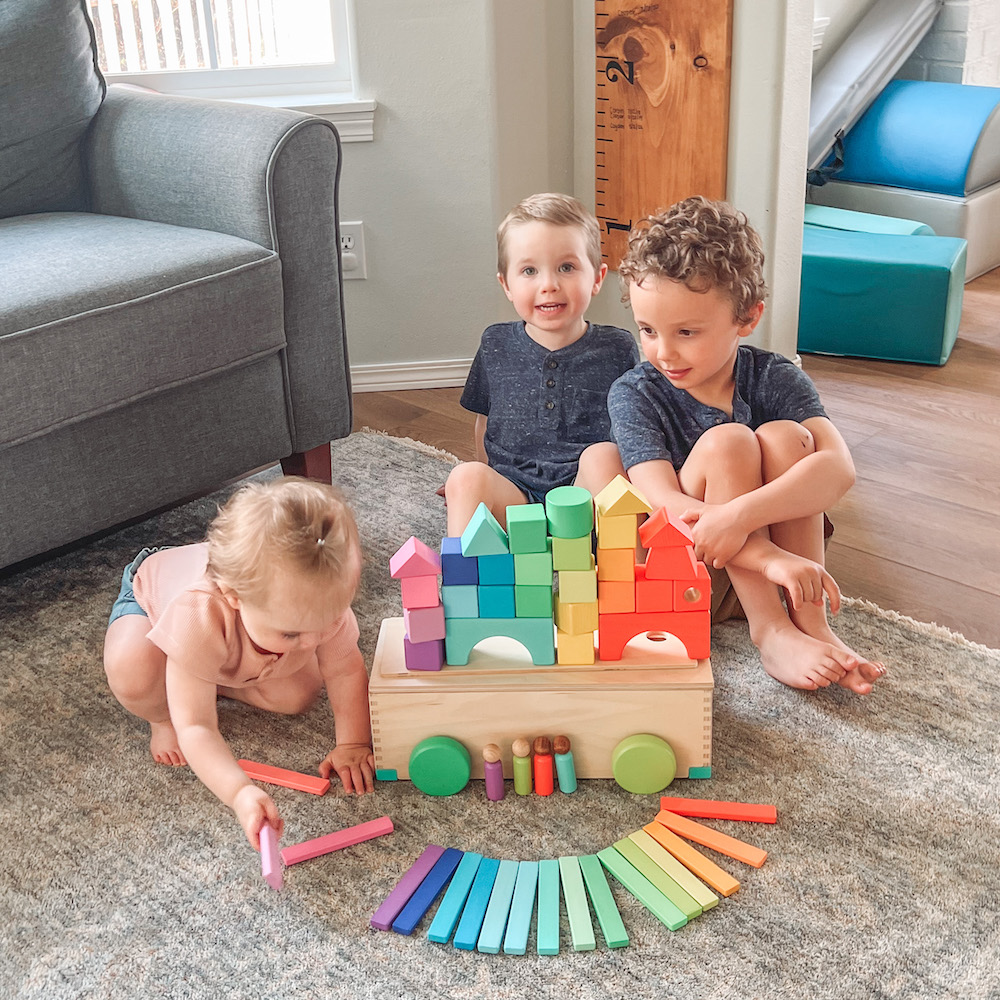 What are Montessori Toys
Simply put, Montessori toys are educational materials and playthings that align with the Montessori philosophy of education!
These toys are designed to support a child's natural development and promote independence, self-discovery, and hands-on learning.
Montessori toys are typically characterized by certain principles and characteristics:
Simplicity: simple in design, avoiding unnecessary embellishments or distractions.
Natural Materials: use natural materials like wood, metal, and fabric for simplicity and durability.
Purposeful: has a specific purpose that aligns with a developmental milestone or educational goal.
Hands-On: encourage active engagement rather than passive play.
Purposeful Play: intended to support various aspects of a child's development, including fine motor skills, sensory exploration, language development, and more.
Read more: Helpful Benefits of Montessori Toys for Toddlers
Best Montessori Toys for Toddlers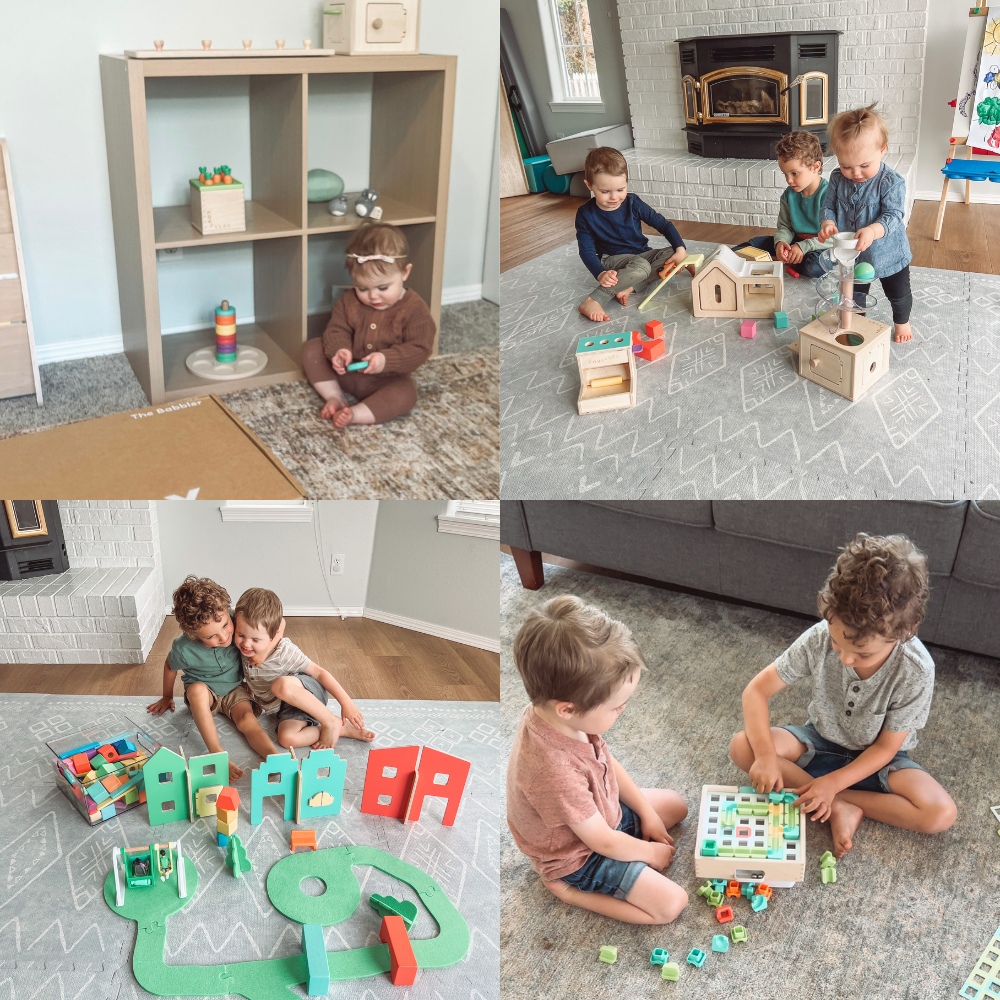 Lovevery Montessori Play Kits – As a homeschooling stay-at-home-mom of three I can honestly say these are some of our most played with toys! The play kits are thoughtfully designed to meet the developmental needs of your child at each stage and include nearly all of the different Montessori toy categories below!
The best thing about the Lovevery Play Kits are that they are made to meet your child where they are developmentally. This means that you simply input your child's birthday and they will send you a kit with the best toys for your child at their age and stage.
Some of our favorites that you can expect with the Lovevery Kits are: stacking toys and puzzles for hand eye coordination and fine motor skills, sustainably built cars, vehicles, playhouses and more for hours of pretend play, the perfectly curated sensory experiences for each stage, and more!
Save 10% when you preorder multiple Lovevery Play Kits!
Montessori Toy Gift Guide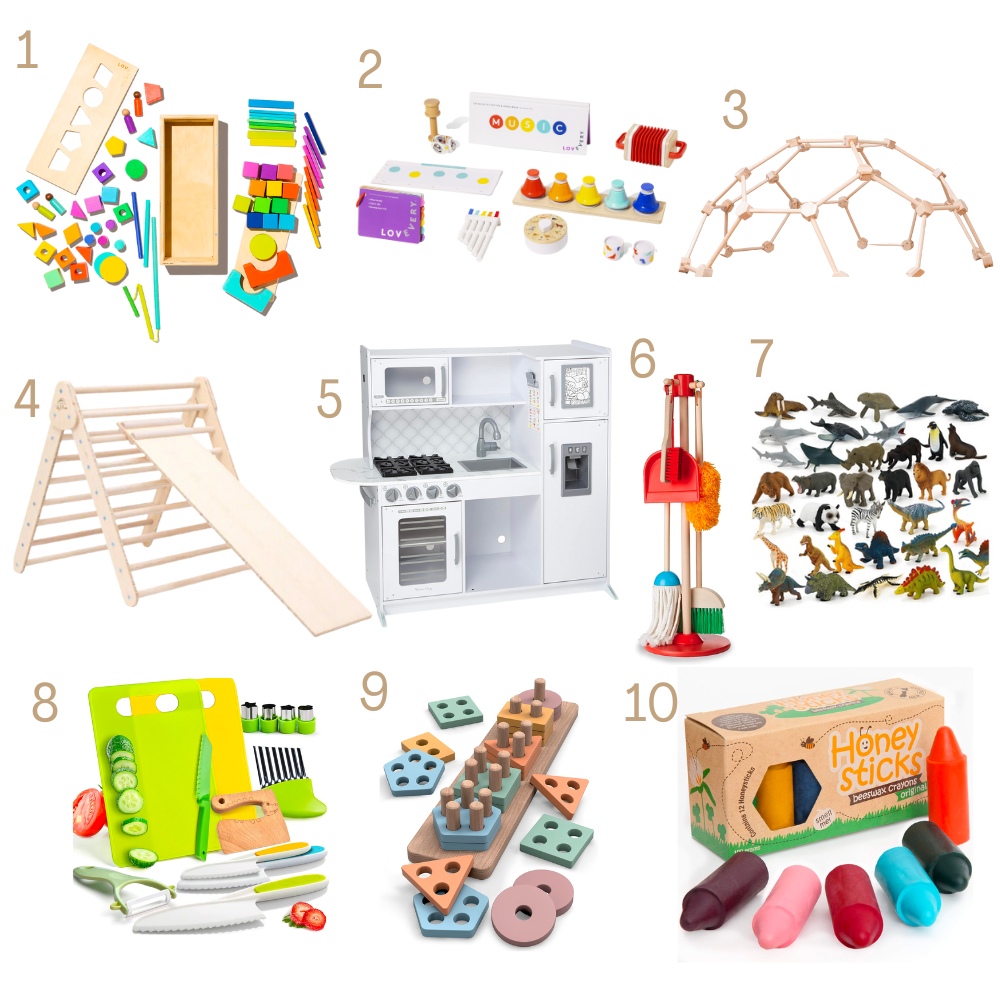 Lovevery Montessori Block Set – a wonderful wooden block set for building spatial, language, and problem-solving skill. This isn't your standard set of blocks! Lovevery also includes a wooden storage box that also serves as a pull car, sorting tool, building base, ramp, and so much more! This is something that will grow with your toddler and they will play with it every single day (speaking from experience!).
Lovevery Montessori Music Set – a great set to help introduce the foundations of music! From identifying patterns through color and sound, to decoding sounds that help process words, this awesome Montessori music set also has academic benefits while curating a love of music.
Montessori Climbing Dome (Use code JESSICA for a discount) – the perfect way for your toddler to practice gross motor skills, balance, and coordination. We love this dome for our kids to get out some of their energy, work on strengthening their muscles, and hours of pretend play!
Lily & River Montessori Climbing Set – a climbing set is a great way for your toddler's motor skill development, balance control, creativity! We have the XL set and it's a great way for my kids to play and exercise.
Toddler Play Kitchen – this is one of our most played with play things and is also a great Montessori activity! Choose wooden play food that looks realistic, or fill the mini fridge with real food so your toddler can help prep their own meals or snacks.
Montessori Broom Set – what is better than teaching real world skills, like cleaning, with toddler sized tools! We love this set because it looks like the real thing and actually allows your toddler to clean up their own mess or clean up alongside you.
Montessori Figurine Matching – this set allows for both open ended play and for your toddler to practice matching skills and hand-eye coordination.
Montessori Kitchen Tools – a wonderful set to let your toddler help you with food prep in the kitchen or let them practice on their own. This set also works well with our favorite play kitchen.
Montessori Storing & Stacking Puzzle – a multi-purpose wooden puzzle that lets your toddler practice sorting by shape and color, and also stacking the shapes on top of each other on a peg. Another great toy that will teach concentration and hand eye coordination!
Montessori Art Supplies – art supplies are a simple and educational Motessori tool that can help your toddler learn creativity, fine motor skills and much more! Here are some of our favorite art supplies:

Natural materials like leaves, fabric scraps, and yarn
Choosing the best Montessori toddler toys for your child is an investment in their development, sparking curiosity, nurturing independence, and fostering a lifelong love of learning!
By embracing open-ended play, simplicity in design, and natural materials, you empower your little one to explore the world at their own pace and in their unique way.
You might also like these related posts: