Tips and tricks for getting your toddler outside in cold/winter weather. With the right mindset, you and your toddler can enjoy the benefits of getting outside even in cold weather.
Have you ever heard the saying "there's no such thing as bad weather"?
There's actually an entire book written on it: There's No Such Thing as Bad Weather: A Scandinavian Mom's Secrets for Raising Healthy, Resilient, and Confident Kids (Find it on Amazon; P.S. i've read it and it's awesomely inspiring!)
Basically, the idea is that we should all take a little tip from Scandinavian culture and normalize spending more time outdoors, even when it's cold. Being outside in nature has many benefits, and we shouldn't skip out on them just because of the chilly wether.
What are the Benefits of Outdoor Play?
Here are just a few benefits of outdoor play and why we should push ourselves to get outside with our toddlers even in the winter:
sparks imaginative play
promotes physical health
fosters love of nature and sustainability
promotes better sleep
develops motor skills
Tips for Getting Your Toddler Outside in Cold/Winter Weather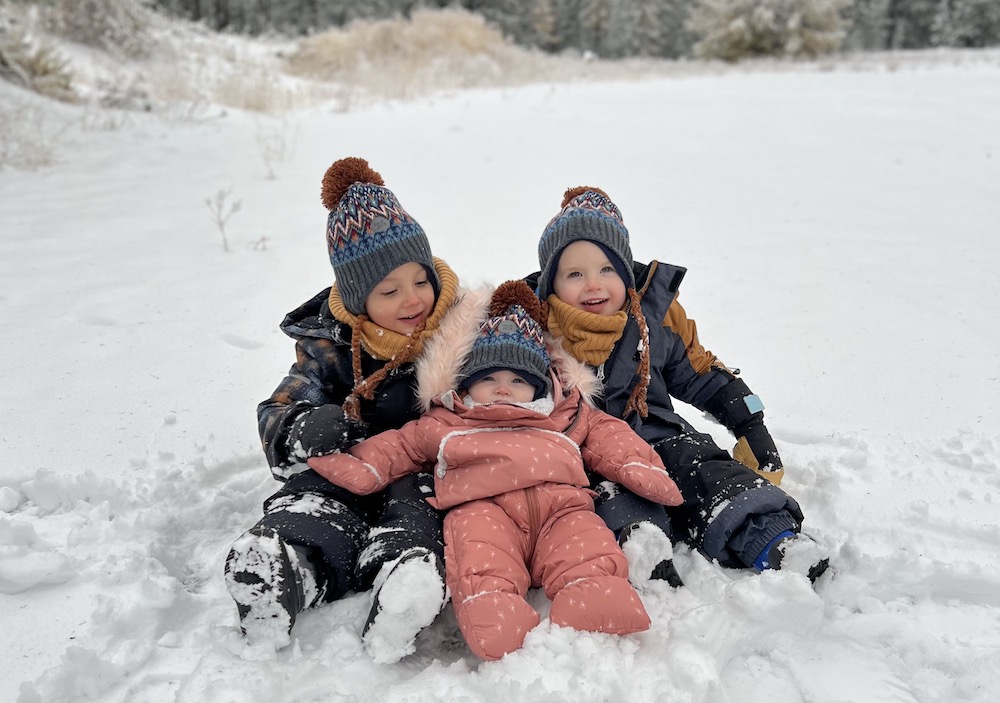 1. Dress for the Weather
It's generally safe to take your toddler outdoors in chilly weather as long as they are dressed appropriately. A jacket might do in some climates, but for very cold weather or snow consider dressing your toddler in waterproof snow pants or a one-piece snow suit, like these ones from Deux Par Deux.
We love Deux Par Duex because they are great quality, have adorable prints, and keep my kids warm and dry even for snow-play. We choose one piece snowsuits so that the kids can get in and out of them easily and it keeps their mid-section warm and dry (no gaps or riding up!). The reinforced knees are a must for active kids, and the adjustable waist and pant hem mean they are made to fit well, while also having room to grow.
Don't forget cold weather accessories like mittens, hats, and neck warmers!
2. Make Getting Outside Fun
Toddler are much more likely to do things (anything) if you make it fun! Depending on your child this could be a mellow nature walk or a full on game of tag or snowball fight. Here are some ideas of things to do with your toddlers outside in the winter time:
Take a nature walk.
Push them in the stroller or wagon and talk about the things you see (you could also bring along their favorite toy or snack).
Go to the park or playground.
Get moving and play tag.
Collect leaves, rocks, or pinecones.
If there is snow: make snow angels, build a snow man, teach them how to make snow balls, make a snow castle (like a sand castle), go sledding, or have a mini snow ball fight.
Strap on the skis (its totally possible; my kids learned to ski at 2 and 3)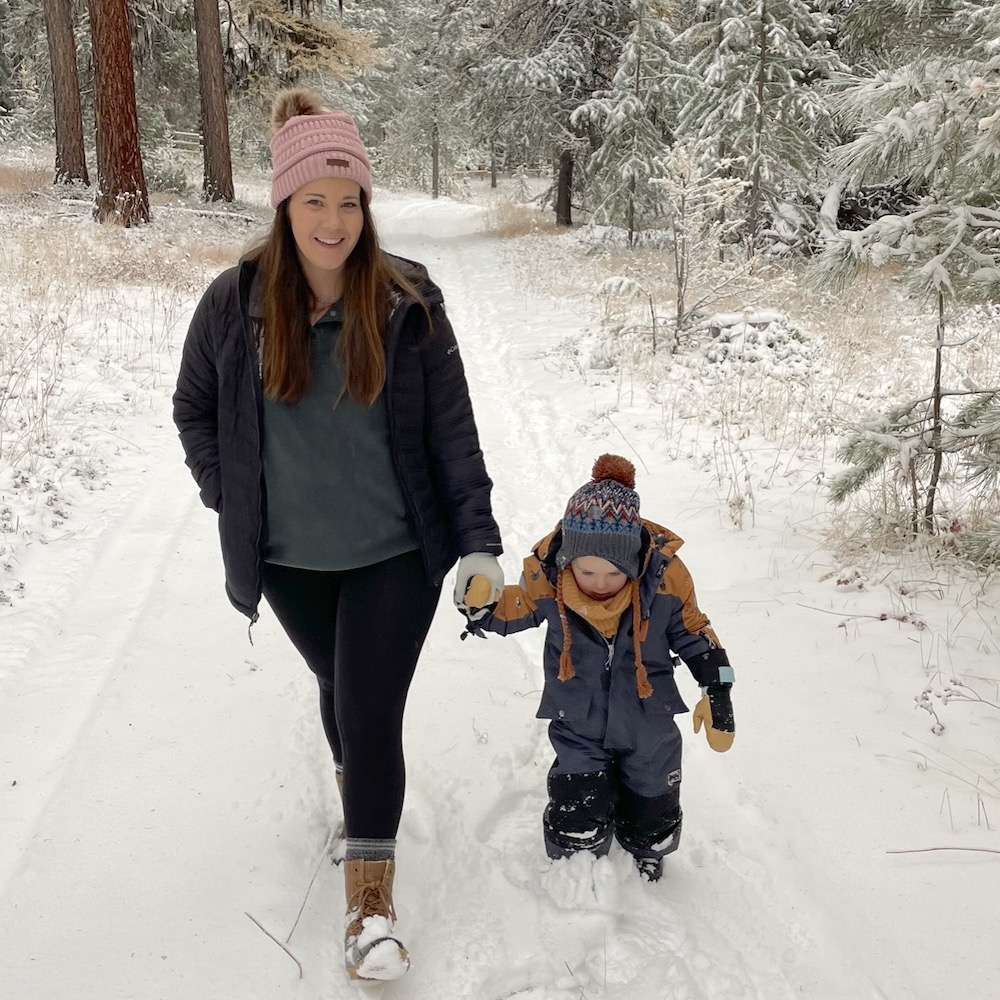 3. Let Them Explore
Toddlers love independence and to do things on their own. Let them have a little freedom to explore the world around them outside this winter while you stand back and observe.
The changing seasons bring changes to their environment and they can learn a lot and stay better occupied with a little exploration! Give them the task of gathering leaves or pinecones if there are any still on the ground. If the weather permits let them touch the frost, dew, or ice or maybe even take a mouth-full of snow.
4. Make it a Routine
Another thing that most toddlers thrive on is routine! Make it a daily habit (or at least a regular every-few-day habit) to get outside and enjoy the fresh air.
Write it in your schedule or to-do list if you need to. If you toddler learns to expect it each day they may be more willing to go outside even if it is slightly uncomfortable.
Read More about our schedule: Ultimate 1 Nap Toddler Schedule
5. Warm up Afterwards
When the weather is really cold, I always like to offer my toddlers warm drinks to help warm up after outside play. If it helps motivate you or your child, you can also think of it as a little reward for going outside and getting fresh air. This can be as simple as warm water with lemon or honey, or something more fun like hot chocolate or coffee for the adults.
6. Challenge Yourself
Set goals for getting outside! This could be a certain amount of time per day or a certain number of days per week.
One fun goal that we have each year is to complete the 1000 hours outside challenge.
The average child spends about 3 hours per day (or 1000 hours per year) in front of a screen so to try and combat this alarming statistic, those who partake in the challenge try and spend 1000 hours outside each year. Having this goal pushes me to get my toddlers outside even when I don't want to or think the weather is too uncomfortable – most of the time once we actually get out there it resets everyone's mood and actually isn't too bad!
7. Know their Limits
On the contrary, although it can be helpful to push yourself and your toddler to go outside regularly even when its cold, also know their limits and don't push to the point of physical injury or meltdown.
Children are more sensitive to the cold, and even if they are bundled up they still might not be able to handle certain frigid temperatures. It might be trial and error, but know the limit of what temperature and time limit your toddler can handle.
You want your toddler to have a positive association with gong outdoors in the winter. Avoid it all together if it's simply too cold and watch your toddler for signs that they are not comfortable or are getting tired and cranky from being out in elements too long.
Summary of Tips for Getting Your Toddler Outside this Winter
Here is a quick breakdown of my best tips for getting your toddler outside even in cold weather:
Dress for the weather
Make getting outside fun
Let them explore
Make it a routine
Warm up afterwards
Challenge yourself
Know their limits
Thanks for stopping by! You might also like these recent related posts: