A round-up of affordable, comfy, and cute summer pjs for babies and toddlers from a mom of three! Check out these cute gender neutral, boy, and girl pajamas for warmer weather.
I think I might have a problem! I am pretty good about limiting the number of clothes I buy for myself and my kids, but for whatever reason pajamas are my weakness. Maybe its because I know they will get worn or because there are so many cute and affordable options.
Here are some of my top finds this year for cute summer pjs for babies and toddlers.
Follow along with me on LTK and shop all these finds on my LTK shop.
You might also like these related posts:
What Pajamas Should Your Baby Wear in the Summer?
Dressing your baby for sleep is mainly dependent on how warm or cool you keep your home during the summer (or any given time of year).
Never put your baby or young toddler down to sleep with blankets as they can pose a suffocation risk. Instead, you may want to use a sleep sack (wearable blanket) to keep your baby warm if your home is chilly. Read more about safe-sleep here: How to Keep Your Sleeping Baby Safe
During warm nights, dress your baby in breathable cotton, bamboo, or muslin fabric. If you are using a light sleep sack, you may want to choose a short-sleeve onesie or short-sleeve pajama set to wear under it. If you are laying your baby down without a sleep sack, a long-sleeve pajama sleeper may be appropriate.
We normally keep our air conditioning set around 69-70 degrees F and I like to dress my babies in long-sleeve pajama sleepers and a thin cotton sleep sack. If it gets any warmer I opt for a lighter layer underneath. Once my toddlers have moved to a bed, I dress them in a short sleeve pajama set since they are able to get under the blanket if they get chilly.
Here are some of our favorite light-weight sleep sacks for the summer time:
Baby & Toddler Summer Pajamas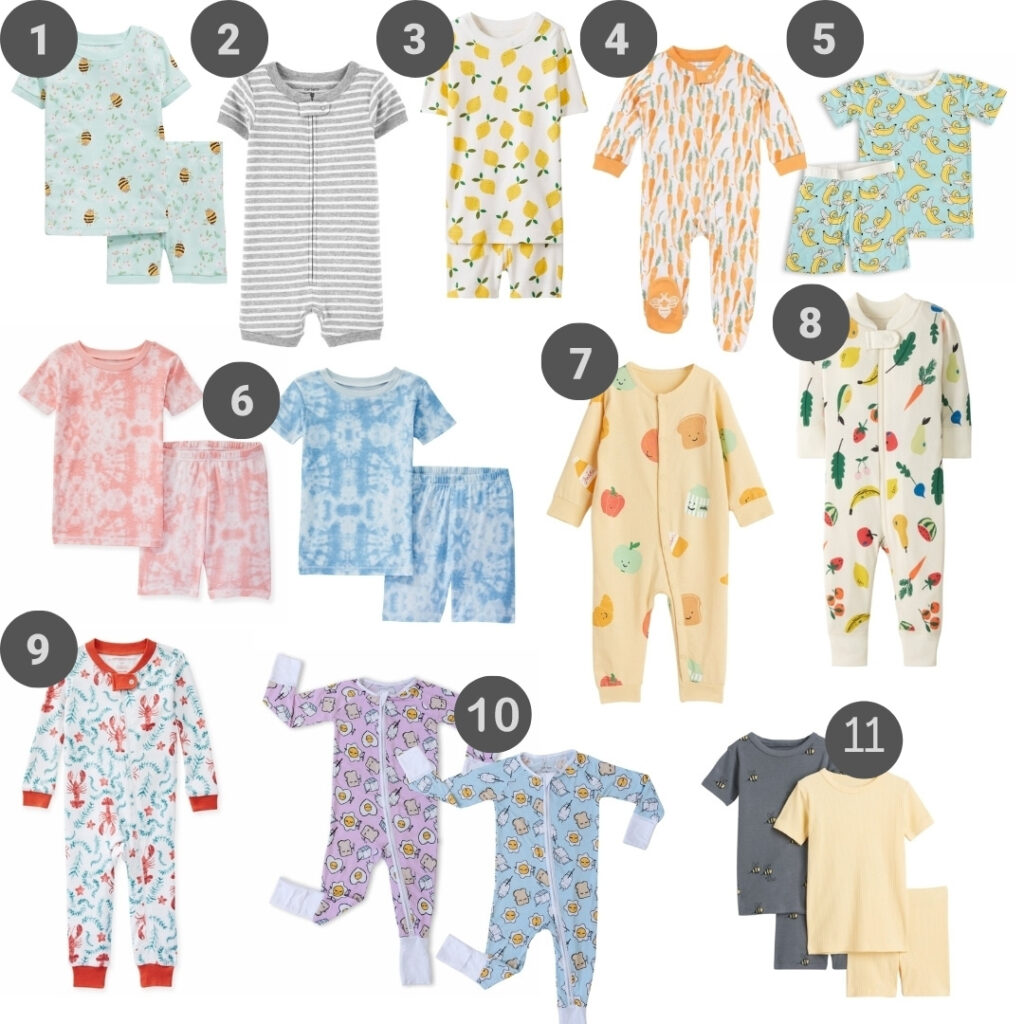 Old Navy Bumble Bee Pajama Short Set – we love Old Navy for cute and affordable pajamas! My toddlers get multiple pairs per year and they have lasted as hand-me-downs for years.
Carters 1-piece Snug Fit Romper – if your summers are especially warm, this cute 1-piece pj romper is the perfect answer! Available in grey and pink and your baby can also match the family!
Hanna Andersson Short John Lemon PJs – this unisex pj set is absolutely adorable and made with organic cotton for added comfort. This brand often has awesome sales so snag them while you can!
Burt's Bees Organic Cotton Sleeper – Burt's Bees are another one of our go-to pj brands that are extra soft and great quality! I am in love with this carrot set and think it would be perfect all spring and summer long.
Little Sleepies Bananas Bamboo Viscose Pajama Set – a cute and playful unisex pajama set made with custom-milled bamboo to help keep your little one cool even on those humid summer nights.
Burt's Bees Organic Tye Tie Pajama Set – made with organic cotton and it comes in both blue and pink. I also love that Burt's Bees pjs come in extended sizes and this set comes in size 12 month – 14 year old.
H&M Printed Pajama Jumpsuit – a fun, food print that's perfect for baby boys and girls and made of soft cotton jersey fabric. H&M pjs are super affordable and run slightly large.
Hanna Andersson Organic Cotton Baby Sleeper – a cute print made of organic cotton and features a zipper for easily changing your baby or toddler.
Burt's Bees Organic Footless Sleeper – I am in love with this print and love that it comes in a footless sleeper so you can add or remove socks as the weather changes from spring to summer to fall. An adorable gender neutral print and super soft organic cotton.
Little Sleepies Breakfast Buddies Bamboo Viscose Zippy – a popular print that comes in both blue and pink. Little sleepies pjs are made with bamboo so they are perfect for warmer summer nights.
H&M 2 Pack Printed Short PJs – a perfect simple gender neutral set made of soft jersey material.
Follow along with me on LTK and shop all these finds on my LTK shop.
Thanks for stopping by! You might also like these recent related posts:
Pin now to save for later!