A list of 27 quick and simple lunch ideas based on what my one-year-old toddler has been eating for lunch. Easy toddler lunch ideas you can make in a few minutes.
---
This post was recently updated from 15 toddler lunches to 27 (since my second reached the toddler stage and I had more ideas to share)!
Lunch time can be extremely hectic with a toddler. They can go from happy to hangry in a matter of seconds. Therefore, lunch has to be quick and easy!
I'm a mom of two toddler boys (16 months apart). In my house lunch has to be fairly quick and easy to make to avoid these toddler tantrum meltdowns.
Even if lunch prep is quick, it doesn't mean lunch has to be boring or unhealthy. I try to serve a veggie for lunch if I can and try to find easy and simple ways to make their lunches more fun (more on that here: 4 Ways to Make Toddler Meals Fun)
I also try to serve my toddler something different at least 5 days out of the week to make sure he is constantly being exposed to different foods. Exposure to different foods is one way to combat picky eating.
We also love to use left overs from dinner when we can because its quick and easy to heat up. It also means less thinking and planning for lunch time since its a meal that has already been cooked and put together.
Below I'm sharing 27 easy toddler lunch ideas based on what my toddlers actually eats for lunch! If you are looking for more meal ideas for babies or toddlers, check out more posts from my feeding series:
Follow along on Instagram @pineconesandpacifiers
Toddler Feeding Essentials
As shown in some of my photos I wanted to share my favorite toddler eating tools with you all! Here are some of my favorites that my toddlers use almost every day.
EZPZ Mini Mat (Use PINECONES10 to save 10% sitewide) – Silicone suction plates are so helpful for young eaters! The EZPZ mini mat stays in place which makes it easier for them to grab food and also keeps plates from getting thrown on the floor.
Munchkin Silverware Set – these have been a great go-to silverware set since my toddlers were both about 12 months old. They are so affordable and durable, we love them!
Pillowfort Plates – we love these plates and they are a go-to. They are so durable and have held up great in the dishwasher for more than a year of use. Highly recommend them!
Munchkin 360 Cup – these are the best open trainer cups. Sippy cups can cause issues with oral development, but these cups are spoutless. My toddler loves them and they don't spill or leak.
Visit our Amazon Shop to see all of our favorite baby feeding products!
Toddler Lunch Schedule
If your toddler is struggling with getting hangry (hungry + angry) before lunch or if your toddler is snacking all day and isn't well at meal time, I highly recommend starting a daily meal-time schedule.
I am a somewhat "type a" person and have realized that our family thrives on routine and predictability. My toddler have been on schedules since they were very little and it has worked great for our family. We followed the Babywise Method and both are extremely happy and thriving boys.
Even if you didn't follow a feeding schedule when your toddler where babies, you can easily start one once they reach toddlerhood! It can help prevent meltdowns before meal time and can help your toddler regulate their metabolism by eating at regularly spaced and predicable intervals.
Depending on if your toddler is one or two naps, here are the one-year-old meal schedules we have used:
2 Nap Meal Schedule
7:30 am – Breakfast
9:30 am – Snack
10:00 am – Nap 1
12:00 pm – Lunch
2:00 pm – Nap 2
3:30 pm – Snack
5:30 pm – Dinner
7:30 pm – Optional snack
8:00 pm – Bed
1 Nap Meal Schedule
7:30 am – Breakfast
9:30 am – Snack
12:00 pm – Lunch
12:30 pm – Nap
3:30 pm – Snack
5:30 pm – Dinner
7:30 pm – Optional snack
8:00 pm – Bed
It's best to schedule meal and snack times about 2-3 hours apart. This helps your toddler build up some hunger pressure so that they eat well, but also prevents snacking all day and not eating at meal time. Of course, this is just our loose schedule and if my toddlers are actually super hungry and cranky or if we are out and about we will deviate from this schedule.
Bedtime Snack. Our bedtime snack is optional and changes daily, although recently we have been doing a bedtime snack most days. My older toddler never needed a bedtime snack and would sleep through the night just fine without one. Some sleep consultants recommend avoiding a bedtime snack since it can interfere with your toddler's sleep if its too close to bedtime.
My second son, however, does do much better with a bedtime snack. For a bedtime snack be sure to keep it boring, low in sugar, and high in protein.
Easy Pre-Made Toddler Food
If you are looking for some pre-made or easy grab and go options for your toddlers, here are some of our favorites: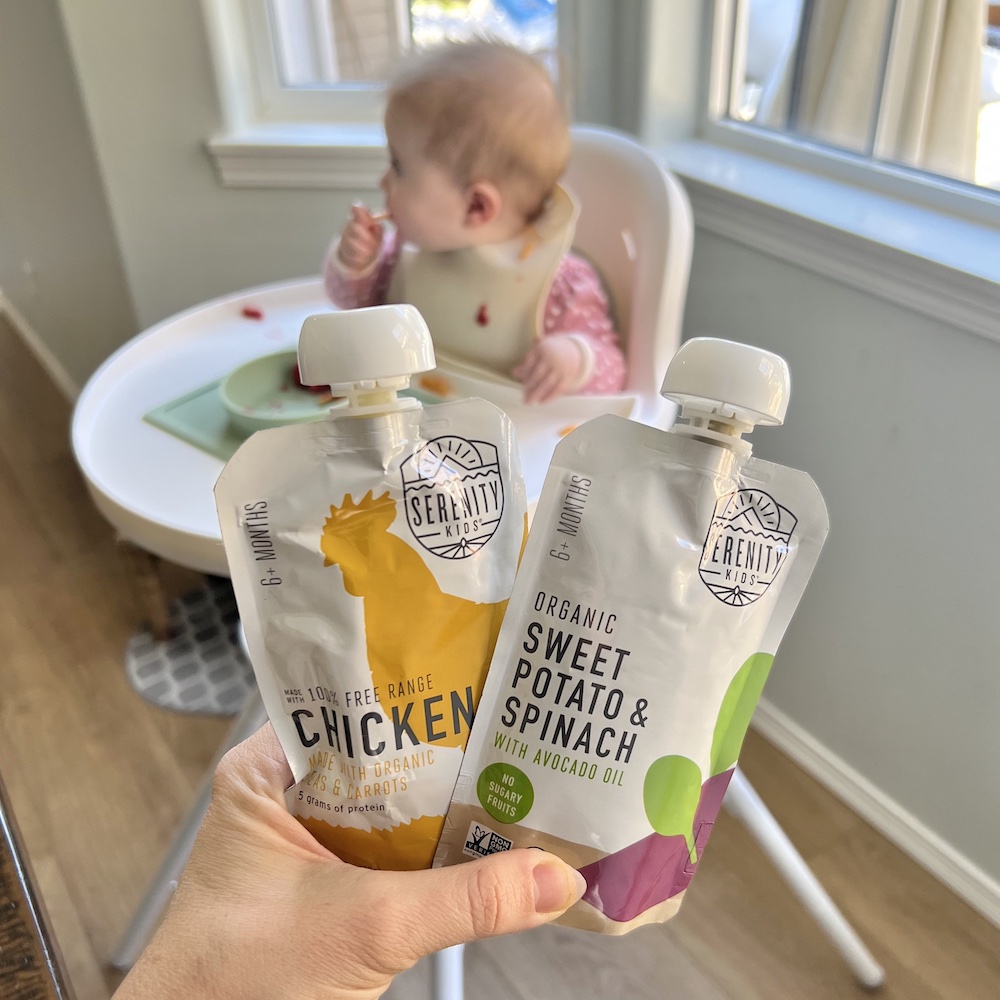 Serenity Kids (Use JESSICA15 for 15% off) – organic, clean meat and veggie ingredients from small family farms. See my full review on Serenity Kids.
Daily Harvest (Use this link for up to $40 off!)- smoothies, oat bowls, flatbreads, and more. We love that they use clean ingredients and are dairy free!
Amara Baby Food – no-sugar-added smoothie melts and baby food
Toddler Lunch Meal Ideas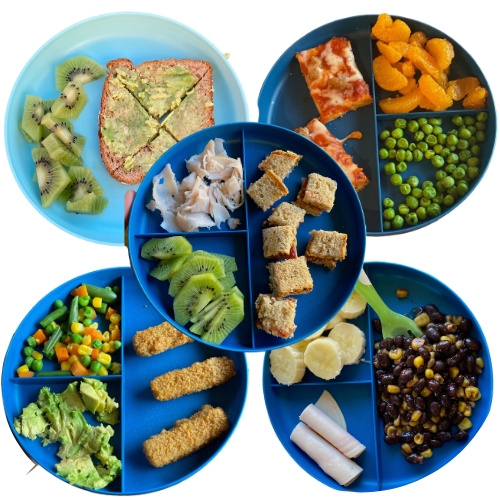 Avocado toast w/ Fruit. Side of kiwi. Avocado is such an awesome healthy fat for babies and toddlers and my toddler loves it! We do avocado by itself, avocado sandwiches, avocado on toast, or even as a dip sometimes. For young toddlers try very lightly toasting the bread and don't put on too much avocado or it will be a mess.
Pizza w/ healthy sides. Side of peas and mandarin oranges. Who doesn't love pizza once in a while!? I try to make this meal a little healthier by serving it with a side of fruit and veggie. My toddler actually didn't really like pizza for a while so it took quite a few exposures. This meal was leftover pizza from the night before!
PB & J w/ turkey on the side. Side of turkey and kiwi. Another meal that sometimes gets a bad wrap, but its quick, easy, and can offer a serving of protein and whole grain. We also like to choose natural, organic Jelly with no sugar added when we can.
Fish Sticks w/ veggies (from KidFresh brand). Side of avocado and mixed veggies. We don't eat much fish, so fish sticks can be a great way to expose your toddler to fish if needed. The KidFresh brand also has chickpeas in the breading so I feel great serving him these! These fish sticks from frozen and heat up quickly in the microwave.
Black Beans & Corn w/ Turkey Lunch meat. Side of turkey and bananas. This is another meal brought to you by dinner leftovers. Even if you wanted to make this from scratch for lunch these staple foods can be heated up in just a few minutes. This is actually one of my toddler's favorite meals!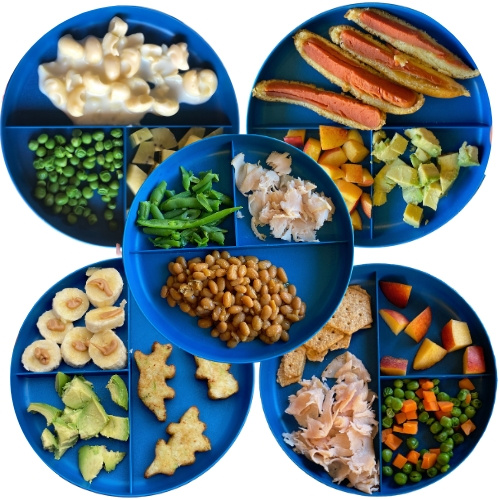 Macaroni & Cheese w/ Sides. Side of kiwi and peas. We often like to stir in veggies to our mac n' cheese (normally peas), but it can also be served on the side to make it a more well-rounded meal.
Veggie Corn Dog w/ avocado (from MorningStar Farm brand). Side of avocado and nectarine. This is another great frozen food item that heats up very quickly for lunch! If you toddler is a little younger you can cut up into bite size pieces or if they are older leave the corn dog whole on the stick. These are always a hit in our house!
Baked Beans w/ Turkey & veggies. Side of turkey and green beans. My husband LOVES baked beans so we decided to give our toddler a taste and he was a fan too. Beans are a great source of protein! We try to choose ones with as little sugar as possible and also pair it with a veggie and meat to make the meal a little more rounded.
Broccoli "Littles" w/ banana & pb (Dr. Praeger's brand). Sides of bananas with peanut butter and avocado. These are one of our most favorite frozen foods! My toddler loves them and I feel great feeding them to him. The ingredients are super clean and they heat up quickly in the microwave. He eats these for breakfast, lunch, and dinner!
Turkey & Crackers w/ fruit & veggies. Side of veggies and nectarine. This is a very low maintenance meal and can also be served as a snack! If you toddler is a little more advanced try stacking the turkey (& maybe cheese) on top of the crackers for a fun lunch ideas.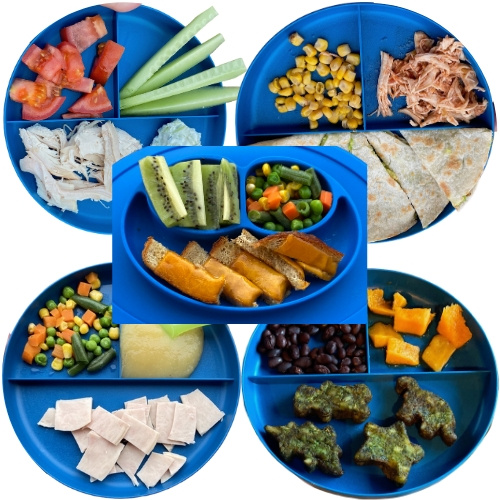 Pulled Chicken w/ veggies. Side of cucumbers, tomato, and homemade tzatziki for dipping. This greek style lunch really mixed things up and was left over from dinner. This was my toddler's first exposure to cucumber and tomatoes are always a hit with him. I always try to have a "safe food" when serving new foods or things he might not like.
Quesadilla w/ chicken on the side. Side of pulled chicken and corn. This was an avocado "quesadilla" since we have been trying to limit dairy recently. He loved it! Quesadillas are fairly quick to heat up on the stove. The chicken was instantpot chicken left over from dinner and is another one of his favorites.
Grilled Cheese w/ Fruit & Veggies. Side of kiwi and mixed veggies. I served this grilled cheese "open faced" because my toddler is not a huge fan of sandwiches. Regular grilled cheese can also be a great option and both offer a good serving of dairy and whole grains. Like normal, I served with a side of fruit and veggies to make the meal a little more nutritions.
Turkey w/ Applesauce. Side of applesauce and mixed veggies. Sliced turkey is one of our go-to's for an easy lunch or snack. I squeezed out an unsweetened applesauce pouch so he could practice spoon feeding and also added some microwaved frozen veggies.
Spinach "Littles" w/ Black beans (from Dr. Praeger's brand). Side of butternut squash and black beans. This is a great example of serving your children things you don't necessarily like in order for them to get exposure. I'm not a huge fan of squash, but my toddler is! This is frozen squash microwaved and the Spinach Littles also heat up quickly in the microwave.
Bonus Lunch Ideas
Since my second-born is now 1 years old, I decided to update this post to share some additional bonus lunch ideas based on what my younger son is now eating for lunch. Here are 12 more easy toddler lunch ideas for one year olds!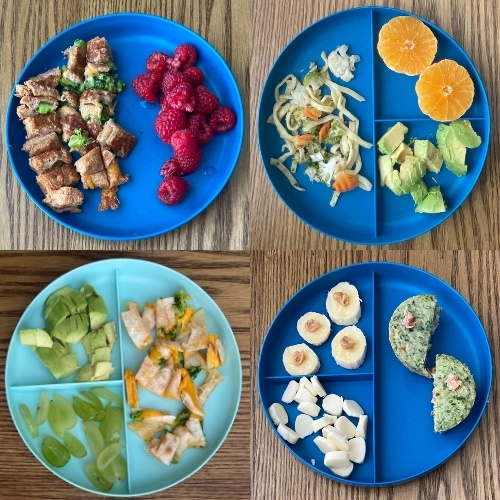 Grilled Broccoli & Cheese w/ Raspberries. A twist on broccoli and cheese, I like to make regular grilled cheese, but with broccoli inside! Both of my boys love this and don't mind the broccoli at all. Its a great way to serve veggies for lunch. Side of raspberries.
Pesto Pasta with Veggies. Pasta is pretty quick and easy to make for lunch. If you are feeling really inspired, try making some veggie noodles out of zucchini or squash! Here we had normal linguine noodles with pesto, carrots, broccoli, and cauliflower. Side of mandarin oranges and avocado.
Broccoli & Cheese Quesadilla w/ Avocado and fruit. A cheese quesadilla with broccoli cooked inside. Like with broccoli grilled cheese, my boys don't mind the added veggies at all (they might even prefer it to regular quesadillas). Side of avocado and grapes.
Veggie Egg Frittatas w/ Bananas & pb (From Veggies Made Great). A quick and easy way to serve veggies at lunch! These heat up in the microwave in less than a minute and are perfect for breakfast, lunch, or snack. Side of banana with peanut butter and whole milk string cheese.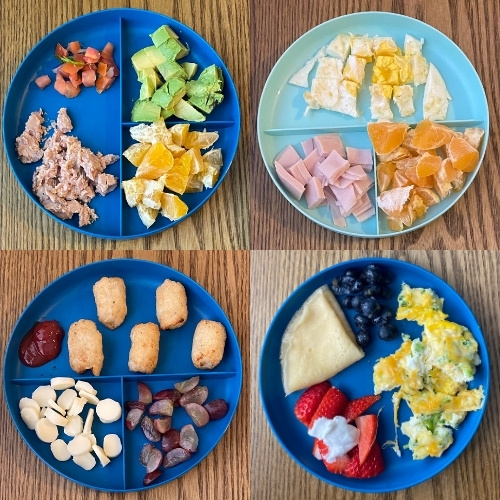 Tuna w/ Pico & Avocado. Canned tuna or salmon can be a great way to introduce fish to your toddler or have an easy serving of fish for lunch. Side of pico, mandarin oranges, and avocado.
Fried egg w/ Meat & Fruit . Eggs don't just have to be for breakfast! They are packed with protein and healthy fats. I don't always have time to cook eggs for breakfast, but they are a fan favorite with boy my boys. Here we had a fried egg, turkey lunch meat, and mandarin oranges.
Cauliflower Tots w/ Fruit & Cheese (From Green Giant Brand). We have been loving this alternate to potato tots. I cook them in the air fryer for just a few minutes and they come out perfectly crisp on the outside and soft on the inside. Side of whole milk string cheese and grapes.
Crepes w/ Broccoli & Cheese eggs . If you haven't made crepes, I highly recommend giving it a try! I was very surprised how easy it was and how much my boys loved them. My 2 year old at the crepe rolled up like a burrito and my 1 year old at them deconstructed. Here we had crepes with strawberries and whipped cream, blueberries, and eggs with broccoli and cheese.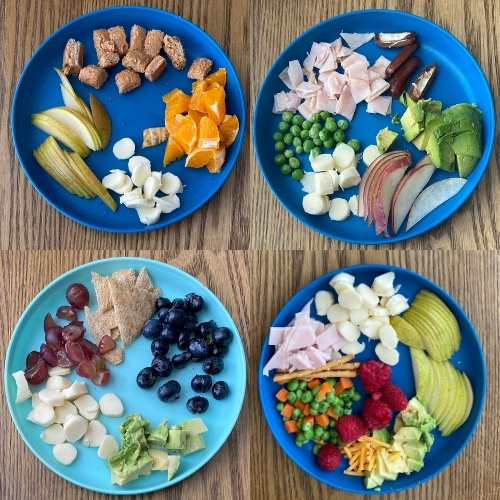 Peanut Butter Toast w/ Fruit & Cheese. Toast with peanut butter (or other nut butter) cut into bites or strips, finely sliced pear, whole milk string cheese, and mandarin oranges.
Turkey Snack Tray. Snack trays are always a hit at our house! Basically, its just a bunch of lunch sides served in smaller portions so they get a wider variety of things to chose from. Turkey, peas, whole milk string cheese, thinly sliced red pear, avocado and dates.
Cheese & Cracker Snack Tray. Snack tray with crackers, grapes, whole milk string cheese, avocado, and blueberries. You could also make this a little more fun by adding more varieties of cheese and crackers.
Fruit & Veggie Snack Tray. Snack tray with raspberries, cheddar cheese, avocado, thinly sliced pear, whole milk string cheese, turkey, cauliflower pretzel sticks, peas and carrots.
Follow along on Instagram @pineconesandpacifiers
Thanks for stopping by! Want to see more toddler meal ideas? Check out toddlermealideas.com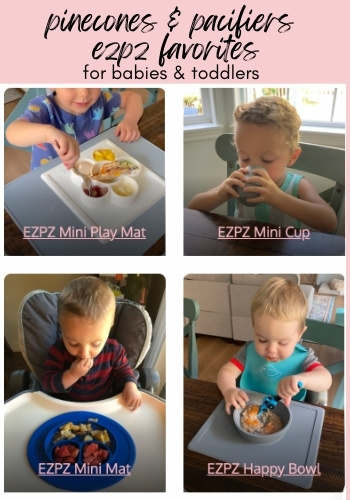 >> Shop our favorite feeding supplies from EZPZ <<
Use code EZPZ25LOVE for 25% off $75+
You might also like these recent related posts: