Here you will find 20 lunch ideas for 10 month olds like avocado toast, pasta, deconstructed sandwich and more!
I'm a mom of three and sharing lunch ideas for 10 month olds based on what my babies have actually been eating at this age.
Baby lunch ideas don't have to be difficult! We normally start with baby led weaning around 6 months old and my kids learn to eat modified versions of what the rest of the family has for lunch.
With three kids it can get difficult to make different meals all the time, so for the most part our babies eat what we do!
Remember to follow along with us on Instagram for more baby & toddler meal ideas!
If your baby is brand new to solid foods, start here instead:
Favorite Feeding Products for 10 Month Olds
Your baby doesn't need any special feeding products, but they can make life just a little bit easier, cleaner, and more engaging for your baby. These are some of our favorites for this age range that are perfect for your 10 month old's lunch: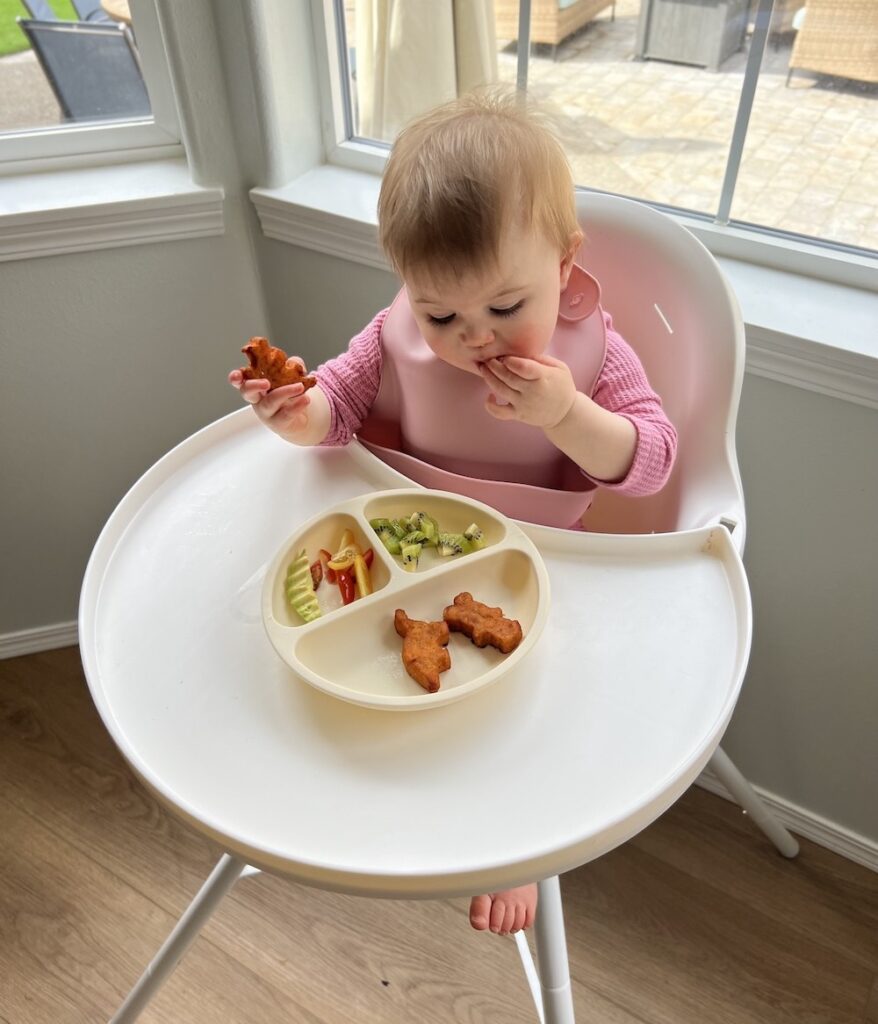 WeeSprout Divided Plates: our go-to plate these days that is great for babies and toddlers! Made of silicone, dishwasher safe, and a strong suction!
Boon High Chair: we love this high chair and you will see it pictured often! It's super easy to clean and extends to counter-height which we love for our counter-height table. We also love the Ergobaby Evolve 3-in-1 and use ours primarily as a kitchen helper!
Silicone Bib: a must-have for babies! These are our current favorite and are easy to clean.
EZPZ Mini Mat: another great plate options for babies and young toddlers! If you are looking for an all in one placemat and plate, this is it! Also made of silicone and easy to clean.
Visit our Amazon Shop to see all of our favorite baby feeding products!
10 Month Old Lunch Ideas
Here are some plated lunches and lunch ideas based on what my 10 month old has been eating and loving! As always, you know your baby best and what food are safe for them to eat based on their age and abilities. This is what my baby has been eating at 10 months old: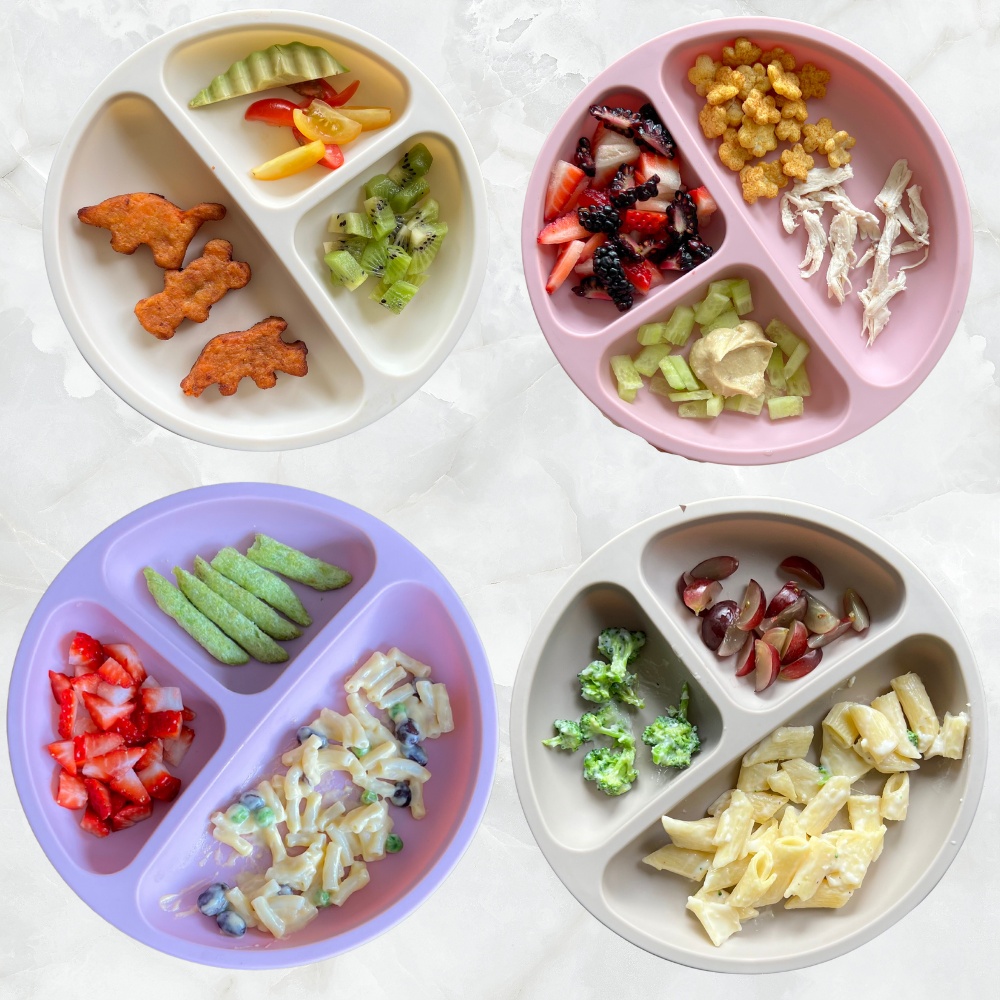 Sweet Potato Littles – Dr. Praeger's sweet potato littles with sides of kiwi, cherry tomatoes, and avocado
Rotisserie Chicken – keep it simple with rotisserie chicken from the store, cucumber with hummus, strawberries, blackberries, and pumpkin puffs from My Serenity Kids (Use JESSICA15 to save 15%).
Mac & Cheese – boxed mac and cheese but with peas and black beans added for extra protein, strawberries, and dried snap peas
Alfredo Pasta – another pasta idea packed with healthy fat and protein, side of cooked broccoli and grapes.
Read more: One-Year-Old Gift Guide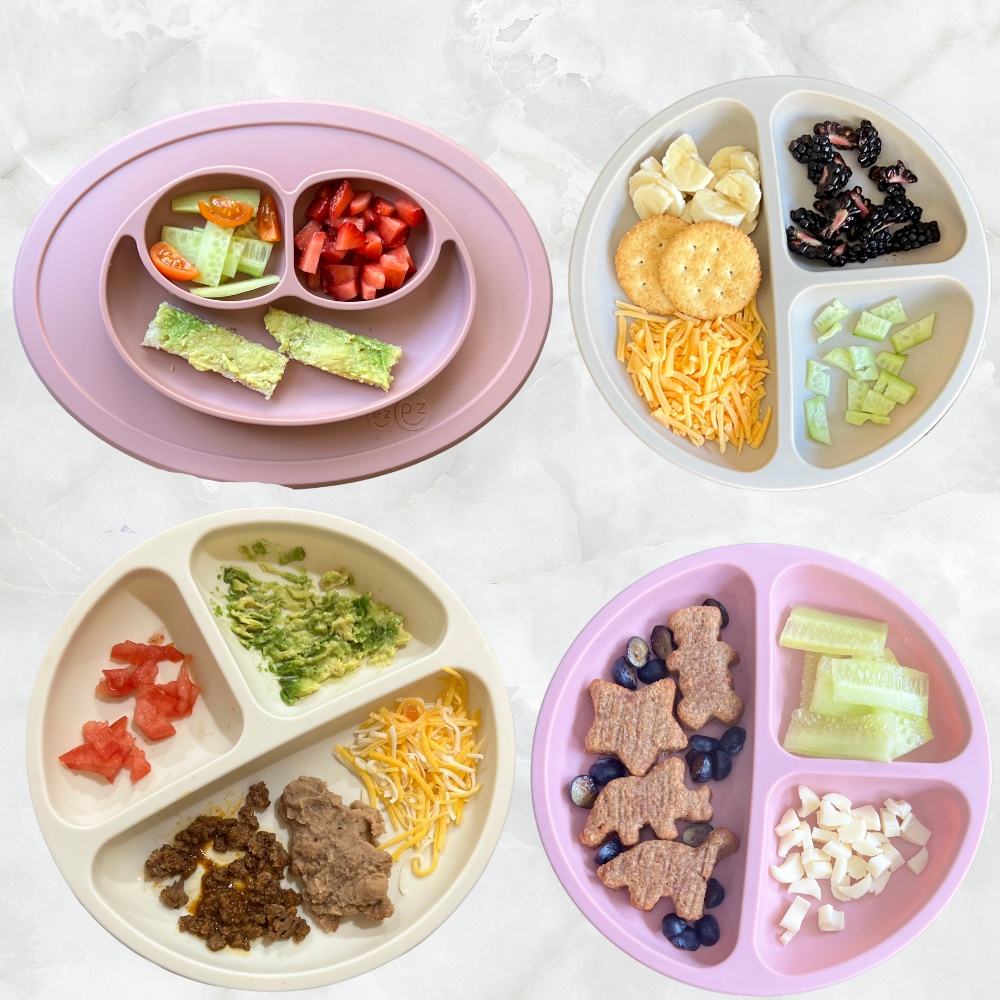 Avocado toast – sourdough toast cut into strips and topped with avocado, cucumbers, cherry tomatoes, and strawberries.
Cheese & Crackers – flaky crackers work best for babies, shredded cheese, banana, cucumber, and quartered blackberries.
Deconstructed taco – ground beef, refried beans, shredded cheese, tomatoes, and smushed avocado.
Oatmeal littles – Dr. Praeger's oatmeal littles, blueberries, diced string cheese, and thin cucumber slices.
Our favorite silicone divided plate: WeeSprout Divided Plates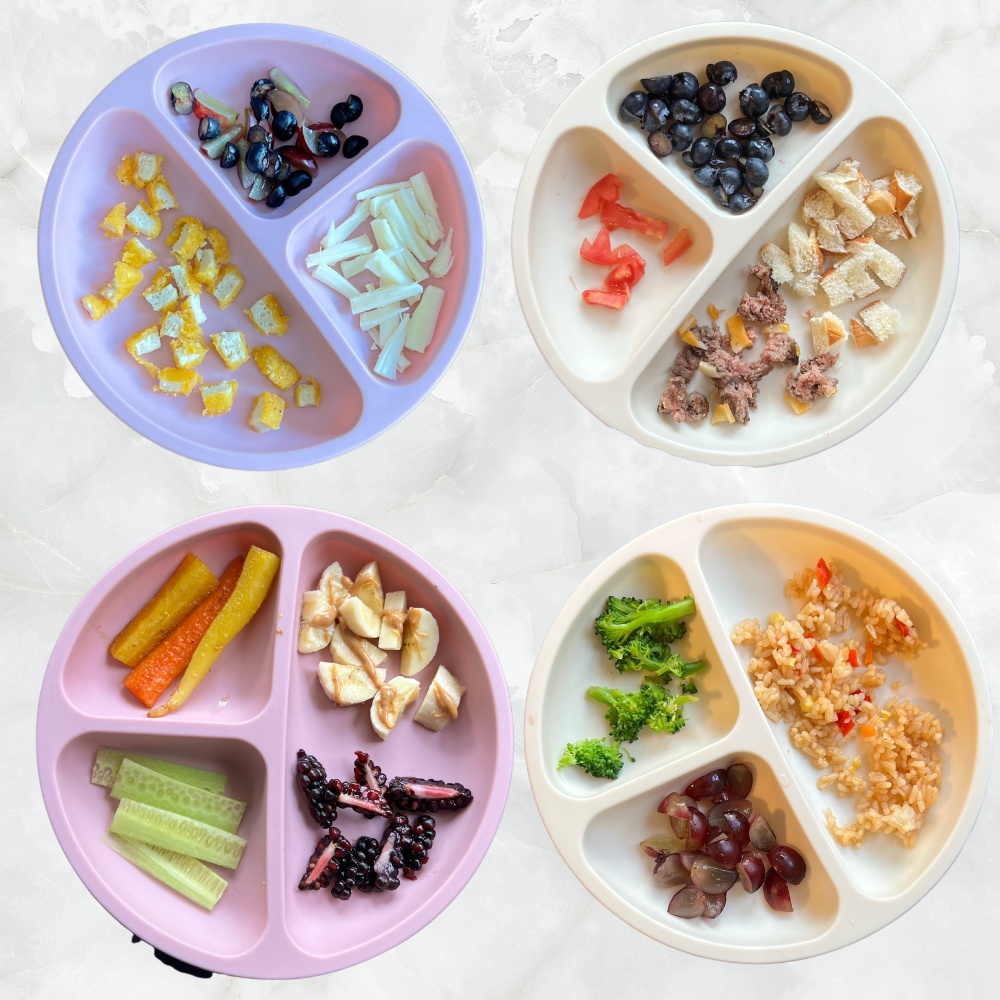 Chicken Nuggets – make sure they are soft for this age range (we like Applegate chicken nuggets), side of string cheese, grapes, and blueberries.
Deconstructed Hamburger – diced up cheeseburger, bun (it's best to lightly toast for this age range), tomato, and blueberries.
Banana & PB – bananas with drizzled pb (make sure to just use a little as peanut butter can be a choking hazard), blackberries, cucumbers, and cooked carrot sticks
Fried rice – left over chicken fried rice, grapes, and cooked broccoli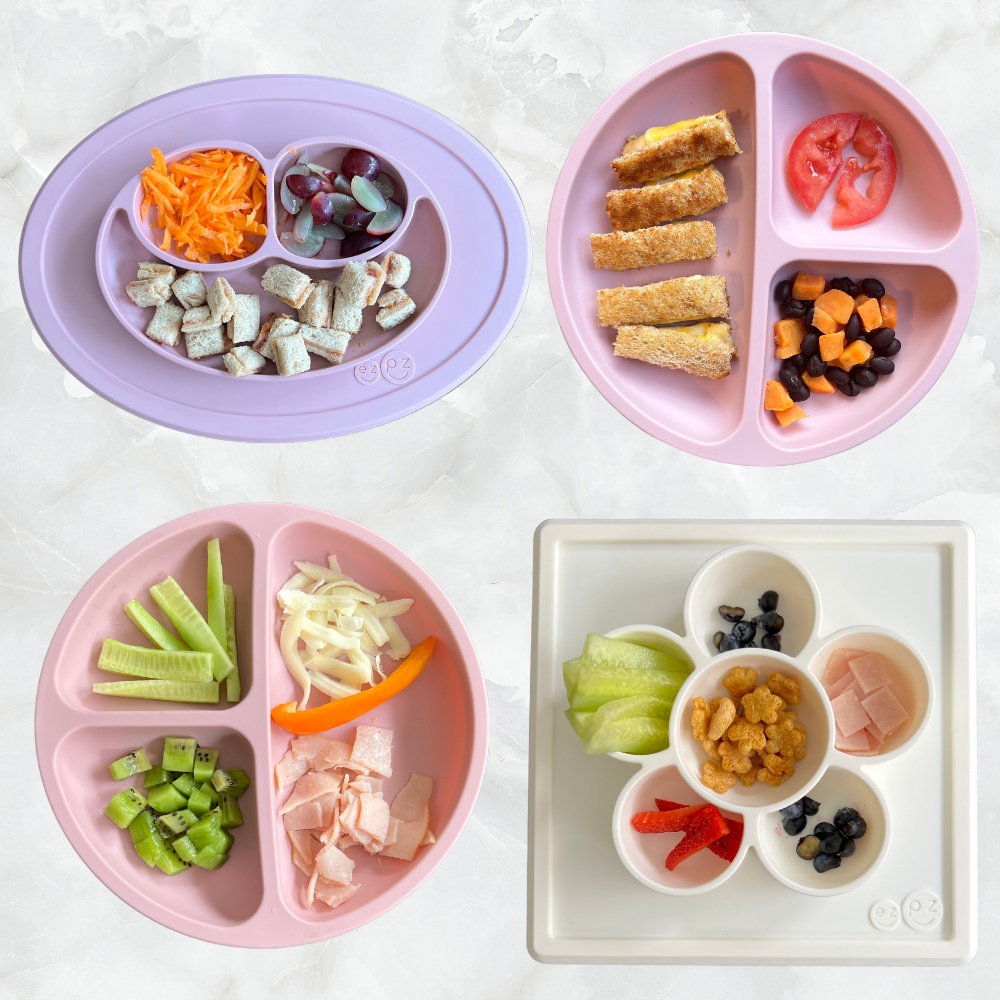 Peanut Butter & Jelly – make sure to use less filling and cut into very small bites or strips, grapes, and shredded carrots.
Grilled Cheese strips – grilled cheese cut into strips, tomato, sweet potato, and black beans.
Turkey & Cheese – turkey deli meat, string cheese, bell pepper, cucumbers, and kiwi.
Snack Plate – cucumbers, blueberries, turkey, strawberries, and pumpkin puffs from My Serenity Kids (Use JESSICA15 to save 15%).
Flower Divided Plate: EZPZ Mini Mat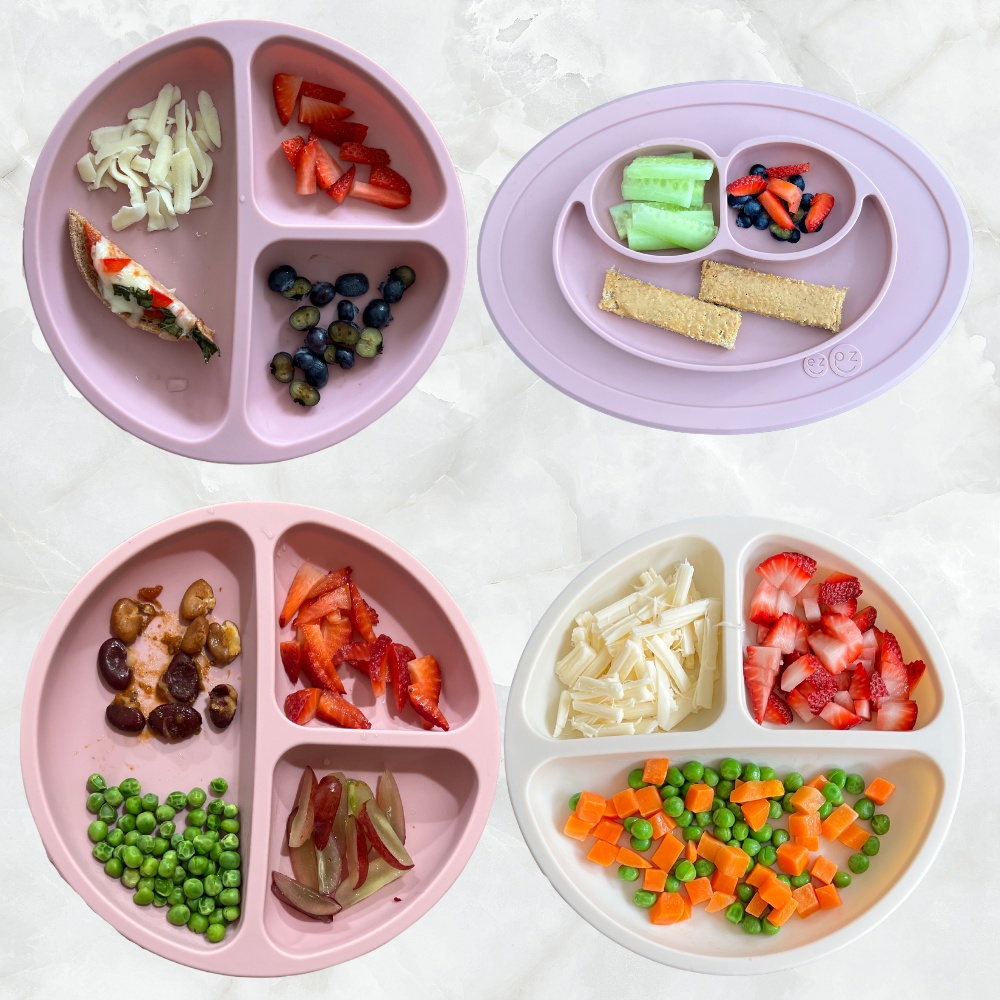 English Muffin Pizza – similar to this pizza recipe, but made on english muffins, with shredded cheese, strawberries, and blueberries.
Peanut Butter Toast – toast strips with peanut butter, cucumbers, and berries.
Chili Beans – chili beans (smushed for easier eating), peas, strawberries, and grapes.
Fruit & Veggie plate – you can't go wrong with some cooked frozen veggies, strawberries, and string cheese.
You might also like these recent related posts: