A list of self-care gift ideas for moms! A holiday or anytime gift guide for yourself or the favorite moms in your life.
Being a mom is hard! Whether you are a mom of one or a dozen, kids have a way of draining you in ways you didn't know possible. That isn't to say we don't love them, but at the end of the day all mamas need a little self-care to help them reset and refill their cup.
I'm a mom of two toddler boys who are 16 months apart. I've learned that I need to take some time in the evening to unwind and relax. I'm sharing some of my favorite self-care items plus some items that are on my own Christmas list this year.
Wether you are a mom yourself or you are shopping for another mama in your life, here is a self-care gift guide for moms of all styles and ages.
You might also like these related posts: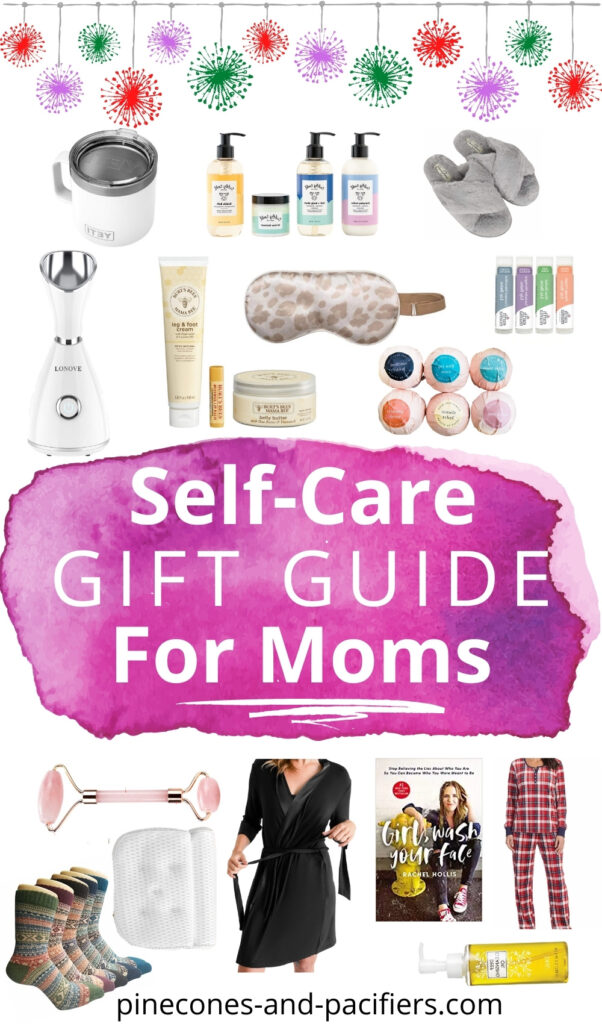 Self-Care Mom Gift Ideas
Yeti Insulated Rambler – whether you are in to coffee, tea, or just flavored water, this Yeti rambler is for you! This will keep your coffee warm for HOURS. No more finding the coffee you forgot after reheating in the microwave.
Tubby Todd Essentials Gift Set – my favorite from this gift set is the all over ointment, but everything this brand puts out is amazing for your skin and made with clean organic ingredients. The ultimate self-care kit that includes my favorite all over ointment, hair + body wash, every day lotion, and bubble bath (for relaxing after the kids go to bed!). If you are a new mama I highly recommend the Mama Gift Set. (10% off with this Link)
Jessica Simpson Memory Foam House Shoes – house shoes or slippers are a must for moms since they spend so much time on their feet at home. These are super cute and comfy and great for all seasons.
Vanity Planet Aira Ionic Facial Steamer – lack of sleep can take a toll on your skin. Every mama should have this face steamer to help take her skin care routine up a notch. Its super quick and easy to use and can make you feel like a million bucks (even when you really aren't feelin' it).
Burt's Bees Mama Bee Gift Set – Burt's Bees is one of my favorite natural brands that I love to use on myself and my babies. I've tried the belly butter and it is awesome for itchy belly skin and stretch marks. This set is so cute and would be awesome for a new mama.
Kitsch Satin Sleep Mask – if you've never tried a sleep mask, you need to! And if you use one regularly, this is a great one! I love that this mask is adjustable and satin is always a top choice for less frizz and static.
Earth Mama Organics Quadruple Lip Balm – the cutest set of organic lip balm made with natural herbs and oils. I love their Lavender Meringue flavor and would love to try the other three fun flavors as well – Coconut Smoothie, Mint Herbal, and Orange Ginger.
Organic Bath Bombs – epsom salt and organic cocoa butter bath bombs that are just what you need after a long day of being a mom! These also come in a cute gift box.
Jade Facial Roller – using a cold jade roller can help increase circulation and decrease puffiness. When you are feeling tired as a mother, having a good skincare routine can help you feel more like yourself, plus giving yourself a 5-minute facial massage can help you relax.
Kindred Bravery Emmaline Robe – every mama needs a soft and cozy black robe to relax or get ready in. This one checks everything off the list; comfy, stylish, practical, and it has pockets! This is one of my favorite items of clothings because it works well during pregnancy, after birth in the hospital, postpartum, and just regular mom-life.
Girl Wash Your Face by Rachel Hollis – an uplifting and funny book can help you wind down at night and relax. This is one of my favorites and a must-read to help drop the mom guilt. (Or get it on Kindle// Kindle version).
Bathtub Pillow – if you love a good bubble bath to relax, a bath pillow is a must! So cozy and spa-like you will forget you are at home.
Cozy Knit Wool Socks – cute and cozy wool socks are great for hanging out at home, snowy winter days, and heading out and about in chilly weather. These ones are so cute and have held up very well.
DHC Deep Cleansing Oil – A quick and easy way to get into relaxation mode, double cleansing with a cleansing oil is like a mini massage for your face! A must for those exhausted mamas out there in need of some self-care.
Nautica Fleece Pajamas – cute and cozy fleece pajamas for those chilly nights. These come in such cute patterns and would be great to cozy up by the fire with a good book (like Girl Wash Your Face!)
Thanks for stopping by!
You might also like these related posts: