Our experience at Silver Mountain Resort with kids including how to get there, where to stay, things to do, and a review of the famous indoor water park.
If you are looking to plan a trip to Silver Mountain Resort with your kids, this post can help! We live within driving distance of the resort and have been going a couple of times a year (does this make us experts yet?!).
Silver Mountain Resort is a wonderful family-friendly vacation in Northern Idaho that includes gorgeous views, ample outdoor recreation, an indoor water park, and four seasons of outdoor fun.
You might also like these related posts:
How to Get To Silver Mountain Resort
Silver Mountain Resort is located in Kellogg, Idaho. Kellogg is a small city in the northern part of Idaho, situated in the gorgeous Silver Valley region. The resort is nestled in the heart of the Bitterroot Mountains, offering stunning views and a wide range of recreational activities year-round.
Its proximity to major cities like Spokane, Washington, and Coeur D'Alene, Idaho, makes it a popular destination for both local and out-of-state visitors seeking outdoor adventures and a beautiful mountain retreat.
The nearest airport is Spokane International Airport. Silver Mountain Resort is about 75 miles east of Spokane International Airport via I-90. If you are traveling from the east, Silver Mountain Resort is about 130 miles west of Missoula, Montana via I-90.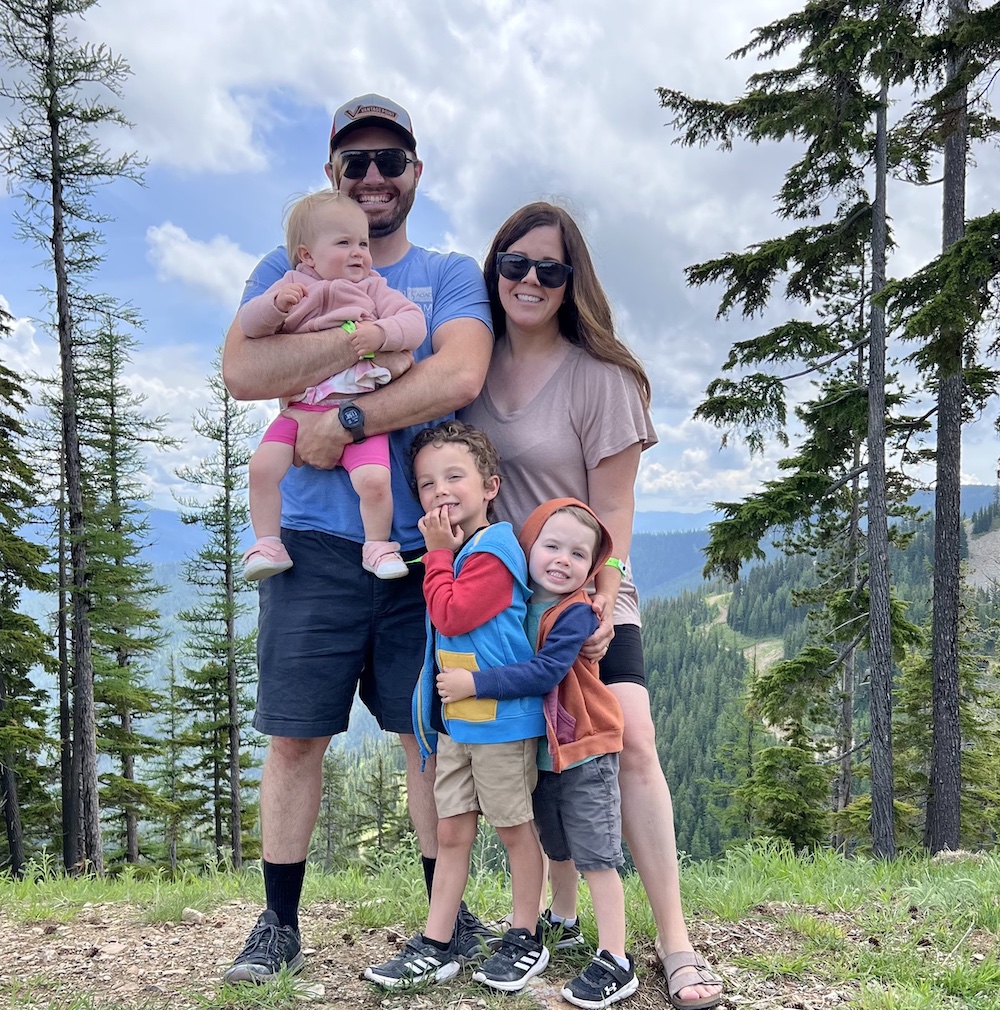 Where to Stay at Silver Mountain
If you are looking to experience everything that Silver Mountain Resort has to offer (indoor water park, on-site restaurants, private parking, easy access to the gondola up to Silver Mountain Ski Resort, and more), we recommend that you stay at the condominiums at Silver Mountain Resort.
One of our favorite parts of Silver Mountain Resort is the large selection of room types available:
Studio: sleeps 2 people, includes a mini kitchen
Family Studio: sleeps 4 people, includes a queen sleeper sofa and mini kitchen
1 Bedroom Condo: sleeps 4 people, includes queen sleeper sofa, full kitchen, washer and dryer, and a fireplace
1 Bedroom Loft Condo: sleeps 6 people, includes queen sleeper sofa, and a fireplace
All rooms include access to the indoor water park, indoor ski and bike lockers, outdoor hot tubs and fire pits, and free parking in a private lot. Scenic gondola rides, Ski Resort lift tickets, and all food and drink are an additional cost.
We have experience staying in the 1 Bedroom Condo and think this is one of the huge benefits of staying at the Silver Mountain Resort! We loving having separate spaces for us and the kids, double vanity sinks in the bathroom, a washer and dryer, porch or patio with seating, washer and dryer, and a full kitchen and dining room table!
However, it is important to note that you don't need to stay at the Silver Mountain Resort to get access to the water parks, restaurants, or gondola! There is a parking lot across the street with easy access to the gondola and and you can purchase day passes to the water park.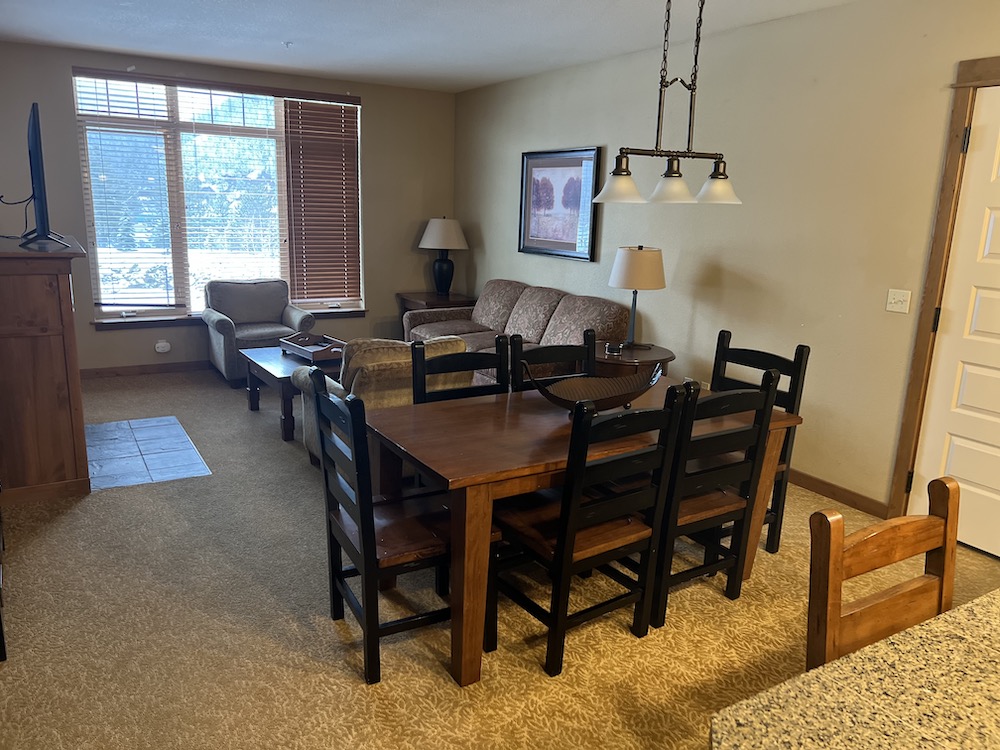 Things to Do at Silver Mountain Resort
Silver Mountain Resort offers four seasons of fun! We have gone in both the summer and winter and have been very please with all that there is to do. Here are some things to look forward to when visiting Silver Mountain:
>>> See Silver Mountain Activities
Indoor Water Park is open year-round! Be sure to check their online schedule before booking, because sometimes it is closed certain days of the week due to staffing.
Scenic Gondola Ride: even if you don't ski or snowboard, you can take the enclosed scenic gondola ride to the Silver Mountain Resort mountain lodge (it's the longest gondola in North America). The mountain lodge is the base camp for the ski lifts, and various events and hiking trails in the summer!
Mountain Biking: during the warmer months, there are a few bike trails in and around the town of Kellog, or take the gondola up to the Silver Mountain Bike Park! Tickets must be purchased separately and this includes getting your bike up the mountain on the gondola and various ski lifts.
Winter Activities: take the Gondola up the mountain to access the ski lifts and tubing hills. The tubing hill is one of our personal favorite winter activities!
Food & Shopping: there are various restaurants and stores on-site at Silver Mountain resort including a full service sit down restaurant, pizza, coffee, frozen yogurt, and more! The Silver Mountain lodge at the top of the gondola ride also serves food and drinks!
Spa: Solitude Spa is located on-site at Silver Mountain resort and offers traditional and specialty massages and spa treatments.
Golf: Galena Ridge is a 9-hole golf course tucked away in the Silver Mountain near Silver Mountain Resort.
More: On-site at the resort there are multiple fire pits available for guests to use (you an even get supplies for s'mores at the front desk), a small playground, and outdoor hot-tubs.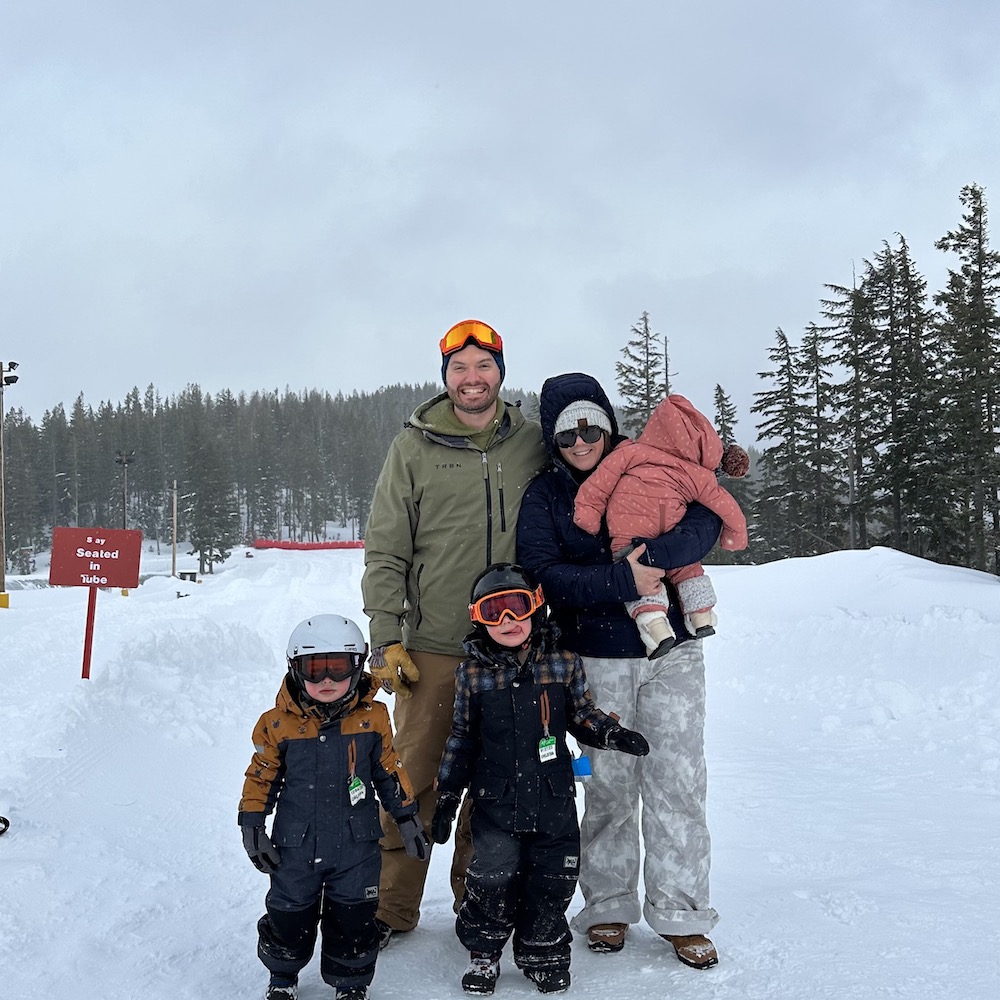 Silver Rapids Indoor Water Park Review
The best feature of Silver Mountain Resort is the year-round indoor water park, Silver Rapids! It's important to note that tickets are included if you are staying at the resort. You can purchase day passes if you are not staying at the resort, but all tickets must be booked ahead of time online or over the phone (no walk up tickets available).
Silver Rapids Waterpark has something for everyone! We have gone when my kids were 0-5 and everyone has had a blast. Don't worry, there are plenty of big kid activities too!
There are cabana rentals for an additional price, a restaurant on the lower level, and a full-service bar on the upper level. Towels are included when you enter and there are plenty of tables, chairs, and lounge chairs. There are also free life vests and water wings for littles to use during their visit!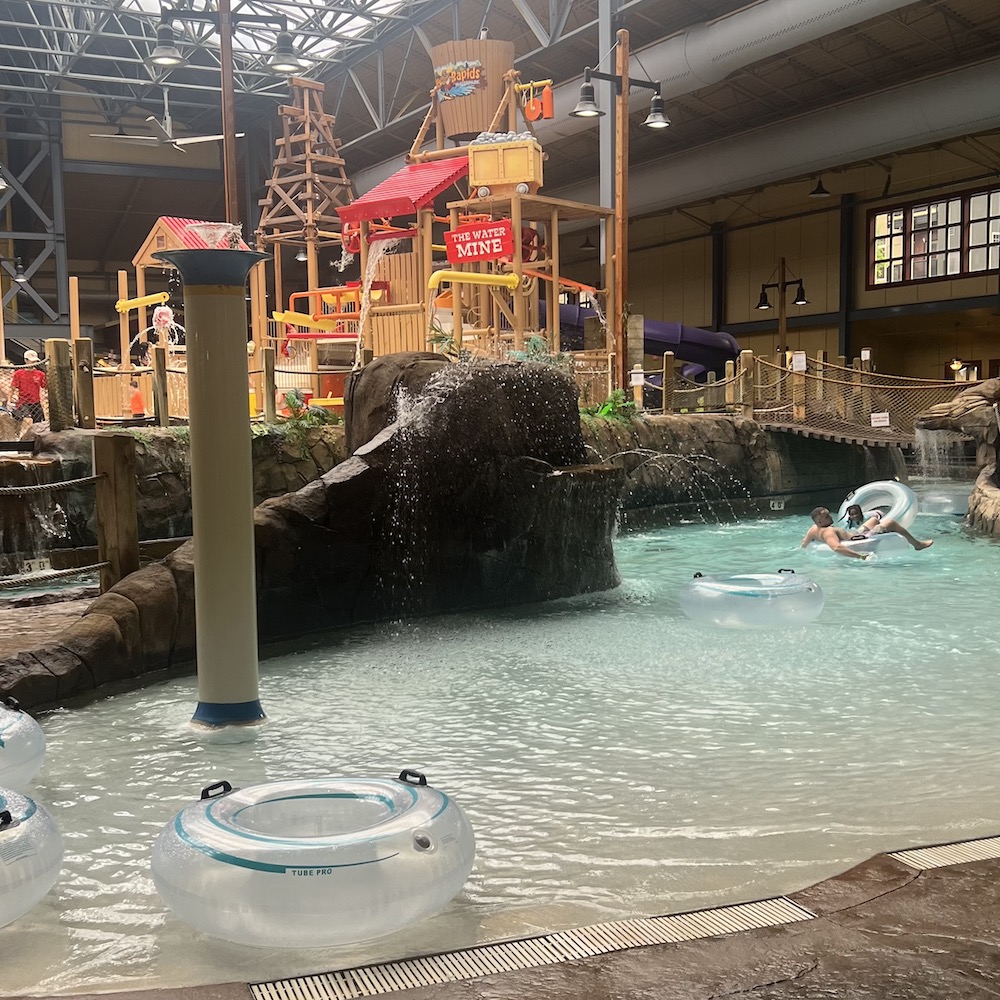 Silver Rapids for Littles
Some of the calmer features of the indoor water park include:
Lazy River: tubes are available to around on the lazy river! Be careful, because some parts are in the "splash zone" for the tipping bucket at Cub Cove.
Warm Springs: a family hot tub.
Pollywog Pond: two small slides and shallow water for splashing.
Kids Favorites at Silver Rapids
For the more adventurous kids, here are some favorite water park features:
Cub Cove: an interactive water playground with multiple water slides and spray features. Watch out for the giant bucket that fills with water and tips over to make a splash multiple times per hour!
Hoop Lagoon & Crossing: an activity pool featuring basketball hoops and floating lily pad like obstacles that kids can cross with the help from the overhead cargo net.
Splash Pad: play a giant slippery game of connect four or walk under a sprinkler tunnel! This fun splash pad is great for kids who like to get wet.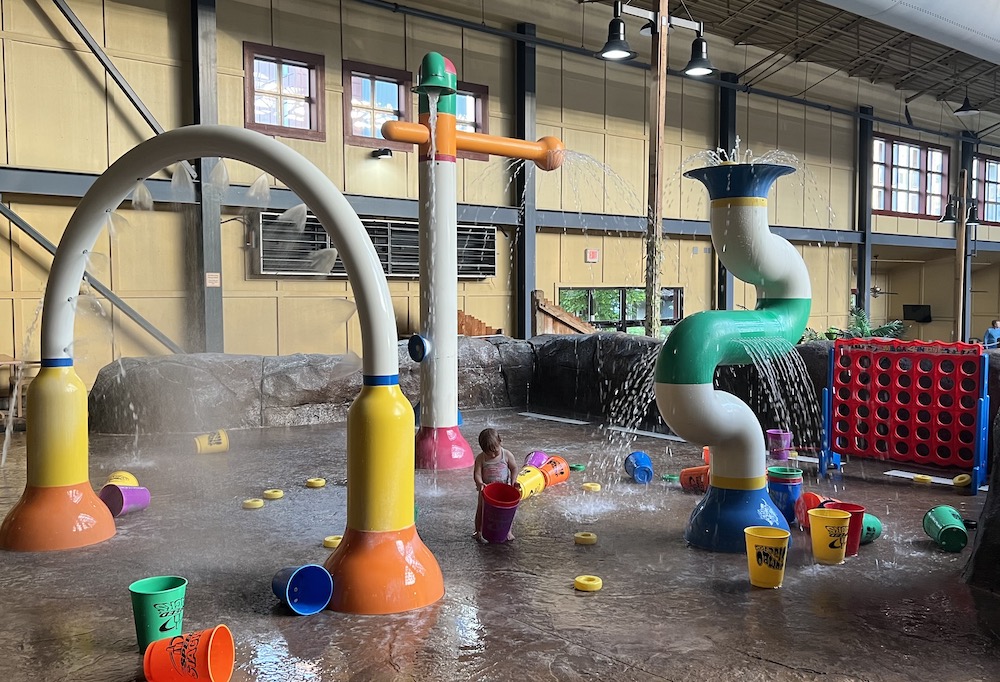 High-Intensity Water Park Attractions
For the bigger kids or very adventurous littles, here are some of the higher intensity water park attractions or those with a height requirement:
Moose Sluice: a family raft ride! There is no height requirement when accompanied by an adult: we have taken our 1 year old. However, the ride does go fast, have fast turns and drops, and is very dark in the tunnel.
FlowRider: a high-intensity continuous wave where you can practice body boarding (minimum height of 42 inches) or surfing (minimum height of 52 inches).
Tube Slides: Gold Rush and Prospector Plunge are enclosed tube slides that require tubes to ride (minimum height of 48 inches).
There is also an adult-only hot tub on the top level next to the bar.
What To Note Before You Go to Silver Mountain Resort
If you are planning a trip to Silver Mountain Resort, here are a few things to note before you go:
Walking to the Water Park: there is a short walk outside from the lodging buildings to the water park. In our experience, it may be a little icy in the winter months. Dress appropriately (with a coat and closed toed shoes in the winter: the first time we went, we tried to wear our swimsuits and sandals thinking it was all indoors). The lodging includes a few separate buildings, but your key will give you access to all of them, so walk inside when you can during inclement weather!
Grocery Store: there is a small grocery store in town that is walking distance to the resort. There is also a Walmart Supercenter about 3 miles away in Smelterville, Idaho.
Bike & Ski Storage: there are bike and ski locker rooms available inside the lodging buildings. This is a huge benefit so you don't have to store them in your car, room or patio. The ski lockers are private, and bike storage is in a single room so you will want to bring a bike lock.