Tips for visiting Lake Chelan with kids; what we did, where we stayed, and the family-friendly food we recommend.
If you are looking for a fun summer trip within 4 hours of the Seattle, WA area, Lake Chelan might be the place! We just returned back from a trip with our newborn, two-year-old, and almost four-year-old toddlers. This may sound stressful, but with a few tricks and lots of snacks, we all survived and had a great time!
About Lake Chelan
Lake Chelan is a 50.5 mile long lake in Central Washington, approximately 4 hours from the Seattle, WA area. We came from the east, so I don't personally have experience with the drive from Seattle to Lake Chelan, but most of the people we encountered were tourists from the Seattle area.
The shores of Lake Chelan are populated by two major cities including the city of Chelan and Manson. Both cities are relatively small and cater mainly to tourists who flood the area in the summer time.
The climate is relatively mild and dry due to the rain shadow affect from the Cascade Mountains to the west which makes it the perfect place to enjoy some sun in the warmer months.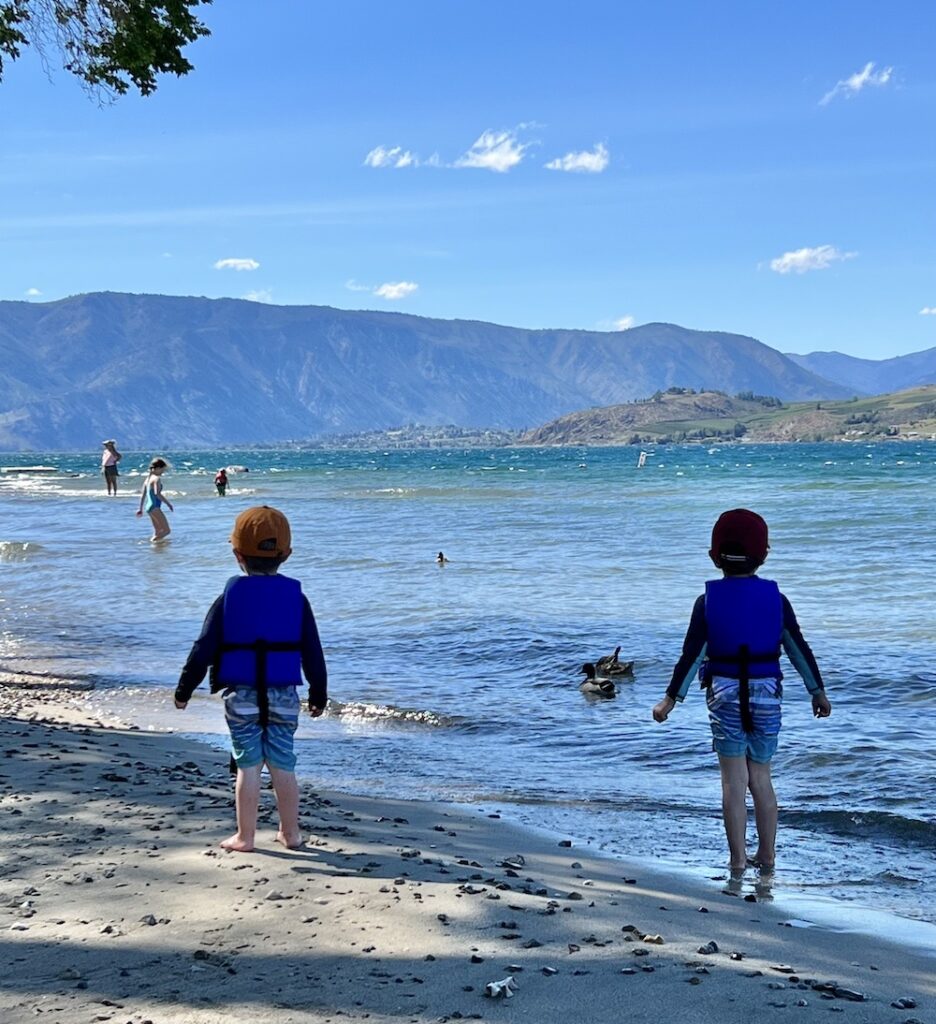 Travel Tips with Young Kids
We traveled to Lake Chelan via car and it took approximately two hours, however for most of you reading this I imagine you will have to travel much further! Traveling with babies, toddlers, and young kids can be stressful, but there are some things you can do to make it more manageable and even enjoyable for everyone.
Schedule: Consider your kids' normal schedules at home and try to plan stops for normal meal and snack times. If your kids do take a nap, plan to be driving or arrive at your location by nap time to keep things as similar to their home schedule as possible.
Bring the right gear: bring enough toys and activities to keep your little ones entertained in the plane or car. A carseat snack holder and car headrest tablet holder are two of my favorites specifically for toddlers. Read more Tips for Long Car Rides with a Toddler
Have realistic expectations: set your expectations low and give yourself and your kids grace. It will likely be stressful time for all, but your kids will adapt more easily than you think!
Read more 18 Toddler Travel Essentials to Make Traveling Easier
Family-Friendly Lodging in Lake Chelan
When we go to Lake Chelan with our young kids we love staying at Chelan Resort Suites. There are 1-2 bedroom condos for rent (we do the 2-bedroom) so you will have separate bedrooms, bathrooms, and a full kitchen, living room, and patio to enjoy!
The condos have easy beach access to a public beach, play ground, and a beautiful mountain view. They are also just 2 miles from historic downtown Chelan where there are fun shops and restaurants.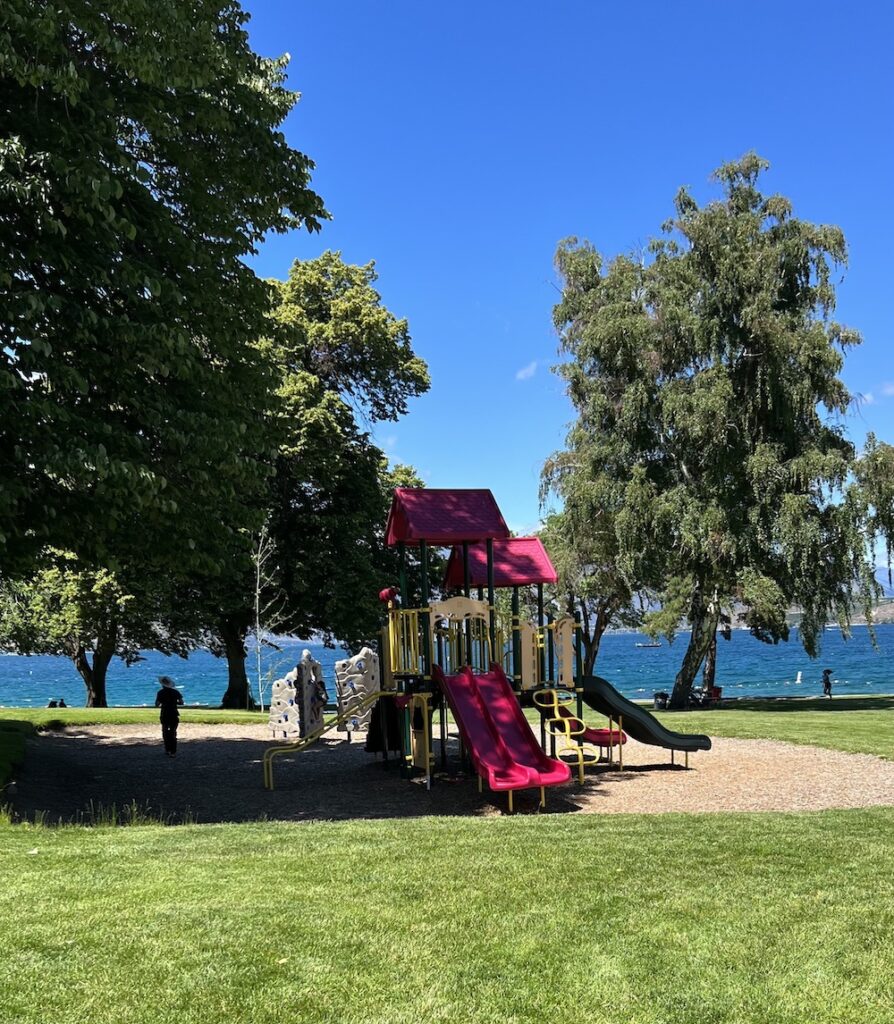 Family-Friendly Food in Lake Chelan
We have traveled to Lake Chelan with our kids a few times and have narrowed it down to some fun and delicious family-friendly restaurants that we frequent!
Lake View Drive In – good old-fashion burger drive in with grilled cheese and milkshakes for the kids. There is plenty of outdoor seating where the kids can run around and enjoy the shade from the mature trees and the beautiful view of the lake.
Local Myth Pizza – the best pizza in town! If you are into craft pizza and beer (like we are!) this one's for you! Unique pizza options and more tame ones too if you aren't into crazy toppings. Pepp Crunch is my personal favorite.
Things to Do with Kids in Lake Chelan
Here are some of our favorite family-friendly things to do in Lake Chelan:
Go to the Beach – Lakeside park and Don Morse Memorial park are two of our favorite parks with beach access and close (paid) parking. Let your kiddos plan in the sand and splash in the water while you lounge on the beach or under a shady tree.
Slidewaters Water Park – we have taken our kids and they loved it even down to 18 months. There is a lazy river and beach entry pool that littles love to visit and splash in. There are also smaller slides that are perfect for young kids to go down where a parent can catch them at the bottom.
Get out on the Water – we love exploring Lake Chelan via the water! We have had a great experience with Jet Ski Ahoy rentals in Chelan. The boat was clean and in great condition and they had plenty of life jackets in various sizes.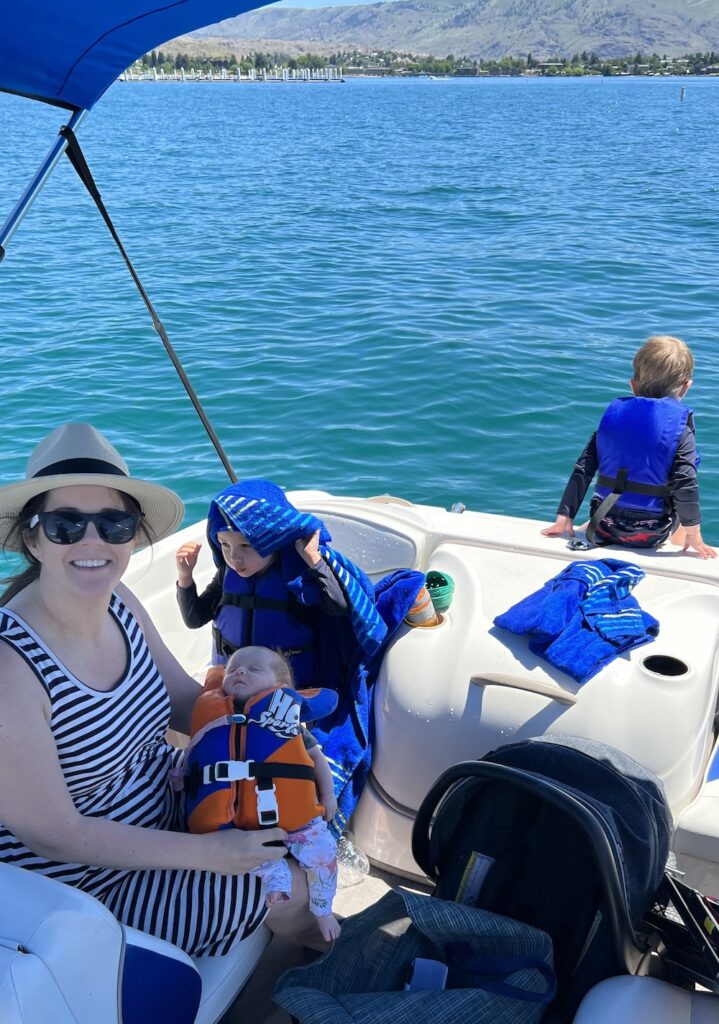 To learn more about things to do in Lake Chelan, I recommend visiting their tourism site: lakechelan.com
Thanks for stopping by! You might also like these recent posts: