A list of baby feeding essentials and supplies for starting solids with your baby. Everything you need to make feeding your baby a little easier.
Are you wondering: What do you need for feeding a baby? What are the best baby utensils? What are the best baby feeding essentials?
I'm here to help! I'm a mom of two boys who love to eat. With my first we started purees at 4 months old and then introduced solid food around 6 months. You can read more about our experience with combo feeding here: How To Combine Purees and Baby-Led Weaning
With my second son, he wasn't that into purees so we waited and jumped right into baby-led weaning at 6 months old. You can read more about our experience with baby-led weaning here: Baby-Led Weaning Guide and Food Ideas
Whether you are doing purees or baby-led weaning (or a combo of both) these baby feeding essentials will make feeding your baby just a little bit easier. This is everything I recommend to make meal time just a little bit easier!
Favorite Baby Food?
If you are looking for clean baby food, here are some of our favorites!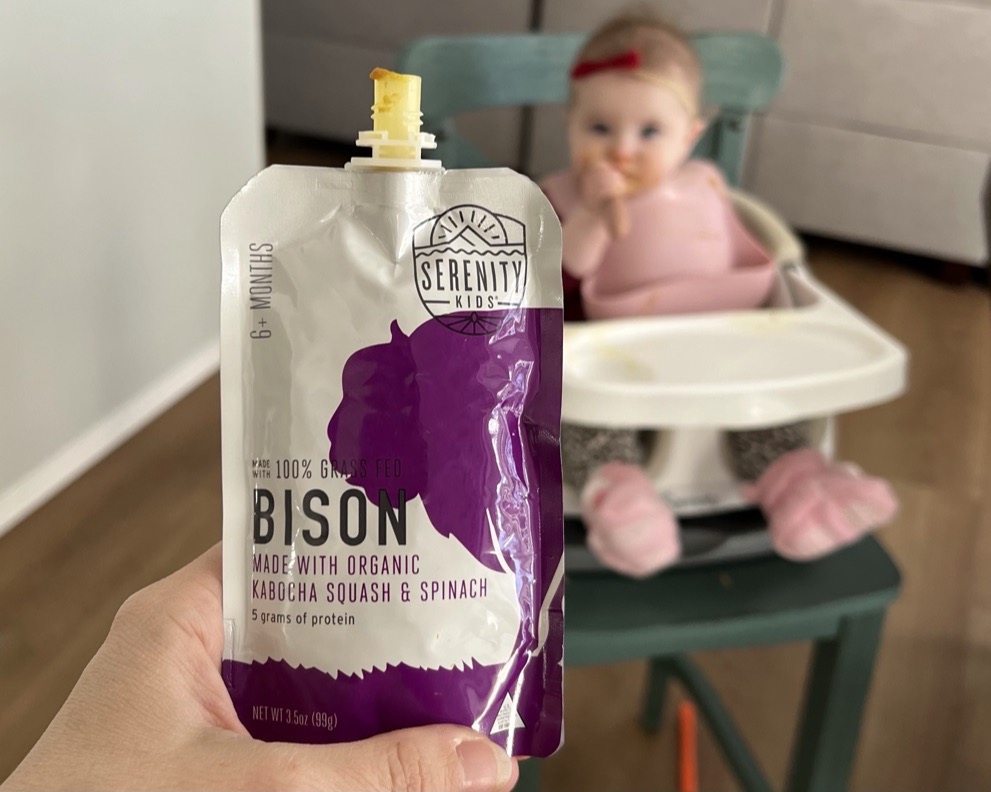 Serenity Kids Pouches (Use JESSICA15 for 15% off)- clean, organic, meat and veggie ingredients for a farm-to-table experience for your baby. See my full review on Serenity Kids.
Amara Baby Food – (Use PANDP15 for 15% off) superfood, organic, and no-sugar added baby food packets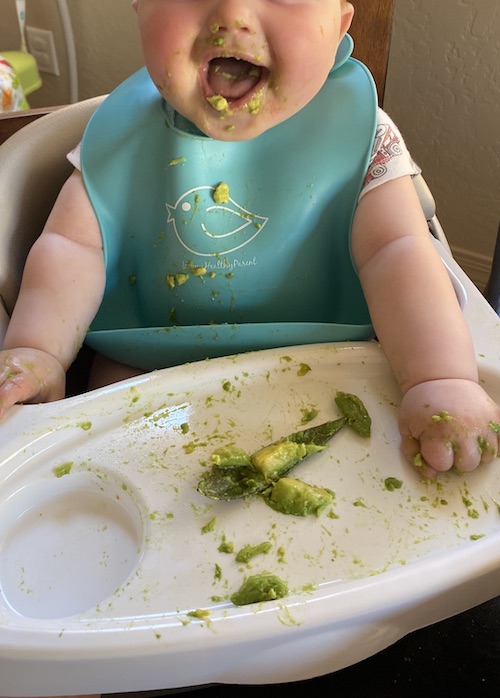 Best Feeding Products
Ingenuity High Chair or Ingenuity Baby Base 2-in-1 Booster – we have the booster seat and love it because it doesn't take up an extra spot at the table. Both of these are must haves because they are so easy to wipe down. You will want a safe place to feed your baby food so they can sit up appropriately to avoid choking.
---
Silicone Bibs – these will help keep your baby (and floor) clean and catch all the food that your baby drops as they are learning to eat and practicing bringing food to their mouth. Silicone bibs are perfect because they are easily wiped down or can be put in the dishwasher.
---
Bibado Full-coverage Bib – a complete game changer for messy eating! This full-coverage bib can be hooked onto your high chair or table so that your baby and their seat stays completely clean during their messy food experience. Great for messy foods like yogurt or pasta. I also use these for crafts with my toddlers. Clean up is so easy and is as simple as wiping down the bibs. Use PINECONES20 for 20% off site-wide.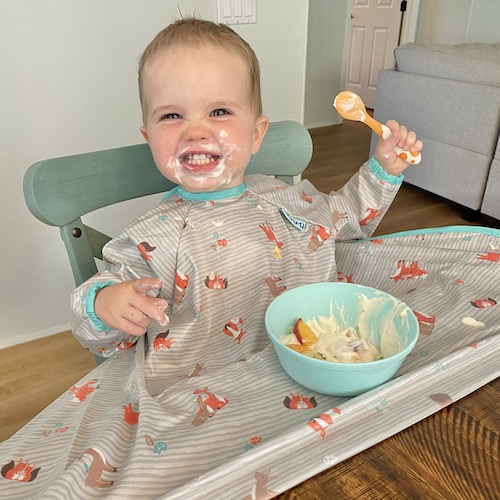 ---
Silicone Baby Fruit Feeders – These have been great when starting to transition to more "real food". Silicone feeders are also great for teething or entertaining your young eater while you try to cook dinner. We have filled these with banana, avocado, frozen mango, and diced cucumber!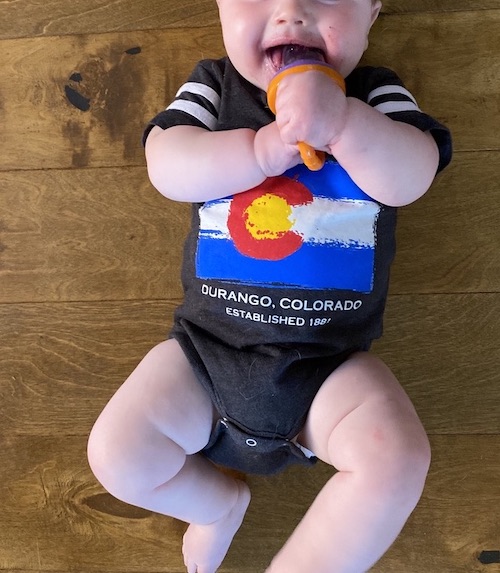 ---
Beginner Fork & Spoon Set – ergonomically shaped handles help your baby easily grasp the fork or spoon and easily bring it to their mouth. When first starting I like to help them practicing poking and then showing them how they can bring the food to their mouth. This is a great first set, but don't expect your baby to be proficient until closer to 12+ months.
---
EZPZ Suction Plate Mini Mat (Use PINECONES10 for 10% off sitewide)– if you use a high chair or once your baby is ready to move to the table, a suction plate can be so helpful! We love the ones from EZPZ. They are also great to bring to restaurants for your baby to eat off of.
---
Infantino Squeeze Station – if you want to make your own baby food and store them easily, we love this baby food pouch maker! Pouches are so convenient on the go and for a disposable storage option for baby food you are eating at home. You can also use this for toddlers who love applesuace or smoothies on the go.
---
ChooMee SoftSip Food Pouch Tops – if you do feed your baby baby food or food from pouches, these are a great tips for helping them to feed themselves. These tops stop your baby from squeezing the food out everywhere, and only work when your baby sucks. We started using these around 9+ months.
---
EZPZ Tiny Cup – (Use PINECONES10 for 10% off sitewide) you might be surprised to learn that babies can start using an open cup as early as 4-6 months! This tiny cup is only 2oz and is the perfect training; it's small so spills will be minimal, made of silicone so great for teething, and tiny for small hands. We have the EZPZ Mini Cup which is 4oz and great for toddlers!
---
EZPZ Silicone Drying Rack (Use PINECONES10 for 10% off sitewide)- not really a feeding product itself, but you will want somewhere to dry all those feeding products you do buy for your baby. Our favorite is the new EZPZ Silicone Drying Rack! It looks so sleek on our counter and has removable prong attachments to help hold bottles, cups, plates, or almost anything you may need to dry.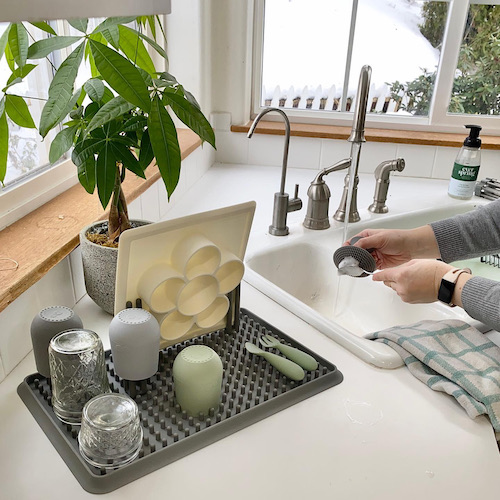 ---
Thanks for stopping by! You might also like these related posts: