A list of 9 nursery items that you didn't know you needed. Overlooked and underrated items for your nursery that you don't want to forget on your baby registry!
As a new mom it can be hard to know exactly what you need for your baby's nursery. You don't want to buy too much and have a cluttered room with dozens of items you don't really use, but you also don't want to forget essentials that will make your newborn more comfortable or your life as a mom a little easier.
I'm a mom of two and am sharing a list of my favorite nursery items that you may not know you even need! These are tried and true items that I truly love and use every day.
Add these nursery items to your baby registry, baby's birthday list, or your own shopping list!
Sign up for your Amazon Baby Registry! Its super easy and comes with a ton of added benefits (like a discount code to use on all your leftover baby essentials). Read more about it in my post here: Amazon Baby Registry Review
Some of the items in this post are sponsored, but all of the thoughts and opinions are my own.
You might also like these related posts: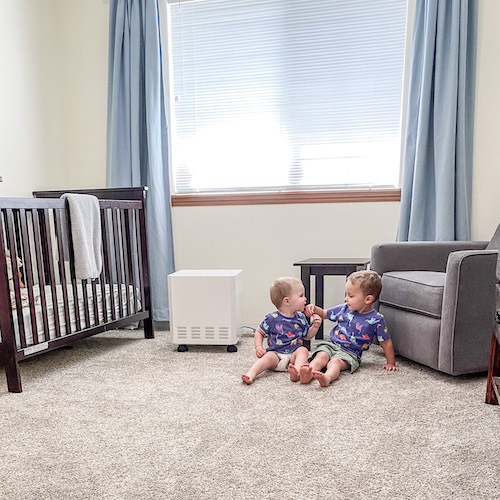 My Favorite Overlooked Nursery Items
Nursery Must-Have #1: Sound Machine
Babies are used to lots of sound after growing in your womb for 9 months; the sound of your blood flow, heart beat, digestion, breathing, and all the other sounds and voices that you are around every day. Most babies will sleep much better with loud white noise from a sound machine. It will help calm them as it mimics the sounds they are used to in the womb and also helps to block out other loud noises from around your house like the doorbell or dog barking.
My favorite is the Hatch Baby Rest sound machine because it can be used as a nightlight for night feedings and will grow with your baby into toddlerhood where they can use it as an okay-to-wake clock (your future self with thank you!).
Shop Hatch Baby Rest on Amazon
---
Nursery Essential #2: HEPA Air Purifier
The EPA has said that the air in your home can be more polluted than the air outside. To help keep your baby safe from dust, germs, allergens, and other indoor air pollutants consider getting a HEPA Air Purifier for your nursery or home! We love our HEPA Air Purifier from EnviroKlenz and have it set up in our nursery to help keep the air clean and our baby healthy.
The EnviroKlenz Air Purifier has a patented air filter that make their system the best on the market. It removes up to 99.9% of viruses, bacteria, chemicals, and mold in up to 1000 sq ft. Plus it emits no ozone and is made in the USA!
Shop EnviroKlenz Air Purifier on Amazon
Learn more about the EnciroKlenz Air Purifier on their website
---
Must-Have Nursery Item #3: Blackout Curtains
Most sleep experts agree that your baby will sleep much better in a room that is blacked out. Even the slightest bit of light can cause your baby to wake early in the morning or wake early from their nap as they transition between sleep cycles.
We use these Aruba Lined Blackout Curtains paired with Thermal Insulated Blackout Curtain Liners to make our nursery extra dark! My boys use these until close to 2 years old and it has worked great for us.
If you are worried about it being difficult to travel if you baby will only sleep with blackout curtains, I recommend these Portable Blackout Curtains – both of my boys have used blackout curtains and we have never had a problem with them sleeping other places.
---
Nursery Must-Have Item #4: Rocking Chair w/ Recliner or Ottoman
You are probably already thinking about getting a glider or rocker for your baby's nursery, but consider getting one that also reclines or has an ottoman. You will spend many nights in that chair feeding, rocking, or calming your baby and you will want one that is easy to lean back, put your feet up, and get extra comfy.
We have this Davinci Piper Recliner and I highly recommend it! It swivels 360 degrees, glides/rocks, and also reclines. We have had it for more than three years and two kids and the fabric is holding up great.
Favorite Nursery Item #5: Waterproof Mattress Cover
Your baby will spit up in their crib, drool, and have leaky diapers and blow outs. It's almost inevitable since they spend so much time sleeping as newborns and infants. The last thing you want is a dirty or soggy mattress in the middle of the night with a screaming baby.
Be sure to pick up 2-3 waterproof mattress covers to protect your crib mattress and make sheet changes a bit easier! We have these Sealy Crib Mattress Covers and I like them because they are soft, slightly plush, and don't make a crinkle sound when your baby moves around on them.
Shop Sealy Crib Mattress Covers on Amazon
---
Nursery Essential #6: Video Monitor
If you are thinking about skipping a video monitor because its too expensive, there are cheaper options! We had a more expensive video monitor when my boys were babies, but have since switched to Wyze Video Cameras in both of their rooms.
These have been the most reliable video monitors we have had thus far and the video quality is extremely clear. There are options to pay a fee to have videos record, but there is also a free option if you don't mind not having that option (we have the free version). If you have a larger home or just want the ability to check on your little one at night I highly recommend a video monitor.
Shop Wyze Video Cameras on Amazon
---
Favorite Nursery Item #7: Cool Mist Humidifier
Your baby spent their first 9 months of existence floating in amniotic fluid so life in the real world can be a big shock to their nasal passages. If your baby is born in the cooler months, the heater in your home can also dry our their airways even more. Don't overlook buying a Cool Mist Humidifier to keep in their room and run throughout the night.
They can also come in handy when your baby catches their first cold (I included it in my post: Must-Have Items for Baby's First Cold)
Shop Fridababy Cool Mist Humidifier on Amazon
---
Nursery Must-Have #8: Basket for Diaper Storage
You might already have a changing table (we use our Delta Children's Dresser), a changing pad (add this to your registry ASAP), and diapers (our favorites are Hello Bello), but don't forget a basket or organizer to keep everything within arm's reach. We have these Weave Storage Baskets and use them to store diapers, diaper cream, and lotion so its easily accessible, but also looks nice sitting out.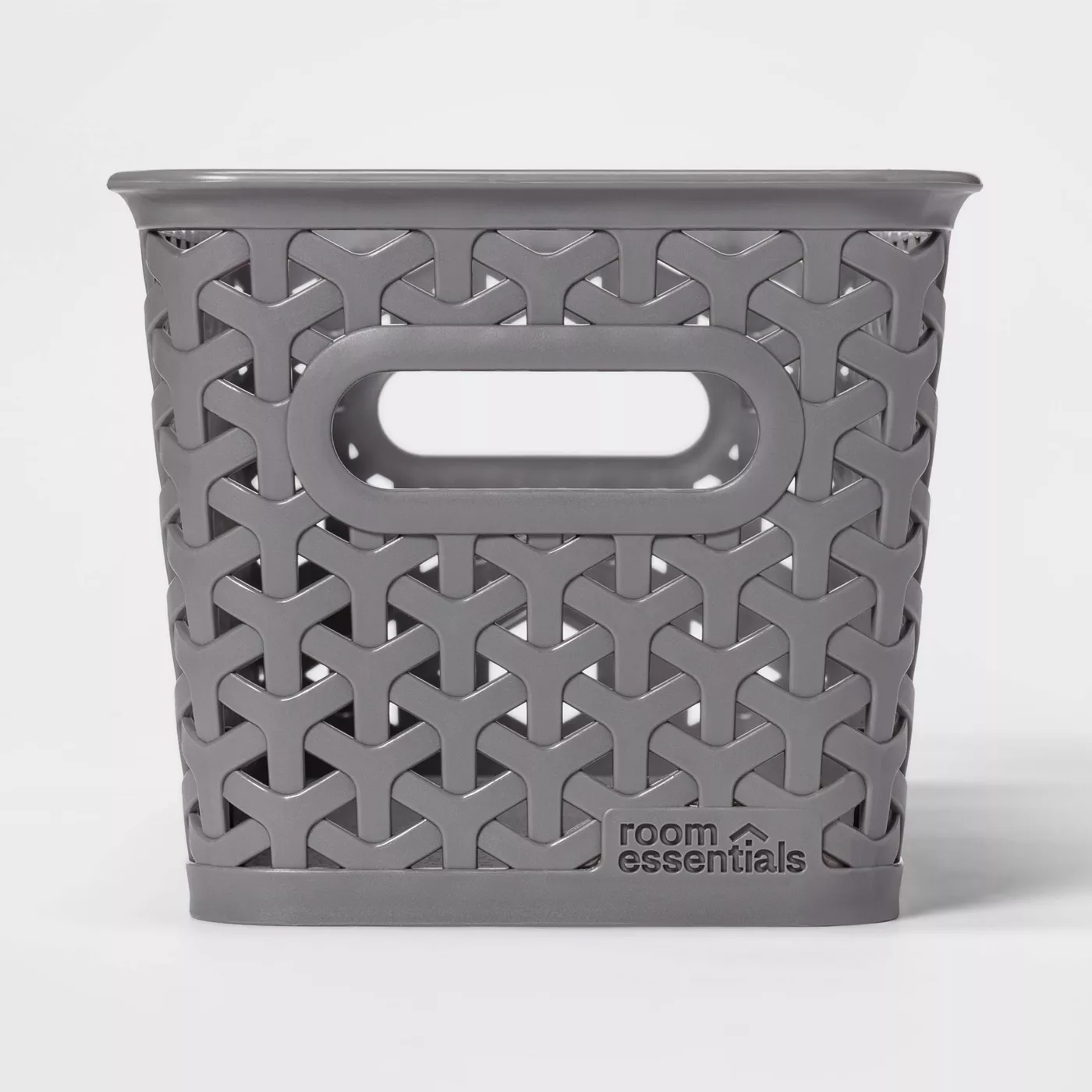 ---
Must-Have Nursery Item #9: Baby Hangers
The final item not to over look is baby-sized hangers! Baby Hangers are very affordable and are the perfect size for newborn through young kids. Newborn and infant clothes especially will stretch and get misshapen if you try to use normal sized-hangers.
---
Summary: Nursery Items You Didn't Know You Needed
Here is a quick summary with links for all of my favorite underrated nursery items that you might be forgetting in your nursery!
You might also like these related posts:
Thanks for stopping by! Pin now to save for later!