Quick and easy self-feeding ideas for young toddlers. A list of 24 self-feeding ideas for breakfast, lunch, and dinner that your one-year-old will eat.
---
Hi there! I'm a mom of two boys 16 months apart. One is currently a toddler and the other is not far behind.
I've always loved serving my boys a variety of healthy foods, but being a mom of two I am extremely busy and don't have time to slave away in the kitchen. I'm sure you can relate!
I'm sharing some of our meal ideas for babies in the range of approximately 12-16 months. But of course, you may find these meals helpful for younger or older babies as well depending on your baby's ability. I've dont both purees and BLW with my kids so I know that all babies are different and follow different paths towards self-feeding.
With my first son, we did a combination of purees and baby-led weaning (BLW). You can read more about our experience here: Combing Purees and Baby-Led Weaning
With my second son, he did not take to purees at all! So with him we did most a baby-led weaning approach. You can read more about our experience with BLW here: Baby-Led Weaning Food Ideas
If you are looking for more self-feeding ideas or meal ideas for babies or toddlers, check out more posts from my feeding series:
Feeding Tools
Before we get to the food, I want to share with you some of our favorite toddler feeding products that make meal time a little more enjoyable.
EZPZ Mini Bowl: a suction bowl that actually stays put! We love that these include a little placemat as well, are non-toxic, and dishwasher safe! (Use code EZPZ25LOVE for 25% off $75+ at EZPZ)
Pillowfort Plates: these plates are our go-to for almost every meal these days. They have held up great in the dishwasher and are extremely durable.
Munchkin Fork & Spoon Set: this is the perfect set for young toddlers. The fork is more of a spork and is great for kids learning to eat with utensils.
Munchkin 360 Cup: this is the best open cup training cup! Sippy cups can be bad for oral development, but this cup doesn't have a spout. We love it because it doesn't leak or spill.
Meal Ideas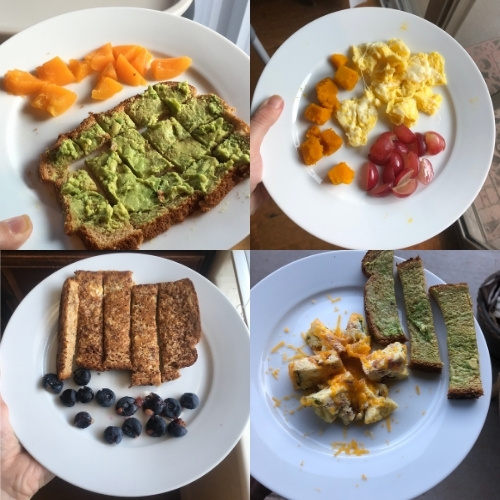 Avocado Toast Bites: toasted bread (we really like Dave's Killer Bread) with smushed avocado on top. You can cut toast into strips or bites for young toddlers. For young toddlers I like to very lightly toast the bread. Side of peaches.
Scrambled Eggs: eggs scrambled in grass-fed butter are a great source of protein and healthy fat. Sometimes I will also scramble in some veggies or cheese. Side of quartered grapes and butternut squash.
French Toast: French Toast was one of my toddler's first finger foods and it is still one of his favorites. Side of blueberries. We really love this Banana French Toast recipe!
Egg Muffin Cups: Bake scrambled eggs in the oven with toppings like spinach, ham, and cheese. They are super easy to heat up in the morning before heading to school or having a busy day. Side of avocado toast strips.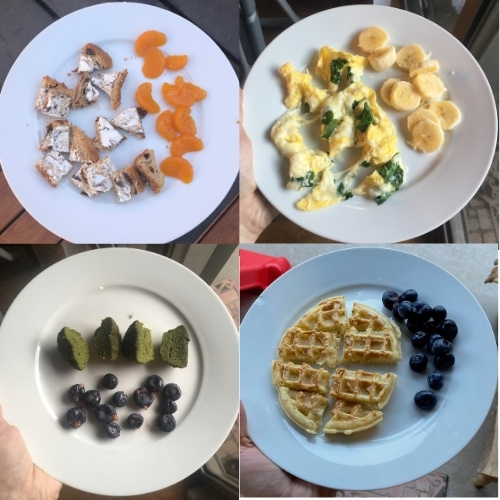 Toast with Cream Cheese: cinnamon raisin toast (or regular toast) topped with cream cheese. Side of mandarin oranges.
Spinach Egg Scramble: I love adding veggies to every meal I can. I scrambled up some eggs and sautéed spinach and topped with cheese. Side of banana slices.
Veggie Muffins: we love Inspiralized Kids spinach blender muffins. They are so quick and easy to make and are packed with added nutrients. Side of halved blueberries.
Waffle: we love Nutrigrain Waffles and top them with peanut butter, almond butter, cream cheese, jelly, smushed fruit, or coconut cream. Side of blueberries.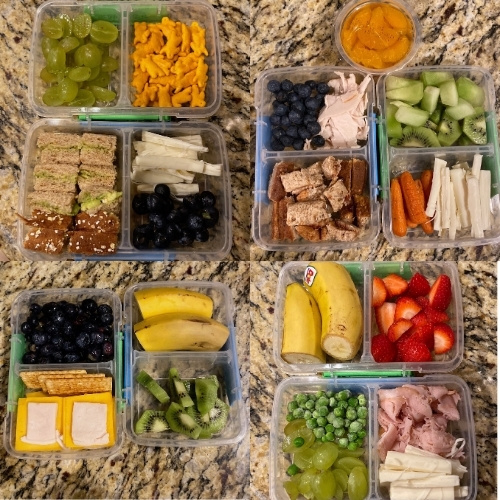 Avocado Sandwich: like avocado toast, but made into a sandwich so its less messy. This is one of my toddler's favorite lunches for daycare. Sides of string cheese, blueberries, grapes, and cheddar crackers.
PB&J: any toddler favorite! We like to rotate different flavors of jelly and alternate between peanut butter and almond butter. Side of turkey, blueberries, cooked carrots, string cheese, and fruit.
Cheese and crackers: like a homemade lunchable! Whole wheat crackers, cheese, lunch meat, banana, kiwi, and blueberries. Your toddler can have fun stacking and unstacking the cheese, crackers, and meat or just eat them all separate (like mine does).
Lunch meat and cheese: turkey or chicken, string cheese, peas, grapes, banana, and strawberries. Sometimes its okay to send something besides a sandwich!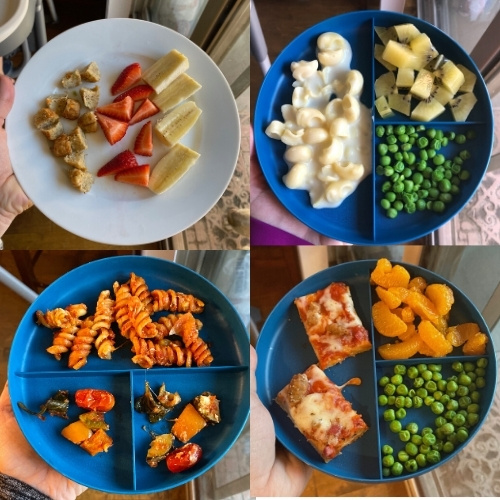 Chicken Veggie Meatballs: we love these frozen Chicken Veggie Meatballs by Kidfresh. Side of strawberries and bananas. They come frozen and are so easy to quickly heat up for lunch.
Mac 'n Cheese: another toddler favorite! I normally like to stir in veggies like peas or carrots or sometimes serve them on the side. Also a side of golden kiwi.
Pasta and Veggies: left overs are great for lunch! We had rotini pasta with red sauce and cooked veggies (bell pepper, zucchini, spinach, tomato, and onion).
Pizza: life is all about balance so sometimes we have pizza. I always try to pair pizza with healthy sides to make it a more well-rounded meal. Side of peas and mandarin oranges.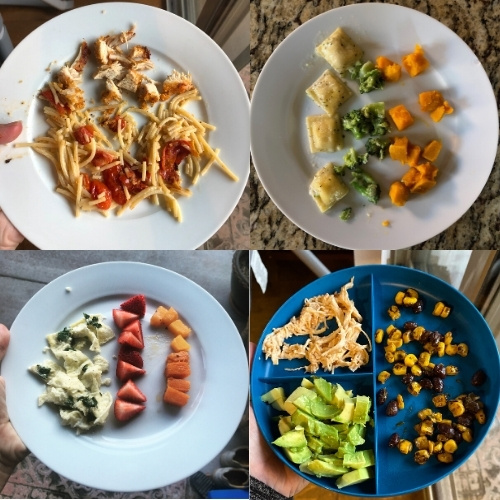 Chicken Parmesan and Pasta: breaded chicken, spaghetti, and tomato sauce. This can get messy quick, but is so delicous!
Ravioli: we love lobster ravioli or ravioli with spinach and ricotta, really any filling will do. Side of broccoli and butternut squash.
Tortellini: tortellini pasta with spinach and cream sauce. Side of strawberries and butternut squash.
Deconstructed Taco Plate: taco Tuesday (really any day of the week) is a favorite in our house. We like to dish out a plate for my toddler with all the yummy toppings. Here he had black beans and corn, shredded chicken, and avocado.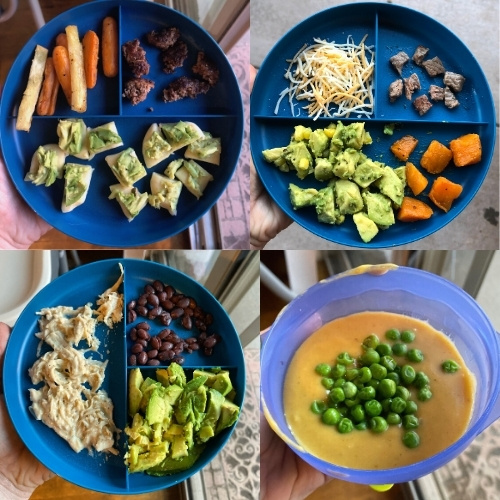 Avocado Naan (or Pita) Bread: Naan bread warmed and topped with avocado. Side of oven fries and cooked carrots, and ground beef.
Carne Asada: grilled steak taco plate with beef, cheese, avocado, and butternut squash on the side.
Pulled Chicken: chicken made in the instant pot with cream cheese and chicken broth (search for a "Crack Chicken" recipe). Side of avocado and black beans.
Soup: in the winter months we really like soup! I find that its helpful to put some sort of solid in blended creamy soups to help your toddler better scoop it themselves. Here we had butternut squash soup with peas.
Thanks for stopping by!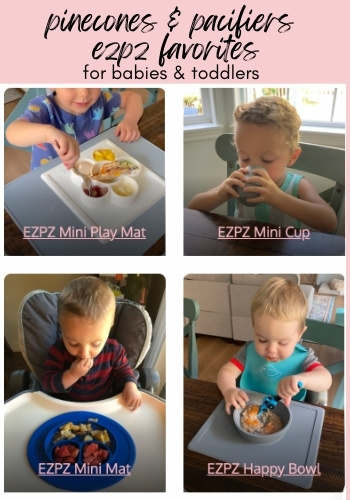 >> Shop our favorite feeding products from EZPZ <<
Use code EZPZ25LOVE for 25% off $75+ at EZPZ
If you are looking for more meal ideas for babies or toddlers, check out more posts from my feeding series: