A practical guide to your baby's Easter basket from a mom of three! Im sharing what formula I use to fill my baby (or toddler) Easter basket to help with some Easter inspiration!
Easter baskets can be a fun time to gift your little one new things and fun treats, but especially at the baby stage you don't need to spend a ton of money or go overboard with extravagant gifts (unless of course you really want to!).
Here is the simple formula I use to put together a fun and practical Easter basket for a baby or toddler.
You might also like these related posts: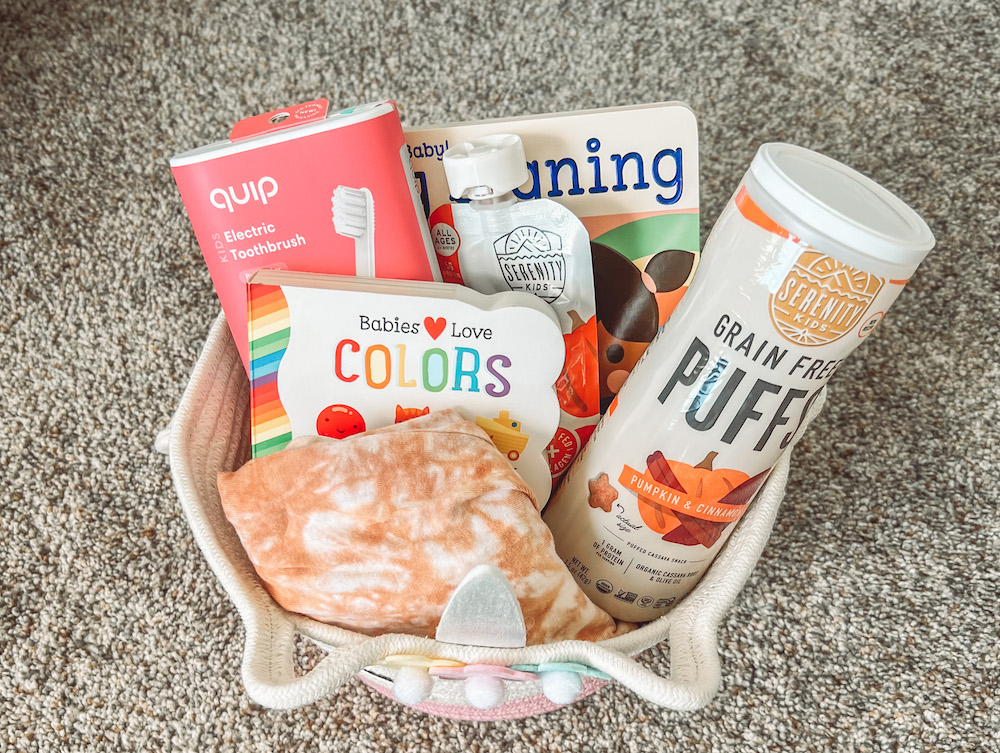 Shop: Unicorn Easter Basket
What do you put in an infant's Easter basket?
1. Board books
There are so many benefits of reading to your baby! Reading to your little one can help with their language development, communication, and can even help them learn basic concepts like colors, letters, and numbers. It's also a great way to bond with your little one or help them wind down for bed.
Look for books made especially for babies like board books, indestructible books, flap books, or feel and touch style books (these were always a hit at our house)!
This year we got our little one these two board books: Yes, Baby! Baby Signing & Babies Love Colors
2. New Toothbrush
Most babies will start to develop teeth around 6-12 months! This is just an average so don't worry if your baby has no teeth or a lot of teeth at this age (everything will even out within a year or two). Either way, it's a good idea to start teeth brushing early to get your baby familiar with a toothbrush and help prevent tooth decay.
They make tooth brushes designed just for infants or you can get one of our favorite quip kids toothbrushes as long as you are extremely gentle on their teeth and gums when brushing (this is not necessarily recommended for infants, but as a mom of three this is what we use).
My favorite infant and kids toothpaste is Hello kids toothpaste and Tubby Todd toothpaste (using this link will save you 10% off Tubby Todd)
3. Fun Spring Outfit
Easter baskets are another great opportunity to add a fun new piece to your child's wardrobe (this is the practical part of my solution!). Choose a fun print or color that screams Easter or spring!
Some of my favorite places to shop for babies (including pjs) are Target, Old Navy, Burt's Bees Baby, and Little Sleepies.
This year we are gifting our little this cute pink and orange romper that's perfect for spring and summer!
4. Snacks
Snacks and treats are another fun option for your baby's Easter basket! We like to avoid sugar for our babies and toddlers, so we opt for something that they would likely eat anyways since they won't know the difference. Save the candy and chocolate for kids and teens!
This year we are doing Serenity Kids (use JESSICA15 to save 15%) pumpkin puffs and pumpkin smoothie pouch. We also love Amara baby food (use PANDP15 to save 15%) and smoothie melts as other fun options for baby Easter baskets.
Shop this easter basket on LTK!
Here are a few more favorites from my stocking stuffer guide that would also work well in your baby's Easter basket: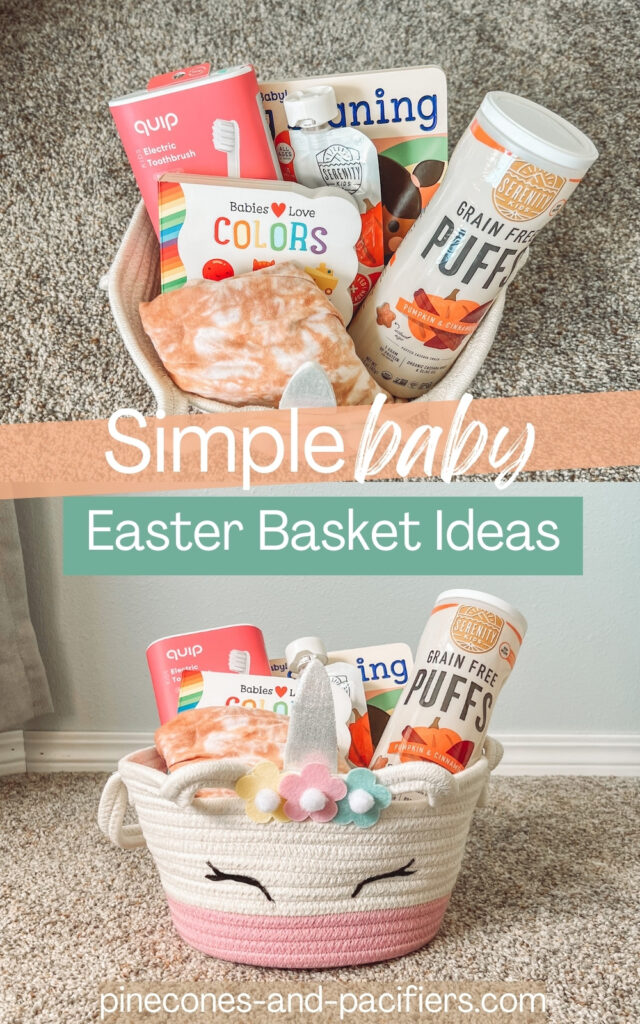 Recent related posts: