Here is a really helpful and realistic list of the best gift ideas for moms; it was made by a real life mom of three!
What to get the mom that has everything? What are unique and useful gifts for moms? What should you buy mom to make her happy? This gift guide can help!
You might also like these related posts: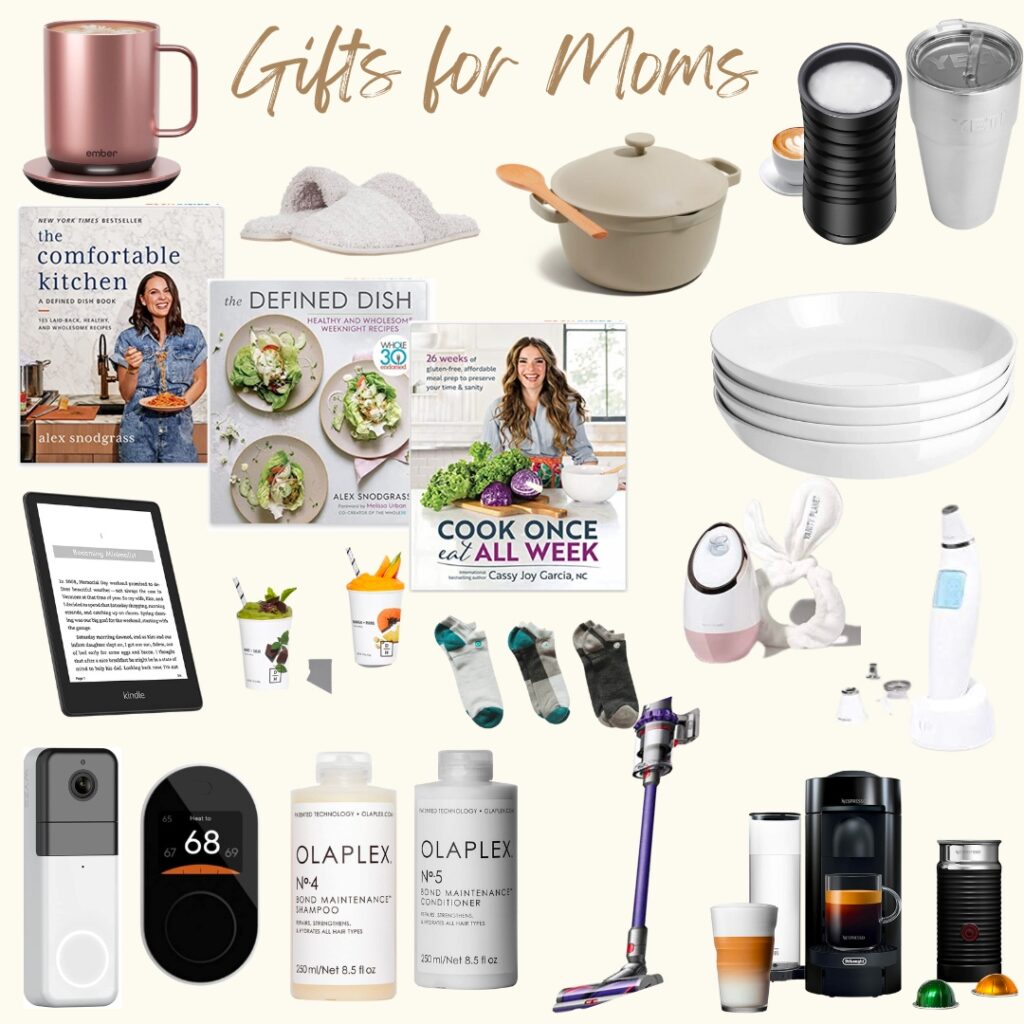 Gift Guide for Moms
Ember Temperature Control Smart Mug – because a mom never gets to drink her coffee while its warm! This mug solves that problem and keeps coffee warm for hours.
GreenPan 3-in-1 Grill, Griddle & Waffle Maker – my favorite cooking appliance for busy moms. It's so easy to clean and is so versatile for cooking (read more here).
OurPlace Perfect Pot – the perfect pot that you can leave out on your stove! It's beautiful and comes in tons of colors. It's also the perfect size for just about everything. It's worth the hype!
The Comfortable Kitchen Cookbook – We have the original Defined Dish Cookbook (below) and this is at the top of our wish list! Amazing, healthy meals for all levels.
The Defined Dish Cookbook – One of my go-to cookbooks! A great mix of traditional favorites made healthy and dishes to dream about.
Cook Once, Eat All Week Cookbook – This one comes highly recommended! I've been looking for ways to cut down on cooking time and I think this could be the perfect solution!
Nespresso VertuoPlus – for the Starbucks addict 🙂
Daily Harvest Smoothie Box (Use this like for up to $40 off!) – I love these smoothies! They get sent to your door and come in fun, original flavors that I would never think of myself.
Milk Steamer and Frother – Make fancy coffee (or chai's) at home!
Yeti Straw Cup – Perfect for make sure you drink your water each day or perfect for iced coffee (or wine, I won't tell!).
Shallow Pasta Bowls – I got these last year and am still obsessed! Most dinnerwear sets don't come with anything in this size range. We use them for rice bowls, pasta, large salads, and so much more.
Wyze Video Doorbell – I wasn't a huge fan of RING, but this doorbell is a great alternative! We have multiple Wyze products and are very impressed at the quality for an affordable price.
Wyze Smart Thermostat – I wasn't a huge fan of the Nest Thermostat and this one is so much easier and more intuitive. I love our that I can control the thermostat from my phone when i'm upstairs in bed or even away from home.
Dyson Cordless Vacuum – A must have for kids and pets! Ours gets used daily.
Kindle Paperwhite – great for the bookworm or a mama who wants to read a little before bed. We love the sleek design and that you can free up some closet space by not collecting too many books.
Barefood Dreams Slippers – So dreamy and comfy, you won't regret these!
Q for Quinn Merino Wool Ankle Socks – For the mom who loves to be cozy and warm. Wool socks are temperature regulating and are extremely breathable.
Olaplex Shampoo & Conditioner – add these to your wish list if you haven't already! A must-have for beautiful hair. I find that I use so little these bottles last a long time.
Vanity Planet Facial Steam & Microdermabrasion Wand – perfect for a spa day at home. I use these regularly and I love the little refresh it gives my face.
Thanks for stopping by! You might also like these recent posts:
Pin now to save for later!