A guide of simple and practical toddler Easter basket ideas to help know what to put in your toddler or preschooler's Easter basket!
Are you looking for the best, simple, easy, or last-minute Easter basket ideas for your toddler or preschooler? This post can help!
I'm a mom of three sharing what I put in my toddler and preschooler's Easter basket. Use this guide to help you with Easter basket inspiration.
You might also like these related posts: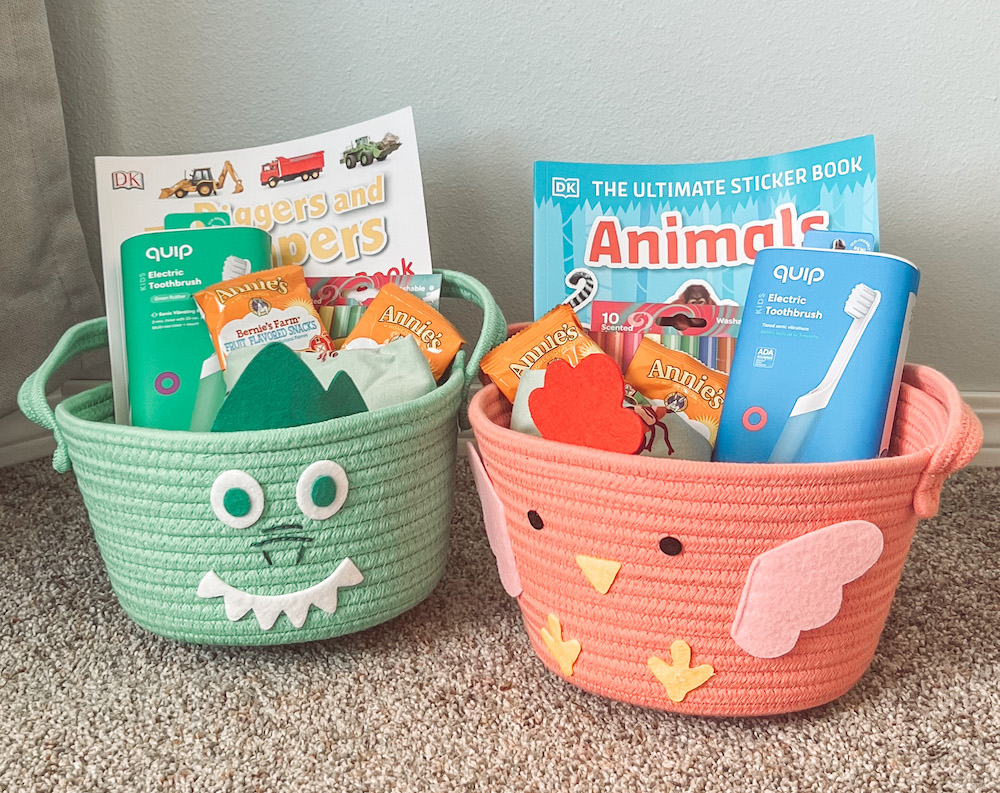 Shop: Orange Chick Easter Basket & Green Dino Easter Basket
Easter Basket Ideas for Toddlers and Preschoolers
Looking for Easter basket ideas for babies or young toddlers? Start here: Simple Baby Easter Basket Ideas
1. Sticker and Activity Books
Books of any kind are a great, simple idea for your toddler's Easter basket. Reading to your toddler can help with language development, communication, and learning colors, number, letters, early reading skills, and more!
As my toddlers get older I also love to do activity books or sticker books, too. These types of books can help with pincer grasp, hand-eye coordination- and early writing skills.
Here are some of our favorites:
2. Fun Markers or Paint Sticks
To go along with an activity book or just as another individual item, I love putting some fun markers or a set of our favorite tempura paint sticks in my toddler's Easter basket. Be sure to choose washable markers or paint sticks!
3. New Toothbrush
Most children get their first tooth between 6-12 months and will have all of their teeth around 3 years old (this is an average of course and no matter how many teeth your toddler has you will need to make sure they brush their teeth well).
I love to use holidays as a time to get my kid's new toothbrushes! It's a practical gift that they still get excited about so it's a win-win for everyone. Our favorite toothbrushes for toddlers and preschoolers are quip kids electric toothbrushes .
Our favorite toddler and kids toothpaste is Hello kids toothpaste and Tubby Todd toothpaste (using this link will save you 10% off Tubby Todd)
4. Fun Spring Outfit
A new shirt or outfit is another practical gift for your toddler's Easter basket that they will still be excited about! Choose a shirt with their favorite character or in their favorite color or a cute bunny themed outfit. My boy's are getting this fun shirt this year and my daughter is getting this adorable pink & orange romper.
For some fresh ideas, my favorite places to buy kid's clothes are Target, Old Navy, Cotton On, Carter's, and Little Sleepies pjs. You really can't go wrong when gifting clothing! A fun pair of socks or shoes could also be a great easter basket gift.
5. Snacks or Treats
Finally, I like to avoid a ton of candy in my kids' Easter baskets, but instead we like to give treats like Annie's fruit snacks or Amara smoothie melts (use code PANDP15 to save 15%).
Shop this Easter basket on LTK!
Here are a few more favorites that would also work well in your toddler's Easter basket: