A baby nursery checklist: everything you need to set to set up your baby's nursery plus nursery design inspiration.
Wondering when to set up your nursery? What to have in your baby's nursery?
I'm a mom of three sharing my must-haves for setting up a nursery for your little one. A nursery is not only a place for your baby to sleep (even if they seem to very little of that in the beginning), but it's also clothes, toy, diaper, and baby gear storage, a safe place to change their diaper, and a cozy room to do most of your baby's feedings.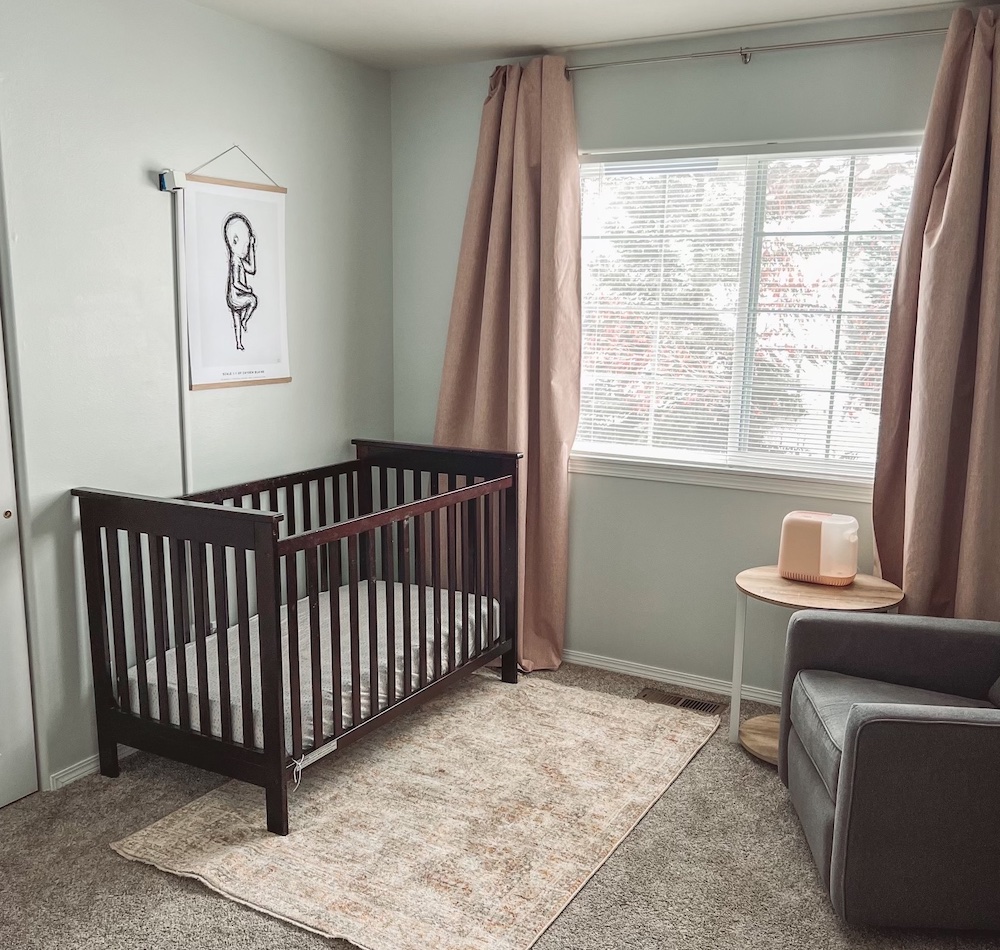 When to Set Up Your Nursery?
I love to have my baby's nursery set up before they are born and plan to have it done by the time I am 32 weeks or so. Once you get past this point in pregnancy its a lot more difficult to get around, build furniture, and move it around the room (both from a safety perspective and mobility).
If you are having a baby shower, most people will have it around the 32 week mark and after that is the perfect time to finish up any loose ends with your baby's nursery.
If you are past this point in pregnancy or have had your baby already, don't worry too much! You can still set up your baby's nursery whenever you have the time and motivation. (My second son slept in a travel crib in the guest room until he was about 2 months old and transitioned to the nursery perfectly fine after that).
Best Rug for your Nursery?
A comfy cozy rug can be a statement piece that sets the mood for your baby's nursery. We have this gorgeous rug (from Rugs Direct) and used it to transition our nursery from blue boy decor to more neutral pink baby girl decor. We love the quality and fast shipping!
Baby Nursery Checklist
Here are my recommendations for your must-haves when setting up your baby's nursery:
Area Rug – we have this one (from Rugs Direct). A rug can be used as a cozy space to lay your baby for tummy time or play time and is also a great statement piece to add warmth or color into your baby's nursery.
Delta Children Hendrix 4-in-1 Convertible Crib – I recommend a 4-in-1 crib so that you can easily transition your baby from a crib to toddler bed and beyond. It saves you money and is also a great quality piece to pass down through multiple children.
Newton Baby Crib Mattress – A breathable mattress can give you peace of mind when having your baby sleep in their crib.
Blackout Curtains – these are my absolute favorite blackout curtains! The ones we currently have in our nursery, I do not recommend, but we have these in other rooms in our house and are the very best.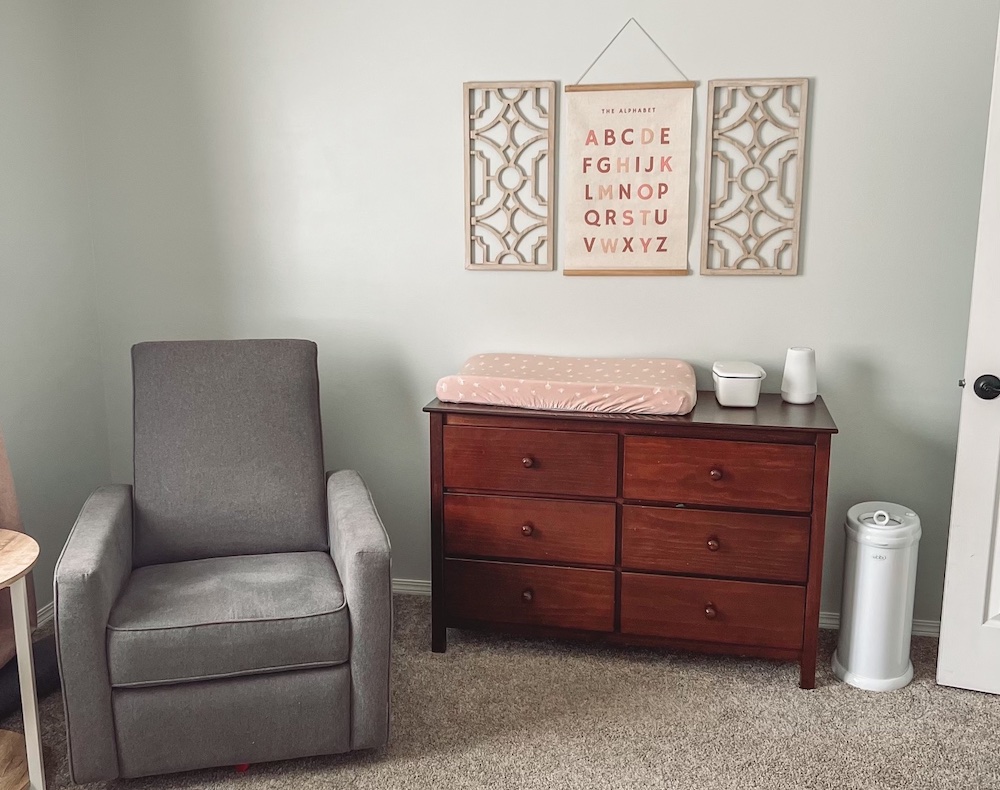 Delta Children Changing table/dresser – a place to store your baby's clothes, accessories, and diapers! We have loved this dresser and use it as a changing table as well with this diaper changing pad.
DaVinci Gabby Pillowback Swivel Glider – a comfy chair is a MUST in a nursery! Whether you nurse or bottle feed you will be spending a lot of time feeding your baby during their first year of life and beyond. We love this chair for those late night feeds.
Side Table – it's a great idea to get a side table to keep next to your nursery chair! You can store snacks for late night feeds, set down bottles or pump parts, or place your humidifer on it.
Bookshelf – this bookshelf is so affordable and perfect for displaying board books for babies and hardback or paperback books as your baby grows into toddlerhood!
Ubbi Steel Diaper Pail – after three kids, we have tried a few and this one is our favorite! It really works and I love that it uses regular trash bags instead of special bags
Hatch Rest+ Baby Sound Machine – white noise can help your baby fall asleep and stay asleep longer and will help block out all those extra noises from around your house. Plus this one has a night light and can be controlled from your phone!
WYZE Cam v3 Baby Monitor – we love these simple options for a video monitor!
Alphabet Canvas – a perfect pop of color with this alphabet hanging canvas.
Wood Lattice Wall Decor – the perfect neutral wall decor great for a little girl or little boy's room.
Baby Bow Organizer – we absolutely love this bow organizer! It holds so many bows and looks perfect on the nursery wall!
You might also like these related posts: