A review of Beddy's from a mom of three and why Beddy's is the best bedding for kids, families, and bunk beds!
If you're a parent, you know that bedtime routines can be a mix of joy and challenge. Convincing your little ones to go to bed is one thing, but making the bed in the morning can sometimes feel like an Olympic sport.
Enter Beddy's – the game-changing bedding solution that not only makes bedtime a breeze and ensures your child's comfort throughout the night, but also makes their beds super easy to make in the morning.
In this blog post, we'll explore why Beddy's is the best bedding for kids and my personal experience as a mom of three and Beddy's user.
Remember to follow along with us on Instagram for more baby & toddler product finds!
You might also like these recent related posts: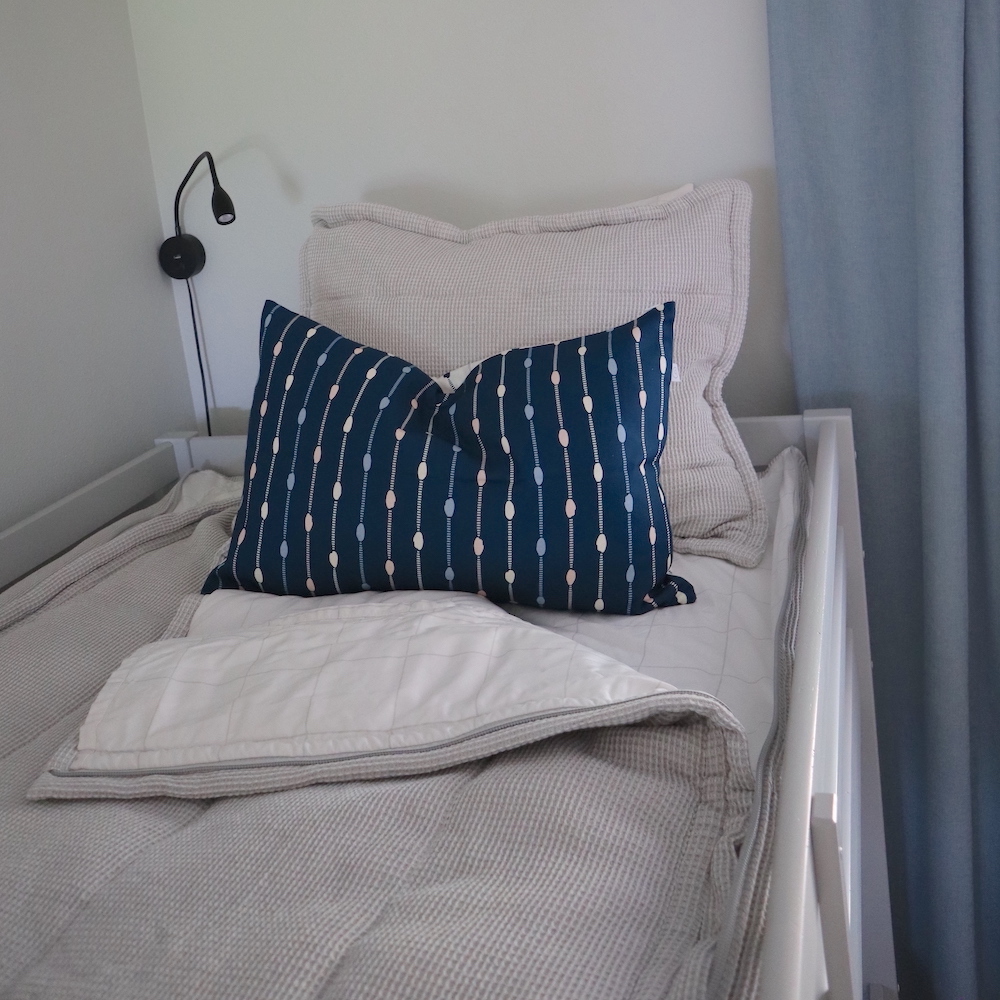 (Beddy's Harper Luxe style: Use code PINECONES for 15% off)
The Beddy's Difference: What Sets It Apart
Before we dive into the reasons why Beddy's is a must-have for kids' bedrooms, let's understand what makes it so special.
Beddy's is a combination of "bed" and "ease."
It's a fitted sheet and a cozy comforter rolled into one, with a patented zipper system that runs along both sides and the foot of the bedding.
This zipper system simplifies the process of making the bed and ensures that it stays perfectly in place, providing a snug and comfortable sleep environment for your child.
So, why should you choose Beddy's for your kids? Let's explore the benefits and why I love Beddy's as a mom of three!
>>> Shop Beddy's (Use code PINECONES for 15% off)
1. Easy Bed-Making for Kids
Getting kids to make their beds in the morning can be a struggle (speaking from experience)!
Traditional bedding often results in crumpled sheets and a disheveled appearance, which can be frustrating for both parents and kids. Beddy's changes the game by making bed-making a simple and fun task.
With Beddy's, making the bed is as simple as zipping the bedding! It's a task that even young children can accomplish with ease: my 3 and 5 year old can make their bed with Beddy's!
This not only teaches them responsibility but also provides a sense of accomplishment, setting a positive tone for the day.
2. Stylish and Kid-Friendly Designs
Beddy's offers a wide range of colors, patterns, and designs that cater to children's tastes and preferences.
From vibrant and playful patterns to classic and timeless designs, there's a Beddy's set for every child's personality and room decor.
Kids love to express themselves, and their bedding is an excellent canvas for that self-expression. Let them choose their favorite Beddy's design, and watch as their bedroom transforms into a space that reflects their unique style and personality.
3. Snug and Cozy Sleep Environment
A comfortable sleep environment is crucial for kids' well-being and quality rest.
Beddy's ensures that your child sleeps soundly through the night by keeping the bedding securely in place. No more tangled sheets or cold drafts during the night.
We personally like the all cotton Beddy's, but they also offer a snuggly Minky material as well.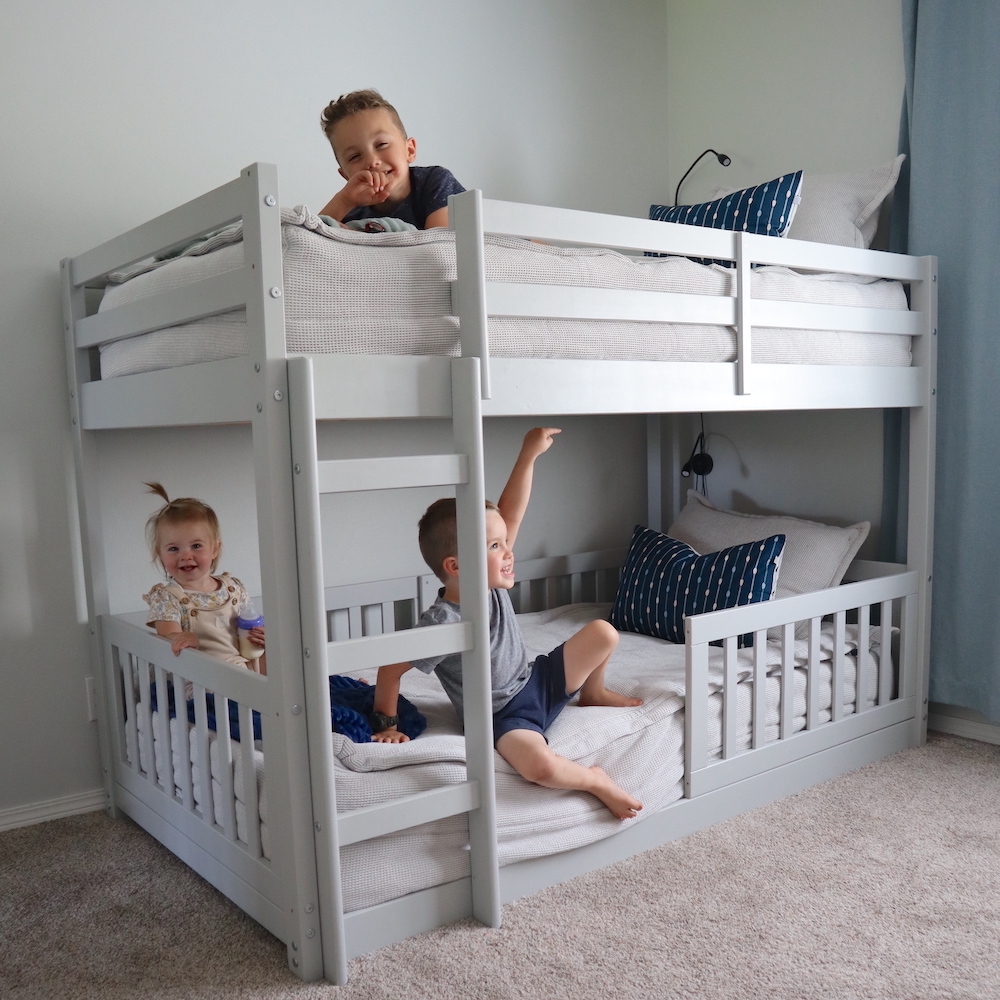 4. Perfect for Bunk Beds and Shared Rooms
If your children share a room or sleep in bunk beds, you'll appreciate Beddy's even more.
Making beds in tight spaces can be challenging, but Beddy's streamlines the process. The zipper system ensures that each bed looks tidy and well-made, even in confined spaces.
We use our Beddy's (style Harper Luxe) on bunk beds and they are a complete game changer! I used to dread making the bunk beds, but now my kids can do it themselves or I can do it myself very quickly and easily.
>>> Shop Beddy's (Use code PINECONES for 15% off)
5. Easy Maintenance
Let's face it! Kids are messy, and their bedding often bears the brunt of spills and accidents. Beddy's entire set is machine-washable, and the durable zipper is designed to withstand regular use and washing.
6. Encourages Independence
Beddy's empowers children to take charge of their bedtime routine.
It encourages independence by making bed-making a task they can handle on their own. This sense of accomplishment can boost their self-esteem and foster a sense of responsibility.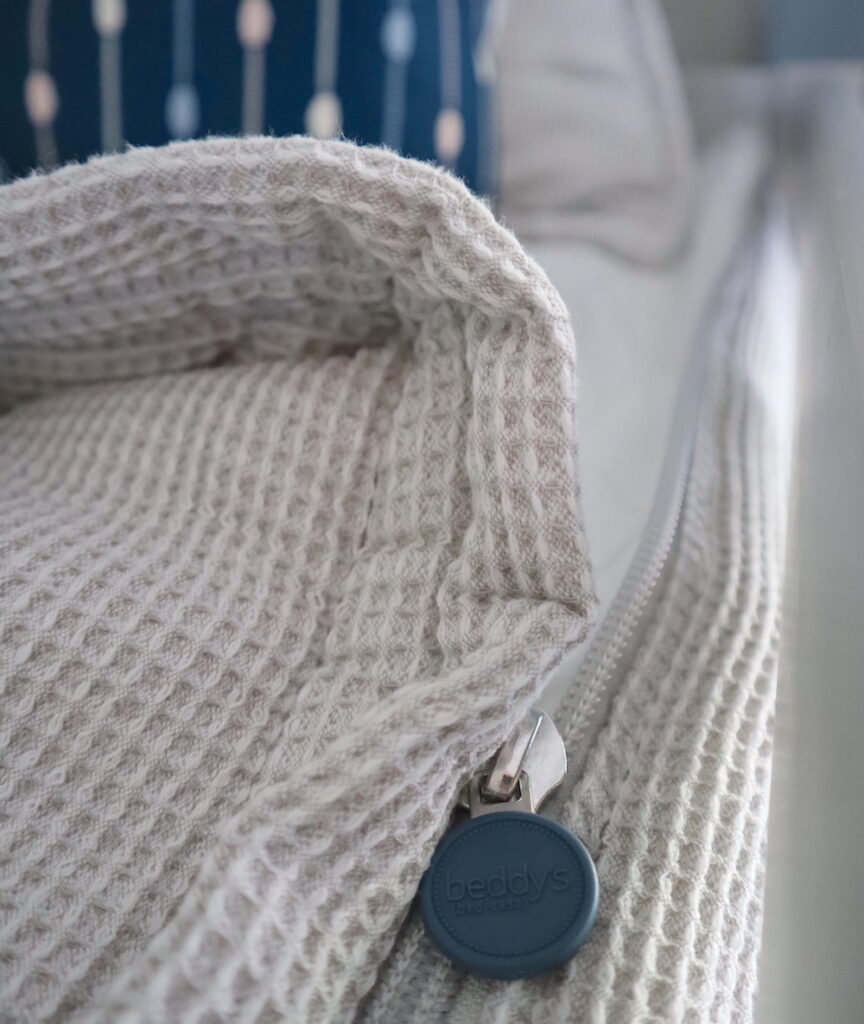 Is Beddy's Worth It?
As a mom of three, and owner of bunk beds, I say Beddy's are absolutely worth it! Besides all of the benefits mentioned above, the quality of the bedding is excellent and they are worth the investment.
Right now we have a Beddy's on each of our bunk beds, and I have plans to buy a set for my daughter when she grows into a bed.
Beddy's aren't just for kids! I also plan to buy them for our guest bed and master bed since they come in size twin through king size!
>>> Shop Beddy's (Use code PINECONES for 15% off)
Conclusion: Beddy's – The Ultimate Bedding for Kids
Beddy's is more than just bedding; it's a solution that simplifies your child's bedtime routine while providing them with a comfortable and stylish sleep environment. It fosters independence, encourages responsibility, and makes mornings a breeze for both kids and parents.
So, if you want to transform your child's bedroom into a space that they love and make bedtime routines a cinch, consider Beddy's.
It's the best bedding for kids – a combination of convenience, style, and comfort that both kids and parents will appreciate.
You might also like these recent related posts: