I'm a mom of two and am sharing my top picks for cute maternity clothes for summer time.
Being pregnant in the heat of summer is no joke! I have done it twice and you are miserable simple because you are hot all the time. Being pregnant increases your blood flow and most women carry some extra weight, which combined means you are extremely uncomfortable.
But, having the right clothes can make a world of difference. In my opinion maternity clothes are necessary from at least 20 weeks on (sometimes earlier, especially after your first pregnancy).
The good news is I found some cute and affordable maternity clothes that I can wear in the summer. They will also grow with me and I plan on layering them with heavier clothes as we get into cooler seasons.
Maternity Tops
I love wearing maternity tops when pregnant. Some women can get through their whole pregnancy in their regular shirts, but I feel more confident when I wear a shirt that fits well.
Maternity shirts are normally longer than normal shirts and have extra room in the belly area for your growing baby. Here are some of my favorites:
---
Best Maternity Graphic Tank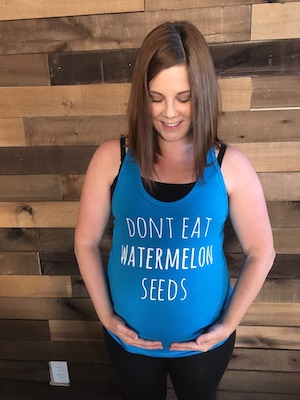 Don't Eat Watermelon Seeds Maternity Tank from Amazon
(slightly different shirt linked because mine in the pic above isn't available anymore)
What's being pregnant without a cute and silly maternity graphic tank? My favorite cute maternity shirt that reads "Don't Eat Watermelon Seeds". The shirt actually isn't a maternity shirt so size up, but its very stretchy and fits well over your bump (I was about 32 weeks in the image above).
Best Side Ruched Maternity Shirt
Maternity Tunic Side Ruched T-Shirt on Amazon
A ruched shirt is a classic maternity style that is great on almost any body type and really accentuates your bump. This shirt comes in so many cute patterns and is a great go-to maternity shirt for lazy days. The neckline and sleeve length are very flattering and the material is extra soft.
---
Best Babydoll Style Maternity Shirt
CareGabi Women's Maternity Top on Amazon
This is probably my number one style when pregnant. I love that this shirt is more of a babydoll style and isn't tight around the belly so its a little more flattering and comfortable for summer. Cute swoop neckline and the length is perfect for leggings.
---
Best Modest Maternity Shirt
Lorjoy Women's Short Sleeve Maternity Top on Amazon
I'm always a fan of stripes and like this one because it is extra long. These sleeves are also a little longer and the neckline is a little higher which are both more on the modest side. This shirt also comes with this cute little onesie.
---
Best Shirt for Before and After Baby
Womens V Neck Short Sleeve Nursing Tops on Amazon
I love this shirt for a night out or something where I want to be a little more dressy than a t-shirt. A deeper neckline than the standard maternity shirt, this one is also great for breastfeeding post baby.
---
Best Nursing Tank
Kindred Bravely Sublime Nursing Tank from Kindred Bravely
My favorite nursing tank that has padding for extra support both pre and post delivery. I love this tank because it comes in your normal sizes (small-XXL), but it also has different cup options for smaller or bustier women.
---
Maternity Bottoms/Dresses
Very few people can get away without buying maternity pants. I don't know who would try anyways! They are vey comfy and give you an excuse to live in leggings and avoid buttons digging into you for 9 months!
However, I do tend to stick to wearing dresses in the summer and leggings/shorts only when necessary. Below are some of my favorites!!
---
Best Summer Maternity Leggings
HyBrid & Company Maternity Leggings on Amazon
These maternity leggings are fairly thin and not my favorite for winter, but they are very soft, lightweight, and perfect for warmer weather! They are cotton and are breathable and work great under a long shirt or dress. These leggings are true to size.
---
Best Maternity Bermuda Shorts
Ingrid & Isabel Women's Maternity Shorts on Amazon
I have never been a huge fan of shorts, but when you are pregnant in the summer sometimes it is necessary! These bermuda shorts are the perfect length and the belly band is supportive and helps hold the shorts up well. These shorts are true to size.
---
Best Ruched Maternity Dress
Women's Ruched Maternity Bodycon Dress on Amazon
The perfect ruched maternity dress! It's so simple, yet cute and elegant. This style definitely accentuates your bump. There are so many colors and patterns to chose from and its so lightweight for summer.
---
Best Babydoll Maternity Dress
Ecavus Womens Maternity Tank Dress on Amazon
If you aren't in love with the tight ruched maternity dresses this is another awesome option! I love this because it is flowy and is great for keeping cool.
---
Best Maternity Photo Shoot Dress
Mother Bee Maternity Short Sleeve Dress
This dress would be so pretty for a baby shower or maternity photos or lunch with friends! Tons of colors and patterns.
---
Best Summer Maternity Loungewear Set
LAMAZE Womens Maternity Pajama Shorts Set on Amazon
I absolutely love this short sleeved loungewear set. They are also nursing pajamas and are extremely soft and lightweight for summer. I wore them after nursing because they are perfect for hiding your postpartum belly.
---
Best Nursing PJs

Kindred Bravely Nursing PJ set from Kindred Bravely
One of my favorite maternity brands also makes this cute and comfy maternity and nursing pj set! Perfect for pregnancy, nursing, and beyond.
---
Thanks for stopping by!
You might like these related posts: