These quick & easy baby lunch ideas are perfect for busy days at home or on-the-go!
We all know that feeding your little one can be both a joy and a challenge. As your baby grows, their taste buds evolve, and so do their nutritional needs.
Whether you're a seasoned pro at making baby meals or just starting to introduce solids, this blog post can help! I've compiled a list of baby lunch ideas that are perfect for babies approximately 10-13 months old and older based on what my kids have actually been eating at this age!
Use your best judgement and mom gut when deciding if you baby is ready for a particular food. Both of my kids have started eating solids very early (around 6-7 months) and so these meals are developmentally appropriate for them based on their skills at age 10-13 months.
NEW TO SOLIDS? Start here >>> Baby-Led Weaning Food Ideas & 7 Month Old Baby-Led Weaning Meal Ideas
Remember to follow along with us on Instagram for more baby & toddler meal ideas!
If you are looking for beginner baby meal ideas, check out some other posts from my baby feeding and baby-led weaning series:
Baby Lunch Basics: What Time Should Your Baby Eat Lunch?
Babies under 1 year old or so should prioritize milk (breastmilk or formula) feedings and use solids as a supplement to this liquid nutrition source. This isn't to say solids aren't important, though! Feeding your baby solids early on can have many benefits including:
helping develop their teeth, jaws, and language skills
decreased risk of food allergies
increased willingness to try new foods later in life
Because of the importance of both liquid and solid nutrition at this age, i've always introduced the below schedule to my babies at this age to ensure they get the best of both worlds. The best time for my babies to eat lunch around this age is approximately 60 minutes after a milk feeding, around 12:00 pm.
I'm a huge proponent of creating a flexible schedule for your baby that aligns with the wants and needs of your family and those family dynamics. So feel free to adjust this schedule so that it works best for your baby and family!
9-13 Month Eating Schedule
At this age my babies normally take 2 naps and have 3-4 liquid feedings per day. Here is a sample schedule:
7:00 am Wake up and bottle
8:00 am Breakfast
9:30-11:00 am Nap
11:00 am Bottle
12:00 pm Lunch
2:00-3:30 pm Nap
3:30 pm Bottle
4:30 pm Snack
6:00 pm Dinner
7:00 pm Bottle
7:30 pm Bedtime
Option with only 3 liquid feedings
7:00 am Wake up and bottle
8:00 am Breakfast
9:30-11:00 am Nap
11:00 am Lunch
1:30 pm Bottle
2:00-3:30 pm Nap
3:30 pm Snack
6:00 pm Dinner
7:00 pm Bottle
7:30 pm Bedtime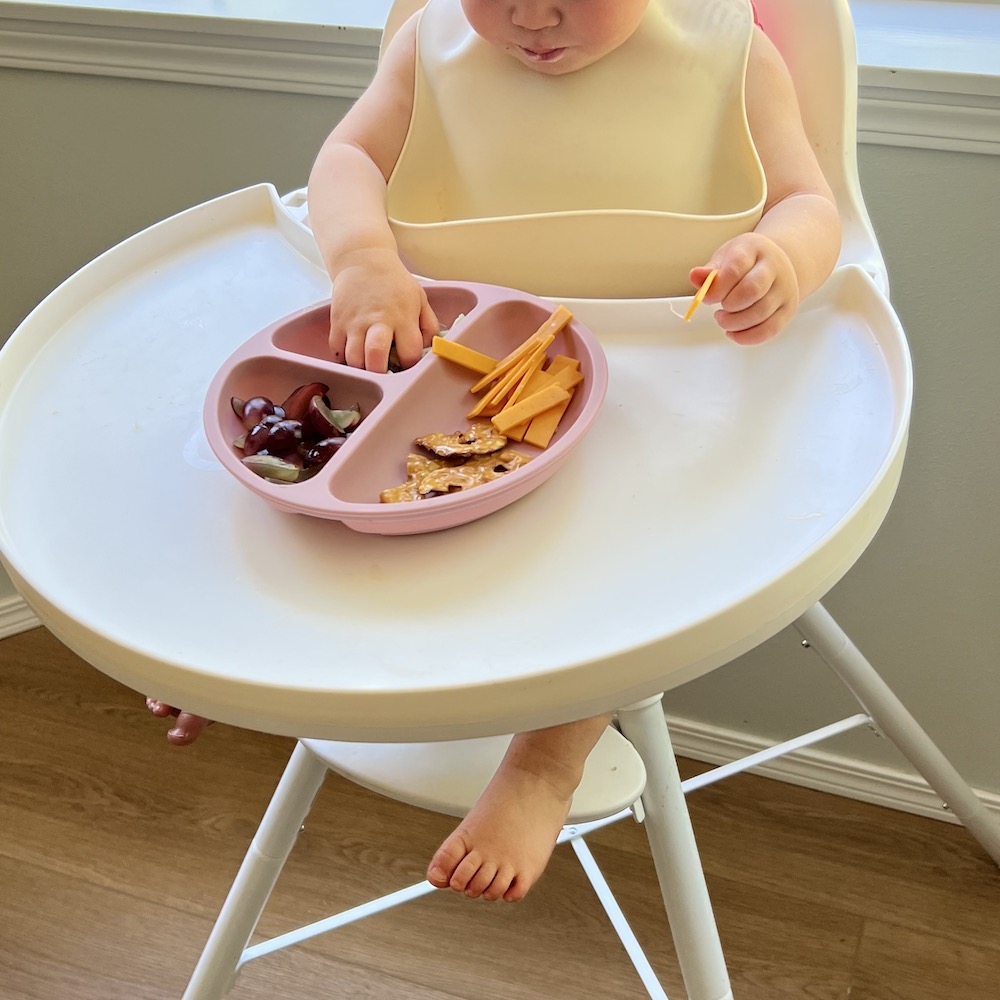 Baby Lunch Feeding Supplies
It's no secret that babies are messy, especially when eating lunch! As a mom of three, I can tell you that having the right feeding supplies can help and make mealtime and cleanup a breeze. Here are some of our favorites:
WeeSprout Silicone Suction Plates: our go-to divided plate! We love that they are made of silicone, are dishwasher safe, and the suction is strong!!
Boon High Chair: this is our go-to highchairs for babies! We have tried quite a few high chairs and this is our current favorite! The whole thing can be put in the dishwasher for easy cleaning and it can extent to counter height.
Grabease Baby Utensils: Our personal favorite utensils for 6-12 months. We use these utensils starting around 6-8 months and they are perfect for little hands to grasp!
Bentgo Box Kids: we love using a bento box to pack lunch for picnics, travel, on-the-go and it's also perfect for sending your baby's lunch to daycare!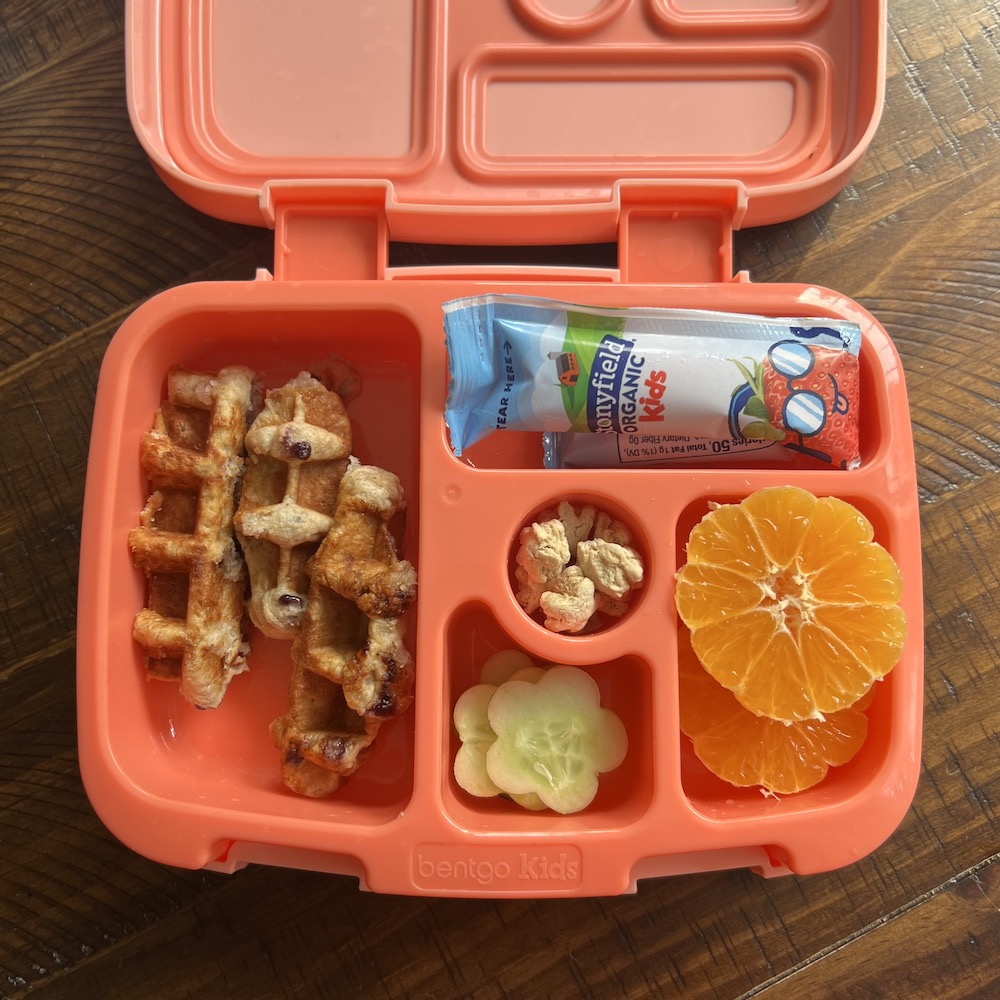 Daycare Baby Lunches
The good news is that most of the baby lunch ideas below can also be packed for daycare! However, if you are looking for some more specific lunchbox and bento box ideas, be sure to check out this post.
Toddler Daycare Lunch Ideas for 18 months
Ideas for baby lunch at daycare:
Hard boiled eggs
Turkey & hummus sandwich strips
Waffle strips
Cheese & crackers
Fruit & cheese
Baby Food Pouches
Although I love baby led weaning, babies and toddlers can also self-feed pureed baby food too! They are also convenient for on-the-go. Here are some of our favorites: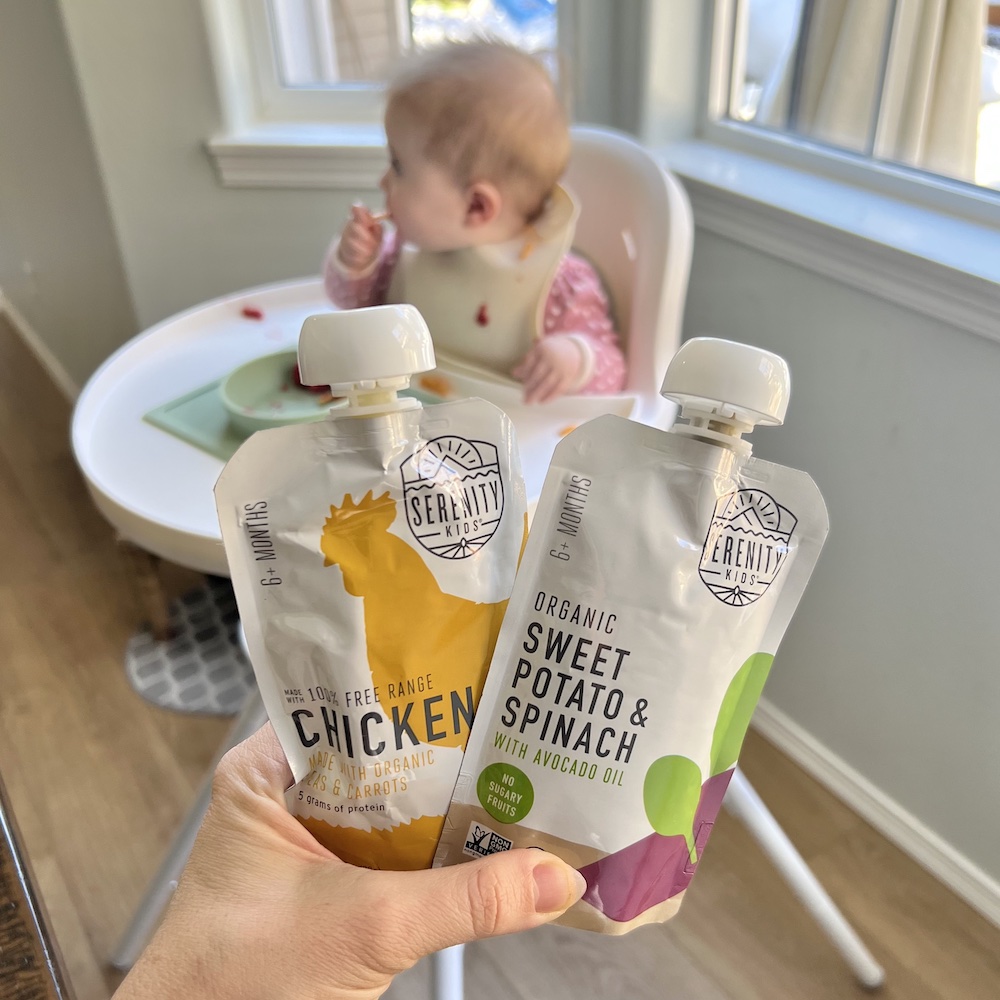 Serenity Kids (Use JESSICA15 for 15% off)- organic, no-sugar added, meat and veggie pouches made with clean farm-to-table ingredients. See my full review on Serenity Kids.
Amara Organic Baby Food (Use PANDP15 for 15% off)– dry food packets made with unique, superfood ingredients (we love that you can customize texture!)
Visit our Amazon Shop to see all of our favorite baby feeding products!
Easy Baby Lunch Ideas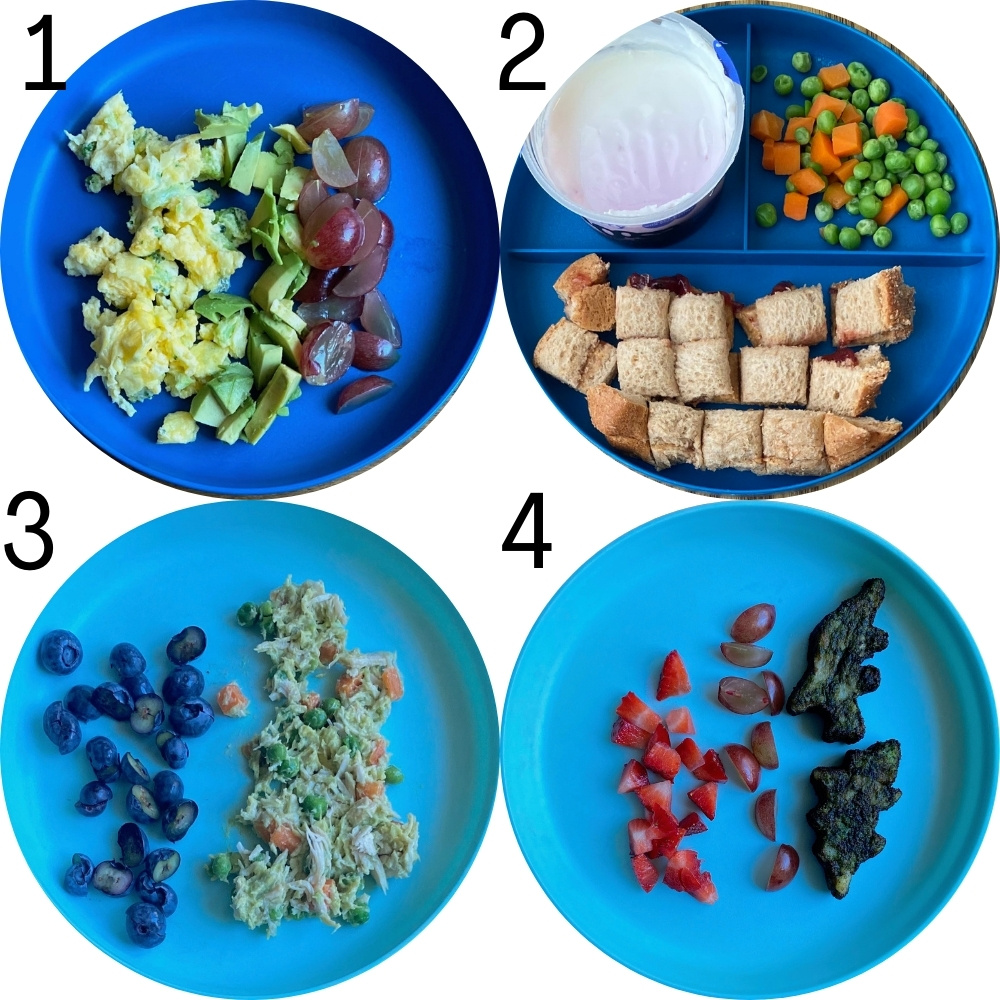 Broccoli & Cheese Eggs – breakfast for lunch! My kids love scrambled eggs, so to make them a little more wholesome for lunch I love to add broccoli and cheese. Side of diced avocado and quartered grapes.
Peanut Butter & Jelly – a classic toddler favorite can also be perfect for babies too! Use a very light amount of peanut butter and jelly (or leave the jelly out completely if you are concerned about sugar). *Cut into bite sized pieces for babies over 12 months or lightly toast and leave open faced for babies and younger toddlers. Sides of peas and full fat yogurt. Favorite spoons for self feeding: Grabease Utensils
Avocado Chicken Salad – a fun variation of my favorite avocado chicken salad recipe (using peas and carrots instead of cucumbers and grapes). Side of halved blueberries.
Dr. Praeger's Spinach Littles – a fun easy freezer food that is perfect for babies and toddlers. Side of diced strawberries and quartered grapes.
Related post: Easy Fun 1-2 Year Old Meal Ideas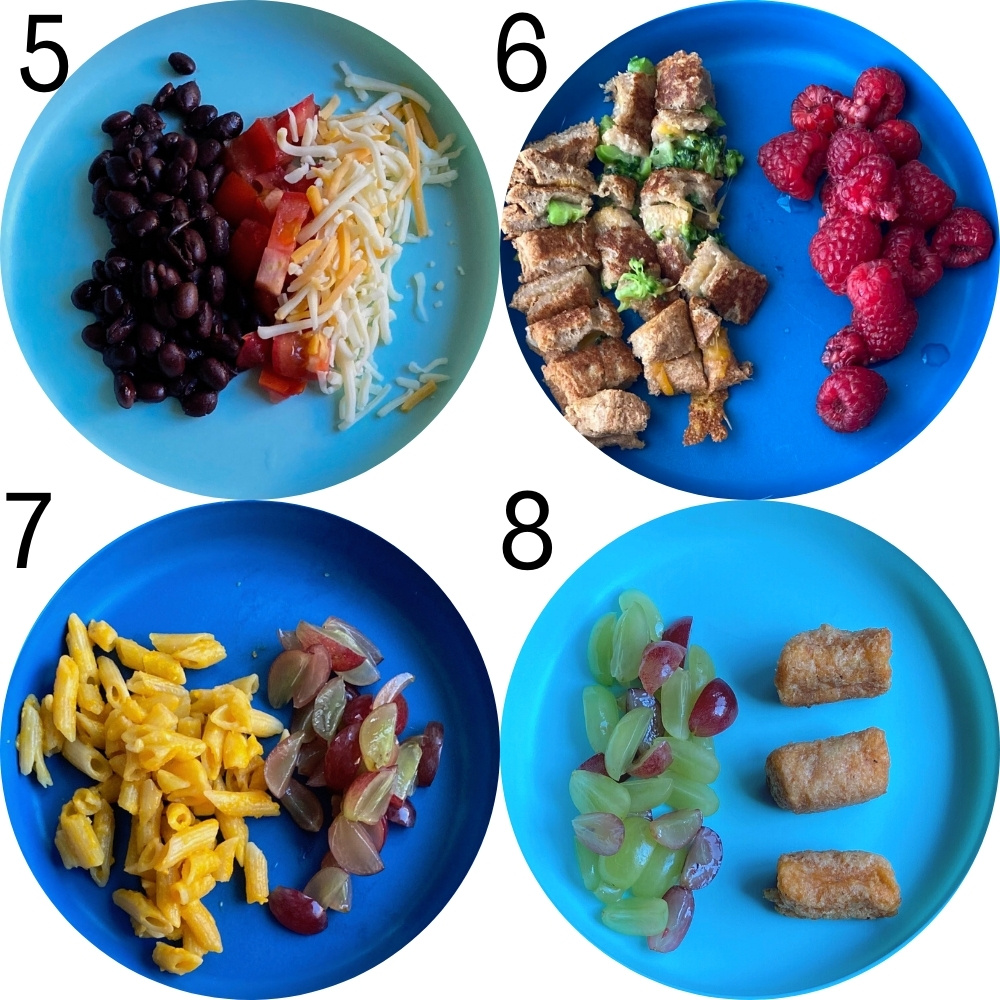 Deconstructed Tacos – deconstructed versions of family-friendly meals are some of my favorites for babies! Here we had black beans, tomatoes, and shredded cheese, but other great options would be ground beef, tender pulled chicken, and avocado.
Broccoli Grilled Cheese – Add a little extra nutrition to plain grilled cheese by adding veggies like broccoli or spinach and cut up into bite sized pieces for your baby. Side of raspberries.
Mac & Cheese – another toddler favorite that is perfect for babies too! We love the store bought boxed mac & cheese from Annie's Homegrown or make it homemade using my favorite greek yogurt mac & cheese recipe. Side of quartered grapes.
Veggie Tots – veggie tots cooked in the air fryer until barely crisp are great for older babies and toddlers. You could also cut these in half or quarters if it's easier for your baby to eat. Side of quartered grapes.
Favorite baby & toddler straw cup: Elk & Friends Straw Cups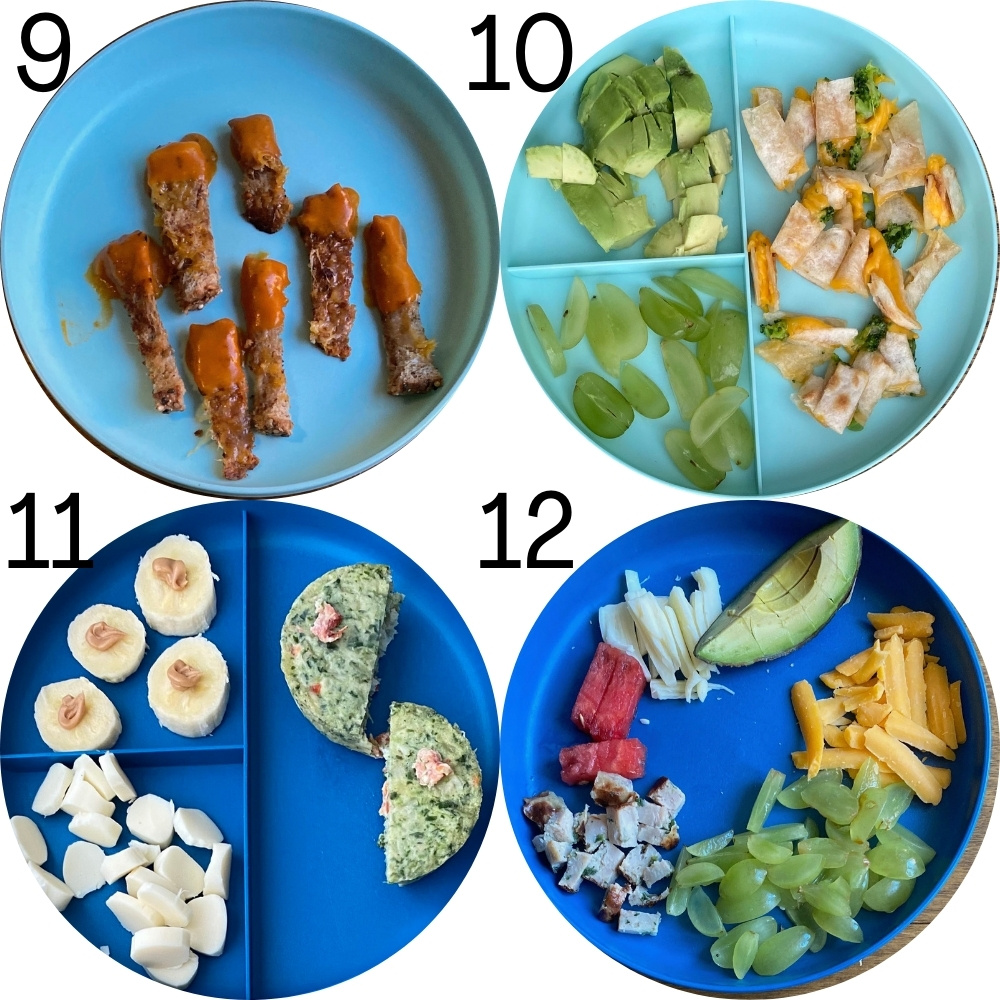 Grilled Cheese & Tomato Soup Dippers – instead of serving your baby plain soup (because it can be super messy), try making grilled cheese and cutting it into strips and then dipping it into tomato soup for your baby. If you do want to serve your baby soup, my favorite full-coverage bib is the Bibado Coverall (Use PINECONES20 for 20% OFF)
Broccoli & Cheese Quesadilla – I always serve quesadillas to my baby in strips or bites to make it easier for them to eat. Add broccoli or spinach to make this meal a little more well-rounded and nutritious. Side of diced avocado and quartered grapes.
Veggies Made Great Frittata – another favorite frozen food option that's great for babies. These egg muffins are very tender and great for older babies and toddlers. Side of banana with peanut butter and string cheese (half string cheese rounds for babies under 1 or so).
Snack Plate – if you follow along with us on Instagram you've probably seen our snack plates (they are a staple in our house for my toddlers). Make your baby a snack plate with all of their favorite healthy foods and serve it for lunch. Some ideas are quartered grapes, shredded cheese, avocado, string cheese, water melon, and left-over chicken sausage.
Visit our Amazon Shop to see all of our favorite baby feeding products!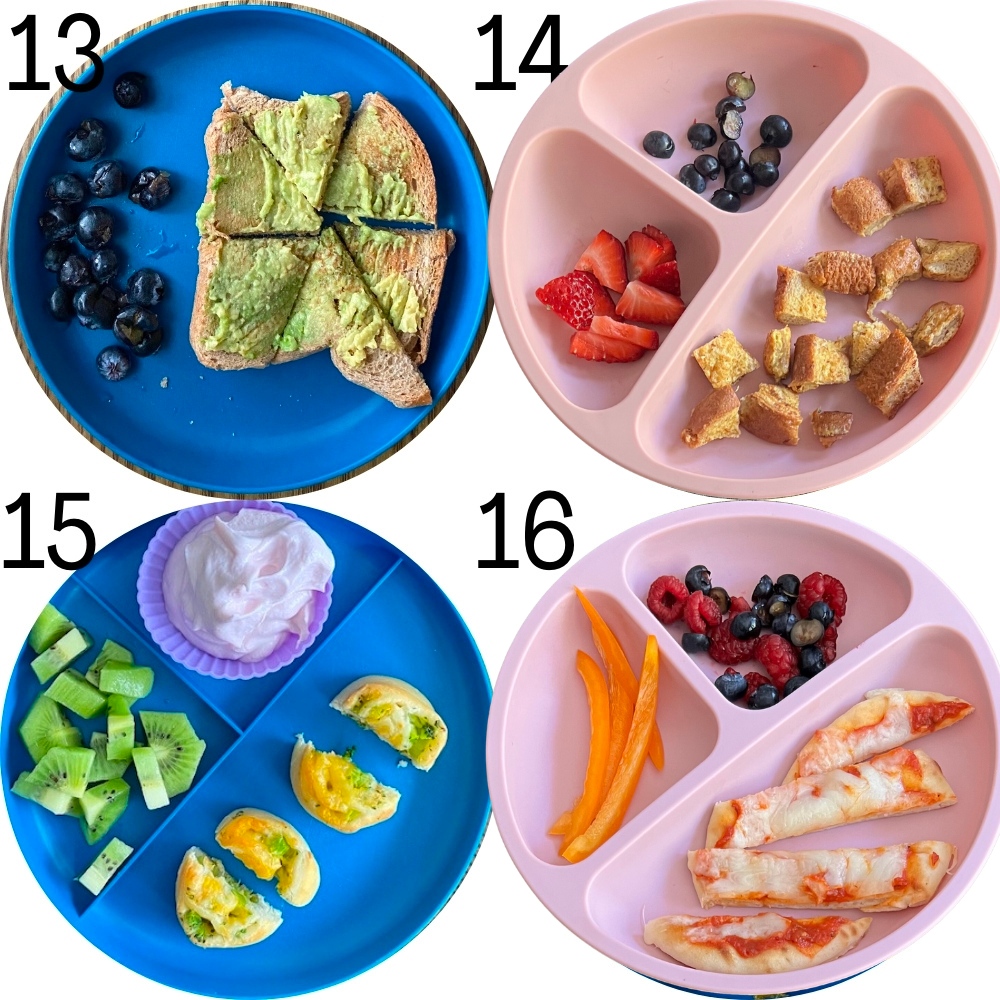 Avocado Toast – this is one of our go-to super easy meals! Lightly toast bread and top with smushed avocado. If these pieces are too big for your baby, try cutting into strip or bite-sized pieces. Side of squished blueberries.
French Toast – one of my FAVORITE foods for babies because it offers egg and wheat exposure, and its a great texture and softness for babies to gum and chew. Sides of strawberries and blueberries halved.
Broccoli & Cheese Pinwheels – if you are looking for a semi-homemade hot meal, try my Kid-Friendly Broccoli and Cheese Pinwheel Recipe. Cut into easy to hold pieces or bite-sized pieces for your baby. Served with sides of diced kiwi and full-fat yogurt. Favorite spoons for self feeding: Grabease Utensils
Pizza Strips – homemade pizza made on Naan rounds and then cut into strips for babies. Side of thinly sliced bell pepper and berries.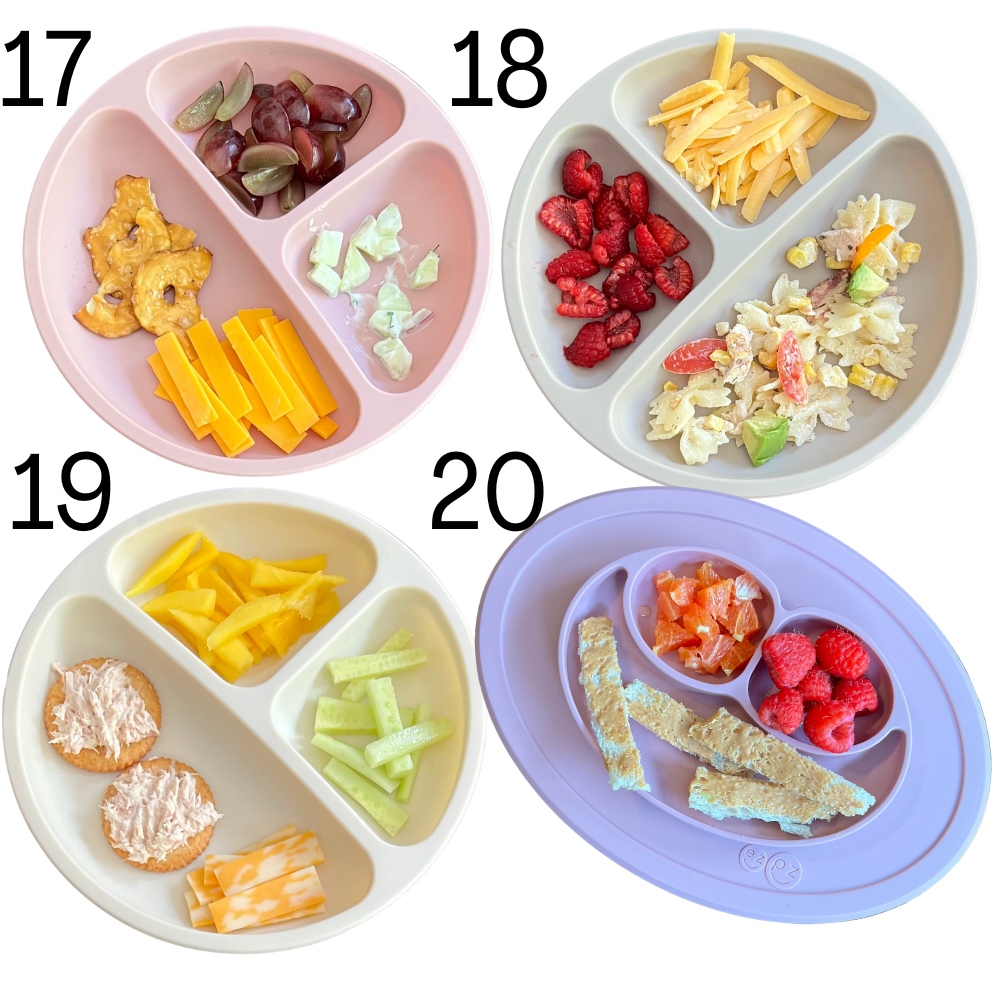 Crackers and Cheese – cut cheese into strips and serve with crackers or pretzel thins (better for older babies), cucumbers with yogurt, and quartered grapes.
Pasta Salad – one of my favorite lunches to prep ahead of time and serve throughout the week! We love this recipe for BLT pasta salad (be mindful of any crunchy ingredients like bell peppers for babies under 1), or Toddler-friendly pasta salad, raspberries, and shredded cheese.
Tuna Salad – a simple tuna salad with tuna, mayo, greek yogurt, and dill seasoning served on crackers. Sides of cheese, cucumber, and ripe mango.
Peanut Butter Toast Strips – peanut butter toast cut into strips is great for babies to gum! Sides of raspberries and orange.
Summary Self-Feeding Lunch Ideas
Here is a quick summary of ideas for self-feeding baby lunch ideas:
Broccoli & Cheese Eggs
Peanut Butter & Jelly Bites
Avocado Chicken Salad
Dr. Praeger's Spinach Littles
Deconstructed Tacos
Broccoli & Cheese Grilled Cheese
Mac & Cheese
Veggie Tots
Grilled Cheese Dippers
Broccoli & Cheese Quesadilla
Veggies Made Great Frittatas
Snack Plate
Avocado Toast
French Toast
Broccoli & Cheese Pinwheels
Pizza Strips
Crackers and Cheese
Pasta Salad
Tuna Salad
Peanut Butter Toast
Thanks for stopping by! You might also like these recent posts: