I've often been asked about our morning routine with kids and what that looks like as a stay-at-home (really, work-at-home) mom of three.
Are you tired of the chaos the mornings bring? Wondering how can you have a better morning with kids? Hoping to find motivation for your morning as a stay at home mom?
I'm sharing our morning routine with three kids (under 1, 3, and 4 years old) and how I manage it all as a stay-at-home mom. I like our mornings to be slow, but also meaningful and intentional. I'll start by sharing our general routine since I know not everyone wakes up at the same time and will then share more specifics and timing.
You might also like these related posts:
Why Have a Morning Routine?
Most people thrive on some sort of routine! At the larger scale, most people wake up around the same time each day, eat three meals around the same time, and go to bed around the same time each day.
Having a morning routine can be helpful to make mornings calmer and more predictable. With kids this can be especially helpful so they know what to expect each morning and can be prepared.
Your morning routine doesn't have to look the same as mine, or anyone else's! Think of the things that are important to you and what actions can lead to a calmer, more intentional morning.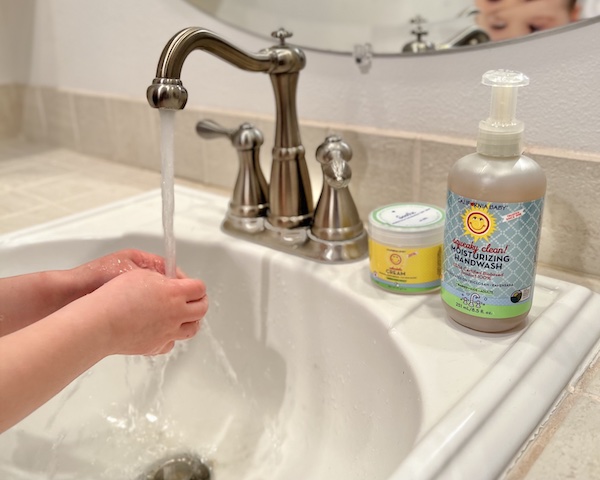 Simple Morning Routine with Kids
I love a slow, simple morning routine to help us get started with our day. We normally have lots of family time in the morning and get started with some chores and homeschool activities. Here is our morning routine with kids:
Wake Up (7:00 am)
I do not normally wake up before my kids. If you are a person who can get up early, more power to you! I normally wake up when the baby wakes up to eat and I nurse her and soak in the cuddles. My older two boys stay in their room and chat in bed until I'm done feeding the baby and ready for them to come out. We use the Hatch Rest+ okay to wake clock to signal to them when they can come out of their room.
Head Downstairs (7:30 am)
Once we are all up, come go downstairs to the playroom. They play and watch TV while I get everyone a warm cup of milk or water and pour myself some coffee. The kids normally hang out in here for about 30 minutes while I drink coffee and read emails.
Make Breakfast (8:30 am)
Making my kids a healthy and wholesome breakfast has become something that fills up my cup as a stay-at-home mom. We normally have something like French toast with fruit, oatmeal, or homemade pancakes. Here are some more ideas:
Get Ready for the Day (9:00 am)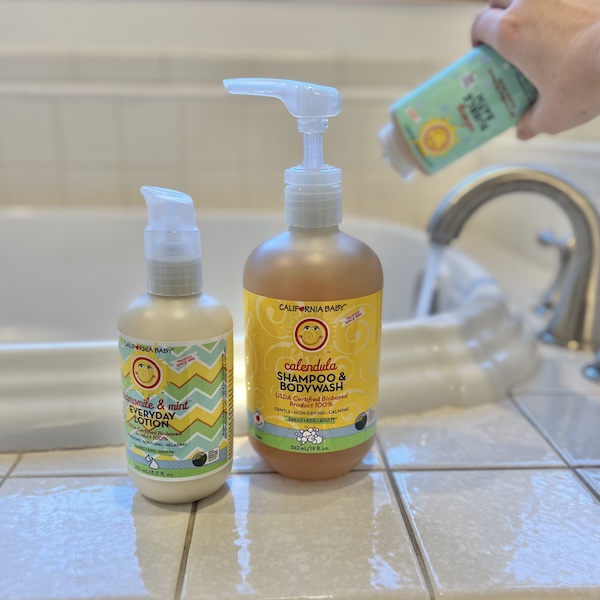 Then we all head upstairs to get ready for the day! I normally take a shower at night, but my older boys often jump in the shower to get rid of their "bed head". They have been using California Baby Calming Shampoo & Body Wash. We love it because its 100% plant-based and made with natural essential oils.
I also highly recommend California Baby Jelly Mousse Hair Gel – I have been on the lookout for a hair gel for babies and toddler with clean ingredients and finally found it! This is the perfect gel for toddlers!
Run Errands & Do Chores (9:30 am)
If we have any errands to run (hello grocery pickup) we normally do them first thing in the morning after getting ready. It's motivation to get us all moving in the morning and also means we will be home for quiet time and nap time in the afternoon.
If we don't have to leave the house I try to do daily chores like empty the dishwasher, start a load of laundry (I do this every day), or clean up the bedrooms and bathrooms.
Homeschool Activity or Nap (10:15 am)
Once we get home from errands or after a bit of cleaning, we do a homeschool activity while the baby takes her morning nap. The boys are normally begging for an activity by now!
My kids are only 3 and 4 so we don't do anything too structured, but we normally do a learning activity or practice pen control (these are some of our favorites: my first pen control book, abc pen control, twisty mazes wipe clean book.
Read more on our learning activities:
Prep for Lunch (11:30 am)
After our homeschool activities (or sometimes while the kids finish up), I normally start prepping for lunch! I love making fun and healthy lunches for my kids. I try to make them quick and easy but sometimes they do take a little prep time if something needs to be cooked.
I like to start while the baby is still napping while I can so that when she wakes up I can nurse her and not be rushed to have lunch on the table by 12:00 pm or so.
Here are some of our easy lunch ideas:
Below is a more detailed timeline of our morning routine so that you can see about how long we have blocked off so each step.
Morning Timeline as a Stay-at-home Mom
Here is a sample schedule based on our morning routine. We don't hit these exact times every day, but this is what we aim for on a "perfect" day.
Thanks for stopping by! You might also like these recent related posts: