Check out these 8 reasons to get an air purifier for your nursery. There are many benefits of an air purifier including cleaner, better smelling air, and a safer environment for your baby.
An air purifier is one of my favorite, but most often forgotten items when designing your nursery. Whether you are searching for one because your baby is sick or you are building your baby registry, don't forget the air purifier!
You might also like these related posts:
This post contains a gifted product, but all thoughts and opinions are honest and my own.
Homedics Air Purifier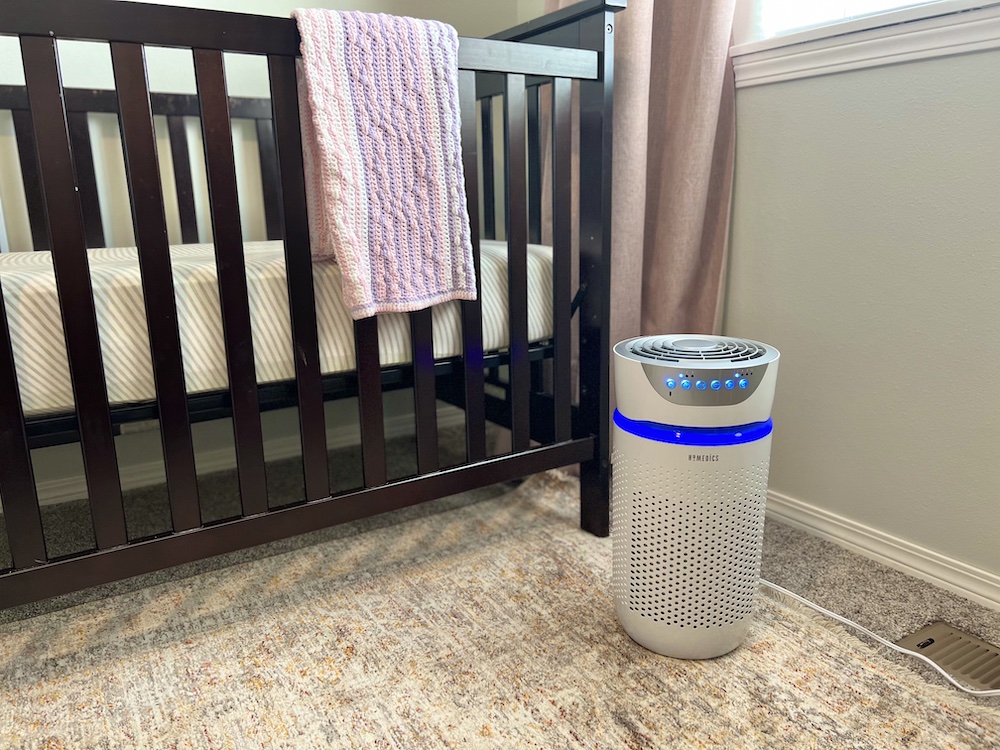 There are many air purifiers on the market today to choose from, but we have been loving the TotalClean 5-in-1 Air Purifier from Homedics for a few reasons. We love the sleek look and that it makes the air cleaner for baby to breathe. Homedics is always one of our go-to brands and we have used many of their products over the years.
Planning for a baby? Make sure to start your Amazon Baby Registry and add the Homedics Air Purifier to use in your nursery!
Here are 8 reasons to get an air purifier for your nursery:
Cleans the air of germs and pollutants
Being a mom, I always worry about my baby being exposed to germs and pollutants in the air and try to keep her environment as clean as possible. While it is good for your baby to be exposed to some germs to allow them to build immunity, there are still many germs I would love to limit her expose to in our own home.
Choose an air filter with a HEPA filtration system (like the TotalClean 5-in-1 Air Purifier). This gives me peace of mind that with almost no effort, the purifier is removing up to 99% airborne pollutants and leaving my baby with clean air in her nursery.
Removes Pet Dander if you have Dogs or Cats
An air purifier can also help remove pet dander if you have pets that shed like dogs and cats. Pet dander has always been a problem for my family as our dog sheds like crazy. We find dog hair in every inch of our hose and I'm sure that her dander floats through the air as well.
An air purifier can help pick up large particles and really helps reduce pet dander and pet odors in your nursery, giving your baby cleaner and safer air to breathe!
Removes Pollen if You and Your Family are Prone to Allergies
If you are prone to allergies an air purifier can help tremendously with removing pollen from the air and calming allergy symptoms. Although newborns don't tend to develop seasonal allergies until they are toddlers, having clean air can give you peace of mind and can also make spending time in the nursery more manageable for yourself and others in your family.
In the spring time when our allergies are the worse, I set our air purifier to the highest setting (they have 3 settings: low, medium, and high), and it has been the biggest relief for me and my children for calming our symptoms.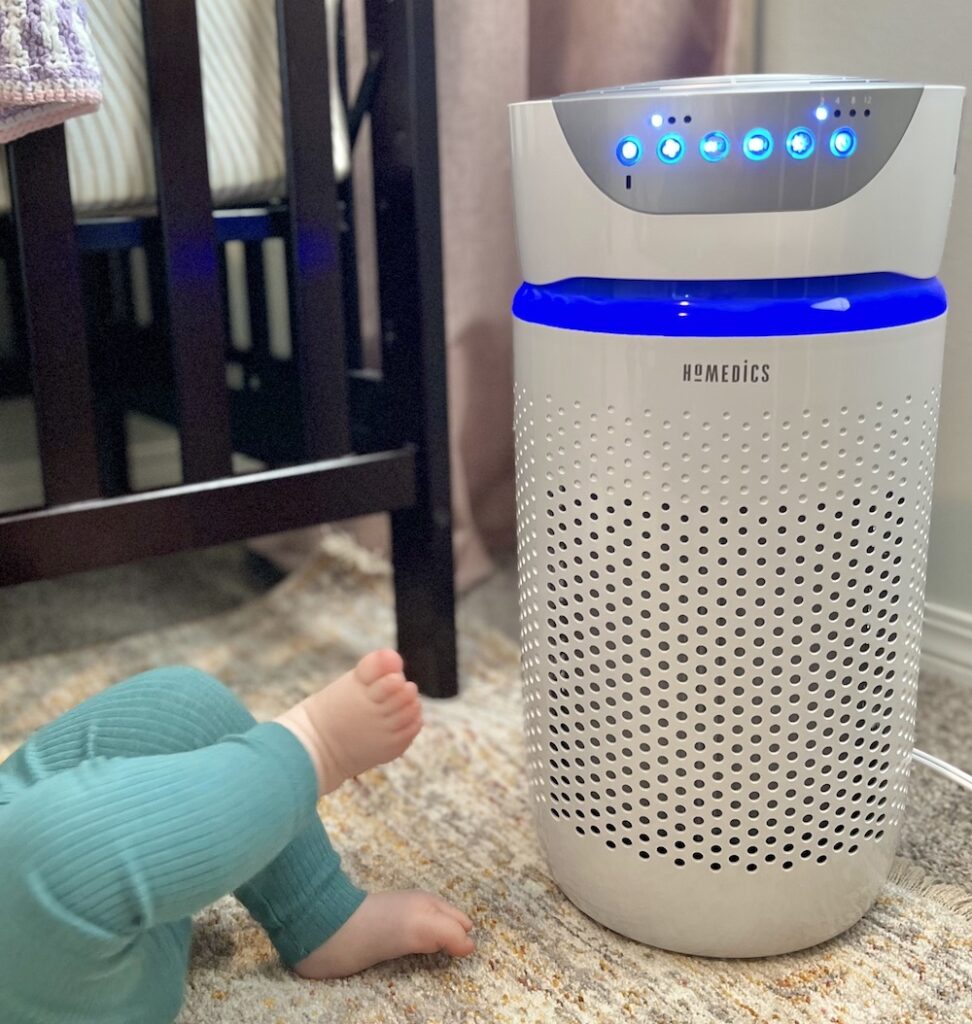 Eliminates Musty and Stale Smells
If you have an older home or ever notice any musty or stale smells in certain parts of your house, an air purifier is great for getting rid of those concerning smells. I am especially concerned about any odd smells in the nursery since baby's lungs are typically still maturing until the age of 3 or so.
Choose an air purifier with UV-C that can reduce bacteria, virus, mold, and fungus in the air, leaving a complete clean smell in home and your baby's nursery.
Filters Out Smells from Cooking in the Kitchen
If you cook at lot (like us) you may notice some of those amazing smells from your kitchen lingering upstairs or into other rooms of your homes like the bedrooms, making your sheets, clothes, and even towels smell.
Running an air purifier in those rooms can help eliminate potent smells. We especially love to use one in the nursery because babies can be especially sensitive to smells and odors. It might also be helpful to add a drop of lavender essential oil (or your other favorite) to help with strong cooking smells until the air purifier can filter all of the air.
Helps Limit Dusting
Dust always grosses me out a little because it reminds me what is floating through the air and what we are breathing in. But it's also one of the last things on my list to do, especially as a busy mom!
An air purifier can help eliminate dust in your nursery, which means cleaner air for your baby and peace of mind and less cleaning for you!
Can help your Baby Sleep more Peacefully 
Certain types of baterica, dust mites, and pollution can trigger allergens that made it harder to sleep. If your baby is stick, congested, or has a runny nose, these are all inhibitors to sleep. An air purifier can significantly help reduce these allergens and help you baby sleep more peacefully.
The right schedule can also help your baby sleep better! Check out some of our baby schedules by age:
Improves air quality
Babies are extra sensitive to the negative impacts of air pollution because they breathe faster and their brains, lungs, and bodies are still developing. If you live in a big city with exposure to air pollution or in a place that is susceptible to wildfire, an air purifier is a must for your nursery!
Our area gets smoky most summers with wildfires in the surrounding mountains and the nursery is the first place I make sure to turn on the air purifier!
>> Here's the air purifier I recommend: TotalClean 5-in-1 Air Purifier <<
You might also like these recent related posts:
Pin now to save for later!