What to do when you find out you're pregnant? And what to do in your first trimester? A mom of three's first trimester pregnancy checklist.
Congrats! You're either newly pregnant, trying to plan for a future pregnancy, or maybe you're further along but want to check and make sure you covered everything you needed to in the first trimester.
I'm a mom of three (two plus one on the way) and i'm sharing everything that I try to get done in my first trimester to help me prepare for a healthy pregnancy and the baby that will be here in the coming months. A simple and easy-to-follow first trimester pregnancy checklist.
Please note, I am not a medical provider, just an experienced mom sharing my tips. Please consult with your doctor if you have any questions or concerns.
You might also like these related posts:
Ready more from my pregnancy series >>> Pregnancy
1. Notify your doctor or start looking for a provider
After you get that positive pregnancy test, you will want to notify your doctor or provider. This may be your obstetrician (OBGYN), family practice provider, or midwife. Depending on your provider, they may want you to come in right away to confirm pregnancy (most likely with a qualitative urine pregnancy test) or go through additional testing if you've had trouble conceiving before.
On the other hand, don't be alarmed if your provider doesn't need to see you immediately and instead schedules you an appointment for your 8-week ultrasound. I've had both instances occur and it just depends on your provider and the way they practice.
Either way, you will see your doctor early in your pregnancy between the 3-8 week mark. At your 8 week visit you will likely have an ultrasound to measure the baby's length and confirm your due date. This ultrasound may be transvaginal or a normal external pelvic ultrasound.
If you don't have a provider, start the search as soon as possible as you will want to see them in the first 8-10 weeks of your pregnancy.
2. Start taking a prenatal vitamin
Next on your first trimester pregnancy checklist, If you haven't already, start taking a prenatal vitamin daily! Certain vitamins & minerals (like folic acid) are important for fetal growth and development and lack of certain vitamins can increase the risk of birth defects so you will want to be sure you take a prenatal vitamin as recommended by your doctor.
3. Use SneakPeek if you want to find out gender
SneakPeek is an at home pregnancy DNA test that lets you find out if your baby is a boy or girl as early as 7 weeks! SneakPeek will send you a kit that includes everything you need to test and send in your DNA (a small blood sample) and you can get the results back in as little as 72 hours.
I used SneakPeek with my third baby and had a great experience with the testing and the whole process! My favorite is their new Snap Device that makes getting your DNA sample nearly painless. Here's a quick breakdown of the process:
Order your SneakPeek Gender Test and receive it in the mail (ranging from 1-3+ days depending on your shipping method)
Be sure you open and take your sample alone or in the presence of females only (male DNA can skew your test results).
Open your kit and follow the activation instructions.
Read the directions and clean your area and sample site thoroughly.
Take your blood sample using the device included in your kit.
Seal it up and mail it back to the SneakPeak Lab in the pre-paid box.
Receive your results in 1-4 days depending on your shipping method.
Get $10 off SneakPeek DNA test and discover BOY or GIRL as early as 7 weeks!
Read more about my experience with SneakPeek >>>> SneakPeek Review: How to Find out Gender Early in Pregnancy
4. Tell your friends and family
Some people tell their friends and family immediately after getting a positive pregnancy test, while others (like myself) like to wait until the end of the first trimester when miscarriage rates decrease significantly. There's no right or wrong time or way to announce your pregnancy, so do what feels right to you!
Here are some ideas for telling people in your life that you're expecting:
Wrap up a onesie with a picture of your first ultrasound (or positive pregnancy test) and give it to close family or friends as a gift.
Wear a t-shirt that says something like "expecting", "bun in the oven", or "future mama" and wait for people to notice when you walk in the room. If you have other children putting them in a "big brother" or "big sister" shirt is another fun option.
Take a photo holding your ultrasound or positive pregnancy test and share it in the mail, text, or social media.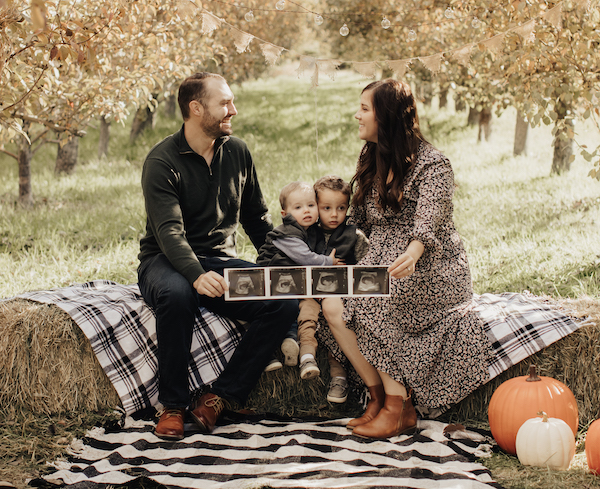 You don't have to tell friends and family in your first trimester, although as time goes on your pregnant belly will get harder and harder to hide so try to plan out when you'd like other people to know.
5. Be prepared for nausea
Nausea is a common pregnancy symptom that often time occurs in the first trimester (although some women experience it throughout pregnancy as well). Nausea is sometimes called "morning sickness" although it rarely occurs only in the morning.
Research suggests that nausea is caused by increases in the hormone hCg that peaks during the first trimester. Most women experience nausea starting around 5-6 weeks and continuing through around 12-13 weeks. With my first two pregnancies I had nausea from about 5-9 weeks and for my third I had nausea from about 7-13 weeks. It can be different for all women and for all pregnancies.
Here are some tips to help with nausea or pregnancy morning sickness:
eat frequent small meals or snacks (an empty stomach can make nausea worse)
suck on peppermint candies
avoid foods that make you sick (for me this has been hot foods and meat)
talk with your doctor about OTC or prescription medication for nausea
Read more >>> 5 Tips for Pregnancy Morning Sickness
6. Adjust your diet
During pregnancy there are certain food you should avoid for the health and safety of your growing baby. Be sure to research and cut these foods from your diet immediately. Your doctor should give you an up-to-date list and be sure to discuss any concerns with your doctor.
Here are some common foods you should avoid during pregnancy:
Alcohol
Raw fish like sushi
Unpasteurized dairy and cheese
High-mercury fish
Deli meat
This is not an all-inclusive list, but just some common foods to avoid so please consult your doctor for a full list.
7. Limit caffeine
Caffeine can cross the placenta, so most experts (including The American College of Obstetricians and Gynecologists) recommend limiting to about 200 mcg of caffeine per day or about 1 medium cup per day. Some people also choose to drop caffeine completely during pregnancy.
This is a hard one for me because I love my coffee and typically drink about 2-3 cups throughout the day, but switching to decaf for my afternoon cup really made the process easier and more enjoyable! It can be a hard switch to make but your baby's health and well-being can depend on it.
8. Start your baby registry
A baby registry can take a long time to research and put together, so I recommend starting early in your pregnancy before the end of your first trimester. Ask other mom friends or family what their must-have baby products are and read blogs online to find tips and favorites.
Most women will have their baby shower in their third trimester, but even if you won't be having a baby shower a baby registry can be a great place to track the list of things you want and need for your new baby. Plus, most baby registries have perks like a free gift or a discount on remaining items towards the end of your pregnancy.
My favorite baby registries are: Amazon Baby Registry & Target Baby Registry
Read more:
9. Catch up on sleep
Catching up on sleep is easier said than done if you work long hours or have other kids at home. Most women are most tired in their first trimester (at least until the end of pregnancy) and with good reason! Your baby grows exponentially during the first trimester and most of their body parts are formed by the time you are 14 weeks along.
Let yourself sleep in if you can or crash on the couch for an afternoon nap. I frequently went to bed early during my first trimester as I felt my body needed closer to 9 hours of sleep at night to feel well-rested. Fatigue is extremely common even if you are getting extra sleep so give yourself grace and know that you will likely be feeling better soon.
10. Start picking out baby names
You wont need your baby name for quite a few months, but its always good to start preparing early! With my first we searched nearly the entire pregnancy and only decided on his name after he was born.
Picking out baby names can be fun, but also stressful! It can also be difficult if you and your partner don't agree on names.
You will also want to consider whether or not you want to share your baby's name with family members or publicly with friends. Your family and friends might have negative opinions on your baby's name that you don't want or need to hear. Everyone is going to have an opinion and some people might not be so subtle or nice about it and it may cause you to give up a name you truly loved.
---
Summary First Trimester Pregnancy Checklist
Here is a breakdown of 10 things you should add to your first trimester pregnancy checklist:
Notify your doctor or start looking for a provider
Start taking a prenatal vitamin
Use SneakPeek if you want to find out gender
Tell your friends and family
Be prepared for nausea
Adjust your diet
Limit caffeine
Start your baby registry
Catch up on sleep
Start picking out baby names
Thanks for stopping by! Continue reading more with my Third Trimester Checklist: How To Prepare for a Baby
You might also like these recent posts: